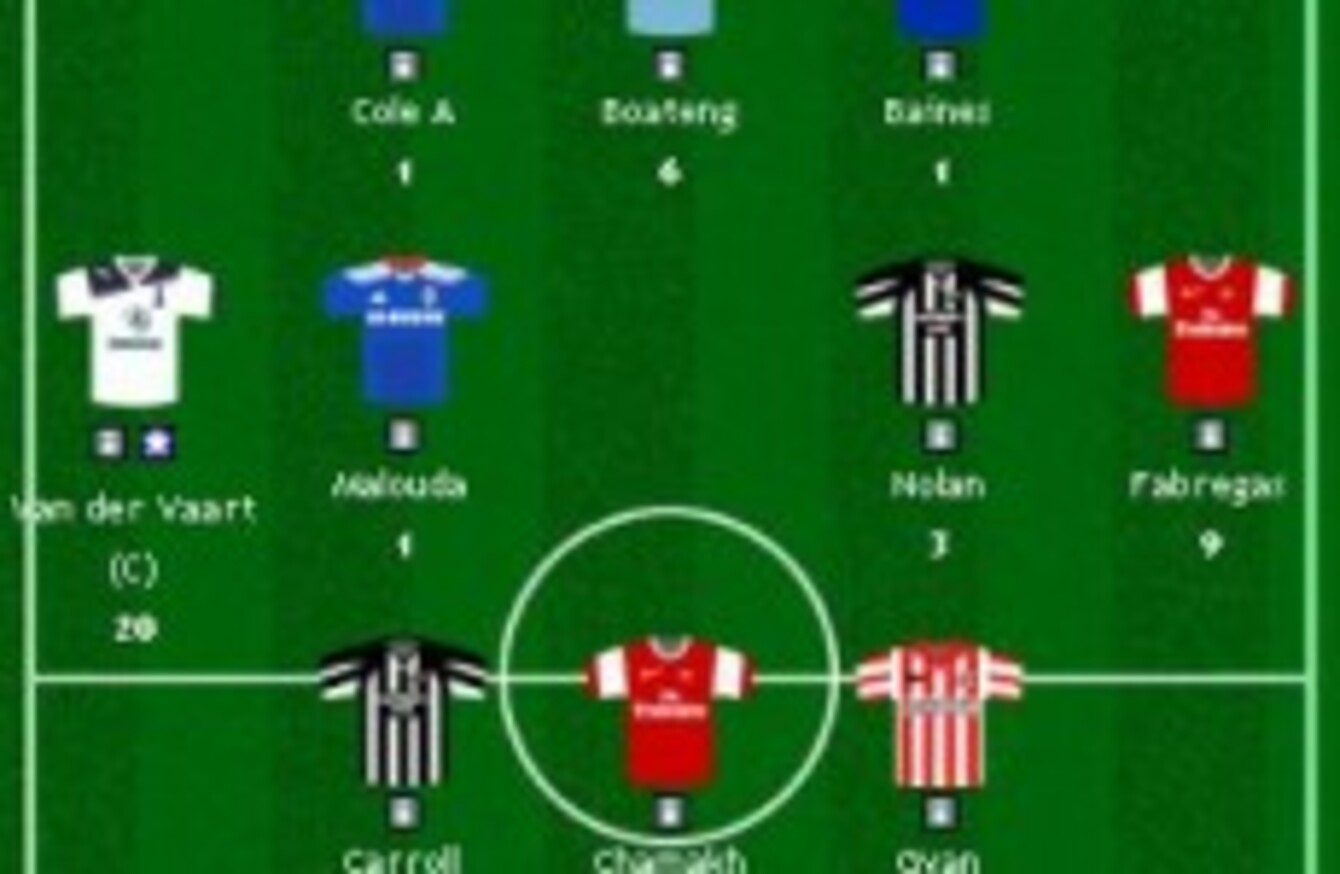 I'D LIKE TO welcome everyone to the maiden voyage of our weekly fantasy review of last weekend/preview of the coming weekend.  Before we get started, a brief introduction.
I, along with my blogging partner Jeremy, have been writing about fantasy Premier League for about six years at our own blog (BLATANT PLUG) as well as having written on the same topic for Yahoo UK and World Soccer Magazine at various times.   I've also spent time writing for Goal.com about the Premier League.  Jeremy and I are thrilled to have a new audience and are looking forward to our partnership with TheScore.ie
With the introductions out of the way, here's what you can expect from us in this space each week.  We try to give you a plan for picking your fantasy team regardless of what league you play in (we know rules and scoring differ from league-to-league and we'll try to keep the advice as general as possible).
We'll review the schedule and try to give you some insight into where the fantasy points are most likely to come from and then some specific suggestions regarding players who are particularly attractive in the upcoming week.  We'll also provide a Top 3 best options to captain your team if your league allows for that.
What you WON'T you find here? A specific starting XI for your team.  If that's what you're looking for, then you might as well give us your user name and password and get out of the way.  No, we'll give the suggestions and let you take it the final few steps.
Finally, we like to try to give you some insight beyond "Pick Drogba" or "Pick Fabregas" or "Pick van der Vaart" that stuff is pretty easy and there's no reason for you to come to a website to read that those guys are usually strong fantasy buys – well, aside from Drogba over the last month or so.
What we'll try to do is uncover some of the hidden gems from less fancied teams that will help you afford more of the expensive, better known players in your line-up.
OK, with all that preamble out of the way, here we go…
The Schedule
In this space, we'll list the match-ups we think significantly improve the value of the players playing in them.  We'll try to keep the commentary brief as to why:
Man United vs. Wigan –third at home against 17th, sometimes it isn't much more difficult than that.
Liverpool vs. West Ham – Looked a lot better before Gerrard was injured, still one of the more attractive match-ups of the weekend though.
Blackpool vs. Wolves – Like Liverpool, this looked much better before the injury to Gilks, not sure what to make of the impact but Wolves only have one road point and 4 goals to show for 6 matches away from home.

Forwards
Based on the lack of consistent performers thus far this season, you probably want to limit the number of forwards you field.  This will depend on the game you're playing but it hasn't been pretty between injury, illness, and inconsistent form.
Torres – His value has decreased with Gerrard missing but still the best "big name" available this weekend.
Gyan – He's been hot, he's playing at home and the only hesitation is that Bent may be back and we don't know how he'll do with a partner who plays a very similar style.
Elmander – Can he break his streak of only scoring away from home? He's certainly in strong enough form.
Varney – He's had three big fantasy matches this year and the rest have been useless, vs. Wolves seems like a good time to bet on a fourth big fantasy weekend.
Berbatov – He hasn't done anything in ages but hopefully that means his price has fallen and the match-up will do the rest.
Midfielders
Nani – This was going to be Gerrard but not so much anymore. Great match-up… Playing at home… Done!
Obertan – If you need a cheap option to balance out the expensive Nani, Wigan have made a lot of players look better than they are.
Adam – We've enjoyed Charlie Adam's under-the-radar production all season.  The match-up should signal a return to the fantasy points.
Guthrie – Likely cheap and the potential recipient of Joey Barton's points while Barton is suspended.
Meireles – He's not going to replace Gerrard's production but he should be cheap and he has shown the most potential of Liverpool's non-Gerrard midfielders.
Holden – We've been recommending him all year and solid performance finally turned into excellent performance last weekend.
Defenders
Bale – He may be too expensive depending on what game you play (or he may be listed as a midfielder) but if you have the budget, he's the best bet for a big weekend at the back each week.
Vidic – The slow-and-steady to Bale's bursts of points – he's the better bet this particular weekend due to match-up and playing at home.
Coleman – We like guys who play in midfield but are listed as defenders and he's a good one.  The only downside is that Everton are playing away to suddenly-hot Sunderland.
Evatt/Crainey – Both are likely to be inexpensive and depending on your scoring system Evatt might have some serious upside but Crainey is very steady for a Blackpool team that has a good chance of a clean sheet with Wolves in town.
Hutton – Arsenal aren't good defending down their opponent's right side – Hutton plays right back and tends to attack frequently the only downside is that a clean sheet seems extremely unlikely for a Spurs team that only has one this season.
Cheslea's Entire Defense – JUST STAY AWAY!! They may look like value but without Terry and Alex, they aren't likely to keep many clean sheet.
Goalkeepers
Van der Sar – The easy choice if you have the money.
Reina – Two hesitations here.  First, West Ham shoot a lot (even if most of them don't go in).  Second, I worry that Gerrard being gone will mean more possession for the Hammers and that might lead to even more WHU opportunities.  Still, I think this one is pretty solid.
Jääskeläinen – Don't LOVE him it but don't hate him either as he's likely to be relatively inexpensive and playing at home for a team playing well.  Only hesitation here is that you just don't know what you will get from NUFC each week.
Carson – Likely to be very cheap and worth a shot if you need someone cheap since Stoke have only scored 4 on their travels this year.
Top 3 Captains
·         Nani – The best combination of a very good player, a great match-up, and playing at home.
Torres – He's great at Anfield and the match-up should be favorable – he falls behind Nani due to the lack of Gerrard for support.
Vidic – I usually don't like defenders as captains but I don't like most of the premium attackers this weekend and he hits for the occasional goal.
So, there you have it.  We hope you enjoyed our first effort and more importantly, we hope that it helped you select a better fantasy team for the weekend.  As always, remember to check the team injury reports on Friday as this was written on Thursday and there's always a chance that a late injury, recovery, or rotation changes things dramatically.  If you're interested in more postings from us, please feel free to check out our blog (SECOND BLATANT PLUG) at http://fantasyepl.blogspot.com.
Cheers – Neal
Neal Thurman and Jeremy Spitzberg  write what they believe to be the oldest running blog focused on English Premier League fantasy http://fantasyepl.blogspot.com.  They also believe they were the first two people ever paid real money to blog exclusively about the same.  They may be entirely wrong on both counts but that doesn't stop them from writing or telling people that they were first.  Perhaps more surprising than being blogging pioneers is that both Neal and Jeremy are Yanks who have day jobs entirely unrelated to football or futbol or soccer (or whatever you happen to call the beautiful game).  Despite this seeming handicap, they are capable of discussing both the Premier League and fantasy sports strategy in great, some would say geeky, depth.