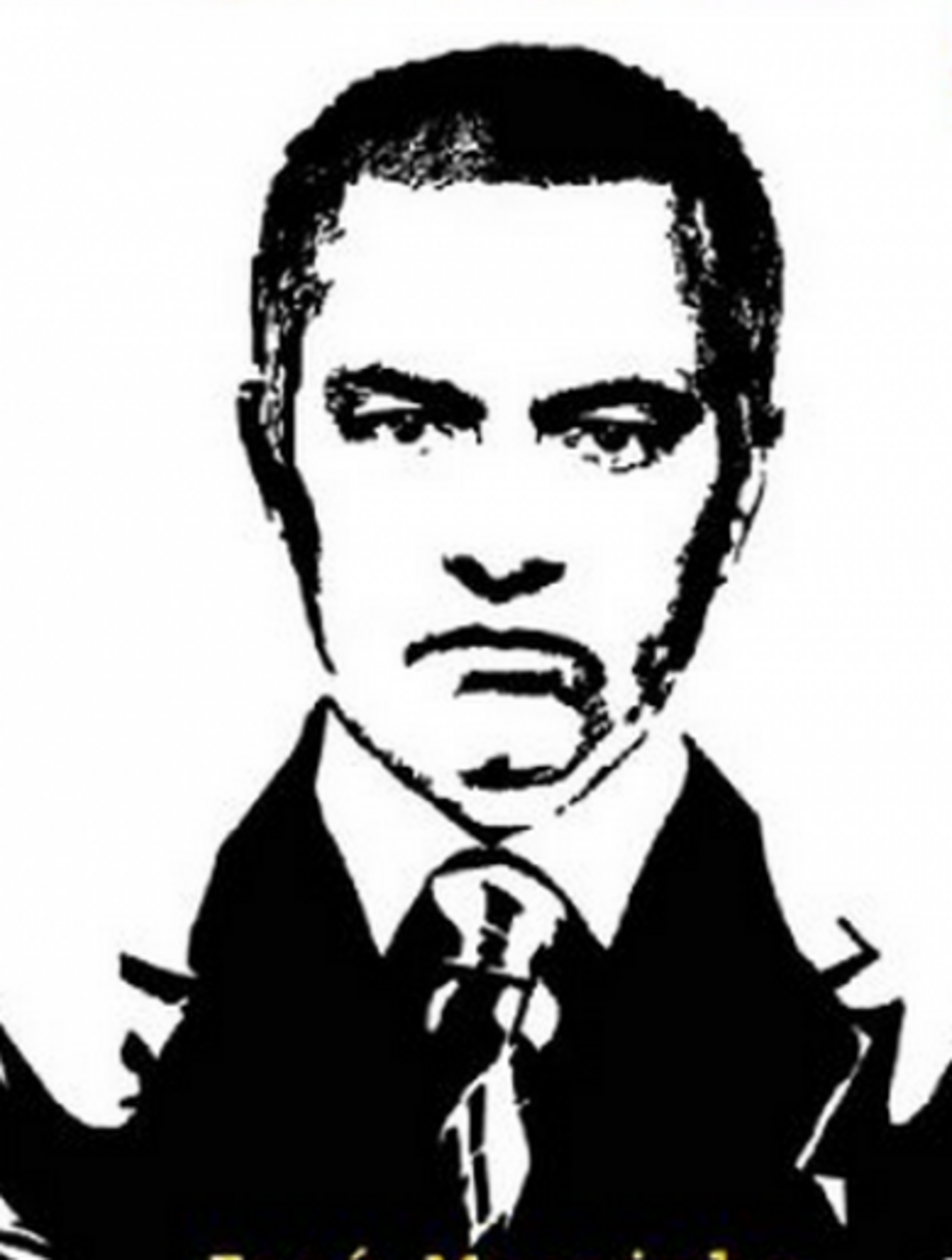 Jose Mourinho: The Rise of the Translator was written by Ciaran Kelly -- a 21-year-old from Galway.
Jose Mourinho: The Rise of the Translator was written by Ciaran Kelly -- a 21-year-old from Galway.
Updated at 13.58
MANY ASPIRING AUTHORS aim to have a book published before the age of 30, however it's an especially impressive feat for a 21-year-old to achieve.
And one of the most common tips for young authors is to 'write about what you know' and Galway-born Ciaran Kelly certainly followed this advice.
Kelly has been a lifelong Chelsea fan and consequently has a special interest in the club's current manager, Jose Mourinho. Not that there are many hints of this allegiance in his new book – Jose Mourinho: The Rise of the Translator — which manages to keep a scholarly distance from its subject.
Having undertaken a Master's in Sports Journalism at St Mary's College, Twickenham, Kelly decided to attempt the ambitious task of writing a book on one of the most talked-about sports personalities on the planet.
However, he took a wise approach to this challenge. Knowing access to Mourinho and the stars that surround him was unlikely, Kelly decided to adopt an alternative outlook — he would document Mourinho's rise from starting out as a humble translator to becoming one of football's most acclaimed coaches. During this process, Kelly interviewed those who grew up with the soon-to-be-great manager and observed him at close quarters before his level of fame exploded, in addition to chatting to some other relatively well-known names that the coach has encountered over the course of his career, including Jiri Jarosik.
"They look at it in two ways," Kelly says of those he sought permission to speak with. "They think: 'Ah, he's only a little 21-year-old, what's he going to write?' But then they say: 'You're only starting off, why do you think you're good enough to write about Mourinho?'
"I never set out to interview the Mourinhos, the Cristiano Ronaldos, the Ibrahimovichs, the Materazzis, because I knew that a) it would be so difficult to get them and b) that's already out there. Everyone knows what Frank Lampard would say if you asked him what he thinks about Jose Mourinho: 'He's a great guy.' The higher up you go, the more vanilla it is. The 'lower' down you go, they remember more details.

"It felt almost like a crusade to go to his university tutors. The detail they remember about Mourinho's training sessions, for example, is quite extraordinary. People like Damià Abella, who was there when Mourinho was at Barcelona, right the way up to Jerzy Dudek. Despite being international players, some people wouldn't have even heard them talk about Mourinho before.
"I was after a fresh perspective, which was, in a sense, exclusive. There were 23 interviews in total and I'd say three or four would have only talked about Mourinho before and none of them have talked at the depth they did. It was a good marriage between putting my slant on things and having these guys giving me this fresh perspective."
The entire process of writing and releasing the book took roughly 10 months, and it was merely a happy coincidence that the Portuguese coach made a dramatic return to Chelsea during the period in which he was writing it.
"He's a guy who's always been surrounded by hysteria and the main aim of this book — because so much is written about Mourinho on a daily basis — is to break down this hysteria.
"I went into it with a very neutral stance. There's the idea that he's this monster, he's bloated, a real enemy of football. I didn't think he would go back to Chelsea and it'd all be glorious again."

YouTube credit: Football Daily
And this triumphant return was a far cry from his humble beginnings.  Mourinho's father was a goalkeeper who would earn one cap for Portugal — against Ireland incidentally. Moreover, unsurprisingly, Mourinho Sr also had ambitions to be a top coach.
"Having his father as a goalkeeper means he would have been going to training sessions from about three or four," Kelly explains. "Starting out as a ball boy and then writing scouting reports for his Dad when he graduated to a coach. He was signed by his Dad as a footballer and made about 90 appearances at a semi-professional level."
Despite a career that started promisingly, Mourinho never developed into a player better than "League of Ireland standard".
"I wouldn't quite call it an inferiority complex, but his insecurity would have been exacerbated by the fact that his Dad was a very successful teacher," he says. "When his father was a manager, he wanted to pick Mourinho for an end-of-season game and it was against the champions elect, Sporting Lisbon, and the president saw this and said: 'No, you can't do that, that's nepotism.' His father ended up leaving the job after that game and it really just hurt Mourinho, and I think that was when he realised he wasn't going to have a career in top-level football.
"Once he left his father's shadow and played a lower standard of football, he would have had his most memorable professional years, playing with guys who took it very seriously but would go for a feast on a Friday night and drink a few drinks. But I think when he started college in 1982, that's when he stepped up a bit, and the VCR would have come on the market at that time. [It was relevant] with regard to looking at games post-match and with regard to analysing games with Mourinho coming into this new era in Portuguese coaching. They actually didn't prescribe a Portuguese coaching curriculum at the time, so Mourinho would have done his badges over in Scotland."
Despite being a footballer of little renown who came from a country whose international team could at best be described as dormant in a competitive sense, Mourinho — full of ideas and innovative coaching methods — was determined to become a top-class manager. Yet achieving this ambition was anything but simple.
"Back then, you never had a hope of landing a top job in Europe. Now, most of the best managers have some Portuguese connection. So it was a complex forum for him to begin with but once he got his foot in the door, [he thrived] with Sir Bobby Robson and he learned from two very different styles of manager in Robson and Van Gaal. Van Gaal was an ex-gymnastics teacher and Mourinho was a former PE teacher, so they've a very close connection. There was a 30-year age gap with Robson and Mourinho, but there obviously wasn't that with Van Gaal. He would have bonded with Van Gaal, who would have given him a lot of freedom and autonomy. He would have let him take charge of friendlies and Barcelona B games; that was a new level for Mourinho.
(Then-Barcelona coach Bobby Robson sits on the bench with his assistant Jose Mourinho — Aubrey Washington/EMPICS Sport)
"Mourinho and Robson had a very human relationship, which was ironic, because you think how could a young upstart and one of these managers bond? But they used to cook together, they had a passion for Anthony Hopkins films — a real off-the-field bond. And this was very important for Mourinho. Ironically, he taught him the importance of football and the game, whereas Van Gaal would have drove home the winning aspects and the do-or-die attitude that we associate with Mourinho now."
And though Mourinho has had a career in which he invariably seems to be under considerable pressure, he usually manages to brush off such challenges with a swagger. Kelly explains how he is a coach who is no stranger to arduous tasks and is nothing if not resourceful.
"He was born into a dictatorship but once that dictatorship fell, he would've learned more than one language — and that benefited him in becoming a translator. You think of Barcelona when he initially arrived and President Nunez says: 'Well, Robson needs a homemade translator,' but Robson said: 'No, you've got to give this guy a chance.' Within days of him being there, players like Ronaldo and Laurent Blanc would have been so impressed by his dossiers, his application — they wouldn't have seen him as inferior and within days of that, he was awarded a £300,000 salary."
One of the abiding images of Mourinho will always be his first Chelsea press conference (see video above) in which he came across as the epitome of self-confidence and defiance in the face of skeptical journalists, famously declaring himself to be the "special one". In truth however, he was extremely nervous about the occasion.
"Claudio Ranieri was the kind of Grandad, doddery figure that the media really loved," Kelly recalls. "His job the previous season had been dangling by a thread. Abramovich seemed like he really wanted rid of him but couldn't go through with it. You think about how history would have panned out if that would have happened. In that press conference, Mourinho only made those [infamous] comments because a journalist asked: 'Are you ready?'
"He's 41. He's just won a Champions League. From that moment on, he brought a new dynamic to press conferences. He wasn't wearing a tie, he was wearing an Armani suit. He was revolutionising it into political oratory. Now they're quite well watched, people would look at a press conference intently, whereas in 2004, it wasn't really the case. Especially in England, where it's such a particular style of media. It's filled with hacks — they love a quote. Then when he went to Italy, it was more sophisticated and tactics focused. He was essentially forced to come up with a catenaccio style."
(Mourinho watches a game from the Bernabeu dugout – Daniel Ochoa de Olza/AP/Press Association Images)
And while Mourinho may have been less than popular with the Italian press, it was nothing compared to how he was received in Spain.
As manager of Real Madrid, he grew increasingly hostile and suspicious of the media; and the worse the situation got, the more stories of dressing room unrest were leaked to the press.
"He's going there at a time when the Spanish economy hit an all-time low and he's being paid 15 million euros a year. When he was cocooning the squad, being very abrasive, not going to press conferences, letting Aitor Karanka take them. There's so many examples of him hitting new lows — the eye-gouge incident is one.
"When the heat is turned up on Mourinho, the mask slips, the bravado, the cocksureness, it just drops a bit when the heat is on. The second season where he's overcome this, he's about to oversea a legacy with Guardiola and Barcelona. He was signing talented young players like Luka Modric. It looked like he was going to finally manage a team for a five-year spell. With Spain I think, he wanted to turn the heat up continually. It worked in terms of turning Barcelona into the enemy.
"The Barcelona freedom fighters versus Real Madrid Francoists argument had been brought up again. We saw the rivalry exploding. Four games [between the sides] took place in 18 days. The tension just gripped the dressing room and you obviously had the Casillas fallout, the greatest Madrid graduate since Raul in 1994 — a hero to the fans. He lost that complete Spanish support, because it is an Iberian divide with guys like Pepe, Ronaldo and Casillas. But at the end of the day, it turned on him as Pepe, Ronaldo and Casillas all cited back pain as the reason why they couldn't take part in his last match, so it was a really ignominious end."
Yet despite often appearing difficult, Kelly says that most people who he spoke to for the book insisted that Mourinho's reputation for arrogance "couldn't be further from the truth".
But regardless of such claims, many critics suggest that his bad image cost him the coveted Man United job, which Kelly believes Mourinho would have strongly considered accepting.
"That would have been the only other job in England he would have taken. He was saying he had a subscription to MUTV and things like that and you could see even then he was throwing the fires out. From that moment on, there's been a very particular association between him and United. He's the last manager that Ferguson really bonded with. United gave Chelsea a guard of honour in 2005 and Mourinho returned the favour two years later.
"Chelsea is the perfect way of showing he can manage beyond three years, which he hasn't yet. He's very much a manager who thrives on a scorched earth policy, where his players are between 27 and 32, and once he leaves, the success [slows down], because these players are absolutely exhausted from their amazing achievements.
(Jose Mourinho hugs an emotional John Terry after a league game between Chelsea and Arsenal — John Walton/EMPICS Sport)
"That idea of him coming to United would have been so interesting because a lot of United fans look at David Moyes as someone who could do the long-term gig. If he can do it, he needs to win trophies. I think if United finish outside the top four this season, I don't think there'll be one United fan who'll say he's done a good job.
"The hunger is still in him – having the argument with Paul Lambert, getting sent off against Cardiff, calling Jonas Olsson a 'Mickey Mouse player'. People only mellow when they lose the fire in their bellies."
Yet while his foreboding reputation may prove impossible to shake off, Kelly's book provides glimpses of his more gentle side — the character who went to the Nou Camp chapel to shed tears after his team advanced to the Champions League final at the expense of Barcelona, or the individual who is so loved by the players and fans at Chelsea.
And one anecdote from his time with Bobby Robson sums up his appreciation for altruism.
"There was a game where Mourinho and Robson were in the dressing room together and they lost, and Mourinho was disgusted," Kelly explains. "In typical style, Robson said: 'Shhhh, listen: do you hear what's going on next door? You might be feeling low now, but imagine what they're feeling next door — the winning team. So Mourinho has had these really good influences that have shaped him into the human outside of the bravado."

YouTube credit: FightYourBoredom
Jose Mourinho: The Rise of the Translator is published by Bennion Kearny.  More details here.