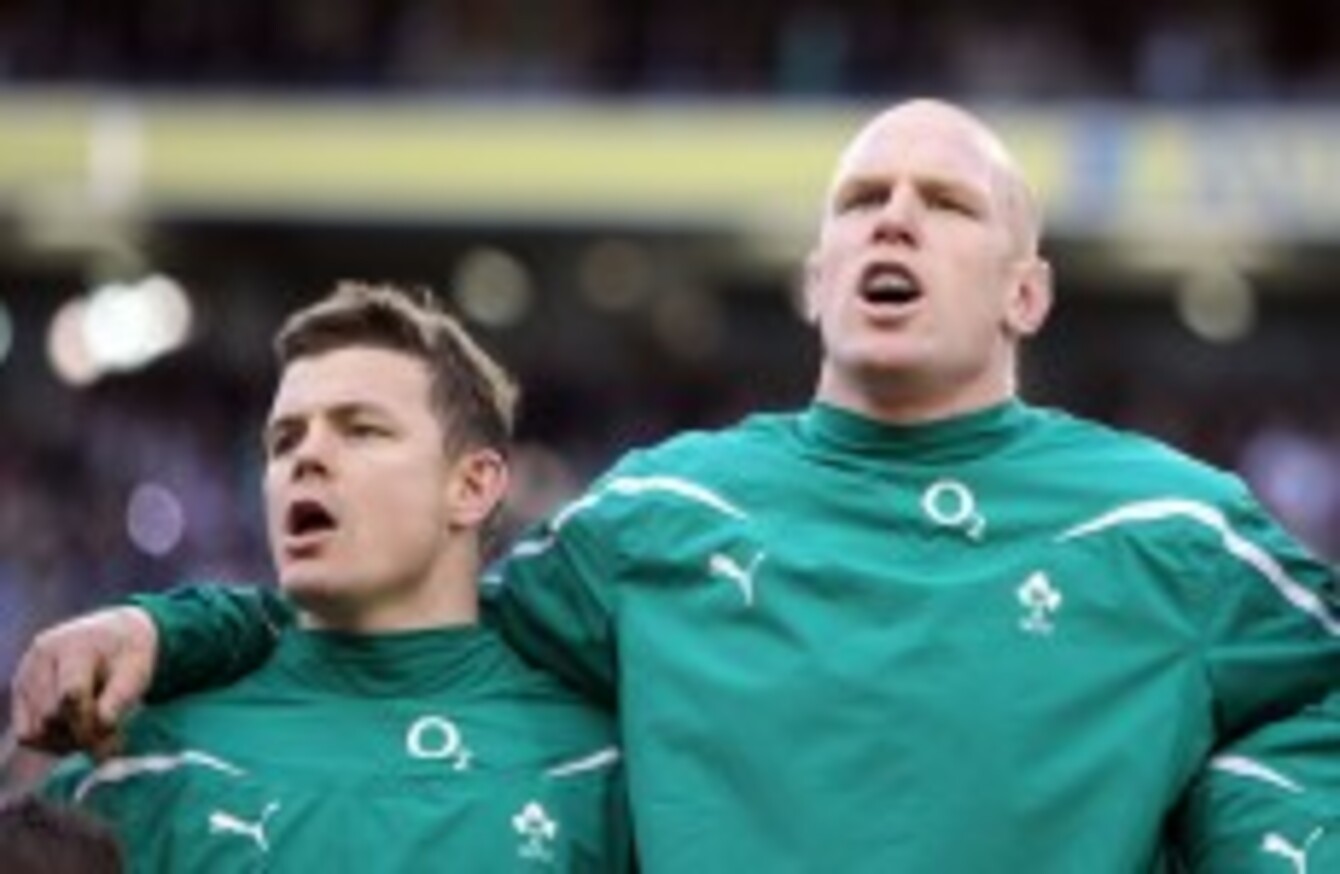 Brian O'Driscoll and Paul O'Connell have not played together for 18 months.
Image: ©INPHO/Dan Sheridan
Brian O'Driscoll and Paul O'Connell have not played together for 18 months.
Image: ©INPHO/Dan Sheridan
NEWLY-APPOINTED IRELAND COACH Joe Schmidt is hoping to "pressure" Brian O'Driscoll into prolonging his rugby career and hopes Paul O'Connell will do likewise.
While the New Zealander will travel to North America this summer with Ireland, he is hopeful that the former Ireland captains will be named in Warren Gatland's British & Irish Lions squad, named tomorrow morning in London. Asked about the importance of keeping on the pair, who have a combined 210 Test caps for Ireland
Schmidt told TheScore.ie, "With those guys, their importance is clearly stated with how they play for their provinces. I think the way O'Connell has taken to the Munster side [after his injury], he has galvanised that side. They were very good players already but that talisman that you have amongst players is already really important."
O'Connell and O'Driscoll last took to the field, for the Irish cause, on October 2011 when they were on the losing side of a World Cup quarter-final tussle with Wales.
Schmidt added, "Those guys that have, A, that experience, B, the talent, and C, an incredible mental toughness, they galvanise the people around them and that's always going to be an asset in any team and, particularly, in an international team."
TheScore.ie microphone and Joe Schmidt: Together at last. (©INPHO/Morgan Treacy)
Schmidt, last week, alluded to the added pressures that come with taking on a national coaching role. It was also something that former Ireland flanker David Wallace told TheScore.ie about earlier today. The Kiwi is hoping to get off to a flying start as head coach [proper] in November when Samoa, Australia and New Zealand come to town. He knows all about tough beginnings, however. Schmidt said:
After five or six weeks with Leinster, I thought I might end up coaching St Mary's Under 13s. There was a bit of pressure on and we had lost five out of our first six games… I've got to say, I've benefited from some really good people around me and from some players that have been self-driven. as a coach, I've got to say that I've been allowed to bask in a little bit of their glory. They're the ones that have achieved some big things in the past few years and the ones that have afforded me this opportunity to be named Irish coach today."
Schmidt opted to focus on the positives of the job, rather than suggestions that he has taken on a team, as one reporter put it, 'at its lowest ebb'. He replied, "You've seen some really good players have come out of Munster and Leinster this year, and Connacht too… that amalgam of youth and potential is what we need for Irish rugby, with that small pool of players that it has, to stay as competitive as possible.
Schmidt added that he is looking forward to getting around to all the provinces to chat to the coaches and look at the players in their natural environment. If he had forgotten to mention Ulster and their burgeoning squad in his previous comment, he did not err again. He said:
I know the Leinster players pretty well but [on the North American tour] there is going to be the opportunity to see players from the other provinces and see them, pre-season, training with their provinces. That will give me a better indication because, at the moment, I'm always trying to find their weaknesses, to be honest, so Leinster can exploit them. Some of that has been successful but, if you ask Ulster, some of it hasn't been too successful this season."
Earlier in the day, Isa Nacewa praised his Leinster coach as a master tactician and the man that had demanded more from a winning team. Schmidt, in return, remarked that it was Nacewa that 'dragged me here in the first place'. "It's probably my fault," he added. "I was trying to drag him to Clermont at the time."
With that, Schmidt's official duties were done and there were jokes about him getting himself an shamrock-emblazoned tie for his suit and perhaps some IRFU 'stubbies' [the ever popular short-shorts in New Zealand]. "IRFU stubbies?" asked Schmidt, "You can get those?"
Right now, it seems, Joe Schmidt can get whatever he asks for, even that longed-for 'one more year' from O'Driscoll.