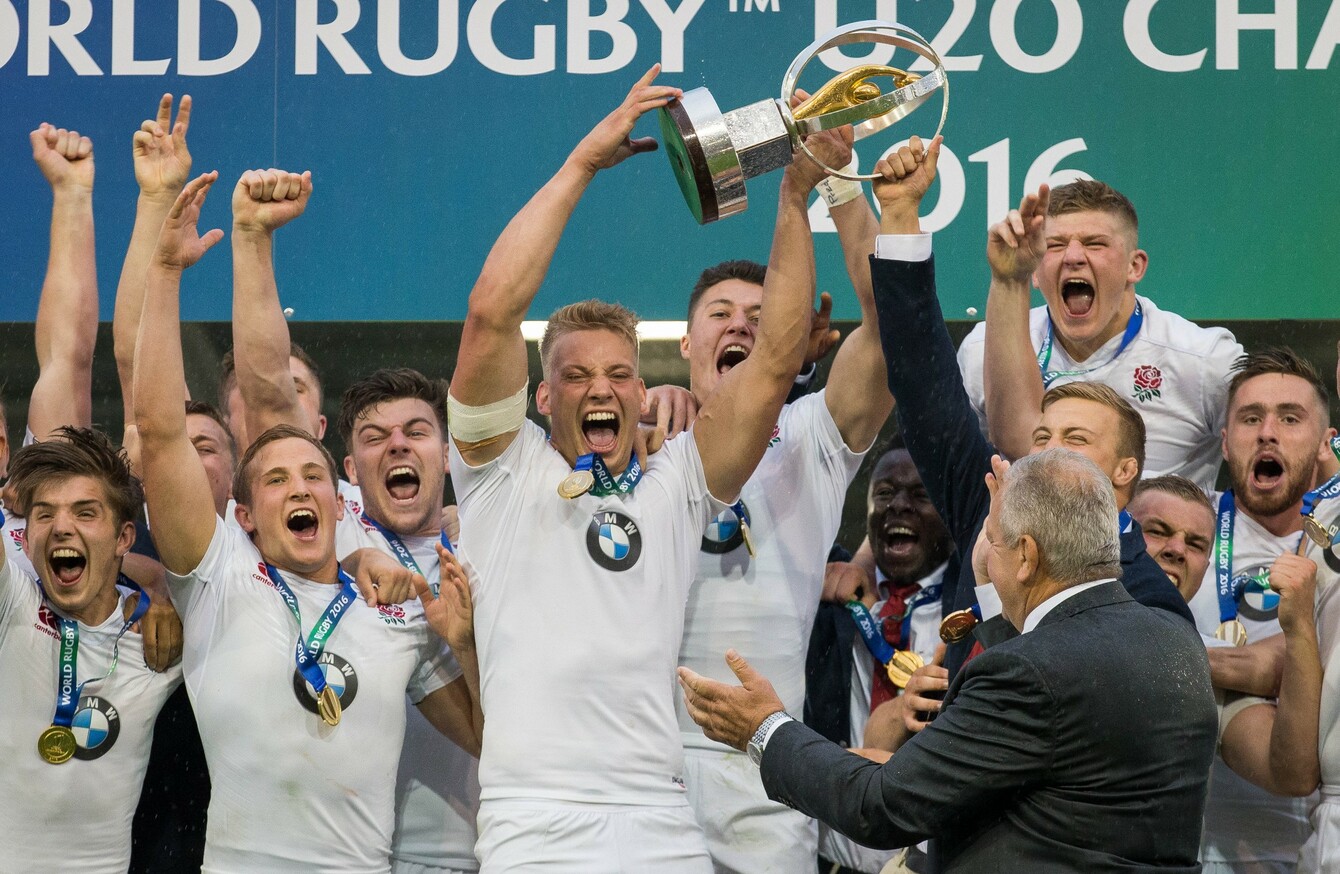 Harry Mallinder lifts The World Rugby U20 Cup.
Image: Ryan Byrne/INPHO
Harry Mallinder lifts The World Rugby U20 Cup.
Image: Ryan Byrne/INPHO
England 45
Ireland 21
By John Fallon at AJ Bell Stadium
IN THE END it proved a bridge too for Ireland as England romped home to their third World Rugby U-20 Championship title at the AJ Bell Stadium.
Ireland knew they had to get in front to have a real chance of lifting their first crown but England bossed matters from the outset and turned the screw.
And once referee Paul Williams pinged Ireland in the first scrum, it became obvious this was going to be a long evening.
England had all the front-foot rugby and were out of sight by half-time when they led 21-0.
Joe Marchant got England off the mark after 13 minutes and No.8 Callum Chick followed with a second after 27 minutes.
Lock Huw Taylor got the third just after the half hour mark and man of the match Harry Mallinder, who finished with 25 points, converted all three.
The Northampton Saints player displayed all his Premiership experience to dictate the game and he struck for two tries himself in the third quarter.
Hooker Adam McBurney had given Ireland a glimmer of hope with a 47th minute try and Shane Daly added another after a superb break from deep by full-back Jacob Stockdale after 52 minutes.
But Marchant got his second try of the final as England made it three wins from seven final appearances in the nine-year history of the competition.
Ireland refused to die and No.8 Max Deegan got a good try in the closing stages with Brett Connon converting.
Scorers:
England: Tries: H Mallinder (2), J Marchant (2), C Chick, H Taylor. Cons: Mallinder (6). Pens: Mallinder
Ireland: Tries: A McBurney, S Daly, M Deegan. Cons: J McPhillips (2), B Connon
England: M Malins; S Aspland-Robinson, J Marchant, J Williams, M Gallagher; H Mallinder, M Green; L Boyce, J Singleton, B Walker; S South, H Taylor; G Nott, W Evans, C Chick.
Replacements: H Randall for Green (32), W Stuart for B Walker (53), A Kitchener for South (61), J Willis for Nott (61), T West for Boyce (65), C Piper for Singleton (69), O Thorley for Gallagher (72), M Wright for Aspland-Robinson (72).
Ireland: J Stockdale (Belfast Harlequins / Ulster); M Byrne (Terenure / Leinster), S Daly (Cork Con / Munster), C O'Brien (Clontarf / Leinster), H Keenan (UCD / Leinster); J McPhillips (Queen's University / Ulster), S Kerins (Sligo / Connacht); A Porter (UCD / Leinster), A McBurney (Ballymena / Ulster), B Betts (Young Munster / Munster); S O'Connor (Cashel / Munster), J Ryan (Lansdowne / Leinster); G Jones (UCD / Leinster), D Aspil (St Mary's RFC / Leinster), M Deegan (Lansdowne / Leinster).
Replacements: J O'Brien (UCD / Leinster) for C O'Brien (56), B Connon (Newcastle Falcons) for McPhillips (57), V O'Brien (Cork Con / Munster) for McBurney (61), K Brown (Shannon / Munster) for Brown (62), N Saunders (Epsom College/Exiles) for Kerins (70), E Mintern (Cork Constitution/Munster) for O'Connor (70), A Coyle (Naas/Leinster) for Betts (75), J Bollard (Dublin University / Leinster) for Porter 79).
The42 is on Snapchat! Tap the button below on your phone to add!
Referee: Paul Williams (New Zealand)