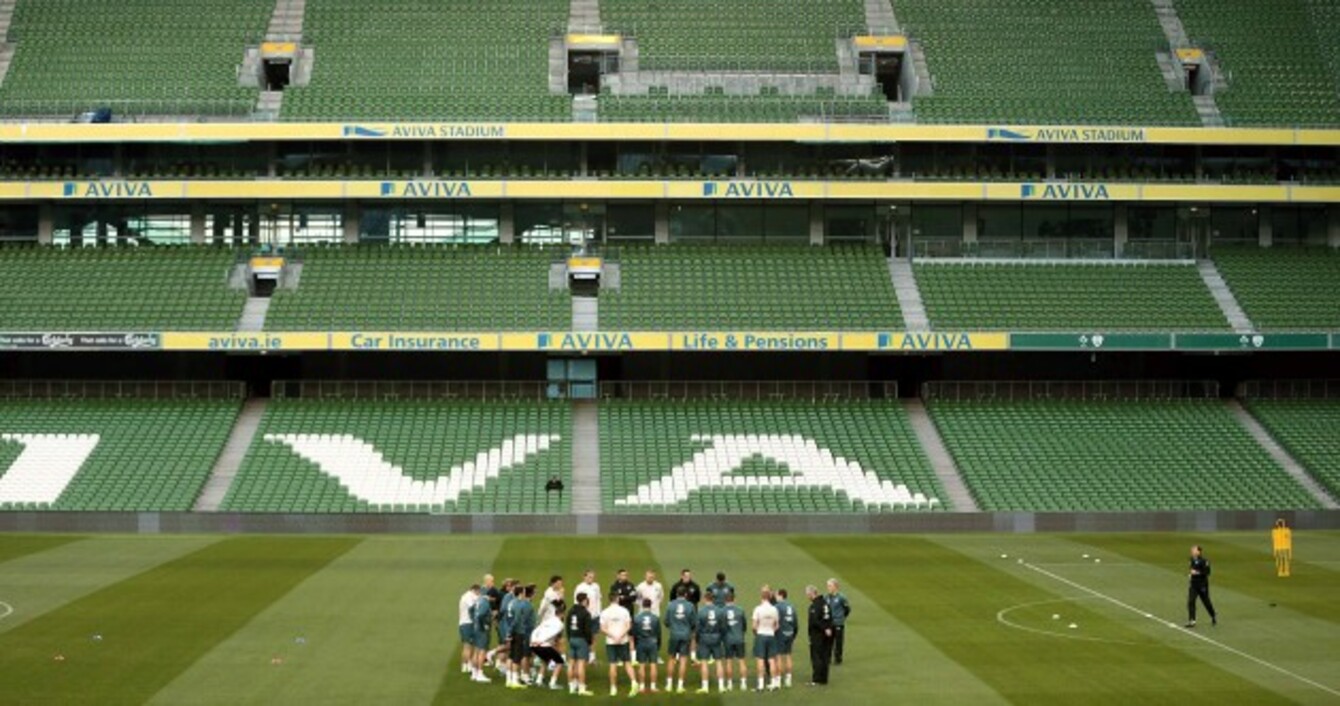 Ireland trained in an empty Aviva Stadium last night -- but will there be many more there this evening?
Image: INPHO/Morgan Treacy
Ireland trained in an empty Aviva Stadium last night -- but will there be many more there this evening?
Image: INPHO/Morgan Treacy
Updated 10.18
IT SHOULDN'T BE too hard to find a seat in the Aviva Stadium tonight.
The remote chance of qualification is dead and buried. The visitors, a Kazakhstan side ranked 132nd, hardly count as glamour opposition. The Irish public has by and large been sapped of its enthusiasm for this national side and morale needs a reboot.
It is the recipe for one of the smallest crowds at a competitive home international for quite some time.
Friday's defeat against Germany was another chastening experience for this Irish team but those who do make their way over to Dublin 4 might reasonably expect a different type of performance tonight.
Seventy-three places separate the countries in the world rankings, a gap which would be even bigger had Ireland not plummeted to an all-time low of 59th after the defeats to Sweden and Austria.
No matter how many times captain Robbie Keane stressed the need to be professional and do the right thing at yesterday's pre-match press conference, the expectation remained the same: this is a game that Ireland should win.
Even the Kazakh media were setting their sights quite low. At one point, one visiting journalist's main concern was to find out whether Noel King considered them a better side than group minnows Faroe Islands.
"We don't have to play [the Faroes] again so Kazakhstan are better," the interim Ireland boss joked.
For the complacent, the warning signs are obvious. "The best thing about that game was the last five minutes I think," Keane said when he was asked to reflect on the opening qualifier in Astana, the day Kevin Doyle came off the bench to save Ireland from serious embarrassment.
Winning tonight is not just about finishing a grim campaign on the only thing that now passes as a high note. When the structure and seedings for the next round of European Championship qualifiers are finalised, the result could well be crucial.
As things stand Ireland are just outside the expected cut-off point for the second seeds though a win, coupled with a few favourable results elsewhere, could see that fine balance tip back in their favour.
James McCarthy gets a ball in the face (INPHO/Morgan Treacy)
"You're playing for a serious prize," King said, dismissing the suggestion that personal pride is the only thing up for grabs.
With that in mind, the availability of John O'Shea and Richard Dunne following suspension will be welcomed as will Keane's return to fitness. Ireland's most-capped player and record goalscorer trained again last night, hopeful that the niggling Achilles' problem that flared up before the Germany game gives him no further trouble.
Just how many changes King makes remains to be seen. As on Friday night, he will withhold his team until shortly before kick-off.
After experimenting with Glenn Whelan and Kevin Doyle on either side of James McCarthy in 4-2-3-1, he agreed that there is "a big strong case" for playing with recognised wingers this time.
While that could open the door for Aiden McGeady and James McClean to return to the side, King insisted that he was pleased by the performance in Cologne and could limit the number of changes as a result.
"That was a great effort that they've given so to just dismiss that effort and make changes is huge.
"It's a huge challenge for me but if that's what's required, I'll do it."
The chance of Ireland lining out in a more attacking formation to take the game to Kazakhstan seems remote as well. The priority seems to be to find a flexibility and versatility that will allow the side to react and respond to whatever comes their way.
"I think the system will be the same but in the system, we have proved that we can attack and counter-attack and if the option comes to do that, that's what we will do.
You can play the same structural shape but from that same structural shape, you can do lots of things. You can counter, you can keep possession, you can defend and that's the beauty of it.
"The expectation is because of who we are, we're Ireland, we think we're the greatest thing since sliced pan. We do and I do myself.
"If I was standing in the stand, I'd think 'we'll beat Kazakhstan.' But I'm not. We're here and we've a game to get on with. You start it and you don't know what happens.
INPHO/Morgan Treacy
"Would it be an embarrassment for me [to lose]? If we apply ourselves and do well and do the basics correct and got beaten by a counter, no, that wouldn't be embarrassing for me. That's football. You've got to live with that.
"But if we didn't perform and didn't follow the approach and weren't dominant in play, then I'd be hugely upset.
"Would I be embarrassed? No because I'm an honest, hard-working coach from Dublin. If I do the right things and keep my honour and the boys apply themselves, then I have no difficulty."