Liveblog
Hello everybody and welcome along to our minute-by-minute coverage of today's Euro 2020 qualifier between Ireland and Georgia live at the Aviva Stadium.
It is a beautiful evening in Dublin and an ideal occasion for football. Mick McCarthy's second era in charge of the national team got off to a winning start in Gibraltar on Saturday. While that 1-0 win courtesy of Jeff Hendrick's composed second-half strike was far from convincing, it was an important three points on the board.
McCarthy and his men will know tonight's opponents pose a much, much stiffer test. Ireland and Georgia are well accustomed to one another at this stage, the side's having faced off during qualification for Euro 2016 and again in 2018 World Cup qualification too.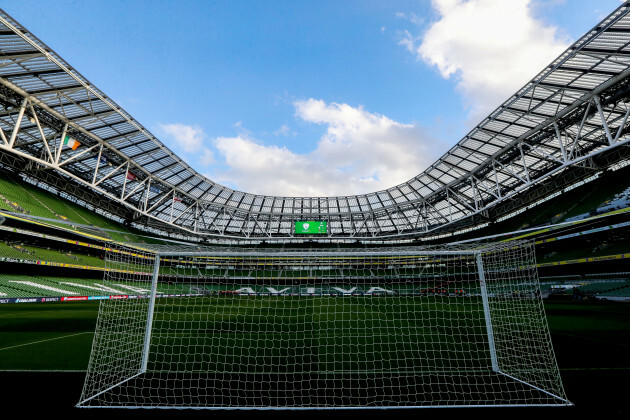 Source: Ryan Byrne/INPHO
Out of those four competitive meetings Ireland have secured three wins and one draw — most recently beating Georgia 1-0 here at the Aviva in June 2016 thanks to a rare Seamus Coleman goal and then grabbing a point on the road in a backs-against-the-wall performance in Tbilisi.
Matters on the field of play have been overshadowed by affairs off it over the last week. John Delaney's departure from his role as CEO of the FAI and appointed as Executive Vice-President has caused a whirlwind of controversy since the weekend.
There have been rumours of potential tennis-ball related protests taking place at tonight's game, with many Ireland supporters simply fed up with the way football is being governed right now.
On the pitch and in the stands, it promises to be an exciting night of action ahead. Kick-off is coming up at 7.45pm, with today's game live on RTÉ 2 if you're near a television.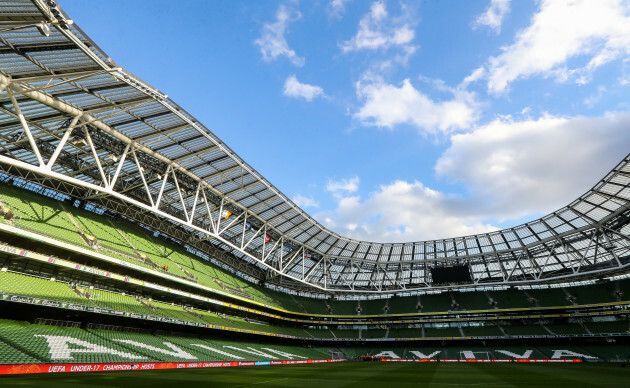 Source: Ryan Byrne/INPHO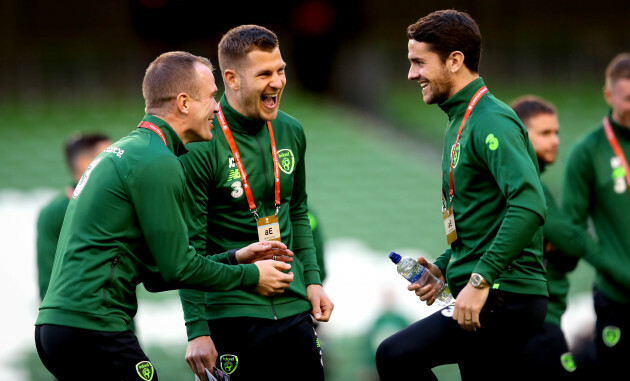 Let's get started with the team news…
TEAM NEWS: Two big changes from Mick McCarthy ahead of kick-off. Matt Doherty and Sean Maguire are dropped to the bench, with Robbie Brady and Glenn Whelan handed starts.
Just when we thought we'd seen the last of Glenn Whelan — having been given a fitting goodbye at this ground in November — he just keeps coming back. 'Just when I thought I was out… they pull me back in!', he must be musing right about now.
Doherty has arguably been the best full-back in the Premier League this season, but McCarthy has opted for Seamus Coleman at right back tonight following Saturday's unsuccessful experiment of trying to fit both men in.
Apart from that, it's as you were. The FAI say Ireland will line up in a 4-3-3 formation tonight, however we will have to wait until the football gets underway to see if that is actually true.
IRELAND: Randolph, Coleman, Duffy, Keogh, Stevens, Hourihane, Hendrick, Whelan, Brady, McGoldrick, McClean.

Substitutes: Westwood, Doherty, Maguire, Byrne, 'Brien, Egan, Collins,Judge, Cullen, Long, Arter, Travers.

GEORGIA: Loria, Kakabadze, Khocholava, Kverkvelia, Kashia, Kiteishvili, Kvekveskiri, Kankava, Gvilia, Arveladze, Kvilitaia.

Substitutes: Kvaskhvadze, Qazaishvili, Okriashvili, Katcharava, Parunashvili, Kharabadze, Merebashvili, Lobjanidze, Tchanturishvili, Jigauri, Navalovski, Makaridze.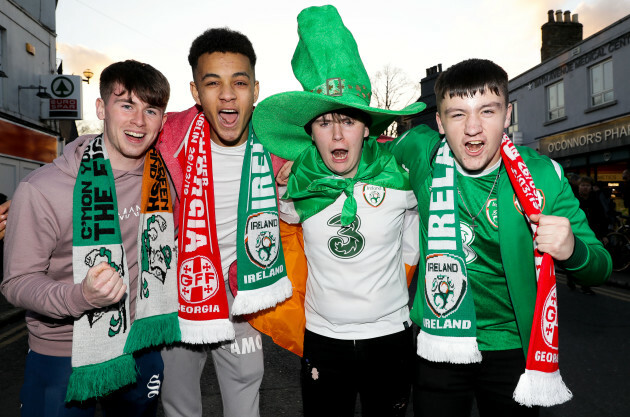 Source: Morgan Treacy/INPHO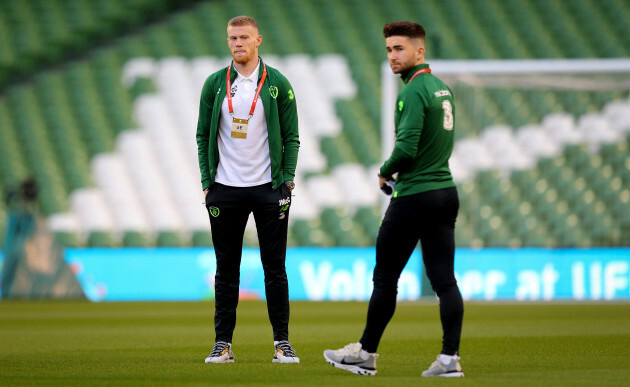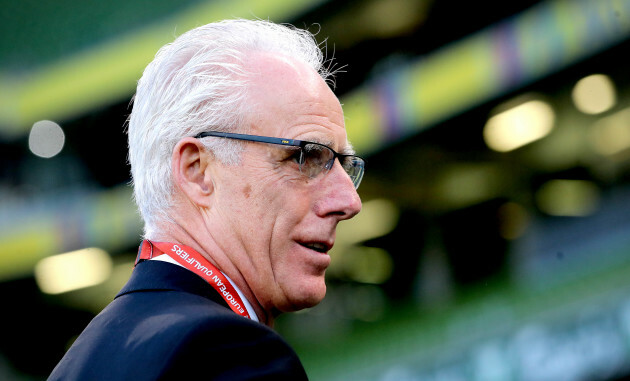 If Ireland are to navigate their way to Euro 2020, tonight will be a crucial hurdle to overcome, particularly ahead of June's visit to take on qualification favourites Denmark.
Saturday's win was far from convincing, and Georgia pose a proper test of where this Ireland team is at under Big Mick. How do you see tonight's game going? Let us know below!

"To 'have a Macedonia' became slang for personal failure after Jason McAteer's sending off in 1997," writes Gavin Cooney ahead of kick-off. "And was then expanded to include collective embarrassment after Ireland's automatic qualification for Euro 2000 perished with the concession of a last-second equaliser against the very same opponents.
"To 'have a Georgia' is a different thing, less defined by the act of failing than the realisation you have been slowly sliding toward it.
"Given it is a game we are expected to win while seemingly burdened by said expectation, it's a name we can give those uneasy nights that are thin on glory and thick with possible humiliation; enduring a Georgia being similar to seeing in your younger, talented colleague not their talents but only your own, thwarted potential."
You can read Gavin's full preview for tonight's game right here.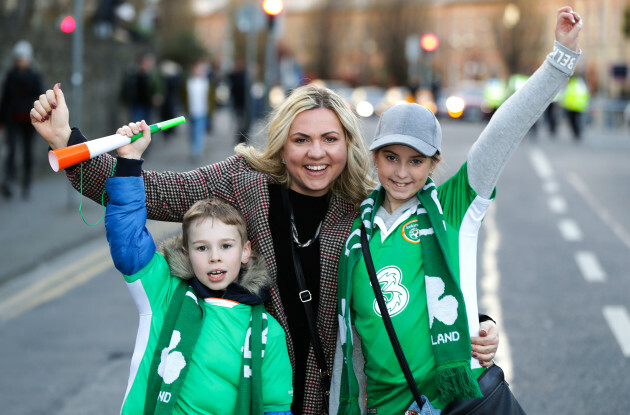 Source: Morgan Treacy/INPHO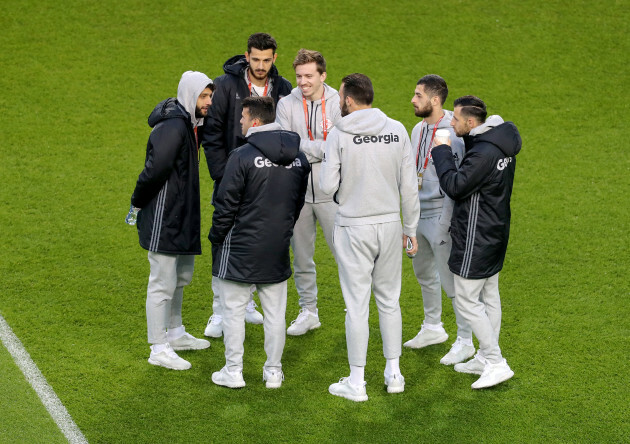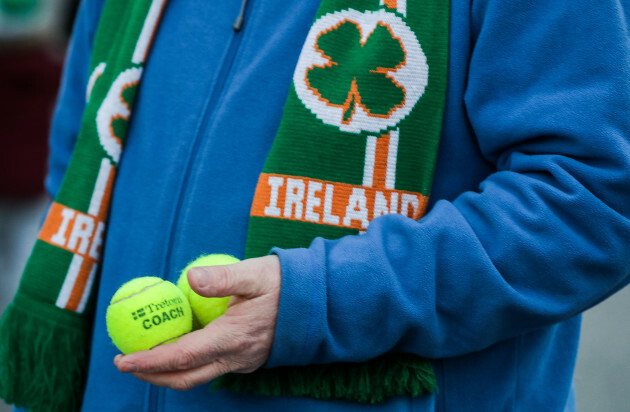 What the managers have said…
Mick McCarthy: "I have seen them play and they are a very good side. I think it's a tough task and when we are at home, we have to take all of the advantages that we've got.
"We'll have a good crowd behind us and if we can start well, we'll see how it goes from there.
"What has happened in the past doesn't increase any pressure on me at all. I've started and we've got three points, the same three points that we would have had even if the players had got more goals."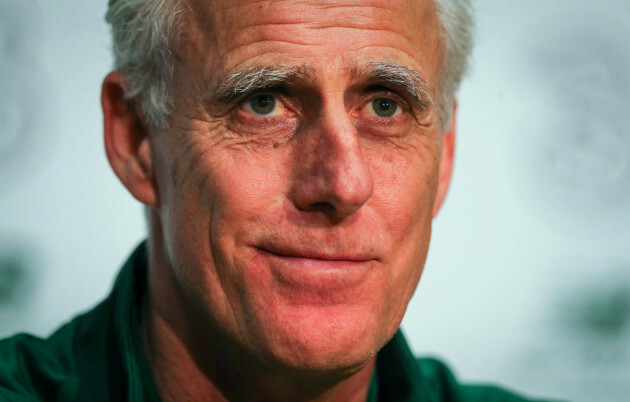 Source: Ryan Byrne/INPHO
Vladimir Weiss: "We have a chance next year to do something spectacular for Georgian football. We must focus on this game at the moment.
"Two teams will go through and we will try to do it also in the group, which would be something unbelievable.
"It's not easy. The favourite in Group D is of course Switzerland, then Ireland and Denmark, and us and Gibraltar but we will try to do it.
"Sometimes in life, miracles happen, but tomorrow this game will show what our chances in the group will be for the next games."
The teams are out, the sun is shining, Amhrán na bhFiann has been belted out. We're just a minute or two away from kick-off now as the atmosphere builds and builds inside Lansdowne Road.
KICK-OFF: We're underway in Dublin for the first half!
A dangerous early run behind enemy lines from Jeff Hendrick. Enda Stevens dashes through midfield and offloads to Seamus Coleman, but the Everton defender's through ball into the corner for Hendrick is overplayed and flies out for a goal-kick.
Georgia produce an attack of their own via striker Giorgi Kvilitaia at the other end, but Shane Duffy deals with the danger. He scuffles a pass out wide towards Seamus Coleman to ease pressure on the Irish backline.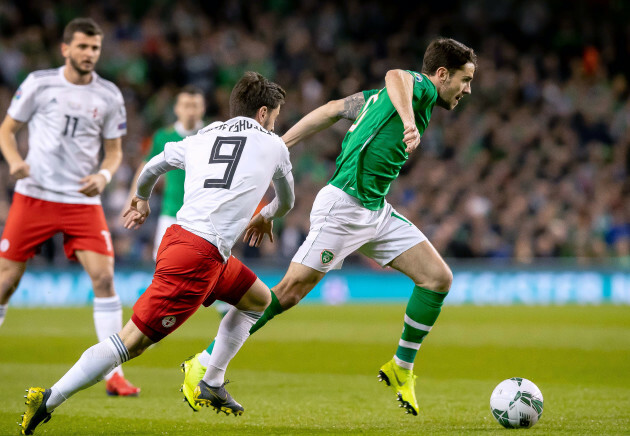 Source: Morgan Treacy/INPHO
Conor Hourihane tries to find David McGoldrick with a long ball punted over the top, but the Aston Villa man's effort fizzes high and wide as Giorgi Loria earns a goal-kick. Soon afterwards Ireland earn a free, but again Hourihane's delivery leaves a lot to be desired and flies wide.
First shot of the evening and it comes from the left boot of Robbie Brady. He cuts inside and beats Vato Arveladze with a drop of the shoulder. Brady tries his luck from the edge of the penalty area, but his shot is off target, dragging along the surface and wide.
Very close again as Ireland begin to prod and probe. Jeff Hendrick feeds Seamus Coleman inside the box, but no-one is on hand to produce anything of note with the skipper's chipped cross aimed towards the back post.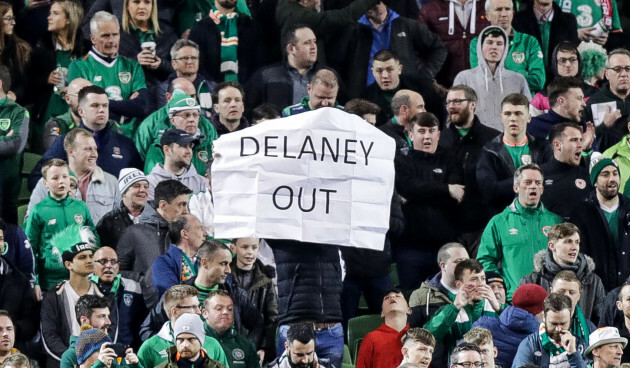 Source: Morgan Treacy/INPHO
Save! Conor Hourihane is inches away from giving Ireland the lead. Once again Jeff Hendrick is instrumental with a sliding challenge. His tackle gives the ball to McGoldrick, who in turn finds Hourihane.
The Villa man has two options: have a go at goal or pass to the unmarked Robbie Brady on his own in the box. Hourihane goes it alone, but his low shot is well saved by Loria.
Two chances in quick succession for Ireland as Mick McCarthy's men begin to really up the ante. This time it's David McGoldrick, who tees himself up on the volley, but he fails to break the deadlock.
Robbie Brady strikes the wall with a free-kick in a decent position 25 yards out from goal. Another Ireland attack follows, and this time James McClean is hacked down just outside the area with another promising free to come on the lefthand side.
Glenn Whelan plays the free-kick short and finds Robbie Brady unmarked on the edge of the box. A similar routine to Whelan's famous strike against Italy in 2009, but this time Brady's left-footed strike flies high and over the top of the crossbar. Very promising start by Ireland here.
This really has been a much-improved showing so far. After an opening few mintes playing at a slow tempo, Ireland really have taken this game into another gear with five or six decent chances in a row. Georgia just hanging in there at the moment.
James McClean has the better of Otar Kakabadze and fizzes a dangerous ball towards the box. It's a little too close to the goalkeeper, though, and Loria gathers with little fuss ahead of David McGoldrick.
Source: Ryan Byrne/INPHO
Right back Otar Kakabadze does really well down the flank. He gets two crosses into the box in quick succession, but Richard Keogh and Shane Duffy manage the danger and keep the ball out of harm's way.
Close again by Georgia as they begin to enjoy a purple patch. A corner swung into the box is met by Guram Kashia and there's a hairy moment as Darren Randolph and his man on the post both go to clear the ball. Randolph takes command of the situation though, and clears possession.
Seamus Coleman again doing well down that righthand side, really getting the better of Davit Khocholava time and time again. The Donegal man goes down inside the box following a meandering run, but Dutch referee Serdar Gözübüyük waves play on.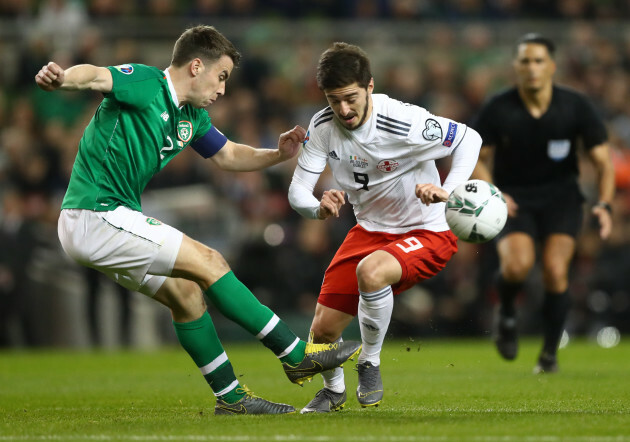 Source: James Crombie/INPHO
A decent passage of passing play sees Whelan, Hourihane and McClean all link up down the lefthand side. The ball is fed back to Enda Stevens who swings a Hail Mary cross into the penalty area, but it's easily dealt with and headed back to goalkeeper Loria.
More good play from Ireland and yet again it's Jeff Hendrick at the heart of it. He threads an inviting ball low for David McGoldrick to race onto, but the Sheffield United man is hauled down cynically as Ireland earn a free in a dangerous spot.
Holy tennis balls! Play is paused for a few minutes at the Aviva as a bunch of luminous tennis balls are thrown onto the pitch. There were rumours in the pre-match build-up that this might happen in protest of the FAI, and it's come to fruition. The stewards arrive to clear them away.
There were smiles and hugs aplenty between McCarthy, Terry Connor and Robbie Keane on the touchline. It's Mick's first ever game at the new Lansdowne and he has his first goal back in charge in front of a home crowd. If there was a roof at the Aviva, it might just have lifted off for a moment there.
Those tennis balls seemed to be a lucky omen. A crazy couple of minutes with the bizarre sight of stewards on the pitch at the Aviva kicking the little luminous balls off the pitch, the next Conor Hourihane is sliding across the turf in celebration having delivered a sublime free-kick to take the lead. What an end to the half.
A little under five minutes to go before the break and Ireland are full of confidence right now. Georgia have rarely threatened bar a couple of set pieces, and to his credit Glenn Whelan has really controlled midfield behind Hendrick and Hourihane, who have both been given a lot more freedom to attack and create chances.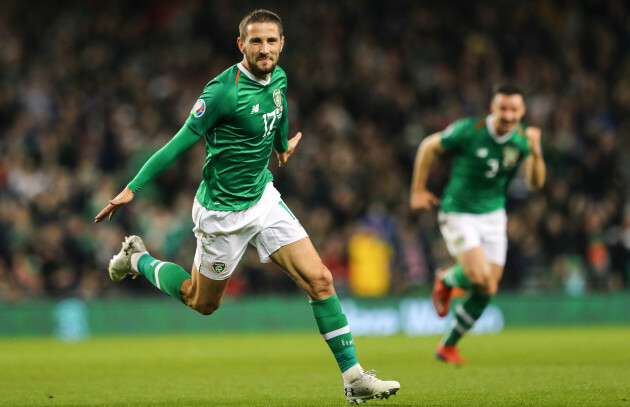 Source: Ryan Byrne/INPHO
A corner just before the break is swung in by the right boot of Hourihane. It's aimed towards the front post with Richard Keogh's name on it, but defender Davit Khocholava beats everybody to it with a good defensive header.
There will be four minutes of stoppage time to come at the end of the first half.
A rare sight at goal for the visitors. Central midfielder Nika Kvekveskiri lines up a shot from the guts of 35 yards and backs himself to hit the target, but he balloons a really poor effort flying over the crossbar and into the crowd.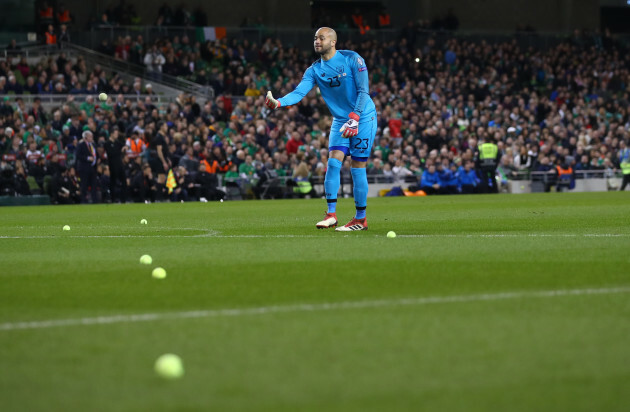 Source: James Crombie/INPHO
What a save! Ireland survive a big scare and it's an absolutely superb stop from Darren Randolph. Just like against Gibraltar, the Middlesborough shot-stopper comes to the rescue. A long ball punted into the box is knocked down to an unmarked Valeriane Gvilia, but his half-volley is beaten away brilliantly by Randolph on his line. Outstanding.
HALF-TIME: IRELAND 1-0 GEORGIA
There we are, half-time already. You have to say compared to the struggle that was the Gibraltar game on Saturday afternoon, this has been a really excellent and — dare we say — enjoyable game to watch.
From very early on in the first half Ireland were full of attacking intent, Jeff Hendrick and Seamus Coleman in particular driving their side on consistently. The tennis ball protest took place, and just moments later Conor Hourihane brought the Aviva to its feet with a sublime free-kick.
It's his first ever international goal in the green jersey and the Aston Villa man's strike is the difference between the sides at the interval. Why can't all Ireland matches be this watchable? More to come shortly!
SECOND-HALF: We're back underway for another 45 minutes at Lansdowne Road.
No changes from either side at the break as Georgia earn an early free-kick on the edge of the Irish box. Otar Kakabadze is fouled and requires some medical treatment as a result after the challenge from James McClean.
Valeriane Gvilia sizes up the free but makes an absolute dogs' dinner out of it. The 24-year-old has a go on his right foot, but his shot flies well and truly over the top of Randolph's crossbar.
Ireland carrying the momentum of the opening half into the second interval here. Conor Hourihane is right in the thick of the action, sprinting down the sideline after Enda Steven's clever ball over the top. Hourihane attempts a cross into the danger zone but Kakabadze keeps tabs on him and earns a goal kick.
Source: Morgan Treacy/INPHO
Really excellent pressing play from James McClean there. Solomon Kverkveliya plays the ball back to his goalkeeper, but McClean doesn't give up the chase. Loria is forced to hoof the ball long, but the Derry man easily could have got the block in and scored from close range.
Ireland have the ball in the back of the Georgian net, but it's not going to count. There's a really excellent passage of passing play between David McGoldrick and Robbie Brady, before Brady spins a pinpoint pass across the other side of the box to Enda Stevens.
He crosses to an unmarked Jeff Hendrick who taps into an empty net — but the linesman raises his flag against the Burnley midfielder.
There's a real sense of urgency and intent about Ireland and it's been there all throughout this game. Whereas in recent years, particularly towards the latter stages of the Martin O'Neill era, players would look almost afraid to drive forward — now each and every man is hauling ass to break into space at every given chance. So entertaining.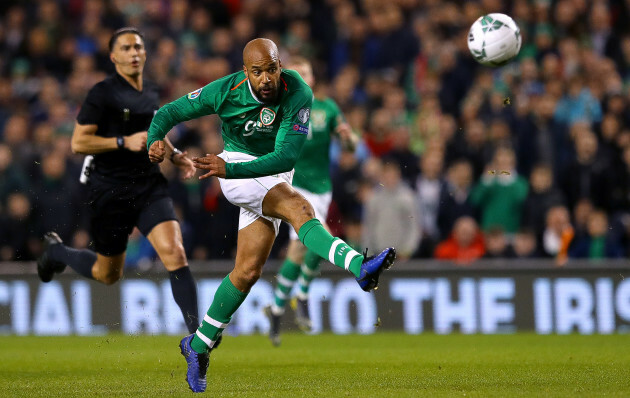 Source: Ryan Byrne/INPHO
More promising play. Robbie Brady collects possession down the righthand side, crosses into the box, but earns a corner in the process. Mick McCarthy said Brady wasn't fully fit on Saturday, but he has put in a serious shift tonight and has not looked behind the pace.
There are serious shouts for a penalty as David McGoldrick goes down inside the box under the challenge of Solomon Kverkveliya. The striker was turning to receive possession after a clever dancing dribble and offloads from James McClean, but the referee is having none of it and waves play on.
A hairy moment or two at the back for Ireland. The ball bobbles left and right as Shane Duffy and Richard Keogh fail to clear — possession falls to Jaba Kankava to have a go at goal, but his shot is eventually blocked down.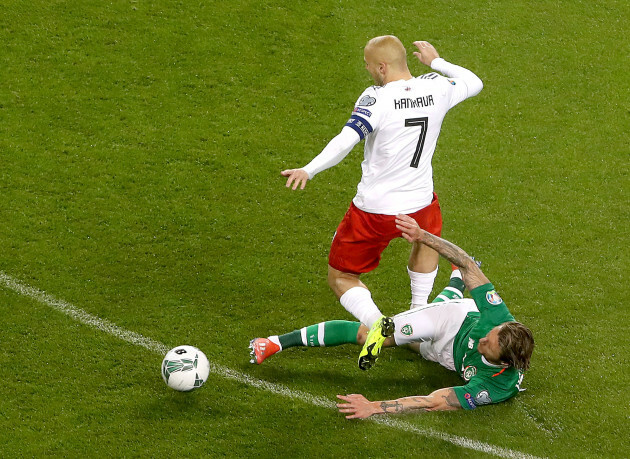 Source: Bryan Keane/INPHO
Another chance for Georgia. A corner kick falls on a silver platter for Otar Kiteishvili on the edge of the area, but his left-footed strike is always rising and goes over the top of the crossbar. On target, and his shot easily could have been the equaliser.
Chance! Enda Stevens almost, almost grabs a second for Ireland. Nerves are beginning to creep in just a little bit and another goal really would help put this game to bed. The ball falls invitingly for the Sheffield United defender from close range at an awkward angle, but he scuffs his shot wide.
Oooooh close again for Ireland. David McGoldrick leaps into a one-on-one situation and successfully stears the ball past goalkeeper Giorgi Loria. His touch is just too heavy, though, and McGoldrick can't make up the ground to slot into a completely empty net. How close can you get?
Substitution for Ireland: Aiden O'Brien replaces Robbie Brady.
Source: Morgan Treacy/INPHO
Aiden O'Brien makes an immediate impact down the right wing after replacing Brady. He delivers an inviting cross into box, but it flies out the other end untouched. Georgia really being pinned back at the moment.
Another opportunity to put this game to bed as McGoldrick sizes up a shot from close range on his left foot. It looks certain to fly into the back of the net, but defender Solomon Kverkveliya slides in with a perfectly-timed block to keep his side in this.
Ten minutes to go as Ireland try and build on this 1-0 lead. To his credit, Mick McCarthy has implored his side to go out and grab another in this second half where we have seen before Irish sides sit back and try to cling on. This has been a very impressive display full of attacking intent to try and score more than just once.
Substitution for Ireland: Matt Doherty replaces David McGoldrick.
Source: Morgan Treacy/INPHO
David McGoldrick receives a standing ovation from the Aviva Stadium as he walks off to the bench. The entire stadium stands to its feet to applaud the Sheffield United man — recognition for a throughly impressive performance. He has been excellent tonight.
Off the post! Georgia almost snatch a dramatic late equaliser with an almighty effort from the right boot of Jaba Kankava. The midfielder finds a pocket of space and smacks a powerful effort which almost beats Darren Randolph. His shot whacks the post and flies just wide. A big let-off for Ireland there, it has to be said.
Georgia really piling on the pressure late on here. Valeriane Gvilia fizzes a dangerous ball into the box, but Randolph reads the the danger nice and early and catches the cross. The Irish players look wrecked out there at the moment, waiting for sweet release of the final whistle.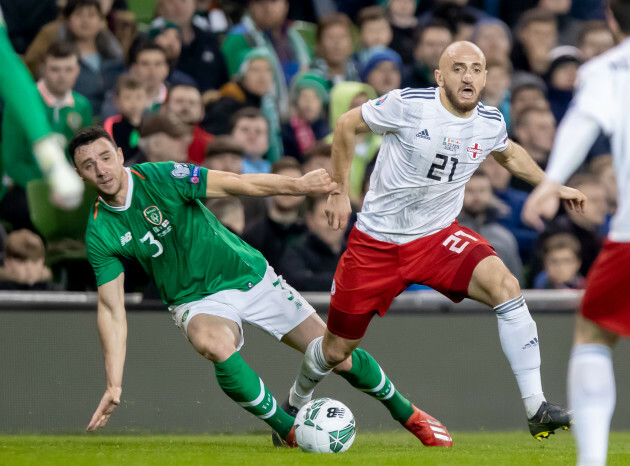 Source: Morgan Treacy/INPHO
Georgia toying around with the ball on the edge of the Irish box, Valeri Qazaishvili instrumental in retaining possession. A headed clearance by Richard Keogh falls to Kankava who swipes at it — but his shot flies over the bar to the home supporters' utter relief.
There will be four minutes of stoppage time to come at the end of the second half.
David McGoldrick receives another round of applause as he is confirmed as tonight's official man-of-the-match. No complaints with that, he was superb up front all throughout tonight.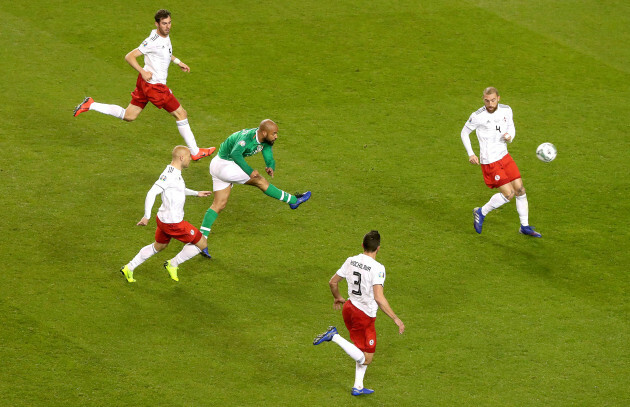 Source: Bryan Keane/INPHO
Ireland are pushing Georgia further back and further back, and you'd swear Mick McCarthy's men were the side looking for a late goal. Glenn Whelan sees the ball fall invitingly on the edge of the box and he kicks into touch for a throw-in to waste some time.
It looks like Georgia might have one final attack, but Jeff Hendrick's interception sends James McClean hurtling down the left. He has the option to run into the corner, but instead crosses right into goalkeeper Loria's arms. Everyone's nerves are shot here.
Ireland shutting Georgia out on the edge of the hosts box, banks of green jerseys throwing themselves in front of every opening to deny the visitors one final chance to level. It looks like that will be it as Duffy hoofs clear.
Source: Bryan Keane/INPHO
Flag
FULL-TIME: IRELAND 1-0 GEORGIA
It's all over! Ireland have beaten Georgia and it's six points from a possible six to start this Euro 2020 qualification campaign in the best possible manner. Compared to Saturday's victory in Gibraltar, this was a thoroughly impressive display.
Not only impressive, but also very enjoyable to watch. Conor Hourihane's expert free-kick is the difference on the night, but there are so many positives to take out of this win, with brilliant displays from front to back — none more so than man-of-the-match David McGoldrick.
This could be argued as the best Irish performance in two or three years, which is saying something. Thanks a million for joining us for the ride — you can read Paul Dollery's match report here and you can find Gavin Cooney's player ratings here too. Cya soon!
Subscribe to our new podcast, The42 Rugby Weekly, here:
Contribute to this story: