AMONG THE IMPRESSIVE Leinster tries against an admittedly weak Glasgow side last weekend, Isa Nacewa's first might not have appeared the most noteworthy on initial viewing.
A simple switch cut the Glasgow defence apart, but this running line highlighted the veteran Leinster captain's class in yet another high-quality performance at the age of 35.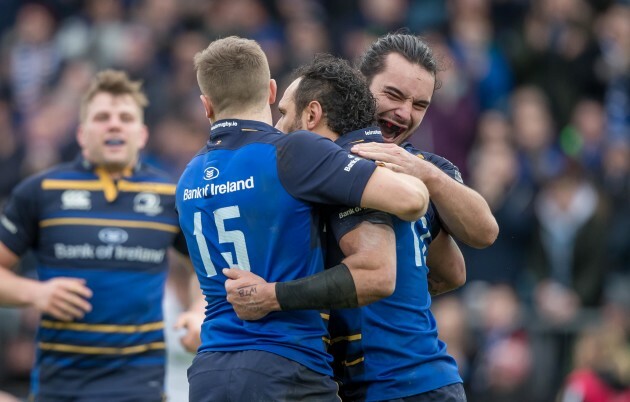 Morgan Treacy / INPHO Leinster celebrate Nacewa's first-half try. Morgan Treacy / INPHO / INPHO
Having been moved back to inside centre following Garry Ringrose's injury, Nacewa's display was full of defensive leadership and line-running excellence.
His first try was a fine example of the intelligence the 35-year-old brings to Leinster. Rugby can be a simple game and Nacewa is a player who focuses intently on nailing the 'basics'.
His ability to run the purest of pure switch lines in this instance cut Glasgow apart, as we see below.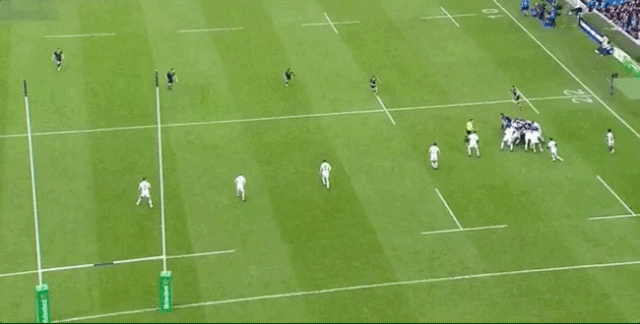 Click here if you cannot view the clip above
Oftentimes when we thinking of a switch line, we consider it to be a run back against the grain, almost on the opposite angle to the player who is going to pass.
So sometimes we think of a switch – or cut or scissors or whatever you call it – as something like the below.
But what Nacewa shows us in this example against Glasgow is that the switch is often more effective when the player taking the pass gets 'back outside' after receiving the ball, something a little more like the below.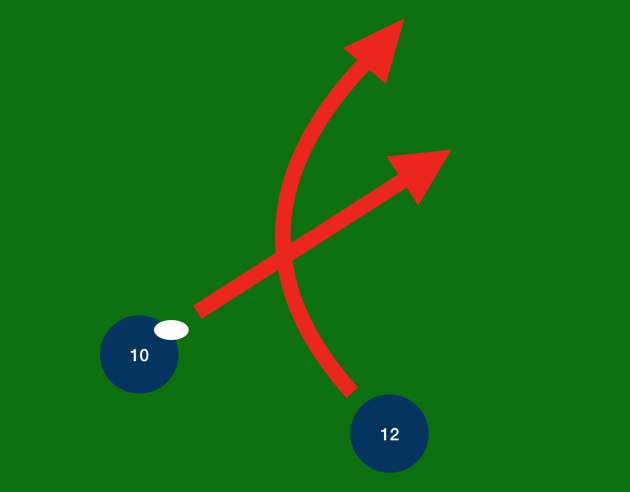 Let's take another look at Nacewa's running line and how it beats the Glasgow defence.
Below, we see the situation just as Johnny Sexton receives the pass from Luke McGrath after Leinster's pack provides good possession by driving their maul forward.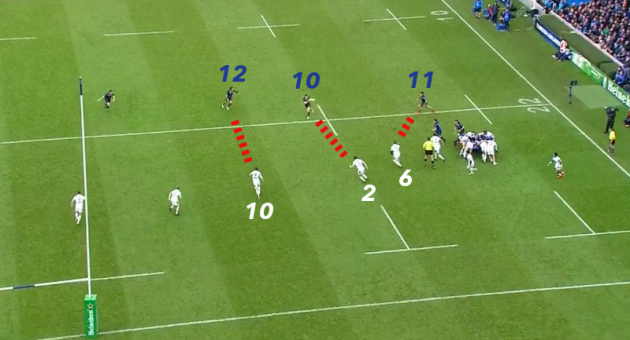 Focusing in on the area around the switch, we can see that Glasgow are well set to defend against Leinster.
Hooker George Turner [white 2] is lined up on Sexton [blue 10], while out-half Pete Horne [white 10] is marking up on Nacewa [blue 12].
Inside, Glasgow flanker Matt Fagerson [blue 6] is concerned about a possible inside pass to James Lowe [blue 11].
Sexton's overall running threat is important here for Leinster, with Turner so concerned about tracking the out-half, even as Sexton runs across the pitch.
Glasgow might reflect that they should have 'compressed' in from the outside here, with Horne turning in on Sexton and Fagerson holding his zone to tackle Nacewa as the switch plays out, as indicated below.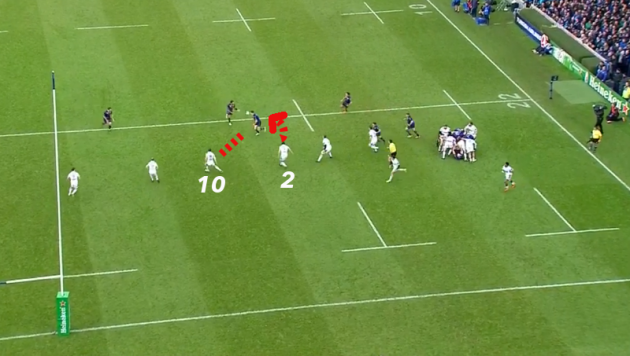 Instead, Horne beings to drift away from Sexton and Turner tracks the Leinster out-half, overcommitting to him and leaving himself in a position from which it's very difficult to react and deal with Nacewa.
Turner would have hoped that he would still have some support on his inside shoulder to deal with Nacewa but this is where the quality of the running line comes in.
Fagerson, as we mentioned, is initially concerned about the presence of Lowe, who loves to arrive late on the inside and take short passes.
However, Adam Ashe has broken from the maul to get to Fagerson's inside shoulder and cover Lowe in the event of an inside pass from Nacewa.
With Nacewa initially cutting back against the grain underneath Sexton from outside to in [yellow below], Fagerson [white 6] settles back on his heels just for a split second.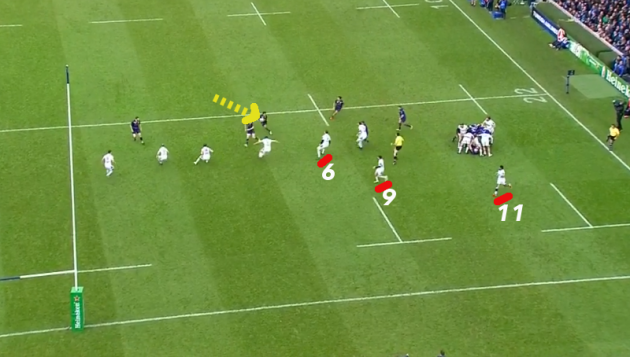 Similarly, the sweeping Ali Price [white 9 above] and Niko Matawalu [11 white] slow or stutter their covering runs in behind the defensive line.
But Nacewa has already begun to arc back to the outside again, taking him past the slipping Turner and beyond the despairing reach of Fagerson, as well as the belated sweeping cover of Price.
Glasgow's defence here is poor, and we could go into greater depth on their shortcomings, but the point is that Nacewa's basic but brilliant running line fully exploits the situation.
The ideal on any switch is that the defender initially lining up on the passing player tracks that passing player's run across the pitch and overcommits to them, as Turner does here with Sexton.
The second hope is that the player inside that defender is delayed in getting across the pitch, as happens with Fagerson in this case.
But Nacewa accentuates that delay, even creates it, with his running line – initially coming back to the inside as if he's going to run directly into Fagerson, but then bursting almost instantly back to the outside upon receiving the ball.
Of course, there may be times in a game where the space on a switch doesn't require that 'back outside' line but it's a key part of any centre's armoury.
A simple part of the sport, one of the 'basics,' but even at 35, Nacewa is still doing those things better than most.
The42 has just published its first book, Behind The Lines, a collection of some of the year's best sports stories. Pick up your copy in Eason's, or order it here today (€10):