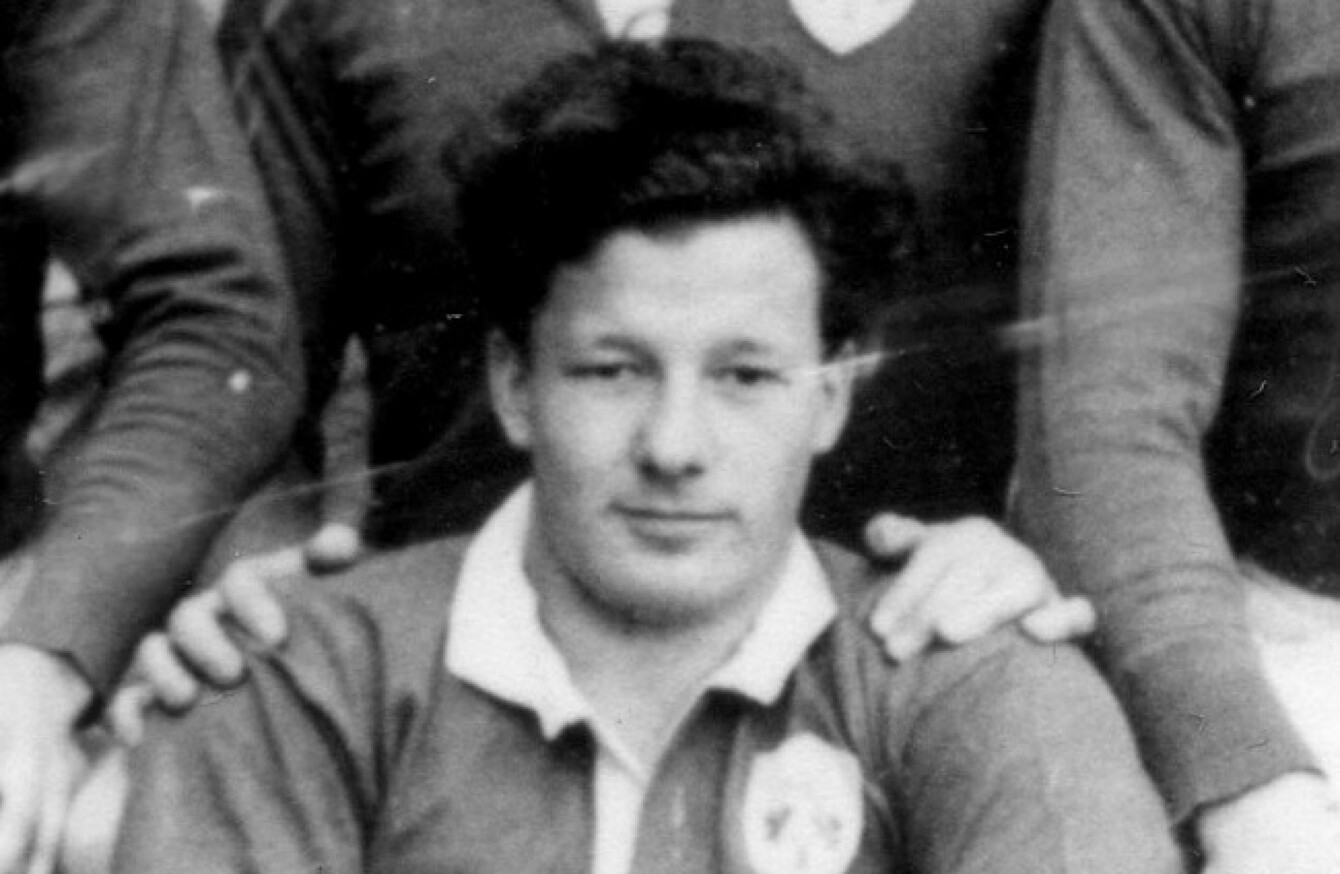 Jack Kyle ahead of Ireland's game with England in 1948.
Image: IRFU Collection/INPHO
Jack Kyle ahead of Ireland's game with England in 1948.
Image: IRFU Collection/INPHO
JACK KYLE IS the fifth subject in our series of articles focusing on the most important Irish sportspeople of the last 100 years. The list will include GAA players, Olympians, boxers, golfers and more who dared to dream.
Only grainy black and white videos exist of Jack Kyle in action but it's still abundantly clear that you're watching a very special talent.
Indeed, those glimpses, and the reports of his peers, are enough for many to consider him the greatest player this country has ever produced.
John Wilson Kyle was born on 10 January 1926 in Belfast, the youngest of five children of Elizabeth and John. His father was employed by the North British Rubber Company to oversee their operations in Ireland but, it's fair to say, sport did not play a big part in Kyle family life.
That would soon change, and not just through Jack, as one of his sisters, Betty, would go on to play international hockey with Ireland while his elder brother Eric played for Ulster.
Kyle himself learned his rugby trade at Belfast Royal Academy where his performances saw him earn a first inter-provincial cap when he lined out for Ulster Schools, starting as full-back against Leinster.
It helped that his school's headmaster, Alec Foster, was a former Ireland captain and British and Irish Lion and encouraged the then 13-year-old to attend his first Ireland Test in Ravenhill when he watched the side lose 7-0 to Wales.
Ireland may have lost, but a dream was born.
In 1944, at the age of 18, he started medicine at Queen's University and began to play rugby there but found himself in direct competition with future Ireland captain Derek Monteith for the number 10 jersey.
Kyle's lucky break, so to speak, would come when he received a note during a chemistry module that he had to be on a train to Dublin the next day to line out for the Queen's University seniors after his rival suffered a fractured leg.
Once established in the first XV, Kyle did not let his spot go until his graduation from Queen's in 1951 by which time he was an Irish international and, of course, a Grand Slam winner.
Kyle learned of his first Ireland call-up on Radio Athlone as the team prepared for a Test against a British Army XV. Injury against England in one of the post-war so-called 'Victory Internationals' in 1946 curtailed his season, but the programme notes show just how promising the youngster was:
The discovery of the season. John Wilson Kyle was on the Ulster Schools XV two years ago and proved himself to be in the top class by his great display for Ulster against the Kiwi Servicemen in November, subsequently confirming that form against the Army. A particularly straight, strong runner, he looks to have a brilliant future."
And Kyle certainly delivered on that promise with his elusive running style earning him the nickname 'the ghost' as he left defenders clutching at air in his wake.
Source: Conor Ryan/YouTube
Ireland started their 1948 Five Nations campaign in Paris with a 13-6 win before scraping a narrow one-point victory over England in Twickenham. A 6-0 defeat of Scotland  at Lansdowne Road secured the Championship in late February but, the team inspired by Kyle, had a chance to win a first-ever Grand Slam two weeks later.
Nine years after watching Wales beat Ireland at Ravenhill, Kyle would play a prominent role in beating the men from the valleys at the same venue to reach the pinnacle of northern hemisphere rugby. Indeed, it would be 61 years before another Irish side followed suit.
Ireland would win another Triple Crown in 1949 and two years later a Five Nations Championship but it was a particularly elegant solo try against France in 1953 that prompted one journalist, Paul McWeeney, to write of Kyle:
They seek him here, they seek him there,
Those Frenchies seek him everywhere.
That paragon of pace and guile,
That damned elusive Jackie Kyle
Kyle travelled with the Lions on their tour of Australia and New Zealand in 1950, playing in all six Tests and scoring a tries against both the All Blacks and Wallabies with The New Zealand Almanac describing him as "an excellent team man, faultless in his handling, able to send out lengthy and accurate passes, and adept at making play for his supports."
He continued to play for Ireland until 1958, earning a then-world record 46 caps at out-half and retired from club rugby in 1963. Any hope of a comeback with club or country was scuppered when Kyle left Ireland to work as a consultant surgeon in Zambia between 1966 and 2000.
He was on hand in Cardiff in 2009 to watch Ireland finally claim a second Grand Slam and embraced Brian O'Driscoll in what might go down as one of the sporting images of the century.
Kyle died in November 2014 at the age of 88 with his legacy, not just as a Grand Slam winner, not just as the greatest player to wear the green jersey, but as the epitome of how rugby could and should be played by backs, secured.
Over the next four months, in association with Allianz Insurance, we'll be profiling the 16 most important Irish athletes of the last 100 years. 
Allianz Insurance — The world belongs to those who dare.