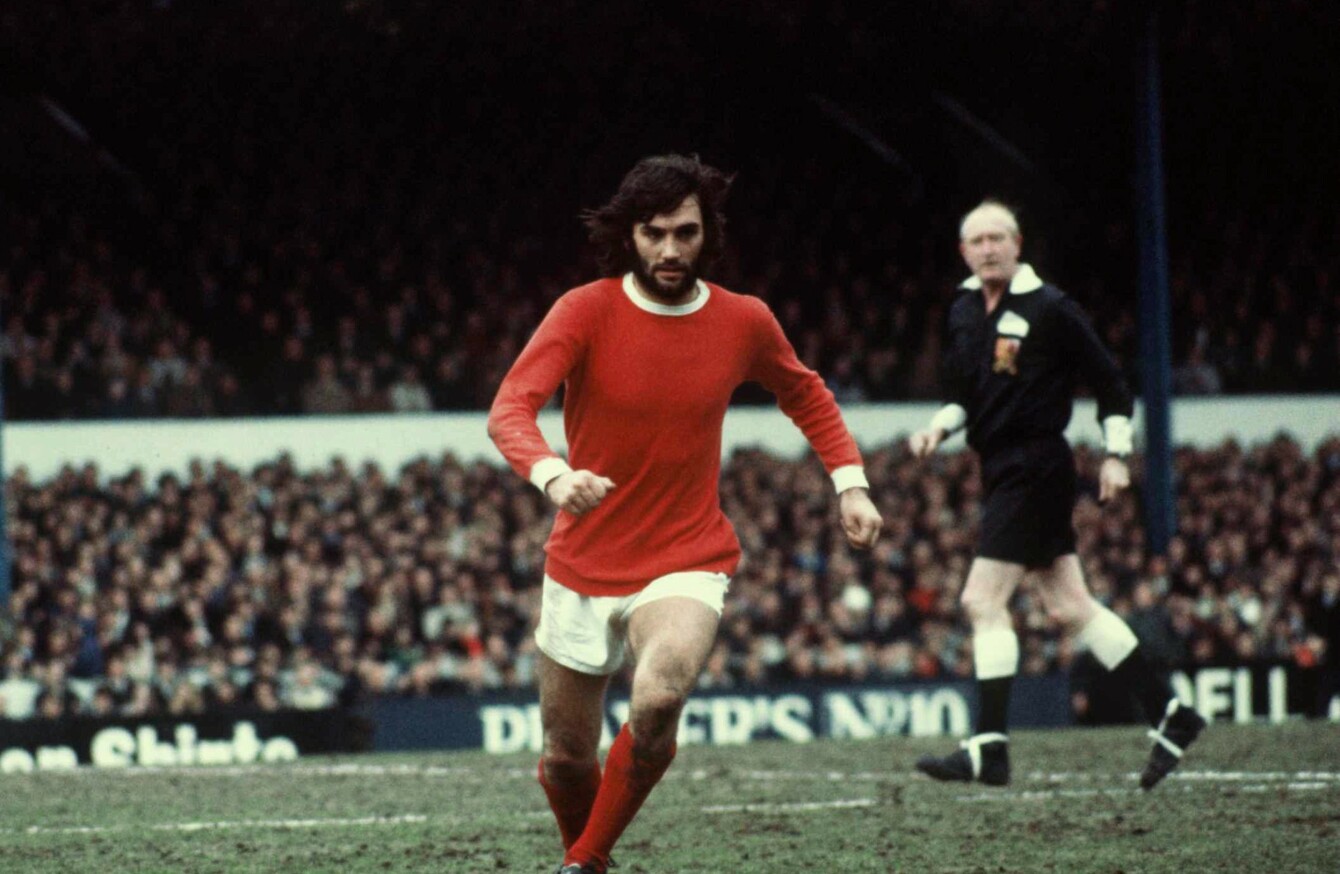 George Best towards the end of his Manchester United career.
Image: Allsport/INPHO
George Best towards the end of his Manchester United career.
Image: Allsport/INPHO
GEORGE BEST IS the sixth subject in our series of articles focusing on the most important Irish sportspeople of the last 100 years. The list will include GAA players, Olympians, boxers, golfers and more who dared to dream.
"I used to dream about taking the ball round the keeper, stopping it on the line and then getting on my hands and knees and heading it into the net.
"When I scored against Benfica in the 1968 European Cup final I nearly did it.
"I left the keeper for dead but then I chickened out. I might have given the boss a heart attack."
There are few footballers in the history of the sport with such an abundance of natural talent and flair that you would not have been surprised if he had actually tried the trick above during the most important game of his career.
Then again, there are few footballers like George Best.
Born on 22 May 1946 as the first of six children of Dickie and Anne, Best was raised in East Belfast with his dad working long shifts as an iron turner at the iconic Harland and Wolff shipyard.
Though his father played some football, it was his paternal grandfather — and namesake — who instilled his love of the game and Best himself once said the earliest photo of him as a child showed him as a 14-month-old kicking the ball around his grandparents house.
However, it was watching his mother play hockey that Best's trademark skills first came to the fore as he could often be found dribbling a tennis ball between spectators as Ann played hockey.
The decision to send Best to a rugby playing grammar school proved disastrous with the then-11-year-old skipping class more often than not even though he did briefly try his hand at the oval ball sport, lining out as out-half for Grosvenor High School.
By the age of 13, Best had switched to Lisnasharragh Secondary School and, even at just 40kg soaking wet, the youngster was running rings around his peers with anyone who watched him play felt certain that 'some English team' would come in a pick him up.
It was while lining out under Bud McFarlane with Cregagh Boys Club that Best's talent blossomed but, bizarrely, he was never considered good enough to be capped by the Northern Ireland Schoolboys team. It didn't stop him dreaming of playing for his beloved Wolverhampton Wanderers, however.
That said, McFarlane had other plans for his prodigy and recommended the youngster to Bob Bishop, Manchester United's chief scout in Northern Ireland. In the summer of 1961, alongside Eric McMordie, he set off for a two-week trial at Old Trafford but if Best was under any illusion as to how tough life away from home could be, he would soon learn.
Because of the nature of the game at the time, youngsters from Ireland were not allowed sign as professional apprentices so Best was asked to work in a builder's yard. Not at all happy, he quit before noon on his first day and told the club he wasn't going back.
Aware of the immense talent on their hands, the club worked around the rules and Best would walk to a local electricians, clock on, go training with the club at The Cliff and then clock off at the electricians before heading home. All of which earned him the princely sum of £4.09 a week — just over €100 — even though he was technically an amateur.
In 1963, at the age of 17, Best made his Manchester United debut against West Brom and terrorised his opposite number Graham Williams so much that the Welsh international is said to have told him after the game:
Stand still son so I can have a look at your face. I've been looking at your backside all day disappearing up the touchline"
Homesickness, which had plagued Best from the start of his time in Manchester, kicked in again however and he returned home to Belfast at Christmas 1963, telling the club that he'd only fulfill their fixture with Burnley if they flew him straight back to Belfast afterwards.
The club agreed and Best scored his first goal in a 5-1 romp.
By the end of the season, Best had made 26 first team appearances and scored five more times with United finishing second in the league, just four points behind Liverpool.
He won the first of just two league titles with United the following season, scoring 14 goals in nearly 60 games. However, it was not until 9 March 1966 that Best, widely regarded as the top footballer in England, came to international stardom.
Source: gr8footy/YouTube
Despite Matt Busby's instructions to 'keep it tight', Best scored twice in the opening 12 minutes, including a ridiculous solo run that saw him beat three Benfica defenders in a European Cup quarter-final that United would go on to win 5-1.
Best returned to Manchester with a sombrero on his head and the new nickname, 'El Beatle'.
After another league title in 1966-67, the Portuguese outfit, boasting Eusabio, would provide the opposition once again as the clashed with United in the European Cup final in 1968.
With the game in extra-time, Best took it by the scruff of the neck and scored another wonderful solo goal three minutes into the extra thirty helping United to their first-ever European Cup triumph.
For his part in the 1967-68 campaign , Best won the European Player of the Year award as well as the Football Writers' Association Footballer of the Year prize but, sadly, at the age of just 22, his career began a slow and steady decline.
There were still moments of genius of course, like his record six goals against Northampton Town in the FA Cup in 1970 but by 1974 — after 179 goals in over 450 appearances — he left Manchester United after they were relegated to the Second Division for the first time since 1938.
Best would play for another decade, lining out with no fewer than 16 clubs including spells in South Africa, Ireland, Scotland, Australia and the US but was increasingly distracted by a lifestyle that saw him make the newspapers for his drinking and the women he dated rather than his football.
On the 25 November 2005, aged 59, Best died in a London hospital surrounded by family and friends.
Famous for his own quips and one-liners, the greatest footballer ever born on the island of Ireland's legacy was best summed up by Eric Cantona in the days after his death:
I would love him to save me a place in his team… George Best that is, not God."
Over the next three months, in association with Allianz Insurance, we'll be profiling the 16 most important Irish athletes of the last 100 years. 
Allianz Insurance — The world belongs to those who dare.