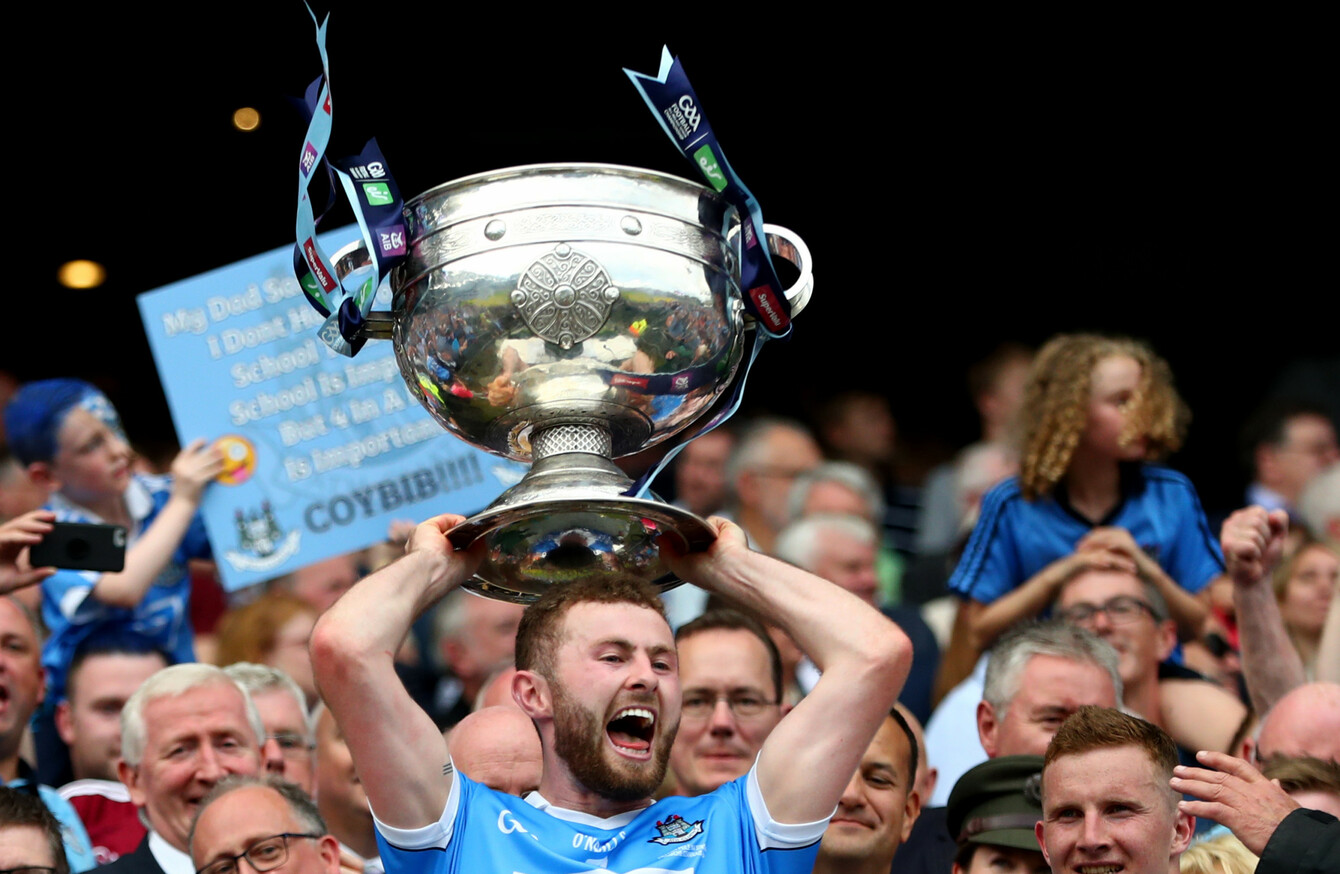 Jack McCaffrey celebrates Dublin's victory.
Image: James Crombie/INPHO
Jack McCaffrey celebrates Dublin's victory.
Image: James Crombie/INPHO
Updated Sep 4th 2018, 8:32 AM
THE MORNING AFTER the All-Ireland glory.
It's the fourth occasion that Jack McCaffrey has savoured that experience yet this instalment holds a particular significance.
In 2013 he was a youngster starting out. In 2015 he was taken off midway through the second half. In 2016 he was watching on after stepping back from the inter-county game for a summer. In 2017 he was in observation mode as well after tearing his cruciate in the early stages.
So the 2018 final day felt different. McCaffrey was crowned a champion after a game where his exploits would transpire to later land him the man-of-the-match award.
For the 24-year-old there was a deep appreciation for this success.
And with his injury comeback, efforts to address his defensive weaknesses, his work off the pitch in a Drogheda hospital and his rise through the ranks as part of a special underage group, there was plenty to discuss.
*************************
Is this your most satisfying All-Ireland final win because of the injury you've had to overcome to get back to this level?
"Yeah, this was the first time I've been on the pitch when the final whistle blew in an All-Ireland final. Incredible. It was so satisfying, such a relief.
"You touched on the injury last year, so going out yesterday it wasn't about getting forward and kicking scores. I just wanted to work as hard as I possibly could.
"You see Cian (O'Sullivan) go off injured early on. The lads got me out of jail last year and, you know, pulled me over the line when I couldn't go out and do it myself. To be able to do that for a team-mate this year was really, really special.
"I think yesterday I figured out I'm actually a defender as opposed to some loose attacking player. I left the shooting boots at home unfortunately.
"I really enjoyed it and to get a turnover in the injury time period of an All-Ireland final and to feel the momentum shift around that was something I haven't experienced before. It gave me immense satisfaction. I'd have to say that's one of the best performances that I've ever put in."
There was a nice photo taken of you and your father (Noel) after the final whistle, that must have been special?
"Yeah, he's been a bag of nerves for the last couple of days. If anyone wasn't underestimating Tyrone, it was the McCaffrey household.
"Every year it seems that an All-Ireland final brings a slightly different dynamic to it. And this year, I finished training on Tuesday and I got a call from Dad asking did I get hurt, was I fine, was I alright?
"Basically what I was hearing every day was that this was this Dublin team's biggest ever challenge. And I agree with him, to be honest.
"I think he was so relieved and happy that I just lasted the game. He's the first man I look for as soon as the final whistle blows. I've photos with him after every All-Ireland Final we've won. It was really special to be able to find him."
Is your father the biggest influence in your football life as well as life in general?
"Ah yeah, himself and Mam, obviously, would be massive. He's the football guy. Yeah, he's always a good man to bounce ideas off.
"He has a couple of different ideas to other people so it's important to strike that balance between listening to everything he says and ignoring the stuff that has to be ignored as well. We're figuring it out."
Do you think you've become a better defender this year?
"To be honest, I never felt I was a particularly bad defender. It's something that the narrative with me has been that I'm one of Dublin's attacking weapons and can do my defensive duties but maybe don't excel in them as much as other lads and I still probably wouldn't be man-marking guys like Jonny Cooper or Philly McMahon.
"Dec Darcy is our defenders' coach and the discipline in getting in tackles and sometimes not seeking contact and to be able to turn over a player like Mattie Donnelly, one of Tyrone's key, key massive runners and not an easy man to tackle by any stretch of the imagination, that for me, was an exceptional high to get towards the end of the game. I do think I've improved on it. I've improved on a lot of things."
You got a big buzz out of that turnover on Donnelly?
"I did. It's great to turn a perceived weakness into a strength and I've seen it in games over the last number of years that teams will get the ball and can see that I'm eyeing them up and, 'Oh it's McCaffrey, I'll just go at him, he can't tackle' and to be able to invite that on and then turn them over is great.
"Similar with kickouts or whatever, I'd probably be targeted a bit but I'm holding my own this year. It's not enough to just want to keep playing to your strengths, you've to take the other side of things and improve them.
"I got very lucky after that turnover, I just hoofed the ball out and it went straight to Cormac Costello so that was awesome alright. It could have gone very badly."
Did you feel you were targeted as a weakness by teams when they were attacking?
"100%. You can hear lads talking about it on the pitch. Like, they get the ball, they are, 'go on, got at him, go at him, go at him.'
"Now, not so much any more, but probably when I was a bit younger and a bit more naive. I was a horrific tackler. I was weak, small enough. Relying on my pace to recover when I lost men
"We have some of the best tacklers in the country. You look at Jonny Cooper and his technique is incredible. It's not just as simple as running into a fella with the ball as we all know. It was something I wasn't very good at, and I'd like to think I've got significantly better at it."
You were one of nine players under the age of 25 who started, how much more is there to come from this team?
"Yeah, just a little aside on that sorry. There were five lads who started yesterday that were born in '93 and played football together growing up. Myself, Paul Mannion, John Small, Brian Fenton and Ciaran Kilkenny.
"That's something that I take immense pride in, because we were coached by Dessie Farrell. My father was involved as well.
"When you take a little step back it's kind of great to be able to see his fingerprints on a lot of what has gone on. It's funny we are sitting here now after winning an All-Ireland and when you look back on your achievements to date, it's kind of the losses that stick out a little bit.
"That (minor) loss to Tipperary in 2011, losing to Longford in U21 in 2013. Losing to Donegal in 2014 is obviously the one that's wheeled out to talk about the whole time. Then a freshers All-Ireland final we lost to DCU with UCD.
"It's something about the nature of athletes, or me or whatever, it's always something you have in the back of your mind. You feel like you have left some stuff behind you even though you have collected a fair bit in the meantime."
Have you ever timed yourself for a 100 metre sprint?
"No, I haven't. I did it for 20 metre (for AFL), way back when. I've never done 100 metres. I'd actually love to do one of those 40 yard dashes AFL players do, because obviously those guys are sick, sick athletes.
"I would be nice to measure yourself against them. No, is the short answer to that question. I'll do it for you. We'll do it now outside the Gibson!"
When are you back to work and where you based now?
"I'm off until Friday. My current job is with the Pediatric team working in our Lady of Lourdes in Drogheda.
"I do call, but it's very flexible. It's suited football very well. At this point, five weeks weeks maybe I'll rotate to the cardiology team, where things get a little bit more hectic.
"I absolutely love it. THere's a great team up there. A huge percentage of the team are foreign nationals, who have no concept of Gaelic football but have kind of come to realise there is something going on that they should maybe be a bit excited about.
"(I'm) qualified (now), out the gap. You do the intern year, then apply for jobs. I'm pretty confident I will go for a paediatric scheme at this point.
"Have to get my ducks in order in terms of applying for things there but the kids are fantastic, it's a really nice working environment."
Will it get tougher for you to combine work and Gaelic football?
"I'm sure it will. At the moment I'm working half-eight to five, relatively set hours. It will definitely be a bit more up in the air.
"The nature of medicine and probably one of its big failings is that you really don't know what job you are walking into until two or three weeks beforehand. But there is a fantastic camaraderie within medicine that I find amusing because I have seen it in a sporting context so often but the nature of medicine is that you work with a close-knit team for long periods of time.
"There is a very similar culture to what you find in a dressing-room in my experience and everyone covers it each other and helps each other so I think as long as I want to play football it will be catered for and people will have your back which is something I really appreciate."
Is it difficult not to take that work home with you or to take it with you into a football environment?
"It's a really humbling space to be in. When I'm at work I'm chasing down scans, doing various bits and bobs and there is no point where I am making a life-saving intervention. If I wasn't there everyone would tip along just as well but you do get to experience some families that are in incredibly tough times.
"I've come across this in my personal life as well We went to visit a young man on Monday – myself and a few of the lads – who is passing away, an 18-year-old fella. To know that he is going to be sitting there with a Dublin jersey on cheering you on, rather than diminishing what football is because of how trivial it is, it just makes you appreciate it so much, the release it gives people, the joy that people get from watching us play football. It's kind of mind-blowing when you sit down and think about it."
Do you find the funding debate about Dublin offensive or insulting in some ways?
"No, I think there is probably an argument there. Things may have been a bit disproportionate in the past but on the flip side of things, from what I have seen going on and I alluded to it earlier with my father coaching the 1993 lads, he wasn't bringing home a pay cheque.
"I think the GAA has a myriad of issues that can deal with off-season stuff, being fair to everyone is first and foremost on our list. It's not something that insults us. There is a lot of stuff said in the media, sometimes just lads trying to get a bit of a rise. We don't pay much heed to it.
"I think people at this point are just starting to enjoy what we do and appreciate that. I'm incredibly lucky to put on a Dublin jersey alongside some of the best Dublin footballers of all time, some of the best footballers ever to play for Dublin.
"Nobody is labouring under the illusion that this is something to continue indefinitely. This is a really special group of people and we're going to make hay while the sun is shining."
The42 is on Instagram! Tap the button below on your phone to follow us!