"IT'S PROBABLY A mixture of 'thank goodness' and 'I better catch this now'!
"There's probably not too much running through your head at that stage because it's instinctive.
"I wish it did slow down, that would make it a bit easier, but it's split-second stuff. You just have to be able to catch it and go."
Jacob Stockdale is talking about interceptions and, in particular, the feeling when he knows his read has been correct.
Dan Sheridan / INPHO Stockdale strides clear after intercepting Peter Horne's pass. Dan Sheridan / INPHO / INPHO
The flight of the ball is as predicted and the sense of relief mingles with the concentration to seal the deal. Then comes the ecstasy of the clear run to the tryline.
Stockdale has a growing reputation for picking off opposition passes based on two of the four tries he scored against Wales and Scotland in Ireland's two most recent Six Nations fixtures.
Gareth Anscombe was Stockdale's first victim as he launched a long, floating pass from left to right with Wales chasing the game in round three of the Six Nations. Peter Horne is the Scot who will have regrets, also being picked off by Stockdale as he threw a long, left-to-right pass.
"Andy Farrell says that if you are 100%, you go for it," explains Stockdale. "You don't go for it if you are 99%, 98%. I felt I was 100%.
"[Against Scotland,] I was just trying to stay as connected as I could with Garry [Ringrose]. Garry did really well to take Huw Jones as he was coming onto the ball and I saw he [Horne] was maybe looking for that longer pass.
"To be honest, I was trying to get myself into the best defensive position that I could so that if he threw a really great pass, I could still get out to Blair Kinghorn and if not, I was able to pick it off.
"That's what I'm trying to do every time, to get myself into a positon where I can defend in each direction. Luckily, he didn't throw the best pass in the world and I was able to pick it off."
There has been plenty of focus on Stockdale's defence externally during this Six Nations.
While Ireland have, of course, been working extremely hard with Stockdale in this area, he believes he is only getting better and better with every bit of championship exposure.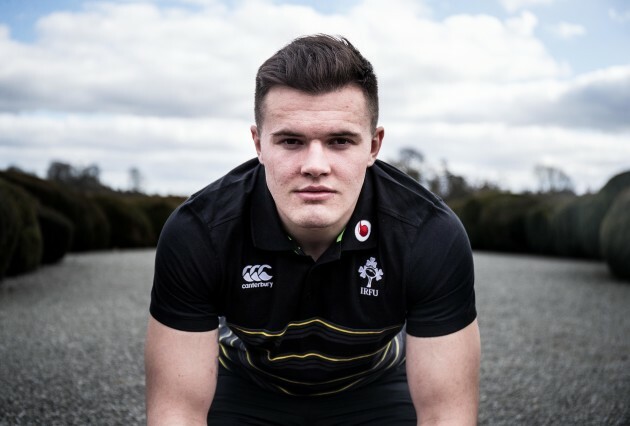 Dan Sheridan / INPHO Stockdale has enjoyed a remarkable rise. Dan Sheridan / INPHO / INPHO
"Obviously coming into a new team and a new defensive system and a new 13 is inside you, it's something that I've had to kind of learn on the run and I feel like it's something that's getting better every week as I get more comfortable in the system," says Stockdale.
"Andy Farrell has been fantastic in terms of developing me within the system and developing me as a winger defensively in general, and I was actually quite pleased with how my defence went against Scotland.
"I felt I stayed within the system quite well and didn't really give them any attacking platform out wide."
While his defence is now playing a part in it, Stockdale's try-scoring in this championship has been prodigious.
His pair of tries against the Scots last time out made him just the second player in the entire history of the Four/Five/Six Nations to score more than one try in three consecutive games.
The only other man to do so was England's Cyril Lowe all the way back in 1914.
Stockdale's brace also saw him break Ireland's individual try-scoring record in a single championship, while his haul of six so far also equals the record for a player in a championship since Italy joined to make it the Six Nations.
"To a certain extent, it's weird to realise I'm at this level now and playing regularly in the Six Nations," says Stockdale of his remarkably quick rise.
"If you told me that a year ago, I wouldn't have believed it. On the other hand, I've worked really hard to get where I am, putting in good performances for Ulster and the Ireland U20s, stuff like that.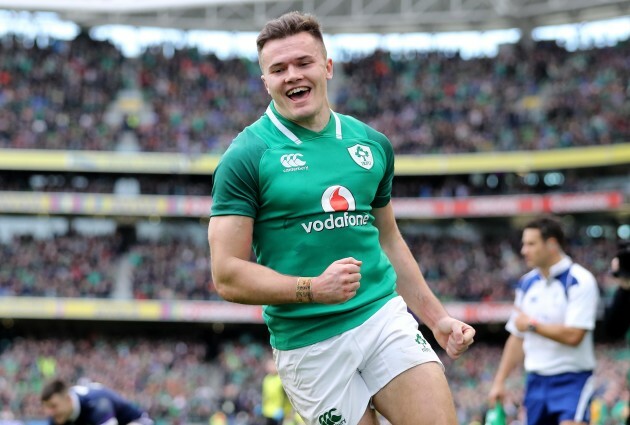 Dan Sheridan / INPHO The Ulsterman has had plenty of cause for celebration. Dan Sheridan / INPHO / INPHO
"So I feel like I have built towards it but I'm pretty pleased at how it has accelerated more than I expected."
When Stockdale played for Ireland against Italy, his home Six Nations debut five weekends ago, it was just his second time in the Aviva Stadium on an international match day.
Funnily enough, it was an Ireland versus England fixture back in 2011, when Stockdale was a 15-year-old dreaming of being out on the pitch some day.
"The first game I watched in the Aviva actually was Ireland against England, it was a World Cup warm-up game and Manu Tuilagi was playing and he played really well, he scored a try that day and actually he injured David Wallace.
"That was the one game I've been to [as a fan] at the Aviva or at Lansdowne Road. So there you go."
That fact and the fact that Stockdale has never even been to Twickenham, where Ireland face the English on Saturday looking for a Grand Slam, underline once again just how fresh onto the scene the wing is.
Though his family moved around a lot when he was a child – his father's job as a minister meant moving from church to church – he calls Ballynahinch his childhood home.
"We have lived in five or six different towns growing up," says Stockdale. "If it is anyone outside Ireland, I just say I'm from Belfast because no one knows anywhere else in Northern Ireland apart from Belfast!"
Stockdale has been living in Lurgan for the last seven years or so, as his rise through the rugby ranks has happened at lightning speed.
Billy Stickland / INPHO These are happy times for Stockdale. Billy Stickland / INPHO / INPHO
His time in Wallace High School was crucial, it being "the first community I was part of from start to finish," and he flourished on the rugby pitch in his final two years there following a timely growth spurt.
Ulster Schools, Ireland School, two years with the Ireland U20s and a World Rugby U20 Championship final in 2016, the Ulster academy, a senior provincial debut – the achievements came thick and fast.
There were good role models for him as a young wing at Ulster.
"Tommy Bowe and Andrew Trimble, as a young lad and a back growing up at schoolboy level, then club level, these are the guys you aspired to be and they were huge role models for me. They've been really good mentors for me in the professional game as well."
Stockdale had another "little chat" with Bowe in the lead-up to this Six Nations and the soon-to-retire Irish rugby legend has been "massively helpful" in his development.
Ulster academy manager Kieran Campbell reckons Stockdale and Bowe are similar characters, possessing the ability to get over setbacks quickly.
"It's been really important not to get wound up about making mistakes or having a bad game," says Stockdale. "You just kick on when you have a bad game. If you focus too long on it, you can get yourself into a slump and then you are playing bad game after bad game.
"It's something I've found quite easy. By Sunday afternoon or Monday morning, to say 'Right, dust myself off and let's get stuck into the next week.'"
There was a famous try from Bowe the last time Ireland claimed a Grand Slam, of course.
Having learned from the former master, Stockdale is now making big leaps on his own and looks ready to stamp his own name into Ireland's Grand Slam folklore.
Originally published at 0600