IT WAS AN Ulster Schools Senior Cup semi-final in 2014 that underlined to Ulster Rugby that they had a truly outstanding prospect on their hands in Jacob Stockdale.
Then playing at outside centre, Stockdale was part of a Wallace High School team that was beaten 17-12 by Methody, and his capacity to tear the opposition defence apart was eye-opening.
Presseye / Jonathan Porter/INPHO Stockdale on the charge for Wallace against Methody in 2014. Presseye / Jonathan Porter/INPHO / Jonathan Porter/INPHO
Stockdale – who first played rugby with Ballynahinch RFC – had already represented Ulster and Ireland Schools at that stage, but his performance in defeat stressed just how good he could be.
"It was his ability to break the line," says Kieran Campbell, the head of Ulster's academy, of a player he has worked closely with in recent years.
"He was playing 13 that day and he gave Methody a real scare in a game they were hot favourites for. He was in the pathway at that stage but that's when he showed us he had something special.
"In a big game in the context of his age, it was very exciting."
Just over two years before that semi-final, Stockdale wasn't on the radar as an Ulster prospect. He wasn't even making the first-choice teams for his age grade in his school.
As has been well documented, his growth spurt was a late one and it was only in his final two years as a student at Wallace that he came to prominence on the rugby pitch, his coach Derek Suffern having been a vital influence in keeping him interested in the sport.
Stockdale suddenly grew before lower sixth form – the equivalent of fifth year – and with Suffern's coaching and guidance, he discovered an ability that has developed to the point where he is a first-choice wing for Joe Schmidt's Ireland at the age of just 21.
Stockdale's eight tries in seven Tests for Ireland ahead of today's clash with Scotland in Dublin [KO 2.15pm] have underlined his rich potential and his physical stature means he is well suited to the game at the top level.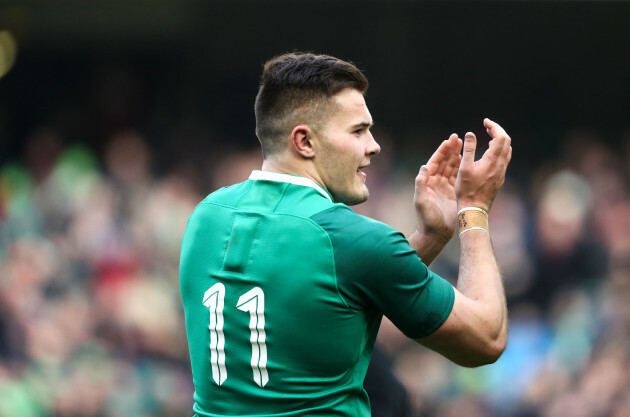 Tommy Dickson / INPHO Stockdale has settled into Test rugby with a try-scoring impact. Tommy Dickson / INPHO / INPHO
Nigel Carolan, the current Connacht attack coach, worked with the 6ft 3ins Stockdale for two years when he was Ireland U20s coach, and he could instantly see the promise.
"In my first year with the 20s, this big guy came down from Ulster," recalls Carolan. "Lots of the players at that level have a lot of physical development ahead of them but he was one who was more advanced in that area."
Stockdale's personality is something that Carolan and Campbell both pick out as a key strength.
Stepping into Test rugby so young can be a brutal experience but Stockdale appears to have taken everything in his stride, including the questioning of his defensive ability in recent times – an area the player strives to improve himself.
"Jacob is hugely phlegmatic," says Campbell. "He's confident but he's just extremely laidback – that has its highs and its frustrations as well!
"But that's what makes Jacob, I think. People felt he had a setback in that French game, for example, but Jacob is very level-headed. I wouldn't say he's overconfident but he is confident, relaxed and in that way he's quite similar to Tommy Bowe.
"He doesn't allow small setbacks to get on top of him and it gives him that ability to really put things behind him and recover quickly. In the pro game, that's hugely important because that amount of focus on you, you can't allow little setbacks to hurt you."
Stockdale is extremely close to his family, and he bears a tattoo on his right bicep in the shape of a cross with each of their initials around it.
His father, Graham, played rugby for Ballyclare, where the Stockdales lived until a move to Ballynahinch.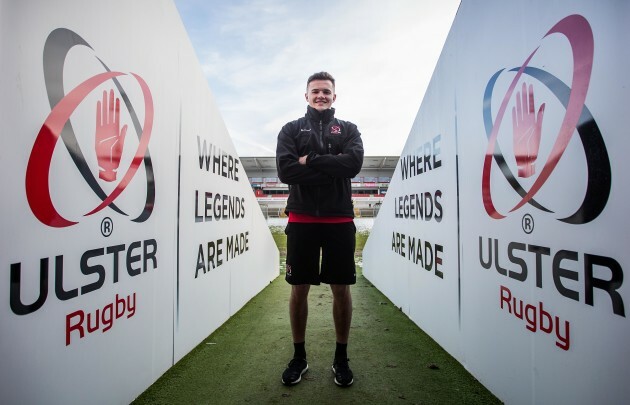 Tommy Dickson / INPHO Stockdale is already a key man for Ulster. Tommy Dickson / INPHO / INPHO
"He certainly has a very settled and supportive family life and I know his relationship with his father is important to him," says Campbell. "Whenever he comes back from Ireland camp, his priority is always to see his family and he's got a good homestead and, most importantly for him, a very grounded family."
In the U20s set-up, Stockdale impressed Carolan with his ability to contribute off the field, as well as with his thrilling attacking play on it.
"Even in meetings and unit sessions, he was great to offer up his opinion," says Carolan. "When you asked, he always had pretty logical opinions. Off the pitch, he's a bit of a Jack the Lad, he loved messing and having a laugh.
"But when he's on, he's on. That's what was most enjoyable about working with him. He knew when to have the fun and when to work.
"He also had great presence and that's an area where a lot of young players, particularly in the back three, don't have that kind of presence."
Interestingly, Stockdale's second World Championship with the U20s saw him playing fullback and scoring four tries in four appearances as they beat New Zealand and reached the final, the Ulsterman having previously featured on the wing.
While Campbell can see Stockdale potentially featuring as an outside centre again in the future, Carolan feels fullback is another position in which the Ulsterman could star, thanks in part to his booming left-footed kick.
"He's one of the few guys that can still spiral his kicks and when he gets a hold of them, they can really fly," says Carolan.
"In my last year in the World Cup, he started all of the games at fullback and he just had that presence. Even in the final when the game was out of sight against England, he was still looking to attack and he set-up a brilliant try for Shane Daly."
Click here if you cannot view the clip above
Athletically speaking, Stockdale's stature now very much belies his years as one of the small kids in Wallace – he weighs in at over 100kg to go along with his 6ft 3ins height.
Carolan says Stockdale "was a joy" to watch in full flight for the U20s and points out that he is "a real glider as a runner."
Campbell explains that the Ulster academy worked hard with Stockdale on his footwork and believes the youngster is continuing to show evidence of his diligence in improving that aspect of his game.
"That's hugely important because the way the game has gone, we need guys like that. Gone are the days where running over the top of people is going to be hugely effective, so he can stand people up now.
"If you go back to that try against Argentina in November, he ran that good line but also had the footwork and outside break to then finish it. That was a real growth for him and it's something he's really developing into his game.
"His physical presence is reflected in his tackles too, he really can hit someone in the tackle. That's reflective of his size but also that he's getting better reads too, picking those opportunities where he can pick off a pass or a line and really do some damage to someone."
While Stockdale's ability in contact is evident, there remains work to be done on his defensive decision-making, as seen for the try Wales scored through Aaron Shingler two weekends ago in Dublin.
Carolan feels that Stockdale can also improve his body height going into the tackle, but explains that the wing has shown his ability to learn rapidly.
"What I've seen is that his capacity to learn and develop in a short space of time has been good, so I don't think that's a major problem," says Carolan.
"It's a focus area for him, but it's all happened for him in a short space of time. The step up does expose your frailties, but as long as you're willing to focus on them and put in the work, I don't see them being problem areas."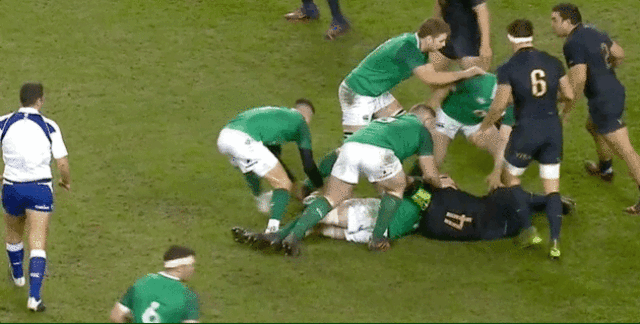 Click here if you cannot view the clip above
The try-scoring rate Stockdale has started his Test career at has been frightening and he couldn't be blamed for pondering whether he will be the man to break Brian O'Driscoll's record of 46 tries for Ireland in the future.
Carolan sees Stockdale as "a Denis Hickie sort of player where you just give him a chance, get the ball into his hands," while Campbell has confidence that Stockdale will keep scoring.
"He has a nice feel for the lines he takes off the wing and his finishing power is there," says Campbell. "He's picking up tries with really great finishes and others are just about having a good feel for the game. Jacob is quite an intuitive player.
"Look at the try himself and Charles Piutau scored here at Ulster against Connacht, that interplay and then to pick that line off Charles to finish it, that's instinctive. It wasn't pre-planned, he was just working on the pictures he saw during the game and it was a really nice finish."
Funnily enough, Carolan points out that Stockdale's try-scoring habits gave the Ireland U20s a couple of frights.
"As a coach, he gave us the odd heart failure when he was scoring," says the Connacht man. "It's not a question of actually scoring but his technicalities of scoring and dropping his body when he's going over the line.
"He could run the ball past defenders in the in-goal area or on the line he could still be upright. He might score the try two metres into the in-goal zone rather than on the line!"
But both coaches are in total agreement that the best is yet to come from Stockdale.
"He tends to be in the right place at the right time but the biggest thing ahead, and what he's shown so far, is durability," says Carolan. "He's still in the infancy of his career but if he can stay relatively injury-free he can improve and he'll get more confidence.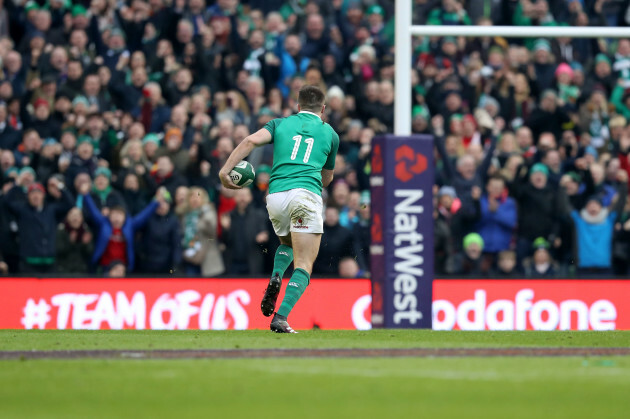 Bryan Keane / INPHO It looks like there are many more tries to come from Stockdale. Bryan Keane / INPHO / INPHO
"The more confidence he gets, the more dangerous he's going to be with ball in hand. He's not afraid to go for an intercept, to have a go, to take on defenders and even at this stage, it shows that he is confident."
Campbell concurs.
"I don't think Jacob is near his potential," says the Ulsterman. "Give him another three or four years and I think we will see the best of Jacob. What we're seeing at the moment is pretty exciting and he just needs to keep growing.
"He's a settled kid and I do think that every step he's taken up, he's got better. That will continue."
The42 Podcasts / SoundCloud