WHEN YOU KNOW, you know.
Last season, James Coughlan was still a central part of a Pau side that ended up finishing ninth in the Top 14, but his body and mind were telling him that the end of his professional playing days was near.
Billy Stickland / INPHO Coughlan had a brilliant career with Munster and Pau. Billy Stickland / INPHO / INPHO
"I had had enough," says the former Munster number eight.
"There was one day when I was on the bus to an away match and there was a fella born in 1999 sitting next to me. I was thinking to myself, 'Jesus Christ, almighty, I was 19 when this guy was born!'"
After playing for the club for three years, Coughlan is now an academy coach with Pau and says he hasn't missed playing in the slightest since calling time on his career.
The 37-year-old is still keeping fit and will play with a local team in the Hong Kong 10s in April, but he has no regrets.
"I remember John Hayes telling me when he decided to hang the boots up that you just know. You just know it's the right time and I just knew it was time for me.
"I had offers from other places and an offer from the club [Pau] as well, but I hadn't really entertained it. I spoke to my agent, Niall Woods, and I spoke to my parents and family – it was just the right time and right thing to do."
The fact that Coughlan enjoyed such a satisfying career made the decision that bit more straightforward. He must go down as one of the best players not to win an Ireland cap, but he can reflect on many memorable moments.
Coughlan's rugby journey started with Old Christians RFC and took him through Christian Brothers College, the Ireland Schools side, UCC, Irish Universities and Dolphin RFC before he broke into the professional game at a relatively late stage.
His Munster debut came at the age of 25, but the Cork man more than made up for lost time by going on to win 137 caps for the province and being named Munster Player of the Year in 2011, an honour he takes great pride in.
He was an Ireland 7s and Wolfhounds international and, even if that senior Test cap never came despite involvement in training squads, his experience in the game is vast. So moving into the world of coaching with Pau's academy made sense on a number of levels.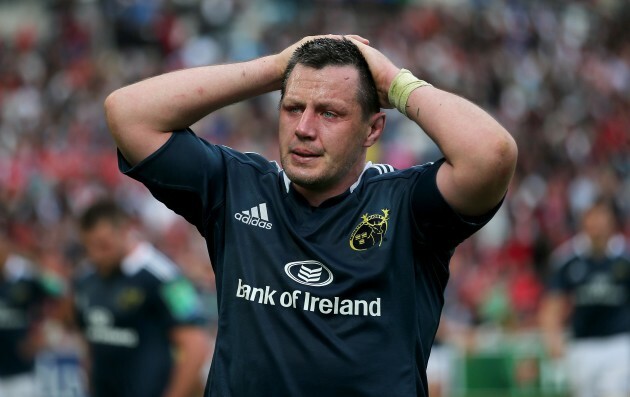 Dan Sheridan / INPHO Coughlan and Munster missed out to Toulon in the 2014 Heineken Cup semi-finals. Dan Sheridan / INPHO / INPHO
Coughlan had done some coaching in Ireland with CBC and Setanta College, as well as completing Level 2 of his IRFU badges, and had always felt a desire to step into this area of the game.
He felt that working with young players was the ideal introduction.
"At professional level, with the senior teams, sometimes it's just about putting the playbook together for that game, saying, 'Here's the lineouts for this weekend.'
"With the academy, it's about developing and improving players all the time," explains Coughlan. "If one fella's passing isn't good off his left, we need to work on his passing off that side. His ruck technique, his lineout technique – you can break it down into the small details.
"Whereas when you're in the professional set-up, you've got much less time for the small details. That's why I felt it was more advantageous to find a position with an academy and I was lucky it was here."
Coughlan has been undertaking his French academy coaching diploma in Paris over the course of the season, popping up to the capital in between the time-consuming demands of his role with the club.
His job involves working with Pau's espoirs team [the U23 side made up of academy players], who are having an excellent season and lead their pool, yesterday's 53-14 win over Agen their latest impressive result.
Even aside from the technical and tactical rugby coaching side of things, Coughlan's job is full-on.
"It's organising guys' college, sitting down with them to go over a game review, going over plans for the next few weeks, goal setting, technical reviews, meeting with the professional coaches to see who's going to be with the senior team or what they need.
"It's a really hands-on role with regards to everything."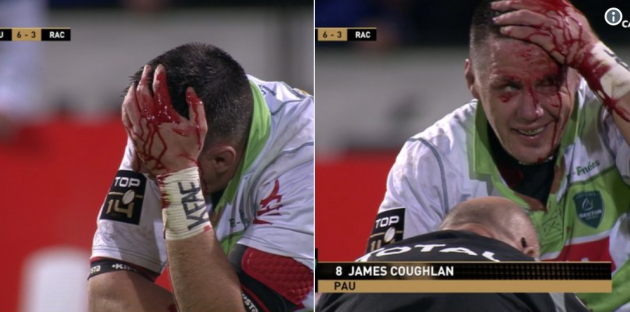 Coughlan shed blood for Pau during his playing days.
The Top 14 clubs' academies are more important than ever now, with this season being the first in which the French sides must field at least 14 'JIFF' players in each of their 23-man matchday squads.
JIFF stands for joueurs issus des filières de formation and essentially means the player has to have spent three years in a French club's academy before turning 21 or five years licensed to play for a French club before turning 23.
Simply put, Coughlan's work with the academy at Pau and that of academy coaches all over the country is far more important than it has been in the past.
"You can still have your five or six big international stars but if the senior group is made up of 40, you need at least 25 of those guys to be local or to have come through the academy," explains Coughlan.
"You need to put that in place because that's better with the budget too and with the JIFF quotas, we need that to be a working project going forward. It's important that we have as many players getting through our academy into the professional team."
While it should mean more French players playing in the domestic league, the academies at the Top 14 clubs are also inhabited by many young foreign players.
Pau, for example, have Fijian, Samoan and Canadian players in their academy.
Top 14 clubs have been criticised in the past for the manner in which they sign foreign players at a young age, but the reality is that this is happening everywhere in the professional game and will become even more common in the next few years.
Looking closer to home, Munster recently signed two South Africans straight out of school, while a Hawaiian-Samoan prop is part of Leinster's sub-academy.
"First and foremost, it's always about looking in the hometown," says Coughlan. "If you can get the guy who is playing for that jersey, fantastic. But then if you do go looking outside, it needs to be because the player has something you can't find at home.
Billy Stickland / INPHO Coughlan was a superb ball carrier. Billy Stickland / INPHO / INPHO
"If it's a Fijian or Samoan, it's because he's got something that we haven't got in the local area. It's the same at home with Munster. They would rather fellas from Christians or Pres or Dolphin or wherever, but the demands of the game are that you need two fellas to fit into what you're looking to do.
"I think it is the demand of the professional game that you have your succession list of players and you know that in two years, this guy is no longer going to be there so we need a guy to take his position in two years' time.
"If you need to take on an 18-year-old Fijian who has got an amazing physique and an amazing natural ability but isn't very structured, we can mould him into what we're looking for.
"That would be [academy manager] Peter Malone's job in Munster, to do the same with those two South African guys. I think it will become more prevalent as time goes on. Soccer teams have been doing it for years, they bring guys into academies.
"It's a professional sport and that's where we're at. Look at how many Irish guys have come through English soccer academies and then played with Ireland afterwards.
"If you're a young player and you've got all the attributes, you'll be signed by the local team. If you haven't, then the club needs somebody and they will need to go looking for somebody else. Unfortunately, that's the way professional sport is."
Clearly, academies are becoming ever more important to professional set-ups and Coughlan is excited to be part of Pau's push to bring through high-quality JIFF players.
He enjoys the fact that he is working with players on a three-year or five-year project of development, rather than being focused solely on winning every weekend.  The espoirs want to be successful, of course, but Coughlan's main job is to get young men through into the senior squad.
He has found himself picking little bits of detail out of the coaching styles of his former bosses – Declan Kidney, Tony McGahan and Laurie Fisher among them – as he finds what works best for him.
"It's trying to find your own way. I know the way I am in terms of my punctuality, respect for the group and respect for everyone else. It's the group before everyone else. That's the way I was and that's the way I was brought up at home.
Cathal Noonan / INPHO Coughlan's coaching career is only half a season old. Cathal Noonan / INPHO / INPHO
"It's the way we were at Munster – the group is what's important, not the person inside of it. I think fellas at 18 or 19 need that because you go from being the superstar of your team and then into the academy and you're on the bottom of the ladder.
"It's trying to keep them focused on the group, the group, the group. Get your own work done, obviously, and then you'll be promoted within the group."
Coughlan is tucked away from the limelight for now in his role with Pau's academy, but he wouldn't have it any other way.
It has been interesting to note how former Munster players like himself, Paul O'Connell and Ronan O'Gara have been patient in the early stages of their coaching careers, looking to learn the ropes as assistants or with underage players.
"I just don't think you'd get a big job straight away, to be honest," says Coughlan of that trend. "Just because you're a former player doesn't mean you're a good coach.
"How many soccer teams have gone for a former player straight out of playing and straight in coaching, then after two seasons they think, 'Shit, what were we doing?'
"You have zero management skills. You've spent 10 or 12 years of being told what to do and now you're trying to do the opposite side of the coin without any experience. You need that experience, everybody needs it."
The42 has just published its first book, Behind The Lines, a collection of some of the year's best sports stories. Pick up your copy in Eason's, or order it here today (€10):