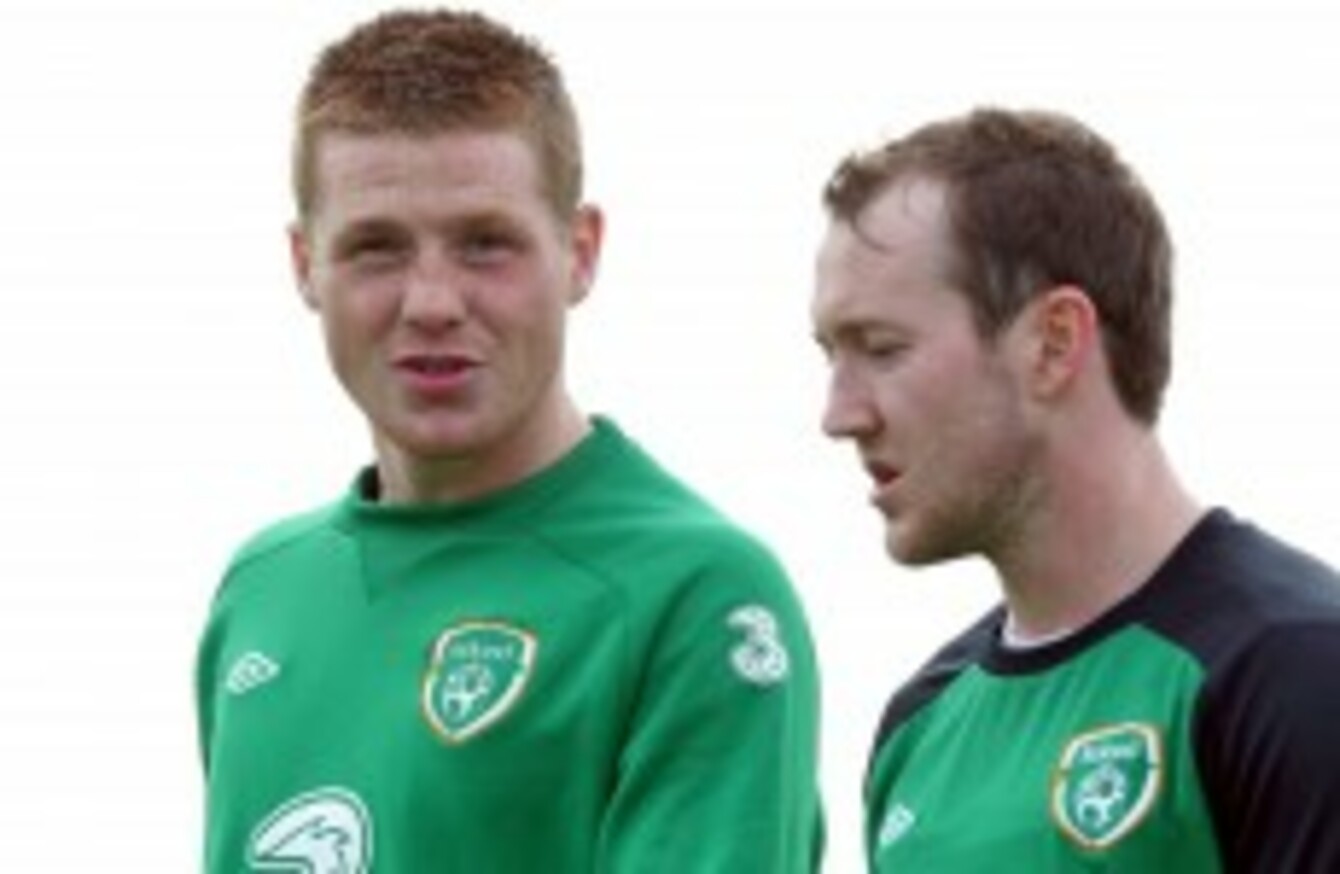 Image: Donall Farmer/INPHO
Image: Donall Farmer/INPHO
RAY HOUGHTON HAS said Aiden McGeady and James McCarthy should expect a hostile reception at Celtic Park on Friday when the Republic of Ireland take on Scotland in a Euro 2016 qualifier in Glasgow.
Both players were born in Scotland and the issue of them returning to the country of their birth but representing a different team was ramped up considerably when former Scottish international Gordon McQueen said earlier this week that he hoped the pair got a 'horrible reception' at Parkhead.
Speaking earlier on Newstalk's Off The Ball show, the Glasgow-born Houghton, who returned to the city for a Euro qualifier in 1987, warned that McGeady and McCarthy will face a difficult evening but that such a reception can prove an incredible motivator.
Expect it to be hostile because I did in 1987 when I played there and I got a lot of stick and you know what? It spurred me on. It gave me even more desire and determination to play well and to show them what I could do. I was so up for it going into that game."
"I remember looking down the line of players and seeing Kevin Moran, Mick McCarthy, Liam Brady, Mark Lawrenson, Paul McGrath, Ronnie Whelan, Tony Galvin, Frank Stapleton, John Aldridge – I thought 'We're going to be alright today. I don't think there'll be any problems in this game, let's be honest'."
"It didn't bother me at all – it inspired me. It was such a huge game, we knew we needed to win that game if we had any hope of qualifying. I remember after the game Liam Brady came running onto the pitch because he knew how much it meant to me so it was a great night."
Though Houghton had family members supporting him that night in Glasgow, he also had a loud Irish fan-base that added to the heightened atmosphere and feeling of intense occasion.
"My brothers were in the stand that night and my Dad. I was getting stick from the Scottish fans and they had to tell them who they were and who they were supporting. But there were thousands of Irish at the game, it was a marvellous occasion – as it will be on Friday night.
The fact is that Friday night is going to be a special night for both sets of players and supporters. It's in a fantastic stadium, 60,000 fans, these are the nights that you pray for as a footballer, to be involved in matches like this. It's going to be brilliant."
Also taking part in the discussion was Owen Coyle. Scottish-born, he said it had been an easy decision for him to declare for Ireland having grown up in such a rich Irish family and community.
The ex-Wigan and Burnley manager alluded to the hypocrisy of some in recent days regarding the McGeady and McCarthy situation given the make-up of the Scotland squad.
"When the boys make those decisions – be it Aiden or James – people are very hypocritical because if you look through the Scotland team there are a number of players there born in England. People should give balance to any argument they decide to bring."
"The bottom line is that an individual makes a football decision regarding their country and they might have different reasons for it. But when they've made it, they should be allowed go and play the game they love."