THE DUBLIN MINOR football team from 1984 held an anniversary night in 2009 to celebrate the 25th anniversary since they won the All-Ireland.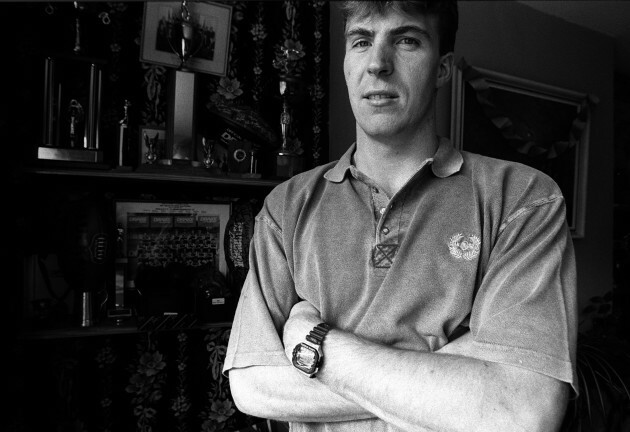 INPHO Jim Stynes INPHO
Their team captain Paul Clarke from the Whitehall Colmcille club put all the arrangements in place.
The players were all to gather in the Castleknock Hotel Golf Club for a meal, have a few beers and enjoy a long overdue catch-up. Customised tops were made up for the team and a DVD of the game was going to be presented to each player on the night.
Aussie Rules legend and former member of that team Jim Stynes was also expected to make the long journey from Melbourne to be there for the occasion.
Shortly after winning the All-Ireland in '84, Stynes left for Australia and spent most of his adult life there, where he enjoyed a decorated career in the AFL with the Melbourne Football Club.
Clarke had been in contact with Stynes prior to the anniversary night, and their towering midfielder was looking forward to seeing all his old teammates again.
Even when word filtered through that Stynes had become ill, he assured Clarke that he was still planning to come home.
It didn't turn out that way unfortunately, and although Stynes did make an appearance at the anniversary night, he couldn't be there in person.
"On the day itself, I did a skype with him from the golf club to his home," Clarke explains to The42, "and all the lads were around me and we spoke to him. Each of them individually sat down and had a quick hello.
It had been that long since he had seen anyone he didn't recognise [some of them]. It was a fairly emotional occasion that he wasn't there for starters. We could see that he'd lost his hair and may not have been well, so that was tough. It sort of shook us all.
"Fellas had to introduce themselves to him and then he'd remember them and he'd have a story. In every way, he was a big character, and he was very important to our group at the time.
"Subsequently, we were reading on media what was actually happening to him, so it was tough."
INPHO Jim Stynes overlooking a training session with the Australian International Rules team in 2004. INPHO
It was difficult for the players to see their friend in ill health, but they decided that they were going to enjoy the night in his honour and take plenty of pictures for Stynes to enjoy in Australia.
Most of the members of that team still live in Ireland, although life has taken them all off in different directions. They have their own WhatsApp group now which Clarke set up to keep them all connected.
And around this time every year, he posts a familiar message.
Gone but never forgotten pic.twitter.com/4xJGCugua6

— Paul Clarke (@ClarkePaul1995) March 20, 2018
"Four years ago today….
"Five years today everybody…."
Earlier this week, Clarke would have written a similar sentence once again and added another number to the count to indicate the length of time since Stynes lost his battle with cancer at just 45.
An unlikely star
Stynes is widely regarded as one of the most successful players in AFL history, despite his introduction to the sport as part of the 'Irish Experiment.'
He made a record 244 consecutive appearances for Melbourne, and 264 in all, before he announced his retirement in 1998. In 1991, he became the first non-Australian born recipient of the prestigious Brownlow medal, which is the highest individual honour that can be bestowed upon an AFL player.
He kicked 130 goals for Melbourne throughout his career and was inducted in the Australian Football Hall of Fame in 2003.
But according to Clarke, Stynes struggled to cement a starting place in that Dublin minor team when he first joined the panel ahead of the '84 season.
"It was strange, he wasn't getting a starting position in the team. We'd a very high standard of a team. Alan Larkin was our manager and Brother [Tommy] McDonald was one of the selectors and Bill Ronayne. They would have sat down early in the year and picked a team for if we get to an All-Ireland final.
Between the three of them, they got 13 out of 15 positions right that started. I've asked them who they didn't have in the team [that did play in the final] and who the surprises were but they never told me."
In Stynes' autobiography 'My Journey', the Rathfarnham native writes that he performed poorly in the Leinster final, which ultimately cost him his place in the team for the All-Ireland semi-final against Derry.
Fortunately, he was granted a reprieve the day before that game when Alan McClean of the Raheny club injured his back at training.
The situation paved a way for Stynes to line out in midfield against the Ulster side where he produced a performance that ultimately secured his spot alongside Clarke for the All-Ireland decider against Tipperary.
Tommy Sheehan / YouTube
"Jim was picked in midfield to play against Derry and he just lorded it at midfield," Clarke recalls.
"It was just one of those days where the ball just stuck. Anywhere it went, his hand was on it and it just stuck. He was a shoo-in then for the final.
He continues:
"He was up against some of the star players from Tipperary, Brian Burke and Gerry Ryan. There was a battle between the four of us.
Jim was unmarkable on his day and when he decided he was going to catch ball, you just couldn't get close to him. I was just doing my bit of work around what he was doing for the team."
The prospect of trials with Aussie Rules side the Melbourne Demons came up shortly after their All-Ireland final victory, and Stynes explains in his book how he heard about the opportunity through Brother McDonald.
"I knew that several of my Dublin teammates had been asked to attend the camp and also that a few of them had been part of the Irish schoolboys team that had toured Australia the previous year.
"'I've got to at least consider this,' I was thinking."
Clarke was one of the Dublin players who had been invited to take part in those trials, and he was also part of the Irish schoolboys team who travelled to Australia for a few weeks to test out the oval ball game.
Former Republic of Ireland star Niall Quinn was also part of that touring side and one player was to be picked at the end of the trials.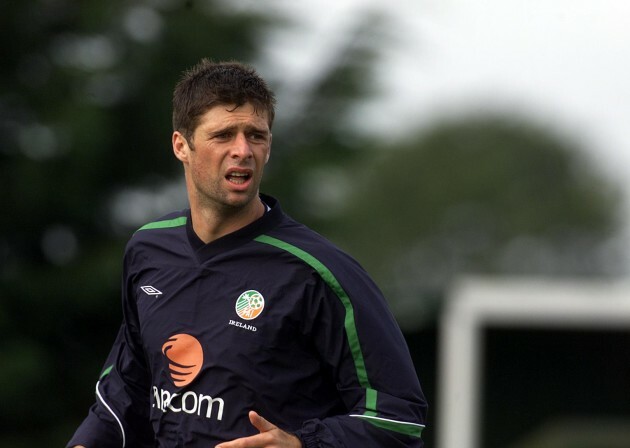 INPHO Niall Quinn. INPHO
Clarke recalls how he narrowly missed out on the opportunity that was on offer.
"We actually played in the Melbourne ground and the Sydney ground. We met Seán Wight, who was a Kerry minor in '82. Dublin beat Kerry in that All-Ireland final and Seán Wight was regarded as this up and coming player who had a phenomenal jump for a ball.
"There was an interest then because there was a Kerry guy over there and there was opportunities as such. For some of us, it was more familiar than others. We'd seen the system over there, we'd played over there with compromised rules and done very well.
Niall Quinn was offered the scholarship and I was on standby if Niall didn't take it. But Niall took so long and he ended up going to trials with Arsenal at the time. Pre-season had started so I didn't get the opportunity then to consider an option.
"You can always say 'what ifs' but I wouldn't change anything that I've done. Since I've been involved with Dublin, I've been very fortunate to win some big matches, lose some matches and make some great friends.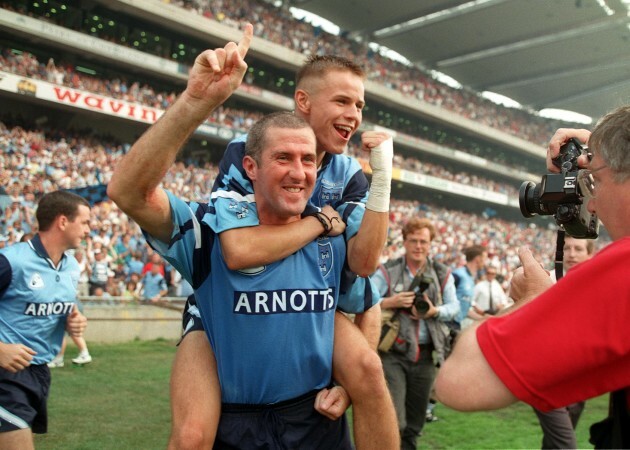 INPHO Paul Clarke celebrates Dublin's All-Ireland semi-final victory over Cork in 1995 with Keith Galvin. INPHO
"What happened, happened."
The trials in 1984 didn't work out for Clarke either, as Stynes and fellow Dublin teammate James Fahey were selected by the Melbourne Demons.
Stynes believes that his natural height coupled with his previous experience of handling the oval ball during his rugby playing days helped give him the edge over the other participants.
Meanwhile Fahey, who was a half-forward on that team that won the minor All-Ireland, was 'a good footballer' according to Clarke. He went on to play Aussie Rules for a few years, but his career didn't map out the successful trajectory that Stynes enjoyed.
Close ties
Clarke and Stynes did what they could to stay in touch over the years. Emails and text messages were exchanged over and back, and the occasions when the Australia team were coming over to Ireland to play the International Rules series allowed the pair to meet up in person.
It was easy for Clarke to keep abreast of Stynes' movements on the AFL circuit through newspaper articles.
He knows all about the struggles that Stynes encountered in the early days of his career, how he famously walked across a mark against Hawthorn in 1987 to give away a match-winning kick at goal, and how the Dubliner overcame all that adversity to become a legend of the sport.
Clarke always had a close bond with the Stynes family. He won an All-Ireland senior title with Jim's younger brother Brian, and can recall a club game between Whitehall Colmcille and Ballyboden St Enda's, when Stynes' father Brian snr protested from the sideline that Clarke was taking too long over a free-kick.
"I kicked the free and turned up into the crowd in Parnell Park and shouted out at the top of my voice, 'well Brian, was that worth waiting for?'" he laughs.
"That was part of it, I've huge respect for Mr Stynes and Mrs Stynes."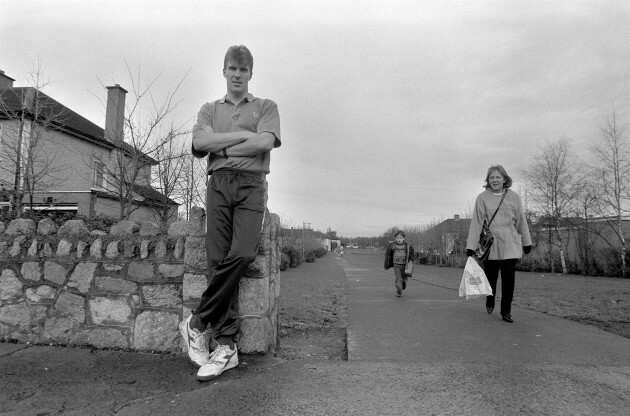 INPHO INPHO
After Stynes initially relocated to Australia, he continued to play club football with Ballyboden St Enda's when he returned to Dublin during his time off.
Clarke had enjoyed much success with Whitehall Colmcille in the underage grades, but he knew that accounting for Ballyboden would be a struggle whenever Stynes was around.
"We [Whitehall Colmcille] went on to win three U21′s [titles] and Jim had come back for one or two of them in the break in the Australian season.
So, it was always a battle against him and you were just thinking, 'how are we going to deal with this giant of a man?' He was just so big and his talent was his aerial strength.
"But he was so athletic as well, he was able to get himself around the pitch so well and that was always going to be difficult.
I knew if you could stop Jim Stynes, you probably could stop the team."
Clarke works in Dublin Airport and has often bumped into Stynes over the years during his travels back to Ireland.
Exclusive Six
Nations Analysis
Get Murray Kinsella's exclusive analysis of Ireland's Six Nations campaign this spring
Become a Member
Those chance meetings always consisted of more than just a wave or a friendly nod of the head. The pair always made time to stop for a chat and they had plenty of news to chew on since their lives had diverted onto different paths after their All-Ireland success.
Stynes had stories to report from his life in Australia, while Clarke had several updates from home.
"Did I look up to him? Yes I did," says Clarke. "Was I envious of what he was achieveing? Yes, in ways but I also felt that he would have loved to win a [senior] All-Ireland medal. I got what I got and he got what he got.
"You'd just be very humbled and proud that you knew him and what he achieved as far away as he was from his home.
"It wasn't like nowadays where 20 hours and you could be in Australia if you get the right flights. Back then it was a bit of a longer slog so you have to give him huge credit for achieving what he did."
Friends to the end
Following on from the Dublin minor team's reunion in 2009, the details surrounding Stynes' cancer diagnosis became clearer for Clarke and the rest of the squad.
Their team manager Alan Larkin volunteered to keep them all informed of the developments in Melbourne by regularly touching base with Stynes throughout his treatment.
Melbourne Footy / YouTube
Clarke also saw Stynes' documentary 'Every Heart Beats True,' which chronicles Stynes' battle with the condition. The programme looks at various aspects of Stynes' life including his work with the Reach Foundation, an organisation for young people which Stynes helped to establish.
The documentary also shows how Stynes combined alternative therapies with conventional medicine to combat his illness, a move which Clarke looked upon with amazement.
"You weren't looking at it thinking, 'what is he doing?' You were thinking, 'wow, what is not willing to do to try and fight this?'
After Stynes passed away in March 2012, the Dublin county board appointed Clarke to be their representative at the funeral in Melbourne. He travelled over with the then GAA president Christy Cooney, and during his short stay, he discovered the true depths of Stynes' impact on the people of Melbourne.
"I really don't think people know how important Jim Stynes was to Melbourne. What he did off the pitch was just unreal. And people may read books and look at documentaries but they can't really grasp the huge achievements that he made on and off the pitch. You can quantify it on the pitch in that he played 264 games and 244 consecutive.
"People don't work that many days in-a-row, never mind playing match after match. It's just phenomenal.
"To go over there and see the cathedral in Melbourne full to the brim and there were streets closed to acknowledge it. There were famous people, famous sportspeople, politicians and everyone talking so highly of him and so upset that he'd passed away.
"From the front of the church all the way down, it was just unbelievable."
He continues:
I'd never considered it like that at all. You're telling the taxi driver why you're over there and they're saying that they're devastated with the news and then walking down the streets where the hotel was, the streets were barricaded and closed.
"And he'd prepared for it in ways, he'd prepared his family for it and friends. As much as he fought it to the end, he still prepared people to get on with life."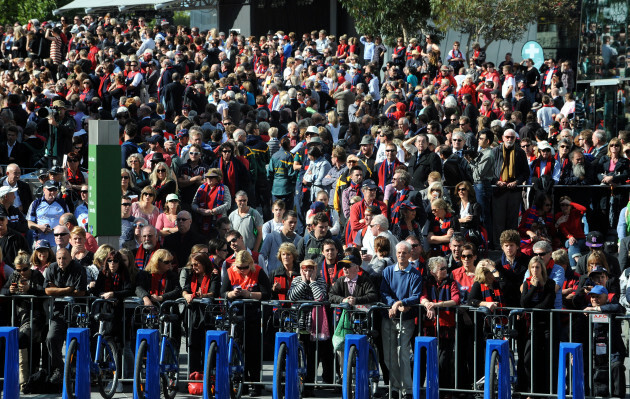 Pool The crowd outside St. Paul's Cathedral at the funeral of Jim Stynes. Pool
After his passing, the Dublin team of 1984 gathered together once again to celebrate the life of their former teammate.
They drank a few beers and talked about the sense of perspective they drew from Stynes' death. All their worries about the insignificant things in life suddenly seemed so needless and futile in that moment.
But Stynes will forever remain close by. His ashes are scattered across the Sally Gap in the Wicklow mountains, where Clarke regularly passes through.
They're forever connected.
"I know it well from cycling out that way. That was the road he used to go out training on and there was no texting back in those days, you'd say 'Ma, I'm going for a run' and off he'd go.
"She'd follow out the road half an hour after him and she'd catch him in around 45 minutes.
You just recognise that he was a fighter. Everything sort of went against him the first time going over there. 'You're not gonna make it in the game. You've made a balls of it in one match.'
"Then he becomes a Brownlow medalist and it was unheard of, a non-Australian winning such an accolade.
The way he fought, he did it his way. It takes a big man to do it."
The42 is on Instagram! Tap the button below on your phone to follow us!