Murray Kinsella reports from Bordeaux
JOHANN VAN GRAAN is a man whose coaching philosophy is based on building the kind of habits that he expects of champions.
Munster's South African head coach could be forgiven for regretting his choice to make a habit of shaking every journalist's hand at each press conference he attends, particularly around a game as big as yesterday's Champions Cup semi-final.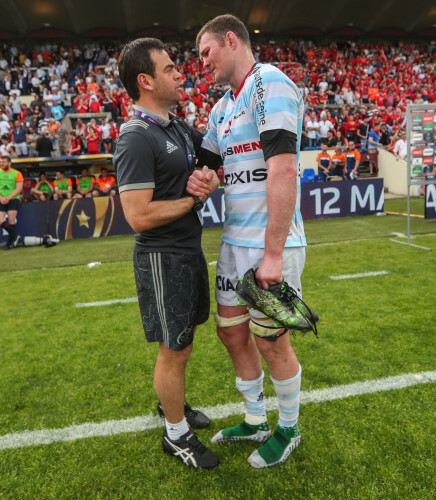 James Crombie / INPHO Van Graan with Donnacha Ryan after Munster's defeat to Racing. James Crombie / INPHO / INPHO
Even French journalists, who know a thing or two about greetings in their country, seemed a bit surprised by van Graan moving around the sweaty and packed press room at Stade Chaban Delmas, shaking hands and thanking them for being there.
But van Graan practices what he preaches and he will hope his impact on Munster long-term is to build collective habits that make them much better equipped to compete in European semi-finals than they did yesterday.
The disastrous opening 23 minutes left Munster beaten, in truth, and though they drew back to within five points by the final whistle, the gulf in class between themselves and Racing 92 was obvious on the day.
"It is very disappointing to concede three tries in the first 20 minutes," said a dejected van Graan afterwards. "We knew they were going to come out with a bang. We were prepared for that but all credit to Racing, they did superbly well and Teddy Thomas was the same as he was in the Six Nations.
"Unfortunately, he is a world-class player who finished so well today and all credit to them as a team.
"I thought we had our opportunities in the first half, especially before half-time. We had multiple opportunities in the 22 which would have been huge had we scored.
"That is all in the past now. You have to use your opportunities in the full 80 minutes. They used theirs better than us, particularly in that first half."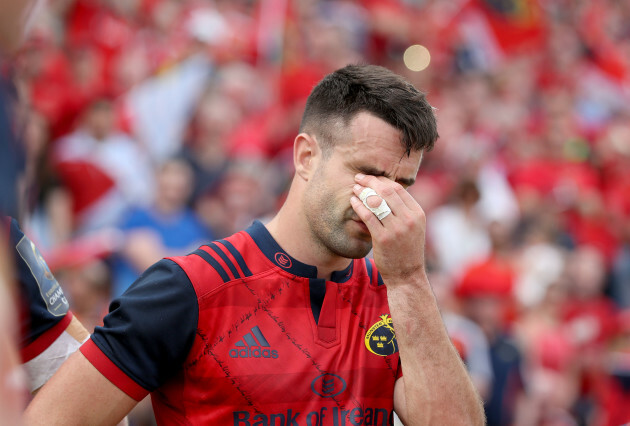 Dan Sheridan / INPHO Conor Murray shows his dejection. Dan Sheridan / INPHO / INPHO
The aftermath of defeat invariably involves fingers being pointed at individual players for underperformances but van Graan was insistent that Munster's failings in Bordeaux were collective.
"I'd never criticise my players," said the 38-year-old. "When we lose, it's on me. I'm the head coach and I take responsibility.
"We'll look at our decision-making and hopefully put the players under those pressure situations in training.
"But we've got no excuse, and we'll have to grow as a team and to use those opportunities in a big game."
Asked specifically about out-half Ian Keatley's performance, van Graan said there were "some good moments" and "some average moments," but again insisted that Munster's failings weren't on any one player's shoulders.
"The whole team, the whole squad, takes responsibility for that start."
While Racing scored 24 points in the opening 26 minutes, they added only three more thereafter, with Munster's bench managing to help them finally gain some badly-needed momentum.
Robin Copeland had some powerful moments, while Simon Zebo scored a second-half try after his introduction.
Asked if he had any regrets about not starting Zebo in Munster's back three, van Graan said, "Not at all" before indicating that he felt his bench made such an impact that they could have actually won the game had they had a few additional minutes.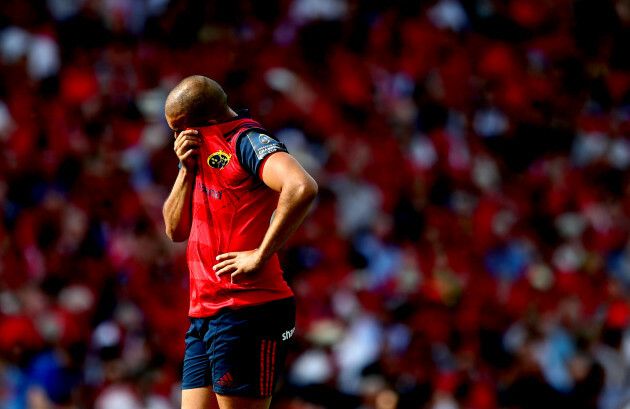 James Crombie / INPHO Zebo scored a second-half try for Munster. James Crombie / INPHO / INPHO
"We always knew this game was going to go right to the end," said the Munster boss. "We did not plan to be in a position where we were 24-3 down. That was not part of the plan.
"The impacts did a brilliant job, but the clock caught us at the end. Two or three minutes more, maybe we had an opportunity but there are no excuses on my side.
"We weren't good enough on the day and to let a team score three tries in the first 20 minutes of a European Cup semi-final, you are going to struggle to win it. I am very proud of the way the guys reacted at half-time. They kept going. Unfortunately, we came up short."
The Pro14 provides Munster with another potential avenue for silverware in van Graan's first season, but they're aware that they will need to make plenty of progress in the next 12 months to be better equipped if they reach this stage of Europe again next season.
Losing another semi-final was a gutting experience for players, coaches and supporters but even getting into the final four of the Champions Cup will be seen as a pretty decent achievement when the dust settles on this season.
"I thought we came through some massive battles over the last six or seven months in this competition," said van Graan. "Like I said, the clock caught us in the end and maybe a better start and maybe using one or two opportunities we would have won this game.
"If we had lost this game and hadn't created any opportunities I'd be a worried man, but I'm very proud of the opportunities that we did create.
"To answer the question, we'll be back next year. I'm incredibly proud of this group and this club and the coaching staff.
"I think that's the thing about rugby, it's like life – it knocks you down. Credit to our opponents but we'll get back up."
The42 is on Instagram! Tap the button below on your phone to follow us!