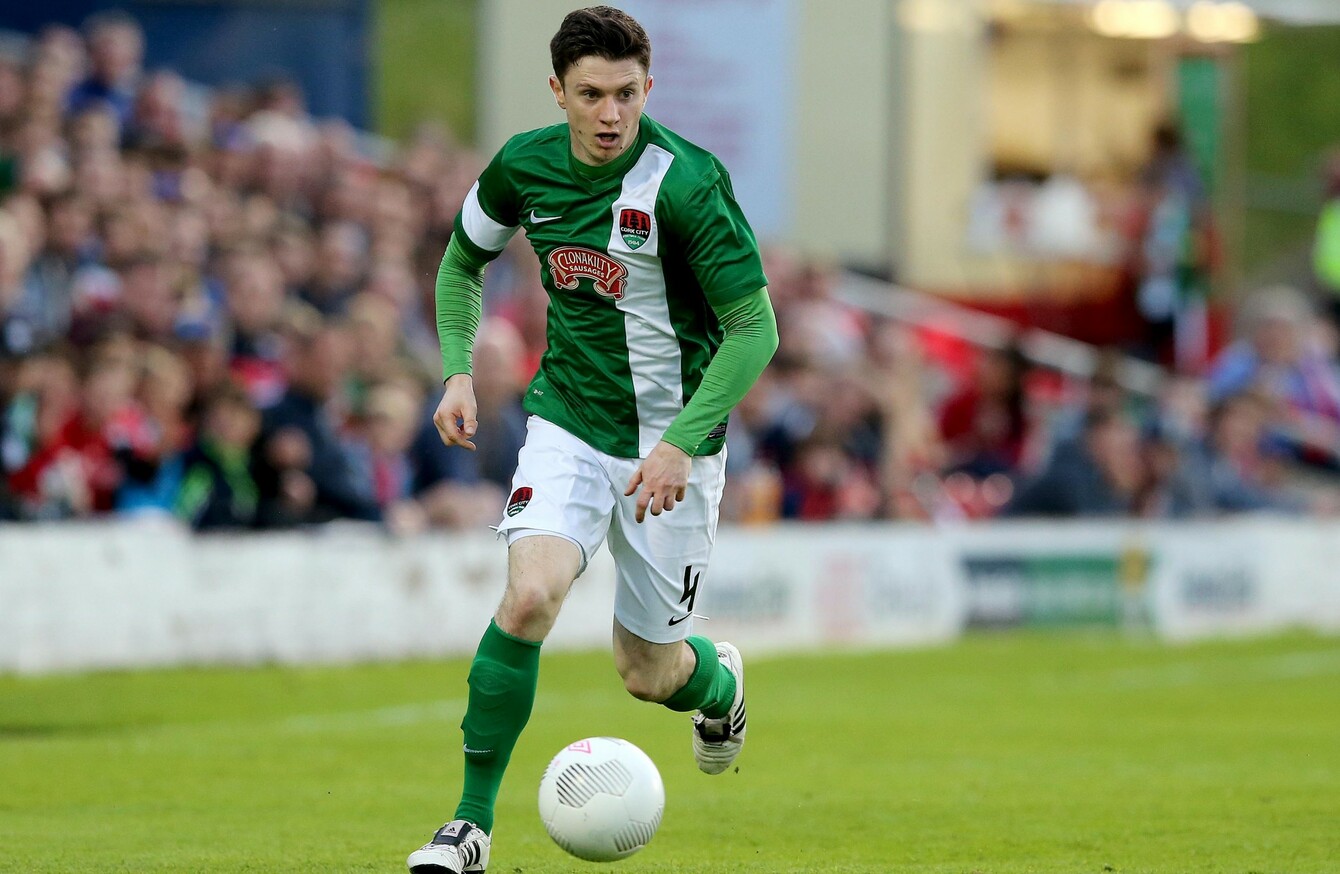 Image: Ryan Byrne/INPHO
Image: Ryan Byrne/INPHO
CORK CITY GET their season under way this Saturday in the Munster Senior Cup against Rockmount and leading them into battle once again this year will be captain John Dunleavy.
The Donegal man is in his fourth season with the club and in that time he's garnered quite a reputation — though definitely not for scoring goals, with just two from 98 games.
He can play anywhere across the back but is perhaps most at home in central midfield.
The 24-year-old is a full-time member of the playing staff at City and here, he takes us through what it's like being a professional footballer with one of the best teams in the league.
This is as heavy as it gets for Dunleavy — a Monday morning in Cork with a week to go to the opening game of the year.
7.30am: Rise and shine! Time to get up and get the bag ready before having some breakfast. This will be porridge and peanut butter with blueberries mixed in.
I'm not one for coffee or tea, just a pint of water to start with.
8.30am: We leave the house to be at the club in Bishopstown for 9am but the traffic in Cork can be terrible.
9.15am: Different people have different things to do but between 9 and 10am we'd have an hour to do gym work or some pre-hab to prevent injuries. Some guys will go to the kitchen for breakfast, however. (I am not one of these.)
10am: We'll have a quick manager's meeting with John (Caulfield) where he'll give us the plan for the day. He might want to discuss something from a previous game or an upcoming one.
10.15am: We're with the strength and conditioning coach then and he does an injury-prevention circuit with everyone.
This is a session to get your muscles firing and you're ready to go then, making sure nothing unexpected will happen during training.
This might only last 20 minutes and then we'll head outside for training. This last week we've been in CIT and we'd be over there for 10.45am.
This is a tough session with a lot of running. There might be footballs involved but usually it'll be hard running to get us up to speed.
We'd finish around 12.45pm. I might have a banana to keep me going during this.
1pm: We're well looked after by the club and there'd be shepherd's pie or lasagne and recovery shakes laid on for us after training. I get that into me as quickly as I can, just to get the sugars back in.
2pm: After lunch we'd head into the Mardyke and do a session in the gym for maybe an hour or so, depending on what our strength and conditioning coach wants to do on that day. It's building towards the season so it gets progressively tougher as the season approaches and then tapers down.
3.15pm: We're usually done in the gym so sometimes we'd go to the pool or the sauna for 15 minutes to loosen out the legs. I might have a protein shake as well.
4pm: I get myself home and maybe have some scrambled eggs or some kind of meal with protein in it. I have no particular dietary no-nos but the strength and conditioning coach will give us a diet plan from next week.
Based on previous years it'll be relatively strict but there'll be room for an odd treat.
It's mainly just common sense and good food.We all know what we should and shouldn't be eating now.
6pm: That's pretty much it. When I get home, I try to stay off my feet and if I'm tired I might have a nap for an hour.
7 or 7.30pm: I'll cook some dinner, maybe a curry or a spaghetti bolognese and afterwards I might do a stretch while watching TV.
What are they
really like?
Rare insights on sport's biggest names from the writers who know them best. Listen to Behind the Lines podcast.
Become a Member
Dunleavy is a former Irish U21 international who had spells with Wolverhampton Wanderers and Barnet.
A ligament injury derailed his career in the UK four years ago but he hasn't lost sight of getting to that level again — and Dundalk's Richie Towell, having recently joined Brighton & Hove Albion, has been the shining example of what can be achieved by players from the Irish league.
Dunleavy, from Ballybofey, is a model pro and lives with team-mate Steven Beattie.
The former says the life of a pro is a privilege but something that takes dedication and sacrifice."Things like diet and what you do off the pitch can make the difference," he said.
It's all about not eating too much of the wrong stuff; everyone has a fair idea of what they should and shouldn't eat and I'm no different.
"I'd try to eat well for five days of the week and then on the Saturday I might have a Chinese or something to relax while watching Match of the Day.
"We don't train every day — Wednesday would generally be the day off in the season, but we'd adjust our calorific intake accordingly.
"To perform at the best requires good rest and recovery periods — but hard training too when the time comes.
"We've shown we can be competitive with Cork right throughout the season and we're confident we've the squad to do so again.
"We've new signings and they bring a fresh impetus so we just want to get going now – starting on Saturday."