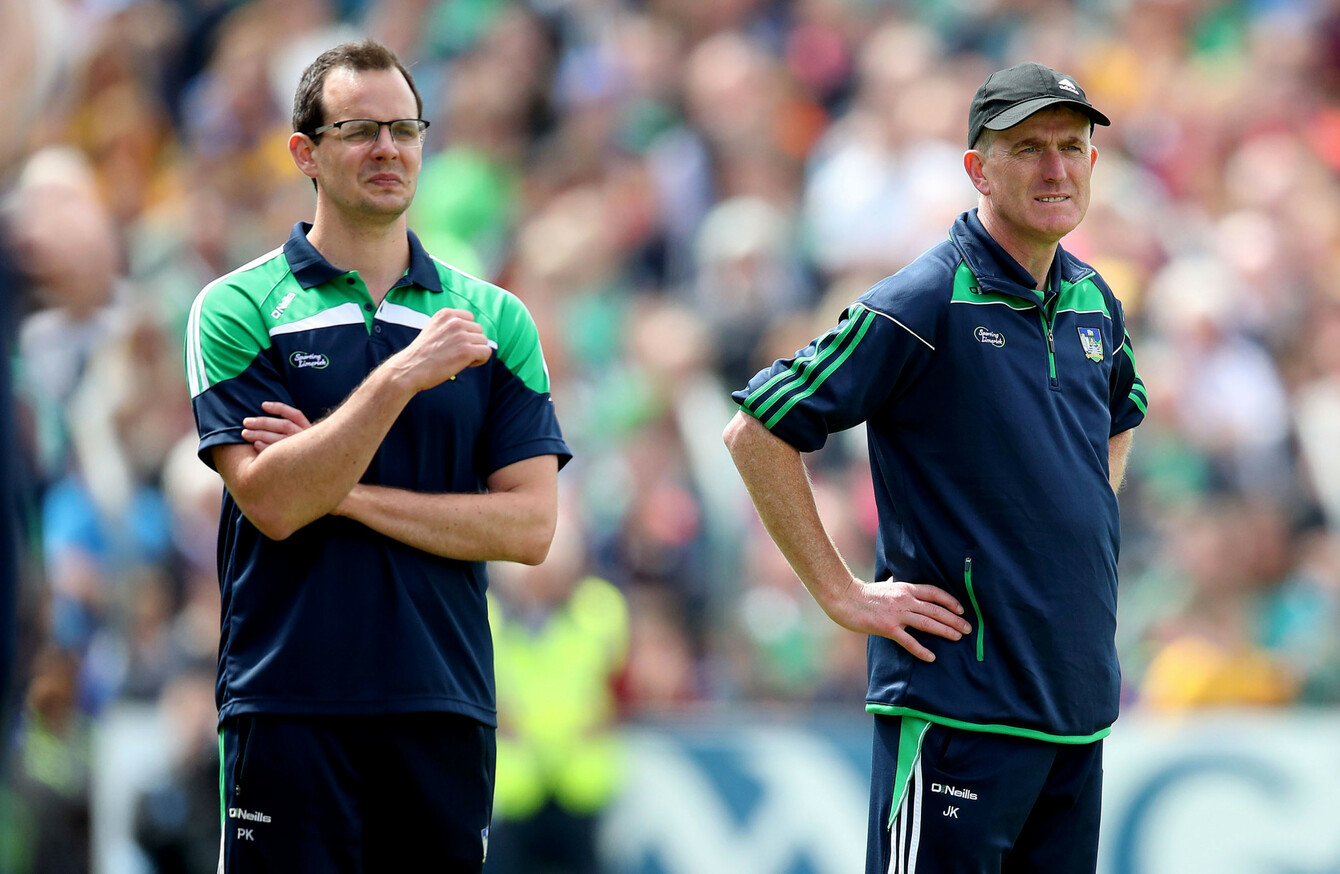 Limerick boss John Kiely with coach Paul Kinnerk.
Image: Bryan Keane/INPHO
Limerick boss John Kiely with coach Paul Kinnerk.
Image: Bryan Keane/INPHO
Updated Jun 18th 2018, 8:45 AM
HE WAS KEEN to stress it was not the root cause of their performance in Ennis yesterday but Limerick boss John Kiely sought to acknowledge this showing as a symptom of their tired minds and bodies after recent exertions.
Playing their third game in 15 days, Limerick never scaled the heights that they have been accustomed to this summer in Munster.
Kiely tipped his hat towards Clare for the level of display they conjured up but feels only professionals can cope with that number of games in a short time frame.
"It is hard. There's learnings there for everybody but we won't have time to look at those (until) maybe later on in the winter. Playing that level of sport so intensely over a short period of time, you really would need to be professional. That's the bottom line.
"I think next year they're going to be put a gap weekend for everybody. I'm not using it as an excuse – the bottom line is that Clare were better than us today. They had energy all over the pitch and they were so efficient playing against the wind in the second half.
"It probably suited their style. It's a setback for us but I'm sure it's one we can absorb and bounce back from. We got a reasonably good start to the second half but I think
you very quickly saw the team run out of energy – that was the biggest problem we had in that second half.
"All credit to Clare. They worked the ball very well through the lines. They pushed on and they won on merit. They deserve their place in the Munster final."
Limerick's focus now shifts from provincial to national. It's an unusual post-match feeling for Kiely's group after careering through Division 1B in the spring to nail down promotion and then hitherto unbeaten in championship.
One loss will not derail their camp, instead they hope to view as an opportunity to pick up tips.
"We've heard that from a few managers over the course of the year and I think they're dead right. We'll analyse the life out of this game from the point of view of trying to get them learnings out of it, the same as we would with any of the other games but it's an experience for the lads as well.
"This is our first defeat in 70 minutes this year and I think that in itself will be a massive learning for the lads. They don't like that feeling and I'm sure they'll do everything they can the next day to make sure they don't taste it again.
"Hats off to our lads, they've put in a huge campaign. We've come out of Munster and if you offered me that at the start of the year I'd have taken your hand off.
"Okay, we didn't make it to a Munster final. Is it the end of the world for us? No, it's not. Maybe that Clare dressing room needs a Munster title more than we need one right now because they've been hanging around for a long number of years.
"Maybe they wanted it that little bit more so it's a reset button for us. We have to go away and reset ourselves now and get ready for three weeks' time, come back fresh and full of energy and go at it again."