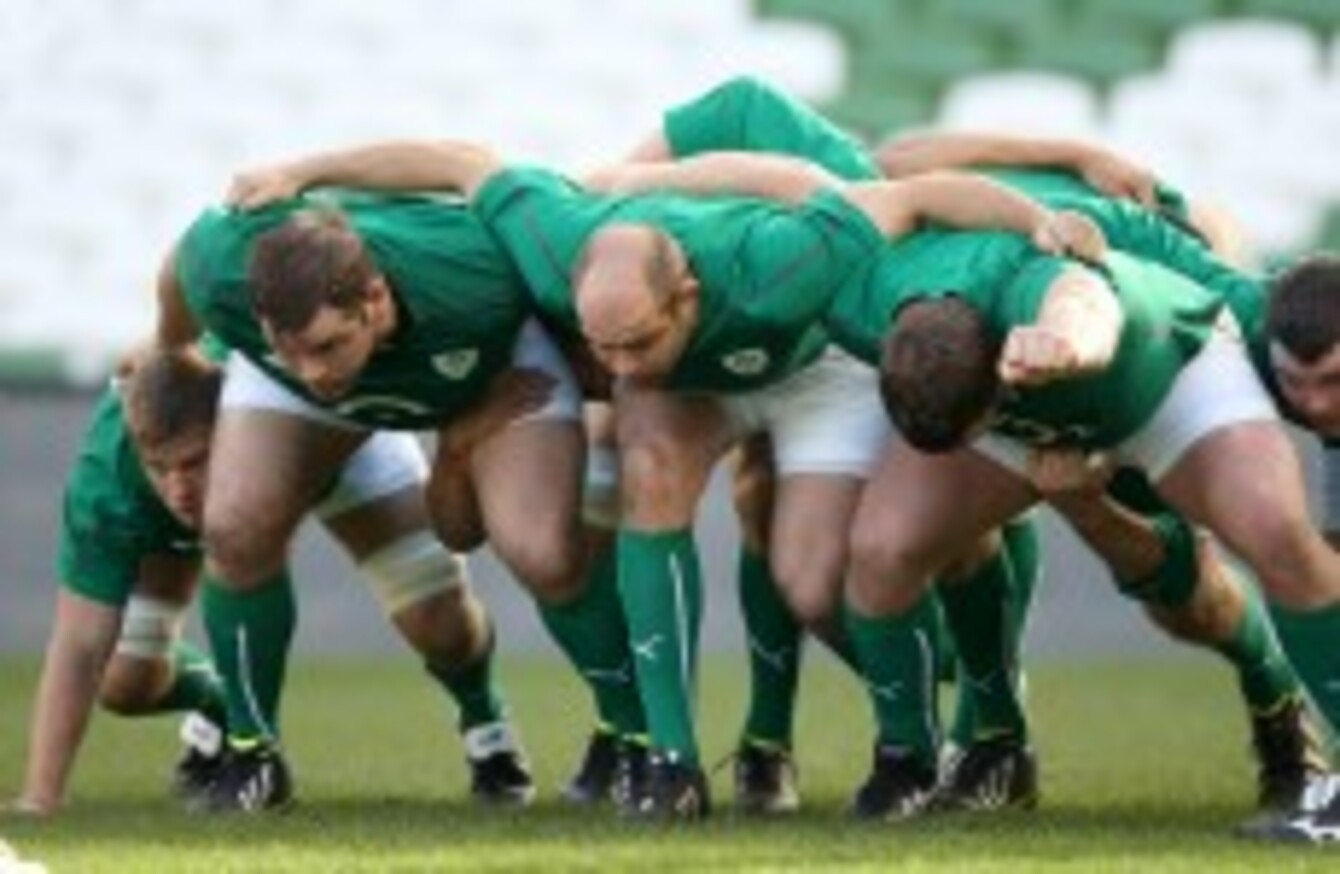 Ireland's scrum wasn't up to scratch against Australia.
Image: ©INPHO/Billy Stickland
Ireland's scrum wasn't up to scratch against Australia.
Image: ©INPHO/Billy Stickland
BULLIED, BATTERED, DOMINATED and too nice.
Everyone has their own opinion on the performance of the Ireland pack against Australia last weekend, with the four words above featuring in many people's thoughts. The feeling in camp at Carton House this week has been one of frustration, an irritation at having failed to carry out what had been spoken about in the build-up.
There has been one clear and focusing message from Ireland's forwards coach John Plumtree as he prepares his men for a daunting task against the All Blacks.
"We've promised ourselves that there's going to be less talk and more action.
"There's been an extra edge in the forwards this week, which there has to be. We're playing against the best side in the world. So that pack needs to front up big time."
Encouraging words indeed. Ireland's forwards need to go back to the very basics of the game this weekend, winning the physical collisions and demonstrating aggression. Plumtree was disappointed with his pack's scrum, line-out and maul defence against Australia, highlighting the need for improvement in each area.
"We were very disappointed with that performance. We scrummed poorly. We didn't have too many opportunities, line-out wise, to drive but we put in one good drive. But then we conceded a soft try as well in the driving, which I know the boys are very frustrated with and fuming with.
"We planned to stop that, we knew it was coming. The plan we had in place, we didn't perform. That makes it doubly irritating I guess."
In that case, the talk wasn't backed up by the actions. Plumtree puts his forwards' poor display down to a mixture of mental and technical elements, but stresses that Ireland cannot afford any repeat against New Zealand.
Plumtree was concerned by Ireland's maul defence against Australia. ©INPHO/Dan Sheridan.
The current All Blacks side has claims to be the best ever, and if they can finish out the season with a 14th consecutive win, that argument will be strengthened even further. A native of New Zealand, Plumtree is in a good position to judge this Kiwi side's relative strength.
"I can remember some pretty good All Blacks sides from over the years, but this side is certainly right up there. I think this All Blacks team is just one team you don't want to miss when they're on TV, so that's a compliment for them.
"They play good rugby, they entertain, they've got great players, they're well organised, they've a good coaching group and they certainly are a real challenge for any side that runs out against them. Luckily for us, we get that chance this week."
Technically and tactically the All Blacks are superb, while their physicality is sometimes left under-appreciated due to the stunning attacking thrusts that steal the limelight. However, a perfect rugby team does not exist, and Plumtree says Ireland will have chances.
We've got to work hard to create opportunities. Joe's a smart enough coach to see there is opportunities there. Every side is at breaking point at some point if you apply enough pressure and it's making sure that we find those bolts this week."
Indeed, the All Blacks have shown frailties in the last two years when the opposition have assaulted them with a monumental physical challenge. England did it last year to win in Twickenham, while Ireland did it in Christchurch in the summer of 2012, when a late Dan Carter drop goal won it for the home side.
Ireland need to bound out of the blocks in the first 20 minutes, working as hard as possible to get into a lead that will tempt the All Blacks to allow a flicker of doubt into their minds. While Plumtree points out that this is a different Irish set-up, the template of that performance in Christchurch would be helpful.
"I think they should have won that Test match, they should have created history that day. It was in New Zealand and Christchurch is one of the toughest places to win. So the boys have got to take something out of that game and take it into this one.
"With every performance, you'll see an opportunity depending on how much pressure has been applied."