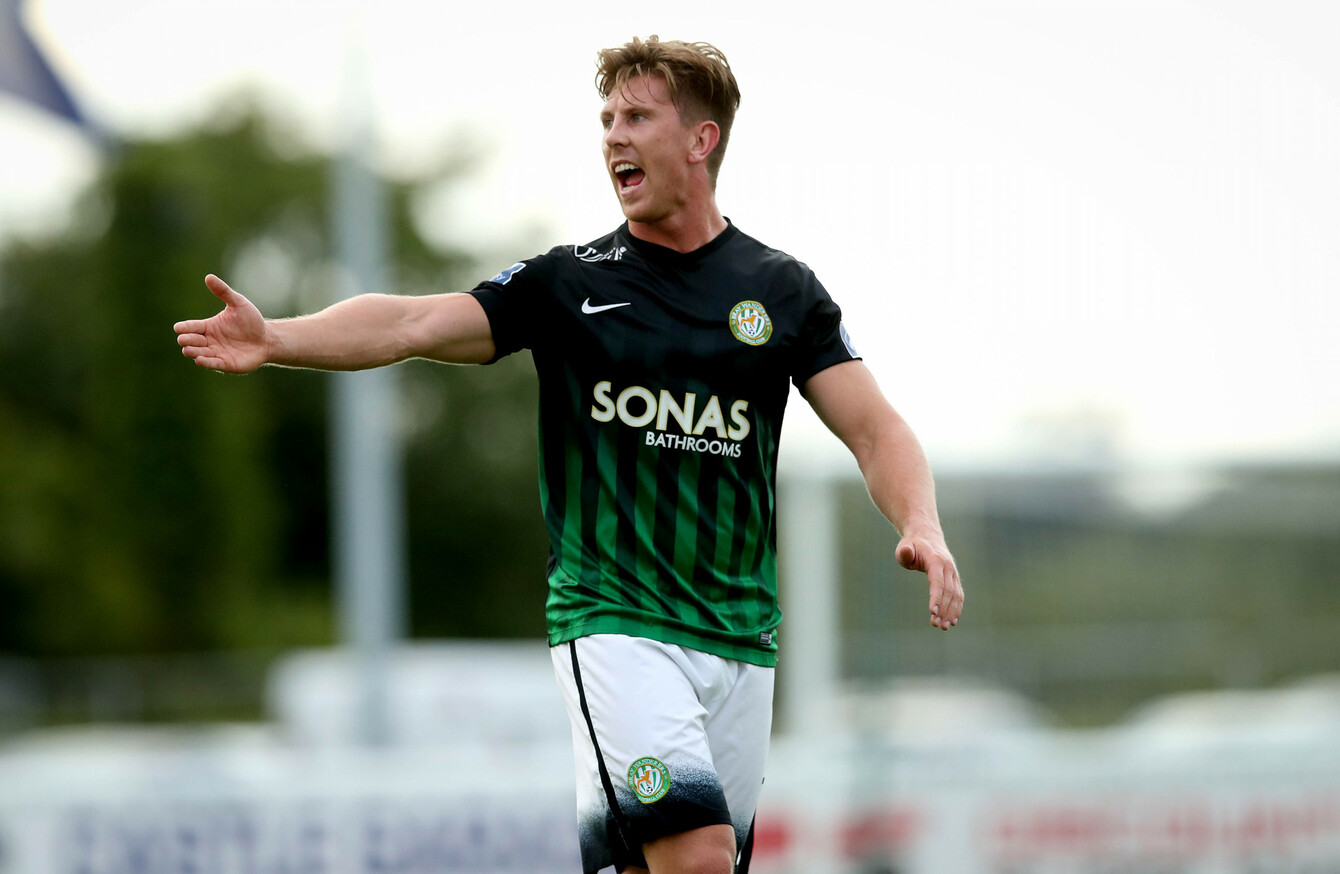 Sullivan has made 26 league appearances for the Seagulls this season.
Image: Ryan Byrne/INPHO
Sullivan has made 26 league appearances for the Seagulls this season.
Image: Ryan Byrne/INPHO
IT HAS BEEN a turbulent few months for Bray Wanderers and everyone connected with the club, to say the least.
Since their financial troubles were made public by then chairman Denis O'Connor back in June, the SSE Airtricity League outfit has been shrouded in uncertainty.
Although they managed to keep their squad intact and secure funds to see out the current campaign, the Seagulls' challenge for a top-three finish was derailed by the off-field issues.
Just last week, Bray attracted more unwanted media attention as the FAI announced that it had opened an investigation into match-fixing allegations relating to a recent friendly with Waterford.
It's clearly been a difficult period for the players and management alike but midfielder John Sullivan is remaining in bullish form.
"The mood in the camp has actually been good," Sullivan told The42. "The players are looking forward to each game, as they always have been. There's good craic in training.
"The dip in form was only natural. Our heads were all over the place. It wasn't just players, but coaches as well. Looking back on it, it was a horrible event and it has changed everything.
"We've tried to push on but that period killed us, it really has. We dropped points when we were playing massive games around that time. We had momentum but this has taken its toll.
Like with anything, you play with the cards you're dealt and we'll give it everything we can for the next five weeks. Let's see how far up the table we can get."
Ahead of tomorrow night's away trip to Maginn Park to face Derry City, Harry Kenny's side sit fifth in the Premier Division and four points off their latest opponents with a game more played.
Having gone seven matches without a win, Bray have five points from their last three outings and while Sullivan is frustrated with how results have gone at times in the second half of the season, he believes all is not lost.
"In the last couple of weeks, something has changed. I don't know exactly what it is."
He adds: "Europe is our goal and it's still achievable. If we win tomorrow we're back in the race and we've got Shamrock Rovers to follow [next month]. That's easier said than done but tomorrow's our cup final."
Although he's played 26 of the 27 league games so far this year, the Dubliner sets himself high standards and accepts he hasn't met them in 2017.
"No, to be honest, I haven't," Sullivan replies, when asked if he's been happy with his own form. "Not at all. I was hoping this year would go a lot better than it has. Whether you win lose or draw, there are certain things I value and if it doesn't happen I feel like I've lost – even if we've won 5-0.
"We haven't been happy with results. I look at the table and see how close we are to Europe. No offence to anyone else in the league, but we should have been up there with the top two but for the points we dropped. People will think I'm mad for saying these things but once you apply yourself right, every game is winnable.
"There's not much difference in ability, it's just application. So there are a lot of things I would have changed this year. Next year, wherever that may be, I'll have my head screwed on and I'll know what's right."
As Sullivan alludes to, his future beyond the next month may very well lie away from the Carlisle Grounds. If that proves to be the case, he is likely to add to an already sizable list of clubs.
Originally from the Coombe in south inner city Dublin, Sullivan played schoolboy football for Lourdes Celtic before moving to rivals Crumlin United at 16. Under coach John Bolger, that team possessed an array of young talent including the likes of Conor Clifford, Richie Towell, Gavin Gunning and Aaron Doran.
"I think we had 13 players in the Ireland U16s squad that year," Sullivan remembers.
From there, he was picked up by Bohemians and played U20s before Scottish side Hamilton Academical came calling in 2009.
"It was fantastic and I really enjoyed it," he says of his time with the Accies. "They offered me a new deal but for some strange reason I didn't accept it. I was one of these kids that wanted everything to happen to me right then and there. I didn't realise back then that patience would have helped a lot. It was a great club and some good players came out of it."
Sullivan returned to Ireland in 2010 and he has been on the books at no less than seven clubs in as many years — Limerick, Drogheda United, Dundalk, Crumlin United, Galway United as well as two spells each at Shelbourne and current employers Bray.
I'm in a WhatsApp group with friends and they joke that I've had 12 clubs in the last four years!" he laughs.
"A lot of it has been down to me. If I'm not happy somewhere then I leave. You've two options — either you change it or you accept it. I'm not going to accept unhappiness so if I don't think something is working out I'll try fix it and if I can't I'll leave.
"I like to work with as many coaches as I can and learn as much as I can. I may go on to be a coach or I may not. I haven't made my mind up yet. It's a small league and in a few weeks, everyone will be going everywhere. Unfortunately, that's the way it goes."
With many players still only being offered one-year deals, it's a reality Sullivan has to accept but that doesn't make it easier.
"Unfortunately, you do get used to it but there is a nervousness," he says. "What do I do next year? Where do I go? You're asking yourself have you had a good year? Then you're doubting yourself and thinking 'Will someone sign me?'.
"You've got a million and one questions going around. But I know wherever I go I'll put my stamp on it in a positive manner because I know what I'm good at and I like to apply myself.
"I'm nervous about what happens next year but once I make a move, I'll enjoy it and good things will happen. It's about being in the right environment and I'd say that's why a lot of people leave clubs in our league."
Thankfully for the 26-year-old, he does have some stability in his working life as he balances football with his job as a personal training in Ben Dunne gym.
"I start work at 6.30am in the morning, six days a week. I come back in most evenings and work around my football. I'm privileged as I can pick my own hours."
So, with another season drawing to a close, what does he envisage for his LOI career in the short-term?
"I haven't a clue… That's God's honest truth."
Only time will tell.
Subscribe to The42 podcasts here: