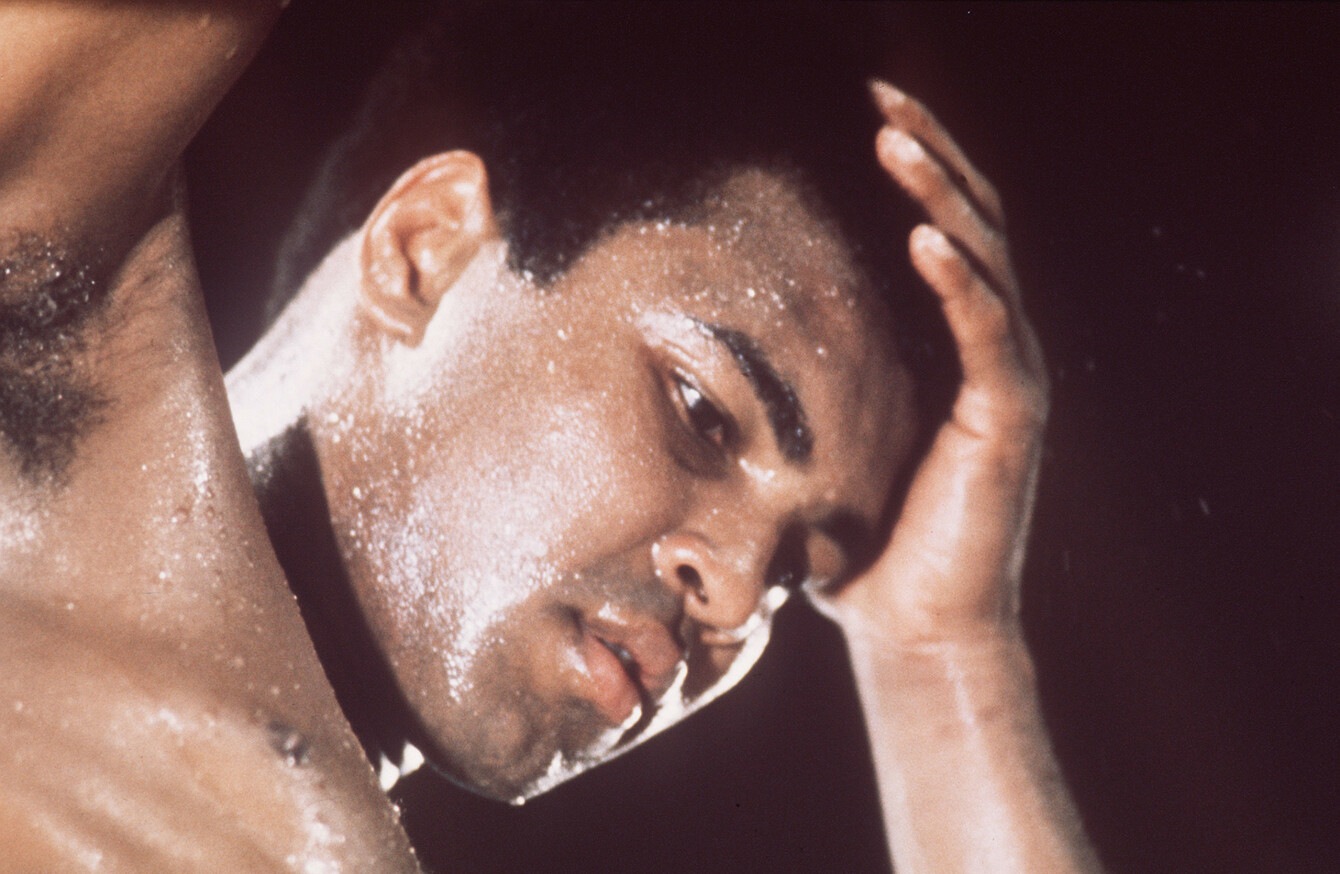 Muhammad Ali (file pic).
Image: DPA/PA Images
Muhammad Ali (file pic).
Image: DPA/PA Images
2017 SAW THE publication of 'Ali: A Life,' the first comprehensive biography of the legendary boxer, from his early days as a cocky showman and talented fighter to the end of his life, when Parkinson's disease rendered him a pale shadow of the vivacious athlete he once was.
Jonathan Eig's book does a superb job in capturing the complicated legacy of Ali, encompassing his bravery in speaking out against the Vietnam War as well as how disgracefully he treated his various wives, among other issues.
The42 recently caught up with Eig to discuss his William Hill-shortlisted book…
Tell us about the background of the book and why you wanted to write about Ali.
I was a big Ali fan as a kid. I had his poster on my room on the wall. As an adult, it occurred to me that he was so much more than just a great athlete and that nobody had yet written the complete biography.
There were a lot of good books about him over the years, but now that some time had gone by, it had been 50 years since he became champ, I thought it was time to give him the big biography that he deserved.
How did you find the actual process of writing the book?
I interviewed about 250 people and did 600 or so interviews, because I interviewed many of them more than once.
It was difficult, because there were so many different people to talk to and many of them were difficult to get access to and to get them to open up.
But it was also thrilling, because these were such wild characters. To meet George Foreman, Don King, Larry Holmes, to hang out with Ali's wives and to get to know what that world around Ali was like was just fascinating, so I had a lot of fun.
Was it daunting having to follow great books by the likes of Norman Mailer and Thomas Hauser?
It was very frightening just to take on such a big subject. Ali, to me, is one of the great lives of the 20th century. To take on that responsibility in telling that story was extremely daunting.
And knowing that I was following in the footsteps of these great writers, I tried not to think of that too much, because I know I'm not Norman Mailer and I don't try to be, I just try to do my own thing.
The perception of black people was radically different in the America Ali was born into, wasn't it?
It was a very different world. When Ali was born, segregation was still the law.
African-Americans were considered second-class citizens. They couldn't vote in many places. They couldn't shop in the same stores as white people, they couldn't drink from the same water fountains or use the same bathrooms, Ali was born understanding that he would never be treated equally and he rebelled against that.
Even into the 1970s, when he became a star, it was still a time of great discrimination in housing, in employment and Ali fought back against that. He was one of the first athletes to really use his position and to challenge the standards of what society said black people could do.
He was quite shy as a kid. What transformed him into the incredibly outgoing person he became as an adult?
As a kid, he was desperate for attention. He loved people, but he struggled in school and he was shy with girls. He had some insecurities, but at the same time, had great confidence in his looks and his athletic ability, so he was complicated.
His first girlfriend told me that he actually fainted the first time they kissed, because he was so nervous.
Aside from giving him extra confidence, on a broader level, did success change him as a person?
In some ways, it did. He got very wealthy and he took advantage of his fame. He loved being around people and that also included women — he had countless affairs and cheated on his wives all the time.
So I think his celebrity did change him in that way, but in some other ways, he remained humble in a strange way. He always loved being around people. Even when he was at his most famous, he would stop and spend all day with strangers who he met on the street. So, in some ways, his success changed him, in others, it didn't.
Would it be fair to say that Ali's boxing persona would have been considerably different if it were not for the influence of the wrestler Gorgeous George on him?
Gorgeous George was definitely a big influence. He met Gorgeous George in Los Angeles when they were both on a radio show. Then he went to watch Gorgeous George wrestle. He was such a great showman and he intentionally tried to get the crowd angry. He recognised that was good for sales of tickets and Ali said: 'I like that, I'm going to do the same thing.'
But I think in some ways, he was already doing that. Even when he was 12 or 13 years old, he would tease the older people he was boxing. He would go in and taunt them, and try to get them mad, and see if he could get them flustered to give him an advantage in the ring.
So I think Gorgeous George gave him an idea of how to extend that routine, but some of it came naturally to Ali as well.
There were a lot of suspicions about certain fights. In the second fight between the two of them, some people felt Sonny Liston went down too easily against Ali, and there was obviously the fight where George Foreman claimed he was drugged. How much credence would you give to these theories?
Boxing's a dirty sport and there have been plenty of fixes over the years, so you can't rule it out. Certainly, those first two Liston fights were suspicious. There's a reason to think Liston might have stayed on the stool after that first fight and there's certainly reason to think that he might have taken a dive in the second fight.
That George Foreman stuff is a little bit harder to figure out, but with boxing, you can never rule it out.
You mentioned his poor treatment of women earlier. Would it be fair to say that tarnishes his legacy significantly?
I definitely think that you have to factor that in when you consider what type of man this was. He was a great champion in the ring, he was a wonderful personality, an important civil rights figure, but at the same time, he was a terrible husband, not a good father and he treated women horribly. You can't dismiss those things.
One of his wives says in the book that 'he failed as a man'. Would it be fair to say that was not an uncommon view?
Especially when you look at it by today's standards when men are being assessed differently, it's not okay to take advantage of women, it's not okay to act like they're just property to be used as you wish. By today's standards especially, we're coming to terms with that, but with Ali, times were a little bit different, he was the heavyweight champ, it was the 1970s, there was a lot of promiscuity, but he behaved terribly towards women and that's something we have to factor in.
Could Ali have done more to protect Malcolm X, after the latter fell out with the National of Islam and was ultimately assassinated?
I think there's no question that Ali could have done more to protect Malcolm X and that he could have spoken up on his behalf. He could have gone to Elijah Muhammad and said: 'If anything happens to this guy, I'm done with you, I won't stand for it.'
Ali had a lot of clout in the movement and he could have spoken up to protect his friend when he knew that Malcolm's life was in danger.
He chose not to, in fact, he chose to do the opposite. He said that he thought Malcolm deserved to die. Those were inflammatory words at an inflammatory time and it's something that does not reflect well at all on Ali. He turned his back on a friend.
How did Ali's anti-war stance influence the general American public and their perception of the Vietnam War?
That's one of his greatest legacies. He was one of the first celebrities to stand up and say that the war was wrong and that he wasn't going to fight and (highlight) the fact that it was against his religion. That had a huge impact, it got people thinking differently, it helped inspire others to take a stance, and as the war dragged on and more people joined the movement, Ali became a hero.
Has there ever been an athlete who's had as great an impact politically as Ali did?
In America, Jackie Robinson (the first African-American to play in Major League Baseball in the modern era) comes close. Robinson, in some ways, made Ali possible, so you could argue that Robinson was as important, if not more important. He was the first to really show that integration worked — that was hugely important.
And someone like Jack Johnson, the boxer, who was the first to show that African-Americans could compete equally and beat white fighters. But Ali, I think, is the most important sports figure of the 20th century, because he changed American politics, he changed sports and showed what was possible for athletes.
Source: Ilias Khidhr/YouTube
Ali went from being hated to hugely popular within the space of a few years between the '60s and the '70s. What was key in changing the general public's perception of him?
The times changed for one thing. When he came out against the Vietnam War and changed his name (from Cassius Clay to Muhammad Ali), he was perhaps the most hated man in America.
But then the civil rights movement grew more radical, you had people blowing up buildings.
Suddenly, Ali wasn't the most radical guy on the spectrum and it became clear that he was right about the Vietnam War.
As the American public's and the world's views changed on Vietnam, Ali was seen differently. He was seen as someone who took a bold stand for what he believed in and he sacrificed, he became a martyr for what he believed in, and I think that was really important too.
People fell in love with him and as his popularity grew, would it be fair to say it influenced the judging of his boxing matches?
That's absolutely right. He was a big star and people wanted to see him win and the judges couldn't take their eyes off of him. I think he got a few close calls that he didn't deserve as a result of that.
His power and popularity also had a big influence on the authorities' eventual decision not to jail him for his refusal to be drafted, didn't it?
It's one of the rare instances where the Supreme Court justices, these judges, even said they wanted to do this because they were afraid of the public reaction. If they sent Ali to jail, without giving him a trial, it would look bad. They thought it best just to find a technical excuse for letting him off the hook and that's exactly what they did.
The damage he did to his brain through boxing – would it be fair to say there's strong evidence to suggest he suffered that in the first half of his career, rather than the latter part?
Yeah, it was much earlier than we thought. Ferdie Pacheco, his doctor, told me that there were signs of permanent damage as early as 1971.
I went back and studied his speech rate. I worked with scientists to evaluate the effect of these punches on Ali's speaking ability.
You can see even in 1970 that his speech is starting to slow down, and over the course of the decade from 1970 to 1980, his speaking rate declines by 26%. That's a huge amount of speaking loss, and it's definitely connected to the punches that he was taking.
Why did he take so long to quit boxing? Did he love the attention too much?
I think the money was the number one reason. He needed the money, he liked the money, there was no other way he could earn so much so quickly, and the attention was probably the second factor.
He loved being the centre of attention, he loved being in the spotlight and being the heavyweight champion of the world is unlike anything else. You can be the host of a TV show, you can be a movie star, but it's still not the same as being the heavyweight champ. He hated the thought of giving that up.
Tell us about the influence of figures like the boxing promoter Don King and Ali's manager Herbert Muhammad. Would it be fair to say that they took advantage of him?
In the boxing world, there are almost always managers who are taking advantage of a big cut of whatever you bring in. In Ali's case, Don King and Herbert Muhammad were definitely taking a large chunk of Ali's money. They had an incentive to keep him boxing and so did all the people in Ali's entourage. They all wanted to see him keep boxing because they didn't want to see that pay-day end.
Ali was the champ of a greater magnitude than any champ that had come before. He was just enormous and nobody wanted to see that gravy train come to an end.
He had really been accepted by mainstream society by the mid-1970s, as emphasised by the fact that he was able to share jokes with the president while refraining from saying anything particularly controversial. Was there a sense of disappointment that he was no longer as radical as he had been before?
Jim Brown, the great American football player, said that he was disgusted by Ali in the 1970s — that wasn't the Ali he loved. The Ali he loved was a warrior who was speaking out about race.
By the '70s, Ali was just interested in making money and fighting. He stopped speaking out politically altogether. In fact, he began endorsing some conservative Republican candidates.
When he endorsed Ronald Reagan for president, the civil rights activists went and met with Ali and said 'please don't do this, he's not good on civil rights issues, he's going to set us back'. And Ali didn't care.
He never voted in his life and he ended up endorsing the candidates who he liked the best as people. He didn't understand, or didn't care to understand, or get involved in the details of politics.
What's his greatest legacy? Would it be fair to say he played a major role in how black people were perceived within American society?
I think that's right. He was important because he spoke out for what he believed in so that athletes could use their prominence and their influence to fight for change, and he showed that black men could stand up to authority – I think that's his greatest legacy.
Would it be fair to say he was a tragic figure by the end of his life, given how severely he had become afflicted with Parkinson's disease?
There was a great deal of tragedy there. This man who was so beautiful, who was so quick and quick verbally as well — to see him rendered nearly mute, to see the effect of these punches leaving him shaking and shuffling his feet, to see this vocal man silenced, it was all terribly sad.
He had to live for decades in that kind of condition, and it was as a result of the fact that he boxed. The thing that made him great was also the thing that struck him down.
Ali: A Life by Jonathan Eig is published by Simon & Schuster. More info here.
The42 has just published its first book, Behind The Lines, a collection of some of the year's best sports stories. Pick up your copy in Eason's, or order it here today (€10):