"NO REGRETS," JONNY Cooper deadpans. "Zero regret at all. The right decision for me and the right decision for the team, if I'm being honest about it."
The dust has settled since the Dublin great announced his retirement from inter-county football on 31 December, the seven-time All-Ireland winner and two-time All-Star still adjusting to life outside the bubble.
It's different, particularly at this time of year. Over the weekend, he was a special guest at the Leitrim Sports Star Awards, owing to his connection with Declan Darcy. He has more time on his hands now, his life no longer consumed by Dublin football.
"It's a 24/7 gig, and I used to think about it relentlessly," he notes at one point.
Interestingly, Cooper hasn't watched much of his former side in the Allianz football league thus far, aside from 15 minutes or so when the opener against Kildare was on TV in the background at a family dinner. He's been busy with Na Fianna, his professional life, and what not else.
"It's also very strange, if I'm being honest about it. It will happen and I'm sure I'll get behind them in Croke Park, touch wood, in the next few months."
"C'est la vie," he later adds.
The 33-year-old seems like a man at ease with his decision.
One which, perhaps, was easily made?
"It was a challenge because you know you're leaving – the circle and the friendships," he concedes.
"You don't get 82,000 on any given Sunday in Croke Park, you don't get that opportunity now.
"But when you look at it in terms of kicking on 15% more, elevating my game and whether or not I can influence, then you ask yourself the question. I was lucky enough to be a player and a captain but there are a few different angles to it.
"Then there was the clinical and cold answer that I couldn't do it again [this year]; I couldn't get to the level the guys have set. For me I can't stand behind something at 12% or 13%. If you can't get to that 15% more that the guys have set, and rightly set, well I'm at ease from that point of view."
The 15% Cooper references was his internal commitment to improve for the following season. His status as a standard-setter in terms of high performance has been well referenced through the years, and he's satisfied that he gave absolutely everything to the cause as he steps aside.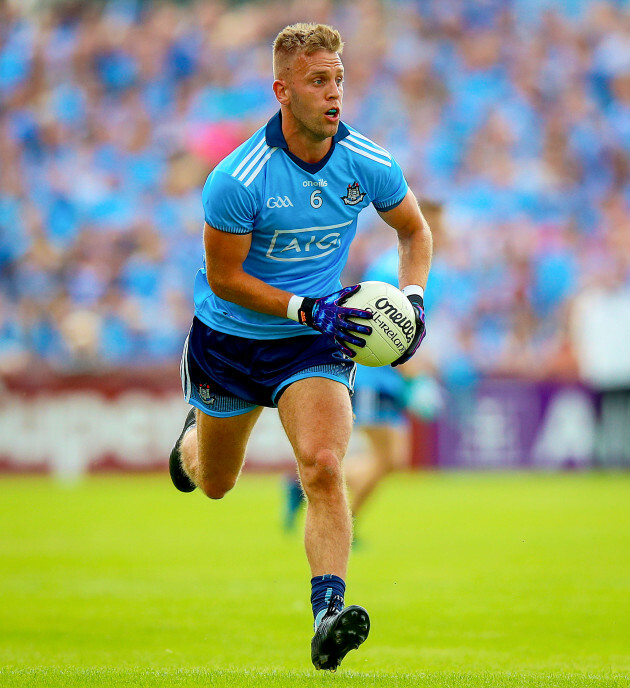 Tommy Dickson / INPHO Cooper in full flow in 2019. Tommy Dickson / INPHO / INPHO
That was always the goal, and a promise he made to himself as he vied to get on the team many moons ago.
As pointed out to him last week, Cooper was involved for 96 of the 98 possible months available to him and Dublin through his 11-year senior inter-county career.
Having watched the 2011 All-Ireland senior final win from the Hogan Stand, he made his debut the following season. He caught the eye in DCU Sigerson Cup teams, those formative years as a player paving the way for national stardom.
The teak-tough defender soon became a mainstay of Jim Gavin's side, and was one of Dublin's most consistent performers through their simply remarkable run. A massive leader, on and off the pitch.
He's proud of his career return, and reflects fondly on the journey as a whole.
"It's one that I'm massively appreciative of," he nods. "My parents, siblings, coaches in Na Fianna — it's a reflection on their time and effort. It was a great journey, great ups and downs along the way in terms of learnings.
"At times you were on the floor and you didn't think you could get up the next day, but of course you can. Your team-mates are there. And then you have the high moments, the profound moments money couldn't buy."
Several stand out. Not just the exhilarating peaks, the gut-wrenching troughs.
"The vivid ones in my mind are Donegal 2014 [All-Ireland semi-final] and the more recent games against the Mayos and Kerrys.
"They key learning was off the pitch in 2014 and the attack. I was millimetres from it all being gone and finished. That was a big turning point for me. It was an experience that I tried to take forward, both on and off the pitch.
"I spoke to you guys a couple of times about my ego. I was out the night we lost to Donegal and I felt my preparation for the game was quite poor on reflection. I was playing centr- back and it was one of the reasons why they scored [those goals].
"At that point I was being carried as opposed to showing, pointing and influencing the direction. I would have put key performance and preparation blocks to build on from that moment."
Cooper speaks a lot about the people. The bonds, the friendship, the mutual admiration and respect. A special moment on the Croke Park turf with Darcy after the 2019 All-Ireland final, along with many more "in the shadows," demonstrates that.
"That deep care and connection is something that certainly I'm probably only realising now if I'm being honest, the last couple of weeks, how deeply-rooted it is. When you leave, you're obviously sad in lots of ways, but at the same time, that our friendship will – touch wood anyway – outlast just wearing a blue jersey.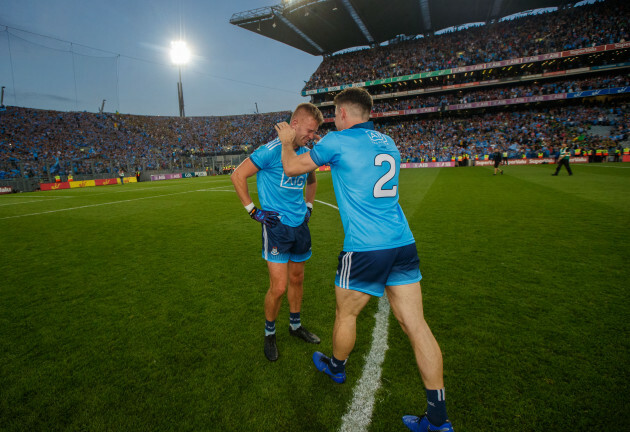 James Crombie / INPHO Cooper and David Byrne after the 2019 final. James Crombie / INPHO / INPHO
"It was a fantastic opportunity to engage not just with people inside the circle in Dublin, but that were outside. I was really fortunate to engage with many different sports that are out there. Hopefully I'll have the opportunity to learn in many different ways going forward. The Dublin phase is now gone but I'm really excited about the next one."
Before closing the chapter, though, how would he like to be remembered for what he brought to Dublin? That perception piece.
"I think I had a big challenge with being liked and being respected. I wanted both in the early years, in the first half of my career. Halfway through, it changed to being respected for everything I did. I hope I endeavored to earn that respect in everything I did from all my former team-mates, coaches and managers. Whatever time and commitment I gave, I got it back a thousand times over. I'm cognisant of that as well."
He has more to give, in various different capacities.
The excitement shines through as Cooper looks to the future, his professional and business life moving into full focus alongside club commitments with his beloved Na Fianna.
"I'm really, really passionate about people and teams and performance. I'm just looking to pull on that thread a little bit more and see what unravels from it," he nods, with new ground yet to be broken on the football scene as the Mobhi Road outfit look to take down All-Ireland champions Kilmacud Crokes.
"I've never done a full pre-season with the club," Cooper concludes. "It's unbelievably exciting at the moment. The team doesn't realise the potential they have.
"You can argue that there is 30% more in the team as a whole and I'm really looking forward to supporting that journey, challenging where I can. I will hope to bring as much experience, both from a professional point of view in terms of my day job, but also from the last 11 or so years with Dublin."
Get instant updates on the Allianz Football and Hurling Leagues on The42 app. Brought to you by Allianz Insurance, proud sponsors of the Allianz Leagues for over 30 years.