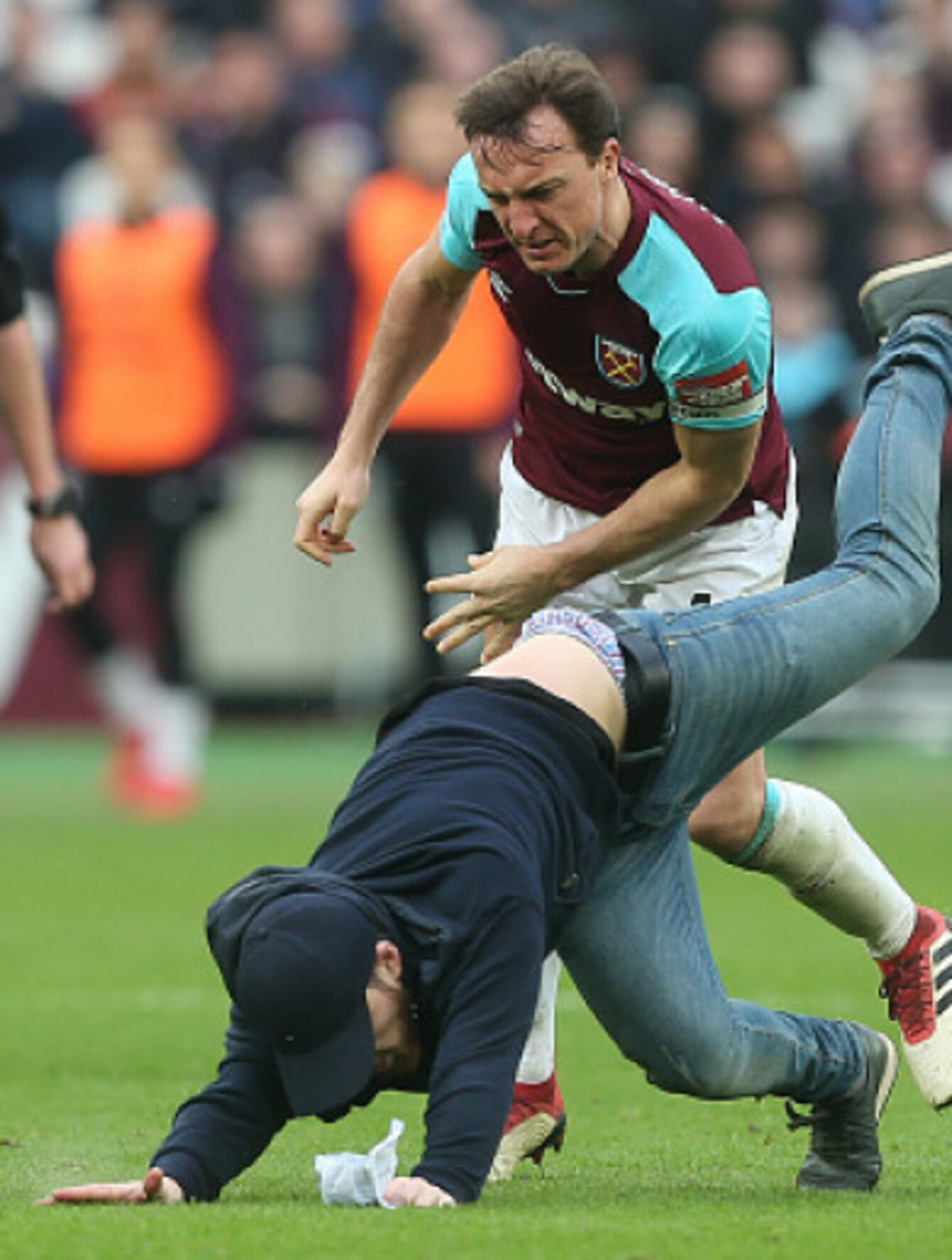 Mark Noble of West Ham fights with a pitch invader protesting the board of directors during the Premier League match between West Ham United and Burnley at London Stadium earlier this month.
Mark Noble of West Ham fights with a pitch invader protesting the board of directors during the Premier League match between West Ham United and Burnley at London Stadium earlier this month.
JOSH CULLEN ISN'T a footballer who is content to opt for the easy decision.
He faced a dilemma halfway through this season in January. Having spent the first half of the campaign on loan at Bolton, he could simply have gone back to the Championship club.
Instead, he had the self-belief to stay at West Ham in the hope that he would be good enough to challenge for a place in the Hammers' first team.
Cullen, who was named Ireland's U21 Player of the Year on Sunday night, is a player of considerable talent and potential.
He made his Premier League debut as far back as August 2015, appearing as a late substitute in his side's surprise 3-0 win over Liverpool at Anfield.
The 21-year-old has enjoyed plenty of senior football since then. He spent 18 months on loan at Bradford in League One, before returning to West Ham at the end of last season.
He went away again at the beginning of this campaign, moving up a level to the Championship with Bolton, although his stint there was less successful than his time at the Northern Commercials Stadium.
Cullen played regularly initially for the Trotters, but they began the season poorly, losing nine and drawing two of their opening 11 league games, and with relegation looking an increasing possibility, the young midfielder found himself out of the starting XI and only getting very sporadic game time during the latter part of his loan spell at the Macron Stadium.
The rough and tumble of the Championship is not always the ideal environment for a player such as Cullen, who is technically accomplished but relatively small in stature, yet despite the somewhat anti-climactic end to his time at Bolton, he feels the experience was of considerable benefit to him overall.
I've always been on the smaller side since I was growing up, so I've always had to learn how to get over that and combat that with what I'm good at," he says. "I had to do that in the Championship as well, and I felt towards the end of my loan spell, I got to grips with that.
I knew what it was about and what I needed to do to play at that level."
The young midfielder returned to West Ham, another club battling for league survival, in early January. He had been presented with a choice — go back to Bolton or try to break into his parent club's first team. Cullen went with the latter option.
There were promising signs initially upon his return. The youngster started three times for the Hammers in his first month back, all of which were FA Cup games.
The first of these matches, in particular, was memorable for a couple of reasons. In a 0-0 draw amid an awkward trip to League One side Shrewsbury, Cullen had two teeth knocked out and headed straight to A&E after the game. On the plus side though, he still managed to pick up the man-of-the-match award and was described by manager David Moyes as probably "our best player today".
Ouch!! West Ham's Josh Cullen loses a tooth! pic.twitter.com/8cp3mU38Oe

— Tim Shires (@timshires) January 7, 2018
"I had a conversation with the manager and he was happy for me to stay around and try to prove myself so I had a few games in the FA Cup," he explains.
Since the FA Cup appearances, Cullen has had to be patient, as he has yet to add to his sole Premier League appearance over two years ago. And with the relegation-threatened club currently 17th in the table, it is perhaps understandable that Moyes is reluctant to risk playing the inexperienced starlet.
"I think it's all part of being a young player," he says, when asked about a lack of game time.
"Every player throughout their career is going to have times where they're out of the team or things aren't going as you would like, especially coming off the back of the Bradford loan where things went really well and sometimes you forget that there are pitfalls and tough sides to football as well. I've experienced that, but I just feel that's going to stand me in good stead moving forward now and for the rest of my career.
I'm confident in my ability. If the manager turned around and said 'you're starting this weekend,' I'd have no problem with that and I believe I could go out and do a good job."
Cullen, however, does not seem to be too far off a first-team spot. He has appeared on the bench a number of times this season, including in the side's recent 3-0 loss at home to Burnley. The youngster consequently had a first-hand view of the chaos in London Stadium that day, as the game itself was overshadowed by pitch invaders and fan protests.
But the 21-year-old Essex-born midfielder is keen to play down concerns about player safety at the ground amid concerns that a similar situation could occur in the near future.
"I think it's definitely going to be safe. The club will do everything they need to make sure it's safe. I'm sure everything will be fine," he says.
There were obviously frustrations there that were clear, but I know everything will be done properly by the people who need to make sure everything is safe and secure.
"As players, all we can focus on is the massive games coming up. We know the situation we're in.
"I think it'll be a help playing in front of the West Ham fans at home. It's always definitely a benefit to us. They're great fans who have backed us home and away. The players and everyone involved with the team need to stay strong and just make sure we approach every game with the right mindset and if things aren't going well off the field, we can't let that affect us."
Cullen has received high praise from manager Noel King for his performances amid the Ireland U21 side's recent encouraging form, and he is likely to be an important player for their Uefa U21 European Championship qualifier with Azerbaijan on Tuesday at Tallaght Stadium.
His colleagues at U21 level, Kieran O'Hara and Declan Rice, have already been rewarded with senior call-ups, though Cullen says that he has received no indication as to how close he is to joining them.
Regardless of whether Declan had or hadn't got in, that's one of my goals from a young age — to put the jersey on and become a senior Irish international has been a dream of mine since I was a little kid.
"Just because I've won [U21] Player of the Year doesn't mean I'm going to be knocking on the door of the senior squad. I've still got work to do and I'm going to put all the work I need to do in."