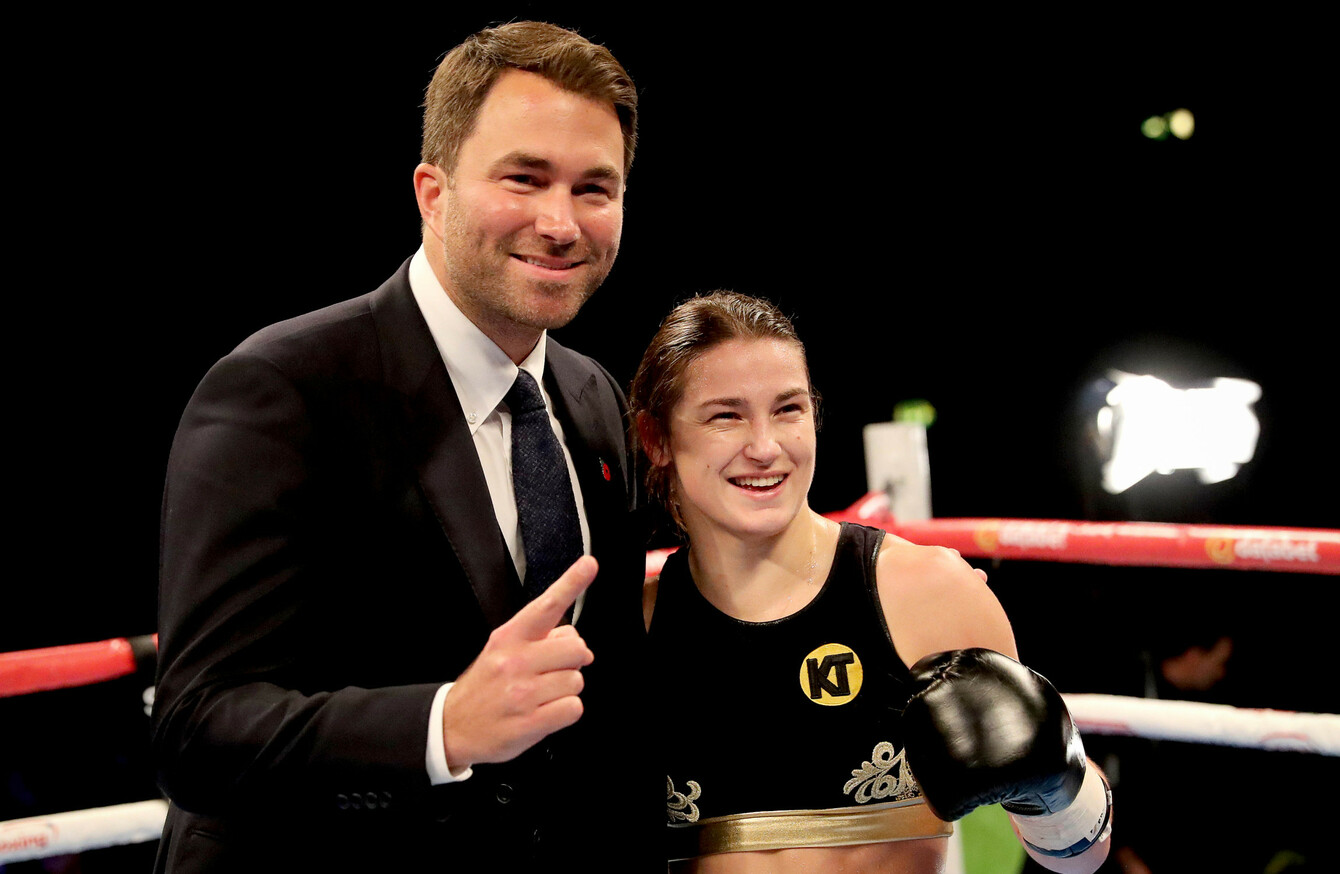 Image: Ryan Byrne/INPHO
Image: Ryan Byrne/INPHO
A DECADE SINCE cultivating Irish professional boxing's boom times, Brian Peters will likely play a major role in its recovery.
The mastermind behind Bernard Dunne's transcendence at the turn of the decade, the farmer and businessman is back in the fight game, steering the burgeoning pro career of a ready-mix star in Katie Taylor.
With his promotional background, Peters was the ideal candidate to act as an intermediary between Taylor and any prospective promotional suitor when the all-time great amateur ditched the headguard last autumn.
Indeed, it's largely with thanks to the Meath man that Taylor currently operates under Eddie Hearn's Matchroom Boxing banner, her preternatural talents broadcast by Sky Sports to the masses across the Irish Sea, where she's fast becoming a household name.
She remains so back home in Ireland, of course, where Peters is adamant she'll add to her WBA world title strap in the spring.
In the wee hours of Thursday morning, following Taylor's arduous battle with Jessica McCaskill in London's iconic York Hall, he speaks rather candidly not only on Taylor's seemingly inevitable Dublin homecoming, but the off-the-cuff nature of their business partnership and, for starters, the Bray woman's fallibility in the ring.
"She got caught so much in the last fight," he says. "And I suppose we're all used to just seeing Katie Taylor winning. But it's different, this, the professional sport.
There's no doubt that there's fighters out there that maybe take a punch better than Katie, are stronger than Katie, maybe hit harder. [But I'm] not too sure if there's many that have a better skill set than her.
"The plan was to try a different strategy this time", he adds, "and our concern was, 'can Katie would stick to it?'
"It's not that we get nervous, but there is an expectation that Katie carries on her shoulders – always winning, you have Barney Francis [Sky Sports managing director] there, she's there to entertain, she's main event which is a hell of a responsibility to have – so for her to go and just out-box someone like that, that was great.
"We've seen her going forward, but we've seen now a different side to her tonight. And that she could stay so focused for a full fight, that was good."
Speaking to The42 on Tuesday following the Taylor-McCaskill weigh-in in Shoreditch, Eddie Hearn provided his strongest indication yet that a Dublin homecoming is more an eventuality than a possibility, describing how a raucous Irish atmosphere would create the optimal scenario from which to propel Taylor's career to a higher echelon still.
It's a sentiment echoed by Peters, who suggests she'll likely take to the ring in the same venue from within which Dunne brought a nation to its feet in March of 2009.
March is a possibility for Taylor, too, but given the lightweight world champion is long overdue a holiday – she's scarcely spent a fortnight out of the gym since the Rio Olympics – Peters views April as the preferred landing spot for her first pro fight on home turf.
And like Hearn, Peters already has a number of tantalising all-Irish scraps in mind for Taylor's Dublin bill – the likes of which we haven't seen in the capital for over three years.
"I think we'll be there in April. We'll be in Dublin in April. 3Arena is the spot, really, but the RDS is still a possibility.
"But the 3Arena in April, all going well [is the plan].
"We've got to get Ireland. Ireland is really next. We've got to do it – it's really time.
There are loads of good fights. You want Jono Carroll and Deco Geraghty on the undercard, you want [Luke] Keeler versus [Conrad] Cummings, you want the Stephen Ormond [-Paul Hyland Jr] rematch: he got stiffed up in Belfast, disgraceful decision, what the hell, I don't know how… But they're the fights you want. They're good fights.
"You want to go into the bookies and see each fighter is even-money," Peters adds. "If you're going on a stage like this, that's what you want.
"And, you know, if Luke Keeler beats Conrad Cummings, he can top shows in the [National] Stadium. It's a big opportunity. Deco Geraghty-Jono Carroll: what a fight, like. Let's be honest. I'd sit and watch those three fights."
As for Taylor's own opponent, Argentina's IBF World lightweight champion has been publicly mooted, and is understood to up for the challenge in spite of past reticence.
Barry McGuigan's female charge, Chantelle Cameron, "has a bit more to go" before her name is added to the hat, says Peters, but with Hearn's deep pockets and Taylor's belt on the line, finding a foe won't prove as difficult as it might have earlier this year.
In an ideal world, however, it will be one of Taylor's fellow beltholders who steps to the division's biggest name in her back yard next spring.
Look, have no doubt about it, by the time that Katie Taylor finishes boxing, everyone will get their chance, and she will beat every one of them: Chantelle Cameron, Makelaka Mayer. And this girl tonight [McCaskill], if she's promoted and managed properly – she can build up again. She was tough.
"You've got Eva Walhstrom who Katie beat as an amateur – she's the champion below [at super-featherweight]. You've got Amanada Serrano. There's loads of good fights out there. Nathasha Jonas hasn't got a mention there. There are loads and loads of good fights, but if you're going to Dublin, you really want a unification fight.
"Delfine Persoon [WBC champion]: a good fighter, lot of experience. We will fight her. When? The problem with some of these fighters is they don't bring that much [to the table], and as Eddie says, we have probably over-paid nearly every opponent we have fought.
"So that sets the bar pretty high: the word has gone around and now everybody is overpriced.
"The girl tonight [McCaskill], she nearly priced herself out of it. Actually, I had someone else lined up.
"Unfortunately, Persoon is from Belgium, she doesn't really bring… She's a very good fighter – a very good fighter – but she just doesn't bring… You know, Jessie McCaskill almost brought more, just because she could talk, and that's what you need. Which is unfortunate."
His own charge isn't doing too badly either, despite raising a brow and laughing when Hearn mentioned at her post-fight press conference that he was overpaying Taylor's opponents, and not necessarily Taylor herself.
Granted, for Taylor, professional boxing is a labour of love more so than a conventional career.
Her plans for an eventual retirement had, until, now, been best laid elsewhere: On the safe side of the ropes, her company, KT Sports Ltd, had accumulated profits of €1.4 million by last year, up €200,000 on a year prior (only €52,696 were paid to the company's directors in 2016, however – namely Taylor and her mother, Bridget. This was down from €67,017 in 2015).
Now, though, her gloves are beginning to pay dividends, and not merely though lucrative endorsement deals with the likes of JD Sport.
"Look, she got a lot of money tonight," says Peters. "Katie got paid a lot of money for tonight. She was main event on Sky!"
Six figures?
"Fucking hell," Peters mutters with a wry smile, "we're well past five figures. Yeah, a six-figure sum."
A substantial six-figure sum, north of €100,000?
"Yeah. And in fairness, we have no contract with Eddie."
Hang on.
"I have no contract with Katie," he adds.
It's quite the startling revelation given just two hours previously, Taylor had headlined a Sky Sports bill which Hearn had plainly built around her. It also naturally begs the question as to how this hugely fruitful three-person partnership is even functional, or how it was agreed upon to begin with.
"Handshake…" Peters responds defiantly. "So there's something."
Indeed: In spite of having her prodigious pro career publicised so prominently by Hearn for the best part of 16 months, and having fought on massive platforms under his banner in some of the world's finest boxing venues – each of these fights beamed live to the masses – Taylor is, legally-speaking, a free agent, having never signed on the dotted line.
But trust remains paramount to all three parties. Delighted with the mutually advantageous arrangement, Peters is adamant that it won't be flouted by any of them.
"When we discussed it that day," he adds, "Bridget [Taylor's mother] was there.
We were in the office. The figures that were talked about, Katie was happy to sign for, and Eddie was happy to sign. But we got more tonight than we would have got in the first year of that particular deal.
Hearn, insists Peters, is "delighted" with how their spontaneous arrangement has transpired: while he's paying Taylor far more than he could have anticipated, her value to him has increased exponentially.
The Irishwoman is now one of his chief assets where initially, per his own admission, Hearn wasn't convinced by the prospect of signing her at all.
Meeting Taylor and Peters face-to-face in his London offices changed his tune almost instantaneously, and none of the three are in any great rush to put their deal in writing for the foreseeable future.
It ain't broke. Frankly, nobody's broke.
"I said, 'Listen, it's going to work,'" recalls Peters. "I knew it was going to work. That's what the manager is for, isn't it?
Eddie didn't really know, so it wasn't as if he was trying to…[low-ball]. Not at all. It was good money! And guaranteed fights, but we have exceeded that money and we have exceeded the [number] of guaranteed fights.
"Matchroom are great, Eddie's great, Barney Francis – head of Sky Sports – was here tonight. He's a big noise. The head of Barclays Centre [Brett Yormark] was here.
"A handshake is enough. It's enough to last a career."
The42 has just published its first book, Behind The Lines, a collection of some of the year's best sports stories. Pick up your copy in Eason's, or order it here today (€10):