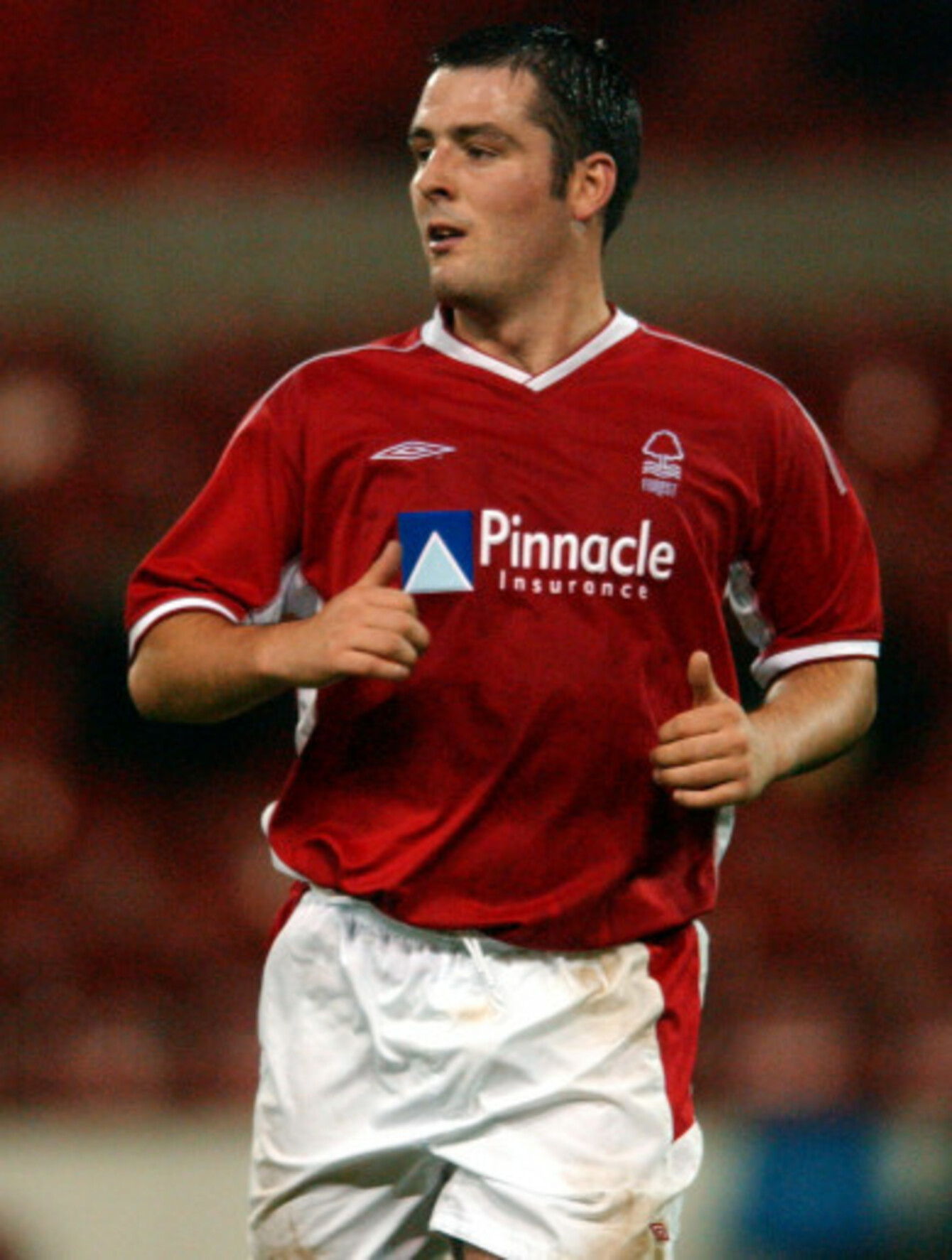 Foy played with Nottingham Forest until 2003.
Image: EMPICS Sport
Foy played with Nottingham Forest until 2003.
Image: EMPICS Sport
KEITH FOY APPEARED to have the world at his feet.
A key member of Brian Kerr's famous U16 side, the full-back played every game at the 1998 European Championships and rifled in a free-kick to help Ireland claim an unlikely win over Italy in the final.
By then, he had already been snapped up by Nottingham Forest along with international team-mate Andy Reid.
The pair, who roomed together for three years, progressed through the ranks at the famous English club and made their first team debuts within two months of each other.
But while Foy impressed initially, it was Reid who would earn a big-money move to Tottenham and go on to represent this country 29 times at senior level. The midfielder should really have more caps to his name, but that's another story altogether. 
Meanwhile, things began to turn sour for Reid's friend and fellow Dubliner. Off-the-field distractions didn't help, and Foy found himself in "some dark places" as his hugely-promising career took a nosedive.
At the age of 27, when many players are coming into their best days, Keith was back at his local club playing amateur level after deciding he needed to provide for his family by finding regular work outside the game.
Foy openly admits making mistakes along the way, and holds his hands up to accept that he didn't put in the required level of hard work to develop his talents. His story also serves as a stark reminder of the potential pitfalls our young footballers face when they leave home in their adolescent years — with not academic qualifications — to chase the dream. 
Originally from Santry on Dublin's northside, he joined St Paul's Artane as a five-year-old and learned his trade there before switching to a famous schoolboy club in St Kevin's Boys. 
But Foy's family relocated across the Liffey to Kilnamanagh, and he was forced to find a club closer to home going into U13s. The plan was to join DDSL powerhouses Cherry Orchard, until he discovered that the team based right around the corner also played in the top division.
I was raging when I left Kevin's as I was coming into my teenage years and you don't really want to be leaving your friends," Foy tells The42. "Moving from the northside over to Tallaght was a big thing for me at the time.
"I was a little bit worried about who I was going to sign for and I didn't realise Kilnamanagh had a team in the Premier. Luckily enough, Paul and Ned Kelly got in touch and I signed for them for the three years.
"We were handy enough, to be fair. The likes of Graham Barrett, Andy Farrell and Alan Nugent were playing for the team, so there was a good core of players and we were unlucky a couple of years not to win the league."
'Foyzer' clearly had a bit about him, and others were beginning to stand up and take notice.
"Well, my da tells me I was anyway!" is the reply when asked if he was handy from an early age. "I always loved football and I knew I was a little bit above average as a kid, without sounding too cocky or anything like that."
During a tournament at Crumlin United's ground in Pearse Park, a scout for Nottingham Forest, Dessie McGowan, spotted Foy and sent him across the water for a trial. He also spent time at Celtic and Leeds United, while West Ham put a contract offer on the table, but his mind had already been made up.
"When I first went over with my mother and father, it wasn't just the youth manager that was looking after you at Forest," he explains. "At the time, Frank Clark was in charge of the first-team and he would meet you for something to eat and try to convince you that they were the right club. We received a really warm reception and that's why we chose there."
Still only 14, Foy stayed at home for one more year before making the switch on 1 July, 1997. Joining him, was another hot prospect from Dublin.
We met in the airport and off we went," he says. "Andy played for Cherry Orchard and I knew him from playing against each other. We had been over on trials together a couple of times and we had played in the Kennedy Cup team, so it wasn't all together new. We became friends quite quickly because we were put in a room together for three years. If we didn't like each other, there would have been a bit of trouble!
"As we were leaving, there were a few tears in the airport with parents, little sisters and brothers."
Trying to adjust to his new life was particularly difficult given their tender age, and Foy struggled somewhat early on.
"In my first year, it was tough trying to get used to training everyday," he says. "You haven't got your friends with you on the weekends and you have to turn the lights out at half 9 every night.
"I probably got home about four times throughout that year but there were two or three months that I wanted to leave because I was homesick. I talked to my parents and they were saying 'There's nothing here for you'. They wanted me to try make it work and that's what happened — I ended up staying over. After the first year passed, it got a lot better."
At international level, Foy had become a regular for Ireland at U15s and by the time the play-offs for the U16 European Championships came around, the left-back was an important player in Kerr's side.
They navigated their way past Northern Ireland and Belgium to qualify for the finals, which meant a trip to Scotland in April 1998.
After a 0-0 draw with the host nation, wins over Finland (2-0) and Spain (1-0) saw the Boys in Green progress to the knockout stages with a belief that they could achieve something special.
"We went over there as underdogs," Foy remembers. "My family came for the first week and we had a good support from Kilnamanagh with Ned and Paul [Kelly], Pat McNally and the rest of them.
"People probably weren't expecting us to get out of the group given we had the hosts and Spain, who were one of the top teams in Europe at the time. They had Iker Casillas in goal and were known as a top team, but in our last group game, we beat them 1-0. It was a tough, tough game and I think we had about 10% of the ball! We came out with the win though and that gave us a little bit of confidence that we could go on and win it."
Ireland overcame Denmark with a 2-0 victory in the quarters before sending Portugal packing by the same scoreline to set up a final with Italy at McDiarmuid Park in Perth.
"We were a hard team to break down," he explains. "As the matches went on, my own family started coming back over for each game. We were reading all the newspaper reports and as we got through each round, Kerr was letting us know that the whole country was getting behind us.
"When you're over there, you're kept away from all that but it was fed to us that people were supporting us and the tournament got more exciting as it went on. To be fair to Kerr, he had us well set up. Pete Mahon would watch whoever we were playing next, so we always knew what we were coming up against.
"When we reached the semi-finals, I think the other teams got a little bit of a scare. It was us Portugal, Italy and Spain training on one big area, and instead of practicing free-kicks or whatever, we had a Gaelic football match and the other crowd were looking at us going 'What's going on over there in the Irish camp?'"
While they undoubtedly meant business, there was plenty of craic had in the Irish camp throughout that unforgettable fortnight.
It was a good mixture," Foy says. "Nearly every night, [coach] Noel O'Reilly, who has unfortunately passed away, would have the guitar out and before we hit the hay we would be up singing for an hour or so.
"Once your on the training ground, everything is focused and everyone knew what they had to do. Kerry had us well-organised to make sure we got over the line."
And that's exactly what they did. Ireland went 1-0 up on the Italians after 35 minutes when Foy found the top corner with an unstoppable free-kick. Simone Pelanti hit back for the Azzurri, but David McMahon scrambled the ball over the line shortly afterwards with what proved to be the winner. 
"At the time, you don't really appreciate what happened," he says, reflecting on the final. "It's only in the last couple of years that you start to look back and properly take it in. It was just another football match back then, but to your mother, father and others, it's probably an incredibly proud moment.
"Celtic were playing the following day and if they won then the league was theirs. So there were a load of Celtic fans who came over early to watch us in the final. For 16-year-olds playing in front of a crowd who were singing and chanting, it was a little bit of a surreal experience."
That side possessed the likes of Reid, Barrett, John O'Shea and the late Liam Miller, but Foy namechecks the team's captain as a player he felt would go on to achieve big things.
"It would have been Shaun Byrne, who really never went on after the age of 19 or 20. I was only with him a couple of weeks ago, he was over for the weekend and we were talking about the good old days. I thought he would have kicked on and made a living out of the game.
Liam Miller was one of our top players at the time as well. In the end, he went on to have a good career. Unfortunately, the last year or so has been really tough on his family. He was an exceptional player though.
"John O'Shea always stood out but we thought he was going to go on and be a policeman or something like that. He had that thing about him, he was into his education."
To mark the 20th anniversary of that success, the Soccer Writers' Association of Ireland celebrated Kerr, his coaching staff and the players by hosting a reunion at their annual banquet last January. A great night was had as the old friends caught up, and a group of the team travelled down to Cork for the late Miller's tribute match earlier this week.
https://www.facebook.com/eireguide/photos/a.823346054409848/1813297738748003/?type=3&theater
Having been crowned a European champion, Foy returned from international duty eager to progress through the ranks and make his mark at Forest.
"When I came home to Ireland, I had six weeks off and I couldn't go anywhere without people talking to you, asking you how it was and wanting a look at the European medal. I went back to pre-season that year and I kicked on a bit. I started getting my head right and before the end of that season, I had progressed into the reserves."
By 18, he had done enough to be rewarded with a first-team debut for the First Division (now the Championship) club. When the call-up arrived, however, it came totally out of the blue.
"I was lying in bed when I got a phone call from [academy director] Paul Hart," he tells. "I thought I must be in trouble, but he was calling me to come into training with the first team.
"I presumed they just wanted me to make up the numbers but I was actually playing that Saturday. I said what do you mean 'playing?' He said 'You'll be starting'. I was shocked. I think I left his office with a little tear in my eye.
"I was straight on the phone to my ma and da and they booked flights over immediately for my debut away to Grimsby. Luckily enough, that went well and we won 2-0. It's something I'll never forget."
Despite his lack of experience, Foy was soon holding his own at full-back in David Platt's side and he scored a superb dipping volley two months after making his bow — in a 3-1 win at home to Tranmere.
"It didn't faze me. The biggest thing was just getting used to play football regularly. In the Championship, you would play Saturday-Tuesday-Saturday. I know it's only three matches a week but when you're playing at that level and the pressure you're under, it can take quite a lot out of you. That was one of the main things to get used to, but I thought I took it in my stride."
https://www.facebook.com/NottinghamForestSupportersIreland/videos/vb.200670040063218/1380875268709350/?type=2&theater
Things, at that point, looked to be going extremely well for the young man. He was getting game-time at Forest and earning more money than most people his age doing something he loved.
But it wouldn't last for very much longer.
"I was living the dream, as such," Foy says. "Unfortunately, after a couple of years it didn't work out. That was down to other factors. If I had knuckled down a bit more and put off living the dream for a few years, maybe then I could have had a full career.
I picked up an injury near the end of that first season and I was out for about six weeks. During that time, I was coming in and getting treatment, then as soon as that was done I was hitting the pub and the rest.
"When you have so much money and you're a young lad with a lot of time on your hands, it is hard. I know it's changed from 20 years ago and they have things in place to keep players occupied in the afternoons now but back then there was very little to do."
By the end of the 2001/02 campaign, Hart — who had taken over from Platt as Forest manager — transfer-listed Foy due to poor fitness and a bad attitude. He has always had to battle to keep down his weight, but accepts that his physical condition at that point was unacceptable.
"Looking back on it now, Paul was 100% right," he agrees. "If I had listened to him, I'm sure things would have turned out a little bit differently. You're living in a cloud and you think everything will be alright. You presume what you have will last for the next 15 or 20 years, but it's not like that.
"You have to put the hard work in and, at the time, I was too stubborn to do that. I could put on half a stone over a week. When we were out having a few drinks, you wouldn't be eating right either. You would be getting weighed in and all of a sudden you're up a few pounds. The next week you might lose them, but I always had a problem with my weight. I needed to work extra hard to keep it off, but that's not what I did."
Ahead of a friendly with Italy in May 2002, Ireland U21 manager Don Givens also went public with his criticism of the defender.
"If he goes back to Forest in the same state he's in now, I would bet ten grand that a year from now he'll be history in the game and even League of Ireland clubs wouldn't want him," the Irish Independent report Givens as saying.
"You can't tell him any plainer than say 'Keith, you're in trouble' and he keeps telling me 'I know', which is even worse."
While Foy has no qualms about the general message, he wasn't happy at the time that Givens went to the media instead of speaking to him about it.
"He didn't have a chat with me, the comments just showed up in the papers," Foy claims. "That's when me and him had a falling out. I would have preferred that he said it to me, and if he wanted the quotes to hit the papers then do that afterwards.
"But look, he wasn't wrong and neither was Paul Hart. He was right but he could have went about it a different way. It's water under the bridge now though."
Hoping to get his career back on track, the then 21-year-old left Forest for Doncaster Rovers on an 18-month deal. He helped them win promotion from the Conference through the play-offs but then asked them to rip up his contract.
"I had been living in Nottingham for six-and-a-half years," he adds. "I had to move to Doncaster and I got homesick again, believe it or not. It was uprooting again, I was young and a lot of the other lads were a bit older and settled with families.
"I was quite lonely at Doncaster. Again, everyday I'd be in the house at half 12-1pm and I would have nothing to do, so I would be in the pub having pints on my own, which wasn't a good place to be.
My head wasn't really where it should have been. I was still quite young and a little bit immature in the sense that I wasn't listening to people around me. Back then, I thought I knew it all. When you're young, you tend not to listen to older people but at the end of the day they have experienced and seen it all before.
"I wouldn't say I fell out of love with football at any time. I would say I was living the life when maybe I should have been working extra hard."
St Patrick's Athletic manager Eamonn Collins made contact to offer Foy a chance to come back to Dublin, and he accepted. There was a six-month stint there, then it was off to the now defunct Dublin City followed by a brief spell at Monaghan United — also no longer the in League of Ireland.  
In 2006, Sean Connor took him out west to Sligo Rovers. Foy knuckled down, got himself in better shape and made the full-back position his own. He had aspirations to get back to England as there were reportedly a couple of League One and League Two clubs sniffing around, but nothing materialised.  
Paul Cook replaced Connor the following season and offered him a new deal, but, with a partner and young son back in Dublin, he decided to turn it down.
"I reached the age of 27 and told Paul I was heading back home as it was time I got a proper job. I didn't want to hit 35 and have nothing behind me. I left here when I was 15 and I hadn't got a Leaving Cert so I had to start from scratch. It's the best thing I could have done at that point, because I could be finishing up League of Ireland football now and I would be saying 'Right, what am I going to do?'."
He took up an apprenticeship as a data technician at Mercury and worked there until moving to his current job in Amazon two years ago. Eager to stay involved in football, Foy went back to Kilnamanagh as a player before taking the reins of their Leinster Senior League side — although he admits being too young for management at that stage.
There was a year lining out for Bluebell's Saturday team, and he then went in as first-team manager Andy Noonan's second-in-command. After a short break away from the game, Foy is back managing the club that's closest to his heart.
It's quite a commitment but he wouldn't have it any other way.
"I was only chatting to the lads about this the other day," he says. "I know we only train an hour-and-a-half on a Tuesday and Thursday, but I'm there two hours before the lads turn up and an hour after they go home.
"It's ten hours during the week, and that doesn't include the time you're talking to players, coaches and the rest on the phone. You have your matches on the Sunday but I like to keep an eye on the second team as well to see who has impressed."
Luckily, wife Jean is very understanding as they have three kids together — Calum (15), Mason (7) and Lucia (2). His eldest currently captains Kilnamanagh's U15s, but Foy would be wary of him going down the same route as his old man.
"My own young fella is the same age now as I was when I went over," he says. "Not in a million years would I let him head over at 15. I've seen what can happen and what it can do, so I'll be making sure he has an education behind him.
"I'd be making sure he has his Leaving Cert because when I came home and I was done with the League of Ireland, every job was looking for it and I was like 'I don't have my fucking Leaving', do you know what I mean?
"There also needs to be a plan for players who are returning that maybe haven't got the education behind them. We need to keep an eye on them, because a few nasty thoughts can go through your head.
"There were times during my mid-20s when I was in a few dark places. It is tough. It's loneliness, thinking what you're going to do next. You maybe feel you've let yourself down, you've let your mother and father down… those who were looking up to you.
People looking in at a professional footballer, they think it's all the high life and that. It might be for Premier League lads but others are trying to kick on and trying to earn a living. If it's not happening, they're wondering what the next step is. I've seen lads over the years hitting the drugs and the drink, some of them I know are locked up."
Now older and wiser, the 36-year-old can only hope that reading about his experiences might strike a chord with up-and-coming footballers aiming to make their mark. 
"If I could ever give advice to people, I would tell them the situation I was in," he ends. "Heading out for drinks can be done in your 30s and 40s. You have plenty of time for that, so just concentrate on what you're doing and work hard.
"At the end of the day, if you haven't got the talent but you work hard it will get you further than the lad who has talent but isn't putting in the work."
The42 is on Instagram! Tap the button below on your phone to follow us!