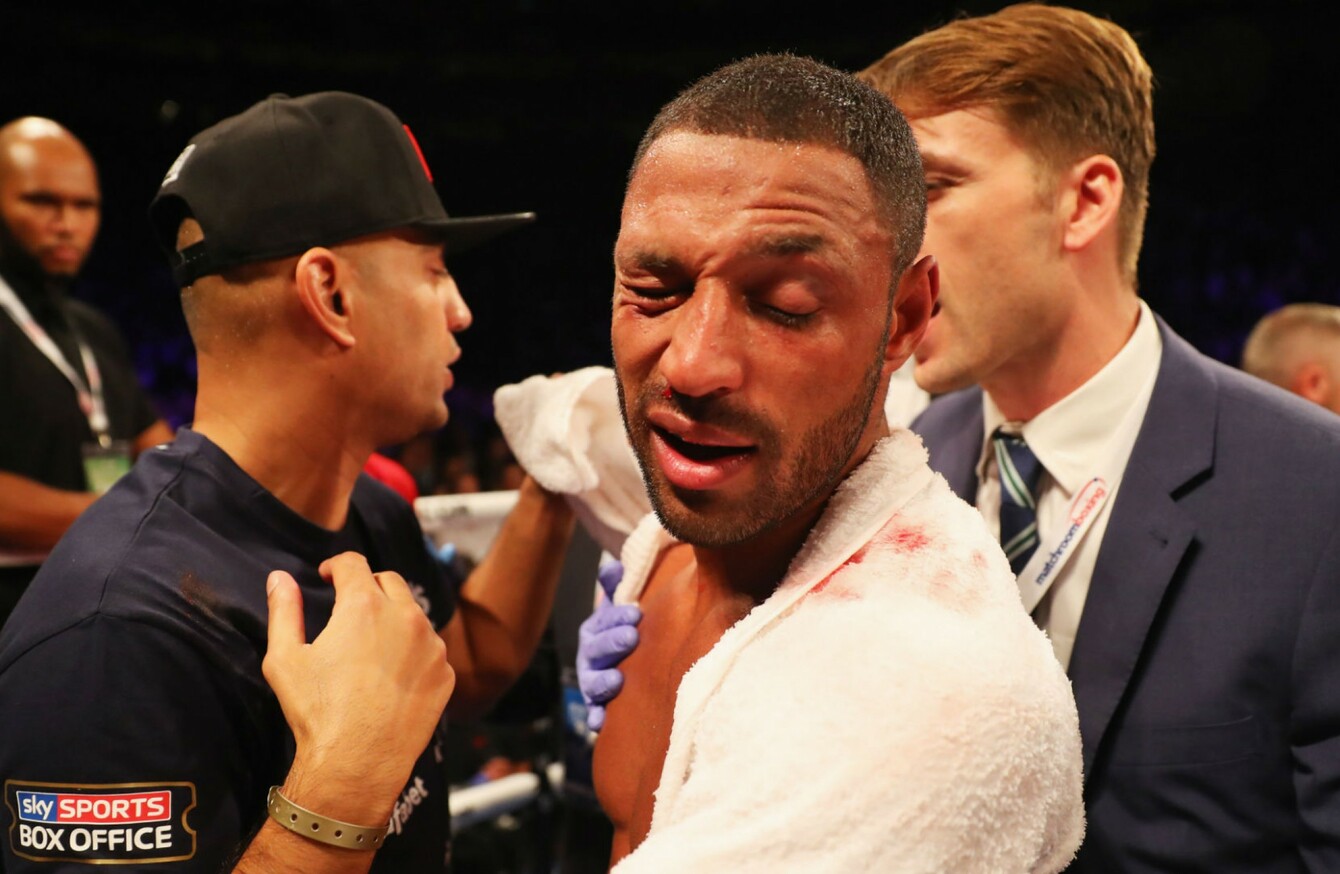 Kell Brook following his defeat to Gennady Golovkin.
Kell Brook following his defeat to Gennady Golovkin.
KELL BROOK HAS reiterated that trainer Dominic Ingle made the right decision in bringing an end to his fight with Gennady Golovkin, suggesting his sight could have come under threat had he taken more punishment to his damaged eye.
IBF welterweight champion Brook stepped up two weight divisions to make a bold challenge for Golovkin's WBC and IBF middleweight titles in a much-hyped bout at the London O2 Arena earlier this month.
A thrilling contest ended in the fifth round, with Ingle throwing in the towel as Brook — whose right eye socket had been damaged earlier in the fight — received a barrage of blows. The British boxer is set to undergo surgery later this week and expects to be out of action for "a good few months".
Brook told Sky Sports News: "I told him [Ingle] in round two that my eye was broken and that I couldn't see so he was aware of what was going on. He's obviously seen me taking shots, couldn't see, and he kept seeing me trying to refocus my eye. That's when he got in and waved it off.
"Looking back now, at the time I did want to fight because I am a fighter, but in the long run the doctors have said if I had carried on getting bigger shots on the eye, I could have ended up being blind.
"We live to fight another day. It was definitely the right choice because I could hardly see in the fight. I've got an operation this Friday. I went down to see the surgeons and they wanted to plan it right and look into everything.
"They're looking to put a titanium plate in the eye but they're looking at other materials. They're not rushing it but it looks like this Friday. I'm more scared of getting put to sleep than I was getting in with Golovkin."
Brook again talked up the possibility of facing Saul 'Canelo' Alvarez in 2017 following the Mexican's victory over Liam Smith on Saturday night.
"I think he [Alvarez] is [a potential opponent]," added Brook. "I think 154 [pounds] would be more my weight class. Obviously when I start getting back training we need to see if I could make 147… that's also a possibility because I am world champion at 147.
"But Canelo, I'd love that fight. I just want to be in those big fights now. I've had a taste of this one with the Golovkin fight and the attention and the stuff around it is exciting for a fighter to be in.
"I think it could have been a completely different fight [against Golovkin] if my eye hadn't gone. I'm gutted, because I could have shocked the world that night. I think I had weathered the storm. I was definitely in the fight."