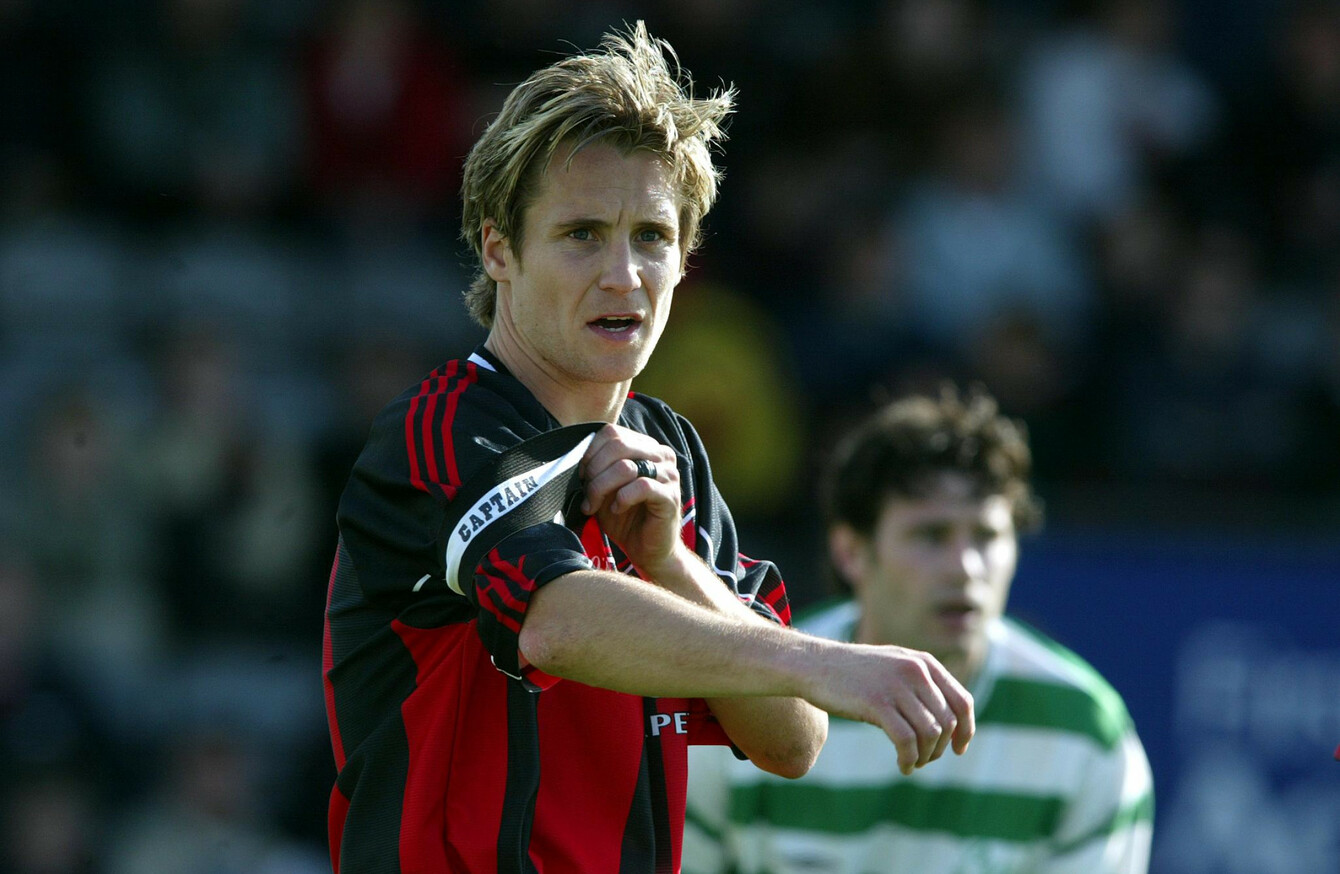 Hunt wearing the armband in a Dublin derby.
Image: INPHO
Hunt wearing the armband in a Dublin derby.
Image: INPHO
"PROBABLY THE BEST midfielder in the league over the last decade," is how then-Bohemians manager Pat Fenlon described Kevin Hunt when he hung up his boots in 2008.
High praise from Nutsy, but the Englishman had earned it. 
One Irish football's finest-ever imports, his spell with the Gypsies lasted just short of 10 years — a remarkable feat and frankly unthinkable in this day and age.
During that period, Hunt led them to the double as captain in 2001, before claiming another title as well as the Eircom League Player of the Year award two years later.
The incredible loyalty shown, coupled with enormous success, has not been forgotten by the Bohs faithful, who still speak glowingly about their former general and even chant his name at Dalymount Park. 
Prior to landing on these shores, however, Hunt's career path had taken quite an unusual turn.
Born in the south-eastern town of Chatham, Kevin grew up in nearby Gillingham and began catching the eye while lining out for school teams. After representing his district and, subsequently, the county, the then-striker attracted interested from a number of big clubs and agreed to sign for Queens Park Rangers at the tender age of 12.
Three years into his apprenticeship, QPR opted to move their development centre from Kent to Essex and that presented the youngster with a problem.
"I was living with my mum, and she didn't have a car back then so I couldn't get up to training," Hunt explains. "QPR wanted to take a couple of us up there, but I couldn't make the trip back and forth, and Gillingham were just around the corner. They were so close I could walk to the club everyday, so I signed for them."
Having been transformed into an all-action midfielder by now, he moved up through the ranks and made his first-team debut during the 1992/93 season — coming on as a substitute for player-manager Glenn Roeder in an Autoglass Trophy tie with Leyton Orient.
"You're talking about quite a long time ago, and there wasn't the professionalism that there is now at lower league clubs," he says. "They were different times back then, and you didn't really look after yourself as well."
A number of first-team managers came and went, but 20-year-old Hunt then got word of an opportunity to move to Hong Kong.
"I had a friend who was playing out there," he tells. "He said 'Our team needs a midfielder, come out', so I agreed to have a look, and ended up staying three years. The money was great compared to being a first-year pro at Gillingham, and the lifestyle was excellent too."
Initially signing for a club called Mansion, Hunt liked his early impressions of Asia and invited future wife Faye out to join him after a month.
Day-to-day life was a far cry from England's lower leagues and he would also go on to enjoy a spell at Hong Kong Rangers.
It was very hot and we used to train at 4 o'clock in the afternoon," he says of his time in the former British colony. "We lived on an island just off the mainland, so we would get up and go to the pool or the beach, and then I would catch a ferry over to training.
"I bucked the trend a little as there seemed to be a lot of older European players at the end of their careers. There were a few Brazilians and it was quite a mix, but I was one of the younger foreigners. Sean Teale, who played for Aston Villa, Martin Kuhl, formerly of Derby County and Portsmouth, and Neil Webb, who used to play for Man United, were all playing in the league. We had three great years there."
A half season with Singapore-based Geylang United followed, before Hunt returned to England in 1998. The plan was that it would be a short stay as there were offers on the table from Japanese clubs, but within a month, Hunt had received heartbreaking news that his mother had died.
"With my mum's passing, I decided I'd stay in England to be near my family for a while," he explains.
Eager to keep his footballer career going, he went to train with Barnet — at that point managed by John Still. He expressed a desire to sign the midfielder but accepted that the club didn't have the sufficient funds to bring him in.
However, a good friend of the Barnet boss, Roddy Collins, was on the look-out for quality players to sign for Irish club Bohemians, so Still suggested Hunt travel over. 
He takes up the story: "It was towards the end of the season, so I said I'd see how it goes. When I joined in December 1998, I would train with Barnet during the week and then fly over to Dublin for games. I would come in on a Thursday, train that day and play Friday evening, before going back home on Saturday."
Unsure of what to expect from his new environment, he wouldn't have to wait long to find out what the league was all about.
"I really enjoyed it from the off. I remember making my debut away to Cork City at Turner's Cross. It was a real baptism of fire, and I thought 'Ooh, this is a proper league'. You don't know beforehand how competitive and tough it is going to be. I came back from that game with a bit of a busted nose and a battered ear after playing against the likes of Patsy Freyne and Mark Herrick in midfield. We had a good battle that day.
"Then I played at Dalymount, which is a great old stadium with loads of history, and thought 'Right'. The supporters were good to me and Roddy was a major factor. He had a big influence on me and he was great to be around."
A larger-than-life character, Collins has his fair share of critics but Hunt will always be thankful for the chance he gave him.
"The thing with Roddy is that he probably divides opinion," he adds. "If he likes you, he likes you. If he didn't, you would know about it. Luckily, he took to me and we got on well. I had so much respect for him.
"He was a bit mad and some of the things he did… He's obviously a big guy with a boxing background, you wouldn't mess with him. He was a massive presence, and I had loads of time for him because he was brilliant to me.
"He knew his football as well, and people didn't give him the credit. He would hype things up and openly admit that, but amidst all the bluster, he knew his stuff. When we played in Europe, he would change our system and he had a good football brain behind all that madness."
After avoiding relegation in his debut season, Collins asked Hunt to relocate and play full-time with Bohs. He accepted and the club soon began to see his full potential.
"In the first year, I was only about 50-60% fit," he says. "So I did okay but my mum had died, there was loads of stuff to do back in England and I was pretty much part-time. That wasn't ideal and it was only when I moved over the following year and did a proper pre-season that I got going.
"Crowey [Glen Crowe] joined too and we started to have the makings of a good side. That was down to Roddy with the connections he had. He was piecing together a proper team. That second season I felt 100% myself. I thought I played well, the team was improving and we were ready to push on the following year."
The Gypsies finished third in the Premier Division table while narrowly losing out to double-winners Shelbourne in the FAI Cup final after a replay. But they were on the cusp of greatness. 
Heading into the 2000/2001 campaign, Hunt was handed the captain's armband. He had become a leader in the centre of the park, but still admits being caught a little off-guard at the time.
"It was a surprise because Demo [Mark Dempsey] was captain that year and it was great as we went all the way back to Gillingham. We were close mates and he did a good job.
"Although he played well the season before, he had a few injuries. During a pre-season game out at Kildare County, Demo went to walk up as captain when Roddy says 'No, Kev. You're going up'. He hadn't told me prior to the game, so that was the first I knew.
"I had been pretty consistent and Roddy felt he could rely on me. He made Caffo [Stephen Caffrey] vice captain and we played in the middle together.
I was the type that would lead by example and try to get on the ball. You can talk about bravery, but the biggest show of that is to make things happen. That's what I tried to do."
The decision proved an inspired one as Bohs ended a 23-year wait for league success — cruising to a 5-0 win over Kilkenny City on the final day of the season to pip Shels — before completing the double later that week as Tony O'Connor scored the only goal against Stephen Kenny's Longford Town in the FAI Cup final.   
Among dozens of unforgettable memories from that all-conquering campaign, Hunt takes particular pleasure in retelling the tale of the unlikely comeback that led to a 6-4 victory away to their bitter rivals. 
"It was my first year as captain, so I was very lucky the way things fell," he says. "It was the club's first league/FAI Cup double in 73 years, and we deserved it as we had a great team.
"There were some amazing moments that season, not just winning the league and the cup. The 6-4 against Shamrock Rovers in Santry stands out for me.
"I remember the game, we were 4-1 down at half-time and we were actually playing well, but every time Rovers broke they scored. Roddy has come in at half-time and tore a strip off us all. We went back out but I think it took us 15 minutes to score. Then on the hour-mark, 'Bang', one went in. They all seemed to flow from there, it was just one of those games.
"Your hear stories of some fans who walked out at half-time because what would the odds of us coming back have been? It just goes to show what football is like at times. There were also rumours that Roddy was going to get the sack and all this kind of stuff, but that was a pivotal moment and we then went on a run."
Source: Peter O DOHERTY/YouTube
In the Uefa Cup, Bohs knocked Aberdeen out of the competition on away goals and earned a famous away win over German outfit Kaiserslautern.
"The European games were great," Hunt recalls. "I remember the return leg against Aberdeen when Morro [David Morrison] scored an own goal and we were down to 10 men. We were just thinking 'Please hang on'. What a relief when that final whistle went. That's the game I felt the most satisfaction afterwards, even though we won the league and cup.
To knock out Aberdeen at that stage when Irish teams weren't doing particularly well in Europe, was a great moment. We also beat Kaiserlautern in their place, another unbelievable game."
Despite the trophy haul, things went pear-shaped for Collins at Dalymount and he was replaced by Pete Mahon in the summer of 2001. That lasted no longer than six months despite an encouraging start, however, and a young, up-and-coming manager by the name of Stephen Kenny was then handed the reins.
Kenny managed to steady the ship and Bohs reached another FAI Cup final — only to lose 2-1 to the already-relegated Dundalk. 12 months later, they were being crowned league champions once again and Hunt was named Player of the Year. 
Be part
of the team
Access exclusive podcasts, interviews and analysis with a monthly or annual membership.
Become a Member
"That was brilliant because unfortunately we had a guy on the team called Glenn Crowe, who couldn't stop scoring goals!" he jokes, when asked about the individual accolade. Crowe had won it the previous two years. 
"I was in the Team of the Year six years in a row, so it was nice to win one. That was a real honour for me, especially after captaining Bohs to the league that season as well.
"We did it at Tolka Park thanks to Bobby Ryan's last-minute header. When we won the league in Kilkenny the first time [2001], I wasn't actually playing and we were expected to beat them. But when you're facing your rivals like we were in 2003, and you've still got a chance of losing the league when somebody pops up with a late winner, that's a special moment."
For a club that had been seen as the nearly-men throughout the 1990s, two league titles in the space of three years was unimaginable for many Bohs fans. A born winner, Hunt argues that they should have won even more. 
"At the time, you don't realise you've achieved something so big but if people still talk about you as a player and as a team all these years on, it goes to show what football does for fans. They supported us through thick and thin, so to get that type of success is unforgettable.
When you win it, you just think more is going to follow. That's probably the one regret I have, I think we should have won more leagues than we did over my time there. We had good enough teams to."
Throughout his Bohs days, there were several offers to go elsewhere but he showed loyalty — a rare commodity in football — and turned each one down. 
"When I was doing well, there was always stuff in the papers about interest from England," Hunt explains. "Nothing really materialised, but a Belgian club called Royal Antwerp made their interest known to my agent. In the end, I decided to stay at Bohs. I was enjoying it, doing well and it was actually better financially to do so.
"Before I signed my last contract, Drogheda United and Shelbourne wanted to sign me. Quite a few of the lads went to Shels, but my heart was always at Bohs. I wanted to stay and finish it off. When you've been at a club six years, you're captain and you've formed a bond with the fans, it's very hard to leave for a rival.
"There were certain things going on at the club and I wasn't sure if I was going to stay to be honest, but we got what we wanted and I ended up signing a new deal. It was brilliant to get up to 10 years at the club and I'm really happy I stayed."
As he mentions, Hunt played just five months short of a full decade in the red and black, and it's clear just how much that means to him. 
"It's nice to have the feeling that you belong to a club and I don't think there are any better clubs than Bohs," he says. "I never really had the inclination to go anywhere else — the club were good to me, the fans were great and I was making a decent living out of the game.
"It's just a shame the way the financial state of the league went. We could have pushed the club on again with some investment, but it is what it is."
By 2008, the 33-year-old was planning to see the season out and call it a day, but health problems with his daughters and the impact it was having saw him retire early in July of that year. 
"It was well-documented that my wife and I had two young children who were up screaming and crying all night," he tells. "We had taken them to doctors, specialists and even alternative therapists — spending thousands of euros trying get to the bottom of the issue.
"Every single night, it would be screaming and crying. When you're trying to be a professional footballer, it's not ideal and I'd be dead in the morning. I just felt it was taking it out of me mentally and physically, and from that you start picking up niggles as your body is nowhere near 100% even though you're training.
"I was planning to go at the end of the season but we played an Intertoto Cup game against a Latvian team. We had drawn away and in the home leg, Glenn Cronin was playing ahead of me in midfield. Sometimes I would go around to a friend's house the night before a game to try get some sleep but I told Faye I could help with the two kids as I was on the bench.
"I was almost half asleep about 20 minutes in, and Glenn gets injured so I had to go on. I just couldn't run, I couldn't see a pass and I was getting caught on the ball. I thought I had embarrassed myself so I told my wife that night that I was going to leave.
The next day in training, I said to Pat [Fenlon] I would have to leave in July and I explained that they would be better off using the money to get someone in. That was it.
"It was good for Bohs because they got Gary Deegan in and he was probably one of the main reasons they won the league. I don't think they would have if I was still there, or they might have, but he was a massive factor as he added that energy and quality to midfield. So it was good for all of us."
Thankfully, the Hunts got to the bottom of Holly and Sienna's condition, and the pair, along with younger brother Miller, are all fit and healthy these days. 
"We finally went to Great Ormond Street and found a professor there," he adds. "They were reacting to all sorts of food we were putting into their bodies. It was like poison to them with wheat, dairy, eggs, soya and other things. We manage that now and they are much better."
Big names in the football world came out to celebrate Hunt's career for his testimonial at Dalymount in October 2008. 
"It was great," he remembers. "A couple of my friends like Fenny [Neale Fenn] and Matt Gregg said 'Trust you, Golden Boy', because it was a day in October and the sun was shining — there wasn't a cloud in the sky. That helped everyone have a super day.
"I had a lot of people on my committee such as Des Verschoyle and Peter Halpin, who sourced the likes of Neil Lennon, Gary McAllister, Kenny Cunningham, Packie Bonner and Mark Kinsella to play. It was some line-up. There was about 3,500 people there and it a brilliant end to my 10 years."
To add some glamour to the charity event, Eurovision winner Johnny Logan — a massive Bohs fan — sang his hit 'Hold Me Now' at half-time. 
In terms of best performance in a Bohemians jersey, Hunt picks out a European game against BATE Borisov, in which he "didn't put a foot wrong", while he has to pause for a moment to think about who the best player he played with, his toughest opponent and favourite manager.
"I'd have to say Crowey [Glenn Crowe] as the best player, just because scoring goals is the hardest thing to do on a football pitch and without them we wouldn't have won the league," he replies.
"Toughest opponent, I'd say as a midfielder partnership it was Paul Doolin and Pat Fenlon when I first came over. They were very clever, experienced and shrewd. Individually, I always liked Joe Gamble. Towards the end of my time, he was coming through and I thought he was an excellent player. The best managers would be Roddy [Collins] and Stephen [Kenny]. They were brilliant with me and I won the league with both of them."
He moved back to England with the family after retiring and Still, at this point Dagenham & Redbridge manager, came calling once more.
John was on the phone, and they were League Two at the time. I told him my legs were gone. He said 'You've got a little bit left, you're only 33'. I said 'Yeah, but I feel 43!'.
"That's why the transition to life after football wasn't that hard because I knew my body wasn't up to it. When you're not 100% and playing as well as you can, you don't enjoy it as much. That's why I was ready."
Hunt remained in the game post-playing days and turned his hand to scouting after a someone he knew who worked for Manchester City made contact.
"They were ploughing money into the club and he asked me to do some scouting down south, and I agreed as it sounded great," he says.
"I started on expenses, then I went part-time and, eventually, full-time. I ended up with Man City for five years, before I got asked to go to Liverpool to take up a better role.
"At Man City, I was doing the south of England and a lot of academies with young players. When I went to Liverpool, I was the head of France but also looked after Holland and Belgium. I was back and forth a lot but because I'm living down south that was easy.
"Any players that were coming through, you had to know about it and know the agents. I was attending all the tournaments and would be on top of the games — I loved it. There was a lot of travelling and I was away from the kids at times, which was difficult, but I enjoyed the work."
Two years ago, a friend set up his own football agency and asked Hunt to come on board. The offer suited him and he accepted a role with Elite Project Group, who have several top, young talents on their books such as Jadon Sancho (Borussia Dortmund), Alex Iwobi, Reece Nelsen (both Arsenal), Ademola Lookman (Everton) and Sheyi Ojo (Liverpool).
"It's a bit more flexible now," he adds. "When you're at a club you're told where to go. Now I go to games I want to go to and try sign players I want. It's a lot more flexible and not quite as manic and stressful as I've got more control over things.
"I still do a bit in France and Belgium and around London. You're taking young players and advising them. I don't think people always see that part of it with agents. They just think it's about moving players and money. I like the side of the business where you try to help them and watch them develop over the years. It can be quite rewarding like that."
Bohs fans will surely be delighted to read that one of their best-ever players is doing so well these days, and, whatever Hunt turns his hand to in the future, he will always be warmly welcomed back at Dalyer.
It's funny that I've been home in England about 10 years now," he reflects. "It's almost like I'm talking about a different life when I look back on my playing days. Your kids don't have a clue what you did and what sort of success you had. You're just their dad and they boss you around!
"Stephen Ward, who I played with at Bohs, was doing a radio interview recently. He was a striker at the time, but you could see he had the attributes to go far. He was tall, he was quite quick, had quality with his left foot, great work ethic and mentality. You knew for a fact he's going to be successful and he has been. He still is now.
"Anyway, they were asking about the best players he played with and he name-checked me. I played it to my girls and told them he's playing Premier League now and they just sort of laughed at me.
"It's nice to hear those type of things, but I've always been the type to take it in my stride. You don't get too excited about it, but it is satisfying to be highly thought-of.
"I was speaking to somebody the other day who was at a Bohs-Rovers game and he told me they were still singing my song and had a flag up. That's brilliant to hear."
The42 is on Instagram! Tap the button below on your phone to follow us!