WHEN KEVIN MCSTAY led Roscommon side St Brigid's to the All-Ireland club football final in 2013, he watched most of the game from a high vantage point in the Hogan Stand.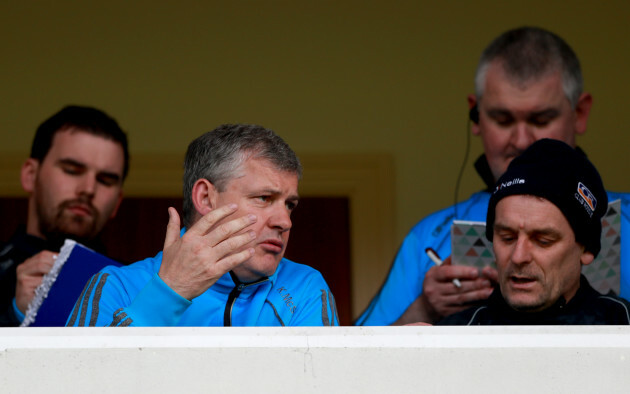 James Crombie / INPHO McStay takes in the 2016 Connacht quarter-final against Leitrim from the stand James Crombie / INPHO / INPHO
McStay and his backroom team on the sideline wore earpieces to keep in contact and discuss potential changes, but not long into the second-half there was a radio silence for the next 10 or 12 minutes as contact between both parties was lost.
Frustrated by a Ballymun Kickhams score, the St Brigid's manager had fired his earpiece across his room. St Brigid's survived a tricky third-quarter spell, but the earpiece didn't.
Unable to communicate with his selectors down below, McStay reappeared on the sideline for the dramatic closing 15 minutes or so. A late left-footed Frankie Dolan point sealed a historic first All-Ireland crown for the Kiltoom club and wrote McStay's name into St Brigid's folklore.
Later today with Liam McHale alongside him, he hopes to lead Roscommon to a first Connacht SFC two-in-a-row since 1991. That St Patrick's Day success five years ago that gives a little insight into what McStay stands for as a manager.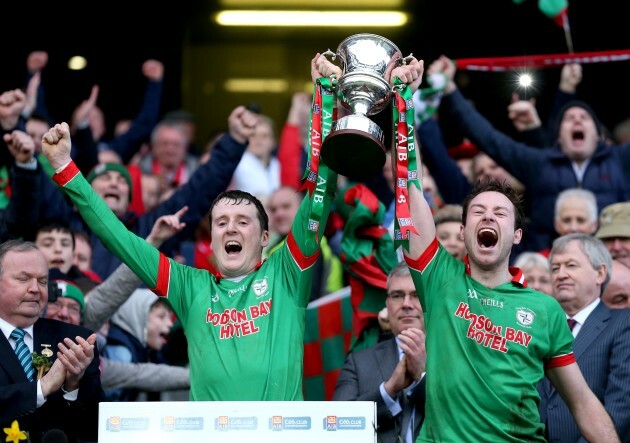 Ryan Byrne / INPHO Ryan Byrne / INPHO / INPHO
Shortly after St Brigid's lifted the Andy Merrigan Cup with a narrow one-point win over Ballymun, the squad gathered in the Croke Park players lounge for a post-game meal. They were served chicken and pasta, of all things, and sipped on bottles of beer.
Before boarding the bus for the 90-minute spin back to Athlone, McStay asked his players not to have any more alcohol until they arrived home. He was mindful of the number of children who'd be in the 10,000-strong crowd waiting for their heroes when they stepped off the bus.
It was also the first time most players would see their parents and families since the final whistle.
The squad were happy to agree with the request. Having suffered All-Ireland semi-final defeats in 2007 and 2013, in addition to a heartbreaking final loss in 2011, the high of victory was enough to keep them ticking over until they arrived back in Athlone.
Even after victory, the optics were important for McStay.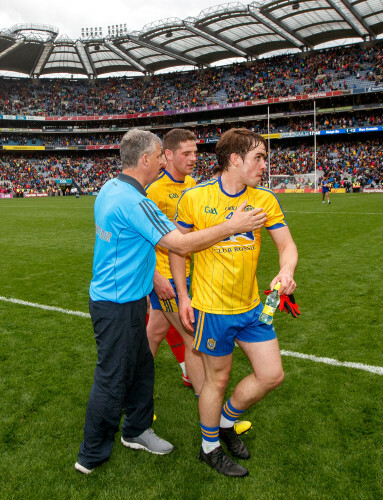 James Crombie / INPHO James Crombie / INPHO / INPHO
As a manager, he places a huge emphasis on defensive match-ups and the importance of the panel game. In the 2013 All-Ireland club semi-final, Ger Aherne was handed the responsibility of marking Crossmaglen's Oisin McConville. He kept McConville scoreless before the legendary forward was substituted shortly before half-time.
Final opponents Ballymun were more athletic and pacey than Crossmaglen, so McStay made the difficult decision to leave Aherne on the bench for the biggest game of his career. He made a number of telling contributions during the season, but Aherne's season was book-ended by not getting any game-time in the final.
"It was a hard pill to swallow but when you stand back and look at it, the management analysed Ballymun and looked at who were our best players to beat them on the day," Aherne said rather philosophically in 'The Belief' – in the story of the St Brigid's All-Ireland win.
"Taking them over the course of the year and taking every decision they made into consideration, they made a decision on what they had in front of them and we won the match."
St Brigid's lifted the title and McStay's decision proved to be the right one. It's a knack he has retained during his time as Roscommon boss. He got his defensive match-ups right against Galway in the Connacht final and the drawn All-Ireland quarter-final with Mayo.
He stresses that the team that starts won't be the same one that finishes and places emphasis on the 'game minutes' mantra. You might only play 10 minutes of the 70, but those 10 minutes could be the most pivotal of the match.
McStay likes to finish with his strongest team, but may have gone too far in that direction in the Mayo replay last August when he kept Fintan Cregg, Ciarain Murtagh and Donal Smith in reserve rather than starting them. By half-time, Mayo were 3-8 to 0-4 ahead and out of sight.
Against Kevin Walsh's side today, Cathal Cregg will finish the game but otherwise have started their strongest possible line-up.
Roscommon head into the Connacht final as underdogs but know they are well capable of springing another ambush on Galway. They arrived into Salthill last July on the back of a spring where they looked like a hapless side during League Sunday wrap-up reports.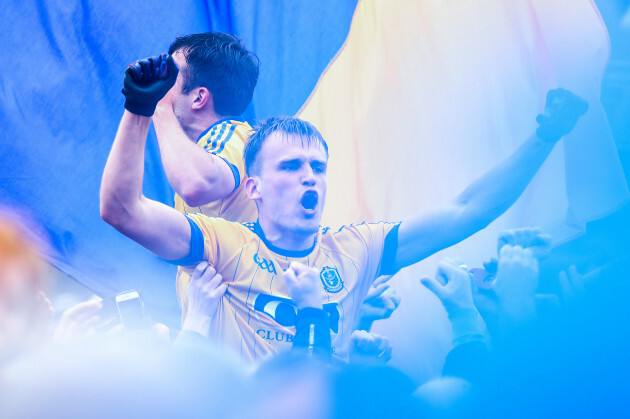 Tommy Dickson / INPHO Tommy Dickson / INPHO / INPHO
They bottomed out of Division 1 after just one victory and it's easy to forget the negative air that hung around the county.
"If you throw yourselves back to this time last year, as a management team and as a group of players, we were fighting for our sheer reputations as footballers and people involved with football teams," McStay admitted at the pre-Connacht final press day.
"So therefore winning Connacht was a monstrous prize for us."
Earlier in the year, with Roscommon struggling, McStay had to defend himself in the wake of criticism from former county player and manager Gay Sheerin on the local airwaves.
Following a six-point loss to Kerry, Sheerin told Shannonside Radio he didn't "like to see Mayo men on the sideline for a Roscommon team." He went on: "I fought for years against Liam McHale and Kevin McStay, playing against them. And they hated me and they hated Roscommon.
"And they can't have got that love (for Roscommon), there's no way, because I couldn't get that love for them."
"That was the greatest load of nonsense I've heard," McStay told RTE in response. In fairness to the Ballina native, his commitment to Roscommon football can't be questioned.
McStay hits out at 'nonsense' criticism of Mayo rootshttps://t.co/8mFNNA0Myp pic.twitter.com/YcG5yUEcFk

— RTÉ Sport (@RTEsport) March 5, 2017
He spent the majority of his adult life living in Roscommon, his two daughters were raised there and he's the only manager to bring an All-Ireland club football title back to the county.
And last winter, McStay began helping out as a coach the Roscommon CBS senior footballers. The school compete sporadically in the 'A' competitions when they feel they've got a decent team and the this year's crop was littered with Roscommon U17s.
Manager Eoghan Coll decided he'd need some help in his backroom team if they were to play in the top competition.
"It's usually just one teacher in our school that takes it," Coll tells The42. "So long story short, we were trying to suss out what we could get. I chatted to the caretaker who'd be a guy who knows people around the town and he said, 'You should try Kevin McStay.'
James Crombie / INPHO James Crombie / INPHO / INPHO
"In terms of his time, he teaches a bit of maths in the evenings but in the day time his time would be fairly free. I kind of laughed and said, 'Sure give him a ring there anyway.'
"The caretaker got back to me and said, 'Yeah he's interested.'
"So I went and met him in his house and outlined what we were planning and the players we have. He knew a few of the players from watching the development squads and stuff and he said, 'Yeah, I'll give you a hand.' That was basically how it happened.
"It just went from there. He came in, took sessions. Liam McHale was there too – not as much as McStay now – but he came to a lot of the matches and took a session or two.
Coll continues: "The rumour around the place was, 'How much is he getting paid?' Absolutely for a fact, there wasn't a cent (handed over). No expenses, zero.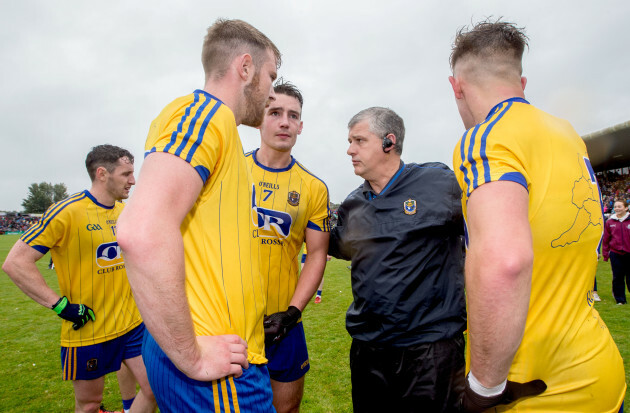 James Crombie / INPHO James Crombie / INPHO / INPHO
"No ego. He just thought it was a nice project that suited his timetable and as he said, if he could add a bit to the development of Roscommon football that way then why not?
"He was very easy to work with. When we were picking the team he definitely had his input but there was no sense that he was going to pick it. We sat down, had a cup of coffee and went through it. There was another selector Liam Tully, he would have managed the Roscommon U17s that got to the All-Ireland final last year."
Exclusive Six
Nations Analysis
Get Murray Kinsella's exclusive analysis of Ireland's Six Nations campaign this spring
Become a Member
Coll played under McStay when the latter managed Roscommon Gaels to the senior county title in 2004 so they were acquainted before they started working together.
They were ultimately beaten by Rice College, Westport in the league semi-final and St Jarlath's College in the championship last eight, but the youngsters would have benefited enormously from working with the county boss.
"I've taken senior teams on six or seven occasions at this stage," he says. "Training-wise you'd always get a solid group of 20-odd training well, but definitely the numbers remained higher this season.
"Lads who were peripheral stuck at it more with the hope things would go well and because you've got the senior county manager taking sessions and giving you instructions. You could definitely see that it lifted the players.
"The sessions were fun, they were tough work at times but there was definitely that fun element to it. That's the thing I took from it, that it's not all slog and grit. There's an element of that of course, but there's also a lot of craic in terms of running the drills and pushing yourself in an environment that's tough but also a lot of fun."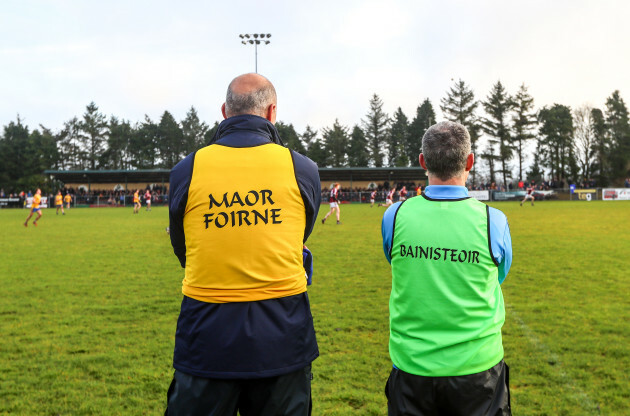 James Crombie / INPHO James Crombie / INPHO / INPHO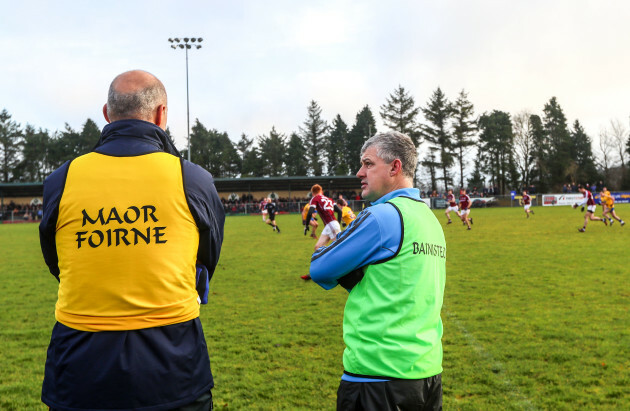 James Crombie / INPHO James Crombie / INPHO / INPHO
Mayo News ran a story in December on the sight of McStay and McHale patrolling the sideline for Roscommon CBS their league semi-final loss to Rice College.
"Less than seven days from Christmas you'd forgive the duo for not retaining the same level of commitment during the summertime," Ger Flanagan wrote. "Not these two though!
"They were as animated, analytical, and enthusiastic as if it was the beginning of May, with the football fast and the weather warm. McHale was relentlessly searching for areas of improvement, encouraging initiative and spotting mistakes. "Did you see that Kevin?
"'He had him bet, but he turned back inside,' McHale stressed. No doubt that will be brought up in the next training session. McStay too was in no room for messing. This was a game to be won, nothing more, nothing less."
Coll was in agreement that the double act took their role very seriously.
"His enthusiasm is very noticeable. He wouldn't have treated them any different I'd say to the county senior players. He didn't treat them like kids. He was saying, 'I'm here to do a serious job and we're going to try and push this as far as we can.'
"They were talking to the lads and trying to get the most out of them, they were really into it. He committed 100% there's no doubt. The big thing I'd say from my point of view was that he was very amenable, very easy to deal with. Very courteous and very easy to deal with.
"If he couldn't do a session he'd be apologetic, but he was doing me a favour he didn't need to be apologetic that he couldn't make a session or two. I'd say he made 90% of the sessions we ran all year.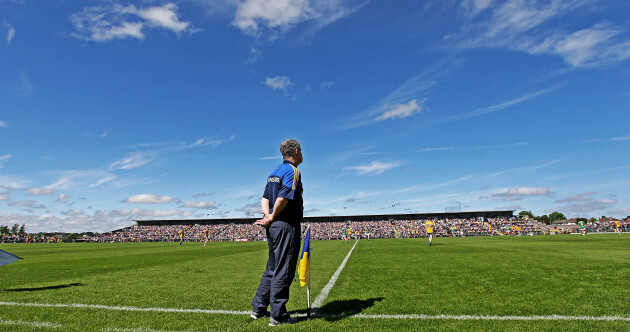 Donall Farmer / INPHO Donall Farmer / INPHO / INPHO
"No ego, just loves football and wants to develop these guys. He knew there was a few good lads who would be possible inter-county players coming into the future and thought he could add to their developments. That was kind of it."
Former CBS students John McManus and James Featherstone are part of the Roscommon squad today and Coll feels McStay's men are coming into the game in a good position.
"The pressure is on Galway. The expectation nationally is that they're the coming team. Everyone's thinking Roscommon aren't going to do it so it's a good position to be in I suppose.
"They'll be well-prepped anyway. Galway have a lot of dangerous players but if you can get on top around the middle and win enough possession I think they'll give it a shot. It'll be tough no doubt, but they won't fear them."
The42 is on Instagram! Tap the button below on your phone to follow us!