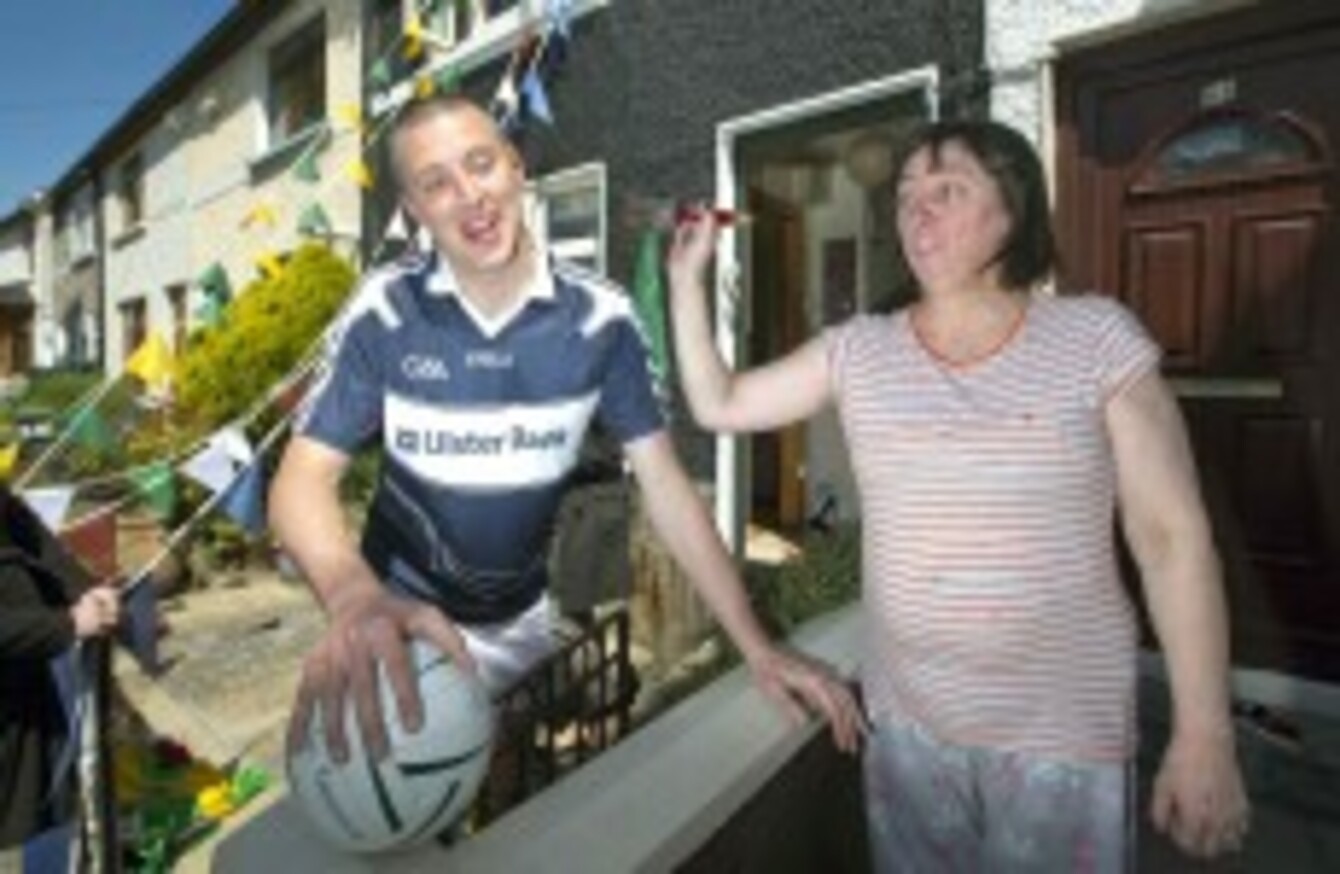 Kerry's Kieran Donaghy with Carmel Buckley from Clonliffe Avenue.
Image: INPHO/Morgan Treacy
Kerry's Kieran Donaghy with Carmel Buckley from Clonliffe Avenue.
Image: INPHO/Morgan Treacy
1. On the new management team in Kerry
When a manager comes in there is a sense you have to prove yourself all over again as a player.
Eamonn made that very clear in his first address to us. He said it was clean slate and it will be the best 15 that he thinks that will take the field. All of a sudden you're a jolted back to having to prove yourself again.
As players, that was a very good focuser for the year to come and to train hard and make sure we weren't going to be dropped.
2. On special treatment for former team-mates of Eamonn Fitzmaurice
No that was made very clear from the start and that was important for both the younger lads and the older lads to know that the relationship we had with Eamonn as a player isn't going to be anything like the relationship we have with him as a manager.
He has taken on his role as a manager with great professionalism and he has a had a very open outlook on it and it has been very enjoyable for the core group of guys who are older and the young lads who have come in with a sense of enthusiasm and a bit of devilment around the dressing room and freshened it up a small bit.
3. On shutting the public out of Kerry training sessions
I think it's, eh, I think there's probably a big deal being made of it. I think there's still going to be sessions open to people to come in and watch us but I think our practice games and them kind of important tactical sessions will be behind closed doors.
There's been, I'm sure, the odd tactical scout has come down to Killarney the odd Friday night before we play a game. Even if it was an All-Ireland quarter-final our session would be open the Tuesday night before with the full A versus B game.
I presume there were people below having a sconce to see what team was playing against which team, how fellas were going. I think it's the proper thing to be done. I think so. I think every team who is trying to win an All-Ireland would nearly have to have a certain amount of sessions behind closed doors.

YouTube: eircomexperiencemore
4. On this being a must-win year given the older age profile of the Kerry team
I don't know. I think you're always mad to retire fellas in the media! I think fellas should be, you know, when a fella wants to finish playing he can finish.
There's certain periods of a guy's career, like, I look at Tomás Ó Sé now and Tomás looks as fit now as he did when he was 25. He's never had any injuries so why should he retire now if he's enjoying playing football?
I think that kind of…as a team we're not thinking of that, as a team we're thinking of this year and how you can improve fellas this year and win. That's what it's about.
5. On age being just a number
I think so. I think age is in the head too. If you feel fit and you feel healthy and strong and you never had any real injuries, bad injuries, if you're enjoying what you're doing, why stop? I think it's the kind of thing that's a throwaway comment, when a team loses, in the mind of older fellas, 'this fella should retire, and this fella should retire'.
But you look at the Premiership and Ryan Giggs is 40 years of age. He's still one of the best players in the Premiership and every fella would love to have him on their starting 11 no matter what team they were involved in. That's still 10 years older than me.
6. On not going to see Chelsea play in the Europe League final
No, no. I watched it on the box. I got enough stick last year for going to Germany so I watched this one on the box. It was very enjoyable from the couch at home. It was a good win for Chelsea and another trophy.