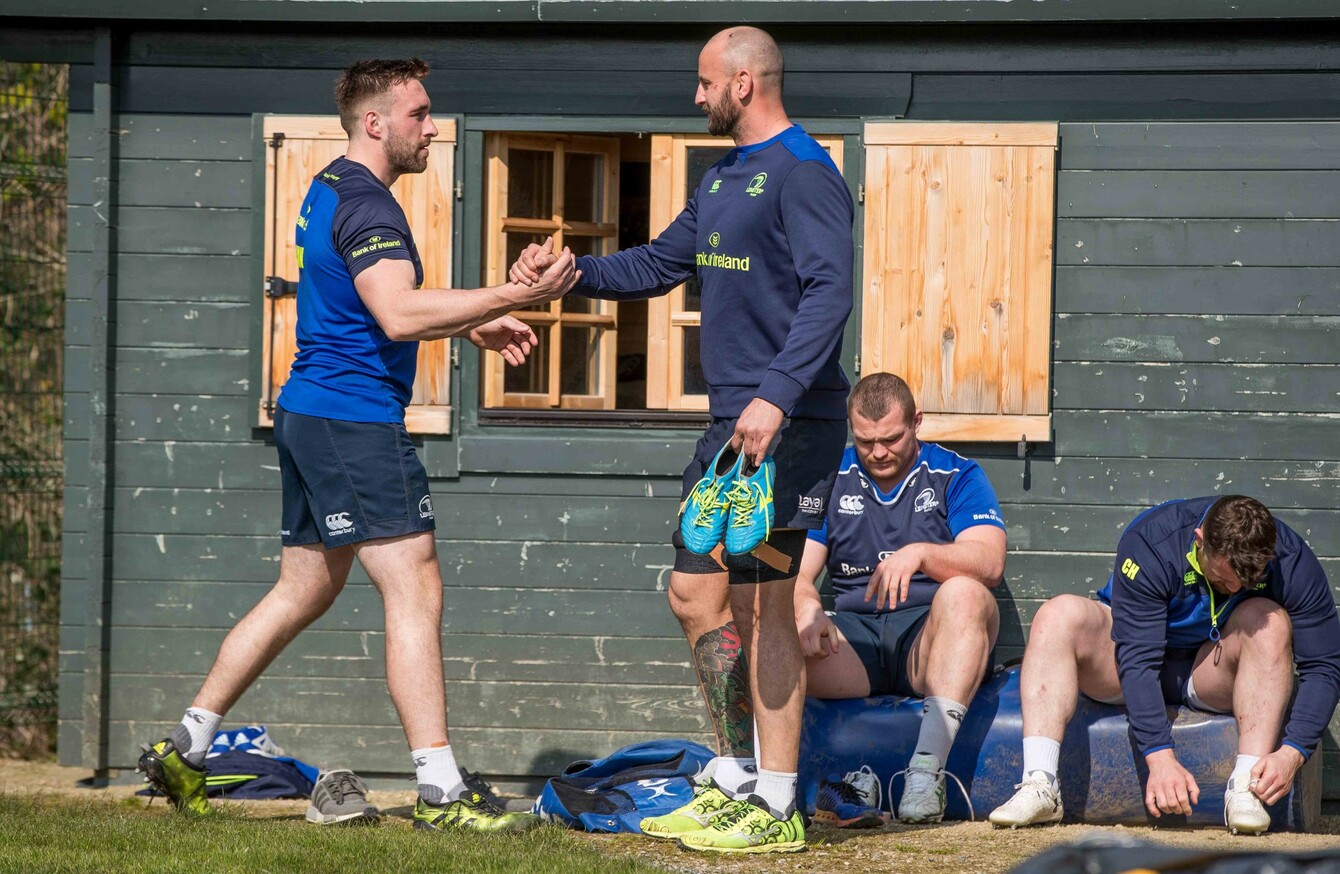 Image: Morgan Treacy/INPHO
Image: Morgan Treacy/INPHO
WHEN THE DUST settled on Leinster's frenetic, nervy and narrow win over Cardiff Blues on Saturday, it looks like a better day's work than the 22 – 21 scoreline suggested.
Sure, they came perilously close to losing at home, but after cruising through their previous four Pro12 matches with barely a hand laid on them, an edge-sharpening whetstone should be welcomed.
The Blues and their powerful deep-running counter-attackers also provided a decent template for some of the threat Wasps will bring to the Aviva Stadium this week.
In order to better counter the potential counters the English league leaders will bring, senior coach Stuart Lancaster will again work on getting Leinster players into a playing rhythm with realistic match scenarios marked out in training. It's not a knee-jerk reaction, far from it, this is how Lancaster likes to approach sessions so as to maximise the impact on what can be very limited and disjointed time with players.
"It's always been my belief in coaching players that you should try and play as much unstructured rugby in training as possible," Lancaster said at the province's training base in UCD yesterday.
"There's a balance to be achieved. You only have a certain amount of minutes per week that you can train the players. Overdo that, and you take them into the game tired and performance suffers. If you underdo it, then you're squeezed for time. Because you've got to cover your set-piece, restarts, starter plays and then your phaseplay attack and defence.
"My preference is to make sure we're very good on defending and attacking multi-phase rugby.
"But that's not at the expense of your basics, foundations – your scrum and line-out, starter plays and how you defend off set-piece. I'd do a lot of that today and tomorrow, but in between there will be time for players to prepare in those set-piece sequences."
Aside from the scrummaging performance, Saturday's display left room for improvement in many areas of the field to be worked on this week. Leinster came away with four more points for their Pro12 chase, but without a satisfactory performance. The ruthless finishers of Premiership table-toppers Wasps will not be quite as forgiving as the Blues were.
There will be new faces, big names to come in among the group to help solidify many aspects. Perhaps none more important than Jonathan Sexton, but the former England coach is determined to have an attack that is not seen as being reliant on the Ireland number 10.
"It is not the way we certainly try and shape the team. From our point of view, if you look at all the top teams, they have a variety of decision makers in the back-line.
"You wouldn't say New Zealand were too reliant on Dan Carter. They had Conrad Smith at thirteen, Israel Dagg at 15 Aaron Smith at nine.
"We have Luke McGrath, Johnny, Garry, Robbie (Henshaw), Joey (Carbery), Isa (Nacewa). We need to spread the workload, the decision making.
Clearly, Johnny, well any fly-half, is the guy who controls the ship. But, it's more than that. To win this game, you need a variety of players."
In the absence of Jamie Heaslip, Jack Conan would be a welcome addition to that variety of attacking threats. The province yesterday said the number eight would have his calf problem assessed as the week wears on, and Lancaster is hopeful that the 24-year-old will train this afternoon.
Looking back on Saturday's near miss, the former England head coach muses that the eastern province, despite his game-focused training sessions, looked like a team who hadn't played in three weeks – which they were. But between that hit-out, the return of more senior internationals and another solid week of training under their belts, the hosts will doubtless be a different animal at the Aviva Stadium.
"It was disappointing performance, but a good result against a pretty experienced Cardiff team.
"We presented them too many opportunities on turnover and their three tries came as a direct result of us giving them possession rather than them having to earn it. Also, there's a little bit of work to be done in our phaseplay attack where I thought we were less cohesive than we had been.
"Overall I was delighted to get the win. But it was a good wake-up call to make sure we're on it this week."
The42 is on Instagram! Tap the button below on your phone to follow us!