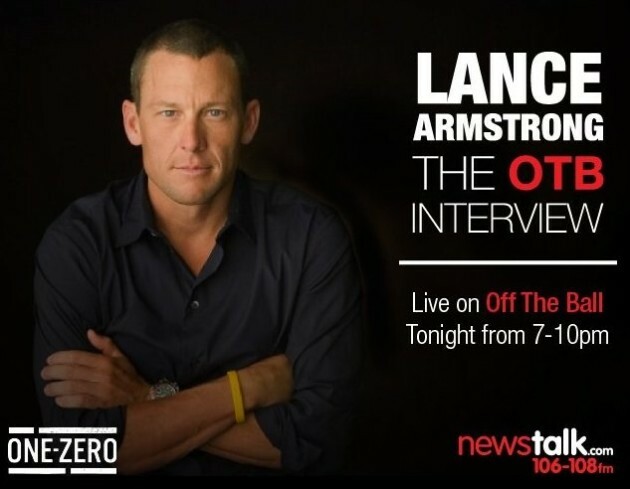 AHEAD OF HIS visit to Dublin later this month, disgraced former Tour de France champion Lance Armstrong granted Newstalk's Off The Ball an exclusive interview tonight.
His conversation with Ger Gilroy was laced with tension, making it a gripping listen.
Over the course of the interview, Gilroy pressed Armstrong on a multitude of issues including his efforts — or lack thereof — to make proper restitution to the sport of cycling, as well as to those whom he had attacked and wronged as he sought to cover up his doping and lies.
Although Armstrong tried to dodge and deflect for the most part, there were times when he appeared distinctly uncomfortable with Gilroy's questions, not least when he was asked about his actions to undermine former team-mate Greg LeMond.
Gilroy: The point about the LeMonds I suppose is, for people who are maybe unfamiliar with the story, in your deposition with the SCA case in 2006, you said that Greg had an alcohol and drug problem and ultimately Trek chooses you over them and a $20 million a year revenue disappears from the LeMonds' life. Did you ever think about making financial restitution to the LeMonds?
Armstrong: So I need to make financial restitution? I had nothing to do with Trek's decision to do that.
GG: Really?
[8 seconds of silence]
LA: Hello?
GG: Yeah, we're still here. Really?
LA: Absolutely not.
GG: Because it seems weird that they'd turn their back on an American cycling hero like Greg LeMond without their star performer, you, who is on the verge of making them billions, granted… but you had no input?
LA: Ger, I'm answering your question. You don't have to believe me. I answered the question. If you want me to say it another way so that you're happy…
GG: No, I don't. We understand exactly what you're saying. There's no communication issue there.
A tetchy Armstrong later referred to Gilroy as "Superman" and, when asked if he had ever used an illegal motor to power his bike, snapped: "Ger, are you a complete rookie?"
The interview ended with Gilroy thanking Armstrong for coming on the show — and Armstrong hanging up the phone abruptly, with the dial tone sounding on the other end of the line.
The full interview is available here on the Newstalk player.
Exclusive Six
Nations Analysis
Get Murray Kinsella's exclusive analysis of Ireland's Six Nations campaign this spring
Become a Member
The42 is on Snapchat! Tap the button below on your phone to add!