IT HAS BEEN a hectic, intense period for Irish athlete Leon Reid.
He has been chilling with friends before I call, but it is a rare moment of complete relaxation.
"I'm literally everywhere," he tells The42. "I was in Sweden, then I was in Newcastle, and I'm back for three days [in Bath], then I'm in Dubai [working and coaching] for three months."
Yet Reid has never been accustomed to standing still. Up until recently, he was working three jobs to fund his athletics career, including at a nightclub until the early hours of the morning as well as coaching youngsters in a school and getting "four-to-five hours" sleep a night.
Growing up, his life was turbulent to say the least. He lived in 14 different foster homes around the English midlands and West Country area, and had numerous different brothers, sisters and parents growing up. His Belfast-born birth mother Anne-Marie, who struggled with drug addiction, died in 2016, though he had been living with his adoptive Wexford-born mum Claire Russell since the age of 11.
Several of the brothers and sisters he grew up with have become embroiled in a life of drugs and crime, but Reid managed to avoid these pitfalls.
"My mentality is just different," he says. "I didn't like the easy way out. I wasn't going to be another one of them. When you're in childcare, they just judge you. You get put in a house and they go, 'Oh, they're from this family.' I wasn't going to succumb to those sort of [temptations]."
He hopes people with similarly difficult upbringings can learn from his story.
If anybody [who is struggling] reads this, then hopefully they can look at themselves first of all and just see what they're going to do. Because it's so easy to fall into the trap of going: 'Oh, I'm in social services care, I need to go prison, or I don't need to get a job or anything like that and feel sorry for yourself.'"
Sport was a big factor in helping Reid escape from his daily struggles as a youngster — table tennis, volleyball, football, cricket and basketball were among his hobbies, and he was "good at them all".
Yet it was athletics where Reid's destiny ultimately lay. He took it up more or less on a whim, and his natural talent soon became starkly apparent.
"I signed myself up to a running club, just because I'm competitive and want to be the best. So I just thought, I try enough sports anyway and I was always quite fast. It was something else I wanted to try, and it turns out I'm quite good at it.
"My adoptive mum [encouraged me], my coach, he took a chance on me, because I was new to the running scene. He got me training six times a week when I was 15 and then six months later, I was running at the Youth Olympics. Our relationship just grew from there really. So my mum, my coach, even social services played a big part — they were allowing me to train and helping me with training and stuff."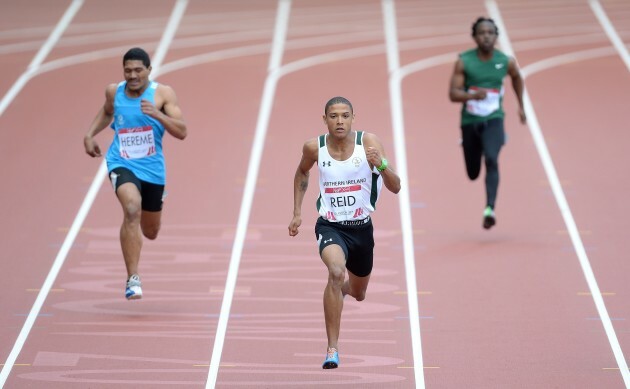 Martin Rickett Reid competing at the Commonwealth Games in 2014. Martin Rickett
Dual nationality can be a complex thing and is far too often simplified by those with little first-hand knowledge of the issue. The Bath native, who has a tattoo which reads 'English blood, Irish heart,' initially agreed to represent Britain amid a burgeoning athletics career.
"When you're 15 and you're running and someone says: 'Do you want to go to the Youth Olympics? We're going to sort you out. We're going to get you loads of kit and you're going to stay in the Olympic Village with athletes from 100 different countries,' you don't say: 'Hold on a minute, let me check my heritage, I need to see where I'm from.' You're just going to say, 'Yeah, of course'.
"My coach was part of British athletics back then as well, so it wasn't even a question." 
The starlet quickly impressed, winning two medals at the European Youth Olympics, as well as an English Schools title in 2012. But Reid ultimately grew disillusioned with the British set-up. A broken cheekbone, suffered after accidentally colliding with another athlete, hindered his progress. Issues with funding and non-selection for certain events played on his mind during this period. Even after returning from the setback, he was left feeling unwanted by British Athletics.
"If you're not [performing well or] selling tickets, they kind of just shunt you out. I sat down with my coach [James Hillier] and with my foster mum as well. It was just the best decision for everyone.
"I wasn't happy. I was ready to quit. It was a no-brainer.
I was just miserable. You're getting no support off people who you put your trust into and have given everything to. And they're just like, 'Nah, we don't like you anymore, we're going to go with someone else.' It was like, 'I could go play football or rugby, I don't have to do this.'"
Ultimately, rather than calling it a day, Reid chose to switch international allegiance and run for Ireland instead.
"A lot of people think that I'd want to switch over because I'm not good enough to get into the GB squad but I turned them down for the World Champs last year," he recently told Balls.ie. "They wanted me for the 200m and I was just like: 'No. I'm going to run for Ireland.'"
At the start of 2017, Reid began gathering the necessary documents to make himself eligible to compete for Ireland. Frustratingly, his decision came at an inconvenient time — the International Association of Athletics Federations (IAAF) President, Sebastian Coe, had implemented a block on all international transfers. The rules had been very lax originally, allowing athletes to represent a country they have never lived in and seemingly have little genuine affinity with, much to the chagrin of Fionnuala McCormack among others.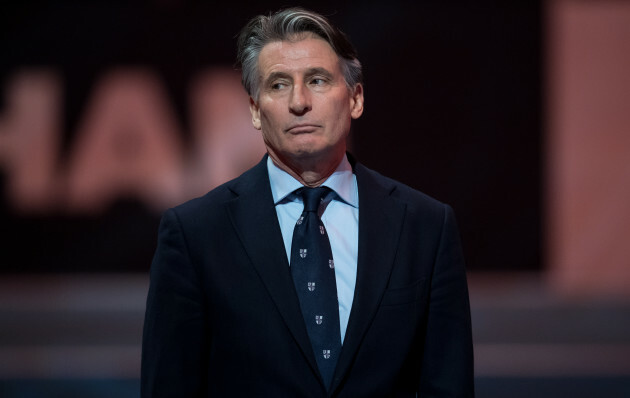 DPA / PA Images A ruling by Seb Coe (pictured above) meant Reid had to wait over a year before he was cleared to run for Ireland. DPA / PA Images / PA Images
But unlike the more pragmatic athletes in quesion, Reid says there was no cynicism behind his decision.
"Everybody thinks I've never been to Ireland. They always ask me, 'Have you ever been to Ireland?' And I'm like, 'I used to get shipped off there when I was little to my nan's.' I didn't have a choice. I'm half-Irish, I was just born in England.
"My nan's now bought two houses down in Duncannon next to Wexford. I've got loads of family down in Wexford, Enniscorthy and obviously up North as well."
He adds, laughing: "It's the same every time I go. It's 6am and you want to go to bed but you don't want to be the first one to leave the table. The guitar's out and everyone's singing and you're like: 'Awwww.'"
After being left in limbo for so long and receiving the backing of US sprinting legend Michael Johnson among others, Reid was finally cleared to represent Ireland at the beginning of last month, just in time for the European Championships in Berlin.
Being able to put on a green jersey was just what me, my mum and all the family have been waiting for, for over two years now. It was more relief than happiness. I was happy, but it was like: 'It's done, now I've got a job to do.'"
By that stage, the 24-year-old's immense potential was obvious, as he had already won both sprint titles at the National Track and Field Championships in Santry, running 10.42 in the 100m final and 20.74 in the 200m final.
Not everyone was thrilled with Reid's decision to declare for Ireland though. While he was expecting some blowback, the star admits to being taken aback by the extent of the hostility aimed at him in certain quarters. Some of his gear was stolen recently, while one athlete spat at him and there has been some unfortunate-but-inevitable online abuse from various trolls. Yet Reid says he has been unaffected by these attempts at intimidation.
"I'm an optimist so I was like, 'You need to grow up.' I thought, if I give them the reaction that they wanted, how is that going to help me 20 minutes before the indoor national final?"
And these unsavoury incidents are the exceptions as opposed to the rule. For the most part, everyone involved in the Irish set-up has been extremely welcoming to Reid.
"Even some people who I didn't think would be happy about it, they're so welcoming and nice," he says. "One of the main reasons I want to be part of the Ireland team is because they're more like a family than the British team — the British team is just like if you don't run well, they'll shut you out like a sick sheep. Even though you haven't qualified for [only] one race, they'll treat you like a leper.
"I was able to sit down and talk to [the people involved in Irish athletics]. It wasn't like, 'Oh, can I grab like five minutes?' It was like, 'Can we grab a coffee'? They were like, 'Sure'.
"Even the social media support to the Irish athletes is way better than the British get. They only shout out 'Happy birthday' to the big names. How many GB athletes are there? There are hundreds. They only focus on the special few."
Morgan Treacy / INPHO Reid has already bonded with a number of individuals in the Irish team, including Thomas Barr and Ciara Mageean (pictured above). Morgan Treacy / INPHO / INPHO
In addition, despite some initial apprehension, Reid has already made a number of friends in the Irish team.
"I shared a room with Adam McMullen and we were at the Commonwealth Games [in which he competed last April, in the process winning Northern Ireland's first athletics medal at the event since 1990] together, so he took me under his wing and introduced me to anyone that I didn't know. Everyone knew who I was but I didn't know who everybody else was, without wanting to sound like a dick. I was like the new kid at school; everyone knows who the new kid is, but the new kid doesn't know who everyone else in the school is.
"[Ciara Mageean is] long distance, I'm a sprinter. She's done everything — worlds, Europeans. It was like, how do you break the ice? But she was so welcoming. And we just really got on. It's not someone I expected to get on with so well, and when we did, she was forcing me to take ice baths."
He continues: "Not so much [that I thought they would] look down on me, it was more like they don't have to bring you into their circle. They don't have to go out of their way to make you feel welcome, because they're there anyway. So for her, Tom [Barr], Adam, for all those guys to do that — obviously, they [make it easy for] somebody else as well. If people are apprehensive about approaching me, they'll be like: 'Oh, they're with Tom and Tom's okay, so Leon must be okay.'"
What also helps is that recent successes mean there is a positivity around Irish athletics that has not always existed.
If anything, there's extra pressure," Reid adds. "You've got the girls who are

world silver medallists

. You've got Tom, who's just amazing. So you want to be part of that club, you don't want to be left on the outskirts of everybody celebrating success. You want to get in the mix."
Amid this feel-good atmosphere, Reid made his highly anticipated Ireland bow at last month's European Championships. He began promisingly, powering into the 200m final with in 20.38 seconds. The following day, he finished seventh in the final with a time of 20.37.
It was the second-fastest Irish time ever in the European Championship 200m final, but Reid was disappointed nonetheless with the performance.
"It's not bad but it's not great. If anything, I wanted a PB. It's not good enough," he told RTÉ.
Reflecting a month on from that night, Reid elaborates on his problems in Berlin.
"I was disappointed, but it was more [because of] a nerve problem in my left hamstring, which I've been nursing for a while. Not everyone knows that — well, no one knew that at all, and I don't want to rely on it as an excuse — but I couldn't push. I didn't come through like I usually do in the end. I only ran 0.01 quicker in the final than I did in the semis, so I was very disappointed with that. The overall result is quite good, but I wanted more.
"I felt like I let myself down a little bit, but obviously people don't know the whole story [of what went on behind the scenes]."
The star also says he took "a lot of confidence" from the fact that he still managed to put in a creditable display, despite evidently not being 100% fit.
"I can run 20.3 off one leg now," he says somewhat jokingly. "So that's always good to have in the locker — I'll be able to push on from that and move forward."
Martin Rickett Trinidad and Tobago's Jereem Richards (centre), Canada's Aaron Brown (left) and Northern Ireland's Leon Reid with gold, silver and bronze medals respectively for the Men's 200m at the Carrara Stadium during day nine of the 2018 Commonwealth Games. Martin Rickett
Reid knows, however, that in order to fulfill his potential as an athlete, certain sacrifices need to made.
"You're always thinking: 'Have I drunk enough water or consumed enough carbs for the training?' It's a 24-hour job," he says.
Perhaps even more significantly, he describes his biggest challenge as "sacrificing everything".
You sacrifice friendship. You sacrifice relationships, because you're going away on training camps, you don't really get to settle at home. I'm away for a few days, I've been away, then I'm back for two days, then I'm away again for three months.
"Your friends forget about you. They support you, but they forget about you. They don't know when you're in the country, when you're not in the country."
Nevertheless, Reid is not one to dwell excessively on the negative aspects of his life — if that were the case, he might have descended into the drink and drugs spiral that has affected a number of those he has encountered and lived with growing up.
Perhaps aware he is straying into gloomy territory, Reid ends the interview on a lighter, more positive note. 
"I get nice cards off my neighbours, they're always watching on TV," he laughs. "They've got two little boys. So they write on the cards, 'I saw you on TV.'
"It's nice."
The42 is on Instagram! Tap the button below on your phone to follow us!