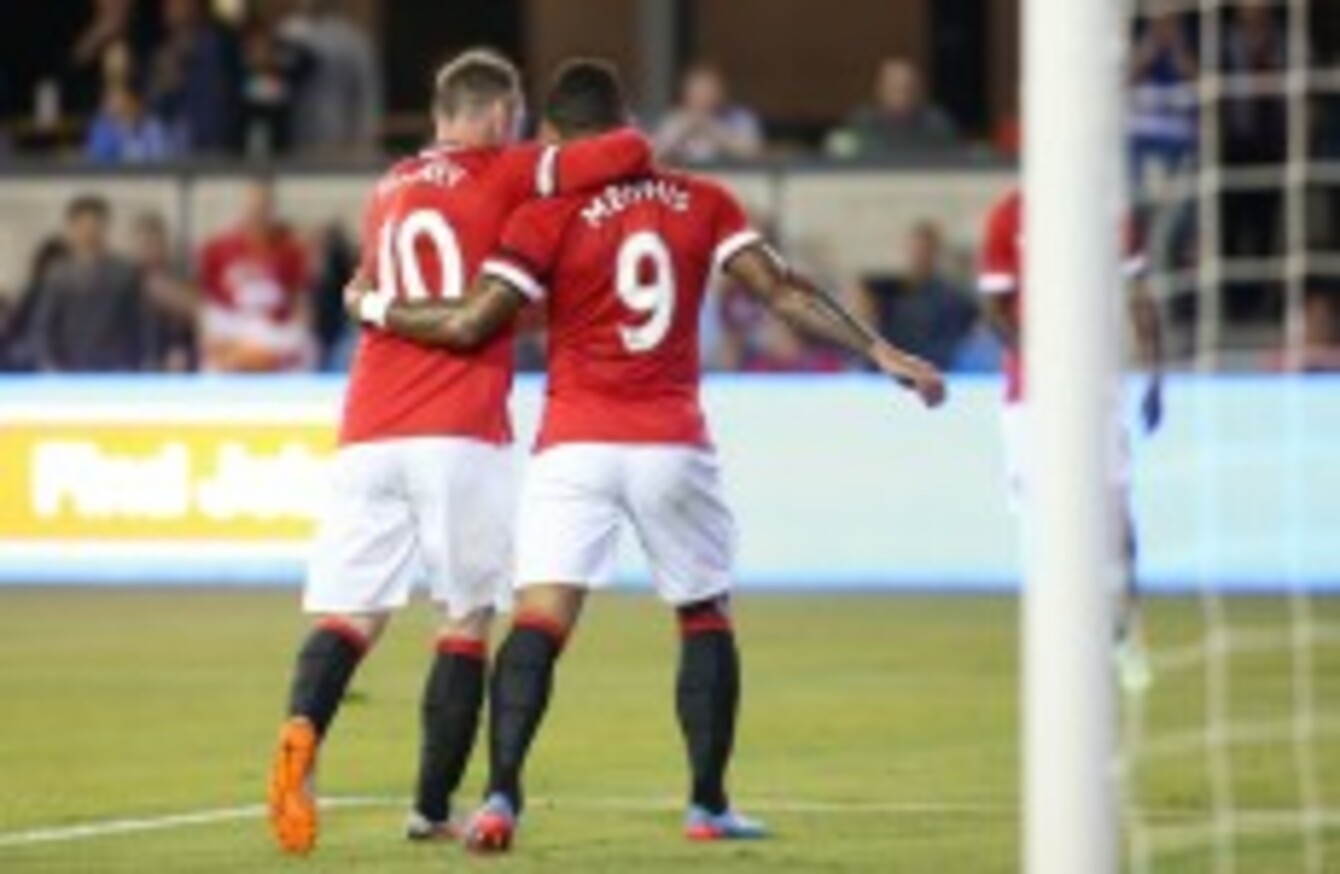 Wayne Rooney and Memphis Depay have formed an instant partnership up front.
Wayne Rooney and Memphis Depay have formed an instant partnership up front.
MANCHESTER UNITED MANAGER Louis van Gaal feels that his side "showed the world [what] they can do" with a 3-1 victory against Barcelona in the International Champions Cup last night.
Wayne Rooney, Jesse Lingard and Adnan Januzaj scored for the Red Devils as they beat the Champions League holders in Santa Clara, continuing a fine pre-season habit with the club for Van Gaal after his 100 per cent record last summer.
Though the United boss is keen to avoid taking such results too seriously, with his focus on performance in the Premier League, he is pleased to have reminded their rivals of their quality.
"You know what happened last year? We also beat the European champions in Real Madrid, also 3-1, now we do the same against Barcelona… so preparation matches don't tell anything," Van Gaal told MUTV.
"You have to deliver at the right moment and that is against Tottenham Hotspur but I am happy because we have showed to the world that we can do something.
"We created a lot of chances, more than Barcelona, so there I was pleased, and then the second half was with all the youngsters and we can maintain the same rhythm so I was happy.
"We were also a little bit lucky. Three times they hit the post so you need always luck. I remember still the game against Chelsea when we played a very good match and we didn't have the luck and lost. Now, we have the luck maybe because we are in the USA, you never know!"
Van Gaal also offered particular praise to Januzaj, who came on as the spearhead at centre-forward for the last half-hour against Barca when the manager withdrew his entire front four of Rooney, Ashley Young, Memphis Depay and Juan Mata, going on to score the final goal in stoppage time.
"I think Barcelona could not cope with the threat of Depay and Rooney but I have to say that Adnan Januzaj was also a big threat for them in the 30 minutes that he played as a striker," the Dutchman said to reporters.
"That is good to see."
"I think that Adnan Januzaj was very good because he always gives an option for his midfielders and defenders. He scored a wonderful goal and I think that is always important. He had to fight with two defenders and he did well but it was more easy for him against the defence without [Barcelona centre-back Gerard] Pique."