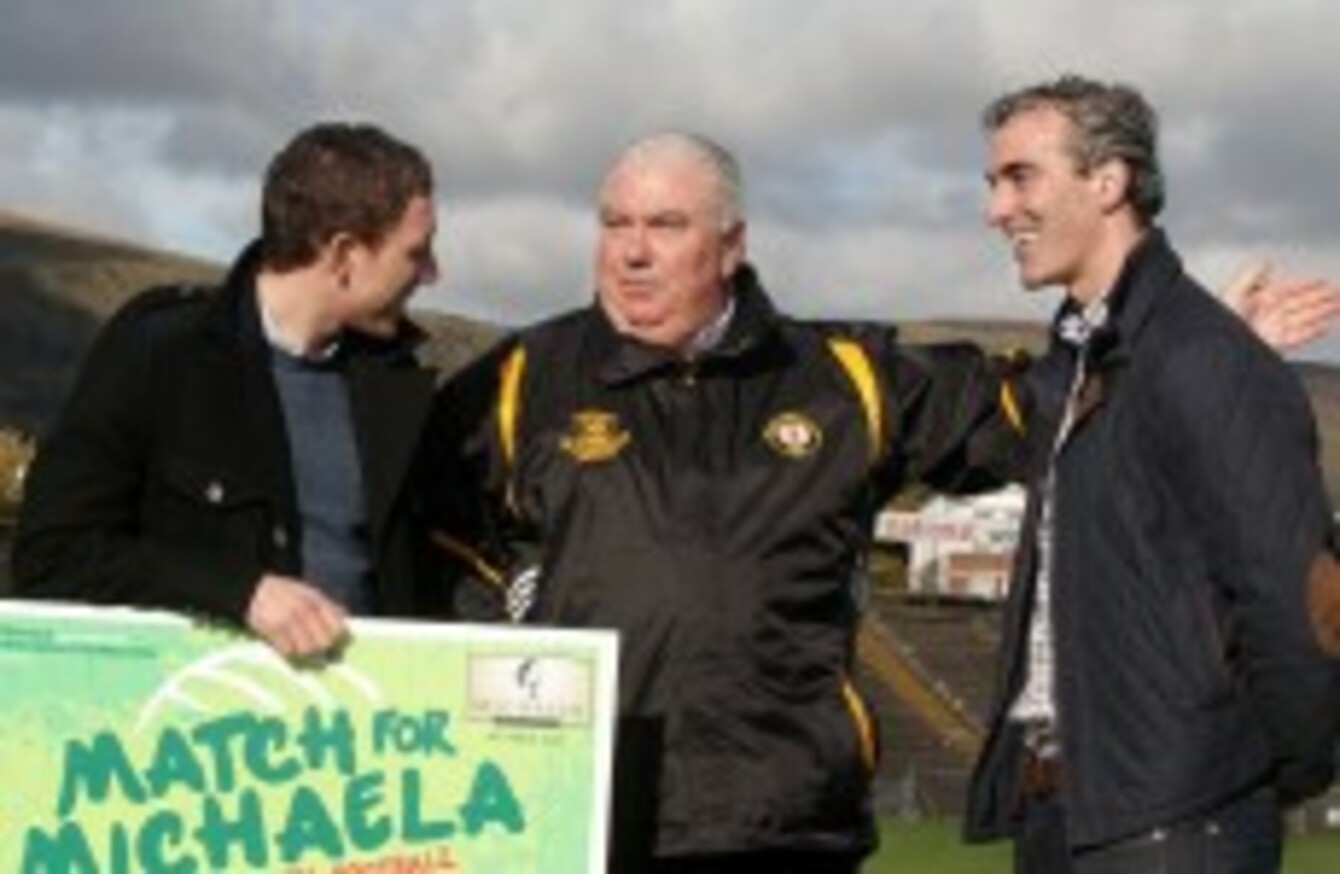 Donegal manager Jim McGuinness, Michaela's widower John McAreavey and Ulster manager Joe Kernan.
Image: ©INPHO/Presseye/Jonathan Porter
Donegal manager Jim McGuinness, Michaela's widower John McAreavey and Ulster manager Joe Kernan.
Image: ©INPHO/Presseye/Jonathan Porter
DONEGAL MANAGER JIM McGUINNESS has named his strongest possible line-up for the 3 November Match for Michaela at Casement Park.
The charity match, taking place for the first time in memory of Michaela McAreavey, will feature an Ulster selection, managed by Joe Kernan, up against McGuinness' men.
The Donegal team includes All-Stars such as Karl Lacey, Michael Murphy, Paul Durcan and Frank McGlynn.
McGuinness said, "This is the first time that, this group of players, will take the field as All Ireland champions and we are delighted to be in this position.
"We have a number of injury concerns but we will be fielding the strongest team possible.
"I anticipate that this will be a tremendous occasion and, gauging from the interest within our county, our supporters will be there in force too."
Kernan commented, "The match is a chance for the players to meet and play alongside the best players from other counties, and for the supporters to come along and see quality and competitive football played at the highest level."
Celebrating Michaela's memory
Speaking at the launch of 'Match for Michaela – a Festival with Football' today, Ulster GAA President Aogan O Fearghail said, "Michaela McAreavey was, first and foremost, a Gael – she loved Gaelic Games, the language and the culture." He added:
We have all been enriched to have her as part of our association, our community and this event, we hope, will remember the life, heart and soul of a beautiful woman who lost her life too soon.
"I urge people from across Ireland, whether you're interested in Gaelic Games or not, to come out to support this worthy cause and to celebrate Michaela's memory with her husband John and the entire Harte family."
Ulster:

Brendan McVeigh (An Dún); Ryan McCloskey (Fear Manach), Dan Gordon (An Dún), Chrissy McKaigue (Doíre); Ciaran McKeever (Ard Mhacha), Darren Hughes (Muineacháin, Captain), James Loughrey (Aontroim); Sean Cavanagh (Tír Eoghain), David Gibney (An Cabhán); Colm Cavanagh (Tír Eoghain), Mark Poland (An Dún), Joe McMahon (Tír Eoghain); Martin Penrose (Tír Eoghain), Michael McCann (Dún na nGall), Conor McManus (Muineachán).

Subs: Niall Morgan (Tír Eoghain), Conor Gormley (Tír Eoghain), Vinny Corey (Muineachán), Brendan Donaghy (Ard Mhacha), Ambrose Rogers (An Dún), Gearoid McKiernan (An Cabhán), Brendan Coulter (An Dún)
Donegal:

Paul Durcan; Paddy McGrath, Eamonn McGee, Thomas McKinley; Frank McGlynn, Karl Lacey, Declan Walsh; Christy Toye, Neil Gallagher; Daniel McLaughlin, Adrian Hanlon, Ryan Bradley; Patrick Mc Brearty, Michael Murphy, David Walsh.

Subs: Michael Boyle, Antoine McFadden, Mark McHugh, Peter Withrow, Martin McElhinney, Stephen Griffin, Barry Dunnion, Martin O'Reilly, Gary McFadden, Peter McGee
Tickets are available www.tickets.gaa.ie, from County Boards and GAA clubs and from participating Supervalu and Centra stores nationwide. Tickets are priced at £10/€10 for adults and £5/€5 for children.