KYLIAN MBAPPE IS FRENCH captain at only 24 and it weighs exactly as heavily on him as you might think. 
He bounces easily into the press conference room in the Aviva Stadium, smiling and winking for the photographers roving around him for the duration of his press conference.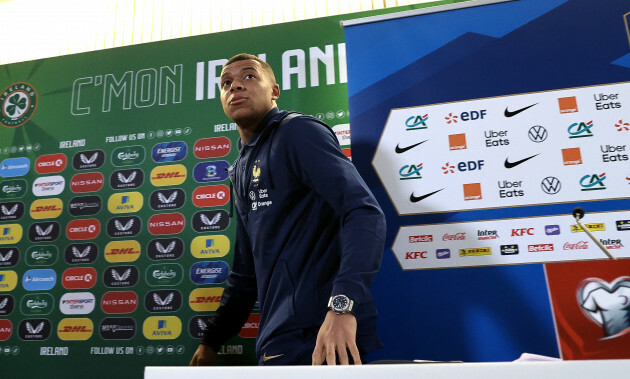 Gary Carr / INPHO Mbappe arrives for his press conference at the Aviva Stadium. Gary Carr / INPHO / INPHO
The room is packed with French journalists – 34 French outlets have been accredited for tomorrow's game, one of which turned up at Stephen Kenny's press conference at Abbottstown this morning – and they are slightly surprised to see him, given one of the Ts and Cs that came with his captaincy was that he wouldn't do every pre-game press conference. 
Most of the questions revolve around his captaincy: the most significant aspect of it so far is that France were so good in the 4-0 win over the Netherlands last Friday that he hasn't had to do anything different. 
"We played well and given the performance we put in on Friday night it", he says, "it really wasn't necessary for me to change." 
He answers all of his questions en Francais with one exception: the sole question asked of him by the Irish press about Evan Ferguson. 
"We saw some clips about him. Of course he is an important striker for the Ireland team but we hope tomorrow we do our job. But he is a good player."
The press conference also extinguished any faint Irish hopes that the French packed some complacency. The phrase "British style" didn't get a single airing. 
Mbappe says the French squad watched the first-half of Wednesday's friendly against Latvia at their Clairefontaine base. 
"It was a friendly game so it is hard to take any lessons from it, but they play an interesting system with three at the back. They have a reputation for playing a physical style but they also play a lot of good football, so it is not going to be easy for us. We will have to be aggressive and we have to play our game." 
Didier Deschamps followed Mbappe into the room, and he also showered Ireland in accurate analysis. 
"It's true that I think Ireland have this enthusiasm", said the French manager, "this determination which is part of their football DNA but that is not everything, they also have quality, the are capable of playing on the ground. You also have to mention the support they have that will push their team forward. I am expecting a high-level match. They play a different system [to Netherlands], this Ireland team, they like to play three at the back.
"It's true there are lots of different players in the Ireland team, if I think back to 2016, I remember we were losing 1-0 at half time, that was a round of 16 game, that was a difficult one. There is a new generation now with new players, [Evan] Ferguson poses a threat, a good player, [Mikey] Johnston as well has joined the team, it is a mix of young and experienced players. But our team is different too, it is hard to compare really. Ireland are known for being direct and vertical in how they play but of what I've seen in recent games they are capable of playing the ball along the ground as well. Of course they have a new coach who arrived in 2020 as well." 
Mbappe, meanwhile, was told by the French press that he is three goals from catching Michael Platini in the all-time scoring charts. 
"It's an honour to be at this stage, that's my next target. I'll keep going, it might be tomorrow, it might not. Michel Platini is a legend of French football but I'll get past that mark at some point." 
Let's hope his patience extends beyond tomorrow night.