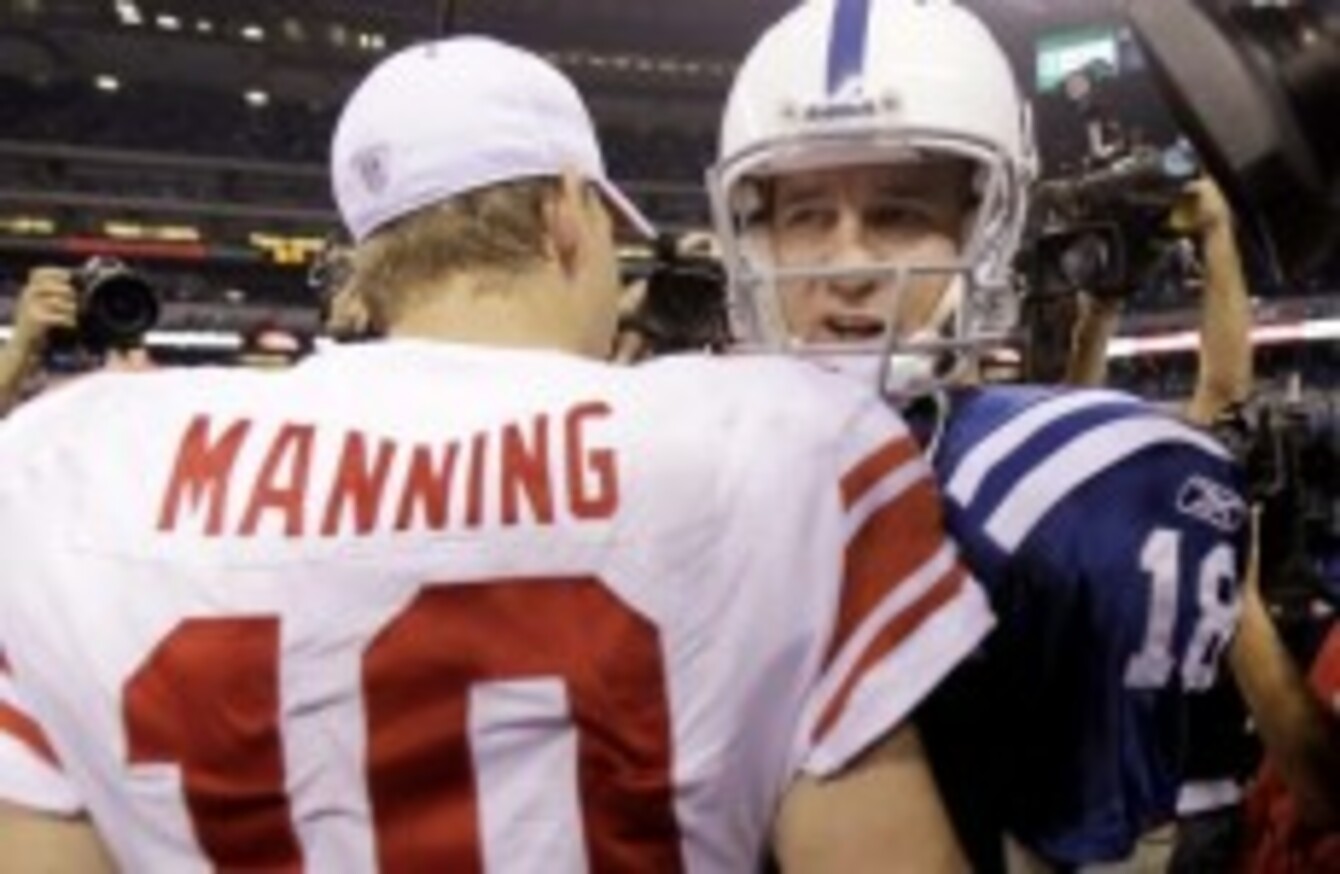 Both Manning brothers are likely to keep their hopes alive.
Image: AP Photo/Darron Cummings
Both Manning brothers are likely to keep their hopes alive.
Image: AP Photo/Darron Cummings
SO FAR, 2010 has seen mediocrity well rewarded in the NFL.
Though their fans will say they've seen great improvement from the likes of Kansas City, Baltimore and Philadelphia; the fact remains that all three have secured play-off spots thanks largely to implosions from San Diego, Cincinnati and Dallas.
Worse still, the final week of the regular season could see three more distinctly average teams make the playoffs.
St Louis Rams (7-8) @ Seattle Seahawks (6-9)
This is a winner-takes-all clash in the NFC West with the prize being an almost guaranteed first-round exit in the playoffs.
However, one of these teams must win this division and they can't really be blamed for just how poor the widely-tipped San Francisco 49ers have been.
For the Rams, this game will represent a real test for first year QB Sam Bradford who, despite being in contention for the offensive rookie of the year award, has struggled on the road.
The Seahawks may have lost three in-a-row (and four of the last five) but know that they are just 60 minutes away from a wildcard spot in the playoffs.
Result: A win would at least bring the Rams to a .500 record but the Seahawks will probably make the most of home advantage and make the postseason despite having a losing record.
Tennessee Titans (6-9) @ Indianapolis Colts (9-6)
At the start of this season the AFC South was tipped by many to be one of the strongest divisions in the NFL but all four teams have struggled to rise above average in 2010.
The Colts will win the division if they beat the Titans and could even afford to lose should the Jaguars come up short against the Texans.
For the Titans, they have very little to play for save the fact that this could well represent Jeff Fisher's final game as Head Coach.
Result: Even the chance to upset their divisional rivals' playoff hopes won't be enough to provoke a reaction from the Titans. Expect the Colts to win this by more than 10.
The final NFC playoff Spot
Normally this column would review a third game in this spot but really the focus should be on what could be a shock in the NFC with three teams still in contention.
The Packers are favourites but face a difficult game against the already qualified Chicago Bears who won't want to do their divisional rivals any favours.
Meanwhile, the Giants know that even a win away against the Washington Redskins may not be enough to secure a postseason spot while the Bucs must rely on both New York and Green Bay losing and an unlikely win over the New Orleans Saints to have any interest in the playoffs.
Result: Green Bay will slip up and, though the Buccaneers will manage to find a way to beat the Saints, the New York Giants will have too much for Washington ensuring that both Manning brothers make the playoffs.
All Games and predicted winners:
Miami Dolphins (7-8) @ New England Patriots (13-2) – Patriots
Buffalo Bills (4-11) @ New York Jets (10-5) – Jets
Pittsburgh Steelers (11-4) @ Cleveland Browns (5-10) – Steelers
Cincinnati Bengals (4-11) @ Baltimore Ravens (11-4) – Ravens
Tennessee Titans (6-9) @ Indianapolis Colts (9-6) – Colts
Jacksonville Jaguars (8-7) @ Houston Texans (5-10) – Jaguars
Oakland Raiders (7-8) @ Kansas City Chiefs (10-5) – Chiefs
San Diego Chargers (8-7) @ Denver Broncos (4-11) – Chargers
Dallas Cowboys (5-10) @ Philadelphia Eagles (10-5) – Eagles
New York Giants (9-6) @ Washington Redskins (6-9) – Giants
Chicago Bears (11-4) @ Green Bay Packers (9-6) – Bears
Minnesota Vikings (6-9) @ Detroit Lions (5-10) – Lions
Carolina Panthers (2-13) @ Atlanta Falcons (12-3) – Falcons
Tampa Bay Buccaneers (9-6) New Orleans Saints (11-4) – Buccaneers
St. Louis Rams (7-8) @ Seattle Seahawks (6-9) – Seahawks
Arizona Cardinals (5-10) @ San Francisco 49ers (5-10) – 49ers
Steven O'Rourke is the offensive coordinator of Tullamore Phoenix American Football Club. When not obsessing with football he can be found at 4fortyfour.