Kevin O'Brien reports from Semple Stadium
LIMERICK'S 10-GAME unbeaten run across the Munster SHL and Allianz Hurling League came to an end at Semple Stadium last night, but they'll have an opportunity to exact revenge on Tipperary next month.
The Treaty men host Tipperary at the Gaelic Grounds in the Munster opener on 20 May, a game that promises to be a cracker judging by the entertaining affair that was served up in the league semi-final.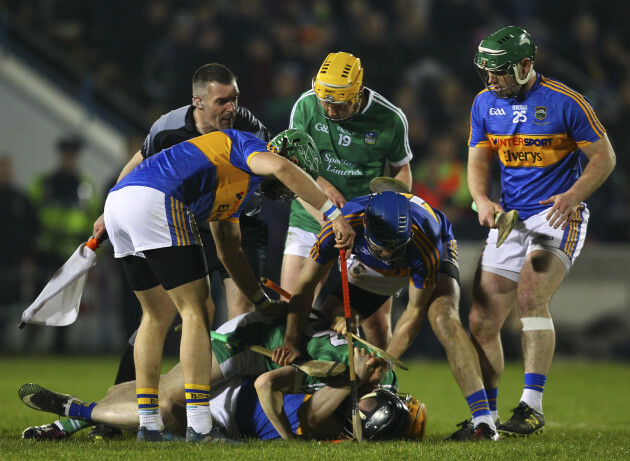 Ken Sutton / INPHO Ken Sutton / INPHO / INPHO
"I'd say you can put your money down on that," said thrilled Premier boss Michael Ryan afterwards.
"(Munster) will be an absolute belter. But we knew it. It's always like that, without ever putting this structure into place, but now with home and away and everyone plays everybody.
"It's novel, it bodes exceptionally well. But I've been saying it for years, 'Munster championship don't touch it, it's great anyway.' Now this is with a twist. Three will go forward and two will go out. I think that's the tragedy of the Munster championship. It is what it is, that'll be after four games."
Limerick hit the last four points of the game to force extra-time, but Jason Forde raised the green flag twice in the first-half of the afters to steer the hosts into the league decider.
"They're a great bunch of young fellas and we don't praise them enough, we really don't," continued Ryan.
Bryan Keane / INPHO Bryan Keane / INPHO / INPHO
"They give and give and give and give. No different to the Limerick squad next door. What a great young team and I think they're going to have a great summer by the looks of them as well."
Forde finished the night with 2-11 and man-of-the-match honours. He's been thriving in his new role at full-forward during this league campaign and there's been speculation three-time All-Star Seamus Callanan may find himself repositioned to centre-forward upon his return from a back injury.
"He's been really good with us all league long as have most of the squad," said an impressed Ryan.
"I just think he's had a really, really good pre-season. Jayo's been there or thereabouts always in our matchday 20 for the last number of years.
Forde's first goal
Jason Forde wins a Limerick short puck out and executes it! Goal for Tipperary! pic.twitter.com/IxADlhega6

— The GAA (@officialgaa) March 31, 2018
Forde's second goal
Jason Forde fires it into the back of the net for a second time! pic.twitter.com/2fJZ1NyHC0

— The GAA (@officialgaa) March 31, 2018
"He just reached a time, he's won his Fitzgibbons and been a main player for UL, and I just saw a change in Jayo that he really wants more out of this season.
"Nothing is promised, you can only offer yourself up and do the work, but he has certainly done the work. That's showed in spades here over the last number of games."
It was a stark contrast for Forde from the league semi-final a year ago when he was involved in a physical exchange with Davy Fitzgerald and was slapped with a one-match ban.
Forde was lining out at midfield then, but now he's become a key figure in the Premier full-forward line. His tally of 5-60 in the league so far highlights how important he is to the Tipperary cause.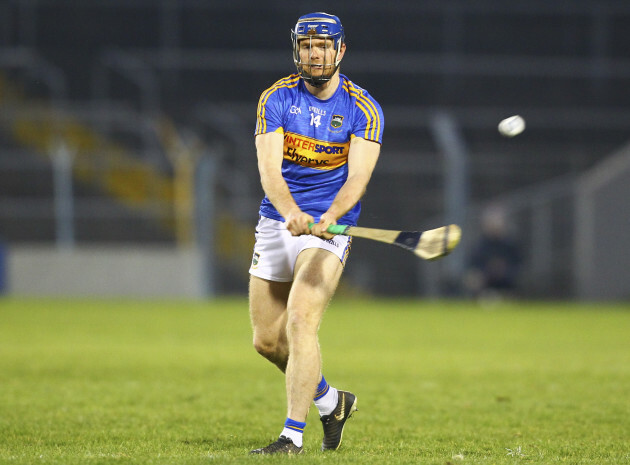 Ken Sutton / INPHO Ken Sutton / INPHO / INPHO
Tipperary were hammered by Galway in last year's league final and Ryan admitted they'll be looking to right a few wrongs against the winners of Kilkenny and Wexford.
"Certainly, that's how we feel about it. We're to different to any other squad, we talk about performance levels and getting it up to an acceptable level.
"We certainly didn't arrive at that or anything near it this time last year when we got to the league final against Galway. We're delighted to have another opportunity to play in a league final and we're not to talk about winning it or anything like that, we're going to talk about an almost championship performance. That's what we're looking for.
"We've lots of work to do. We're not even in April, but everything is coming at us a bit quicker and it's the same for everybody. We certainly have a lot of things to work on and we're still waiting to get a couple of players back. It's been that kind of league, it's been match to match to match.
"This weekend is going to be about getting ready for a league final on Sunday week so the work waits and we'll no sooner be finished the league final and the lads will be back into club activity. That's fine, it's what we've go to do."
Ken Sutton / INPHO Ken Sutton / INPHO / INPHO
Ryan had to dig deep into his reserves once again, with rookie Alan Flynn particularly impressive at corner-back, while Willie Connors looked lively in attack.
"We all called it out that we needed to deepen our squads so if a guy gets a tap some week in June that he must be able to deliver for you. That's how it's panning out. We got an opportunity to see some fellas, we're giving opportunities to fellas and we still have a few injuries hanging around.
"Those guys will be coming back to fitness over the next few weeks so those few club games they're going to get are going to be important to those fellas.
"20 May is the fixture, we have to be ready for it. That's looking ahead, looking a week ahead we're in a league final and we're delighted to be in it."
Noel McGrath is unlikely to recover from a thumb injury for next weekend according to his manager, but Patrick 'Bonner' Maher and Niall O'Meara will come back into contention. Joe O'Dwyer, Callanan and Dan McCormack won't feature in the league final but will hope to gain some valuable playing time for their clubs over the next month.
"The club championship that's coming is going to be hugely important for those guys to get into the mix and hopefully compete earnestly for the jersey on 20 May.
"They're quality players for us and they've been great servants for a number of years. They all want to play which is a great problem to have. We talk about it all the time, competition within the squad, and it's healthy and it's only going in one direction."
The42 is on Instagram! Tap the button below on your phone to follow us!