MICHAEL SHIELDS HAS brought the curtain down today on his Cork football career with injuries and commitments off the pitch contributing to the 2010 All-Ireland winner's decision to retire.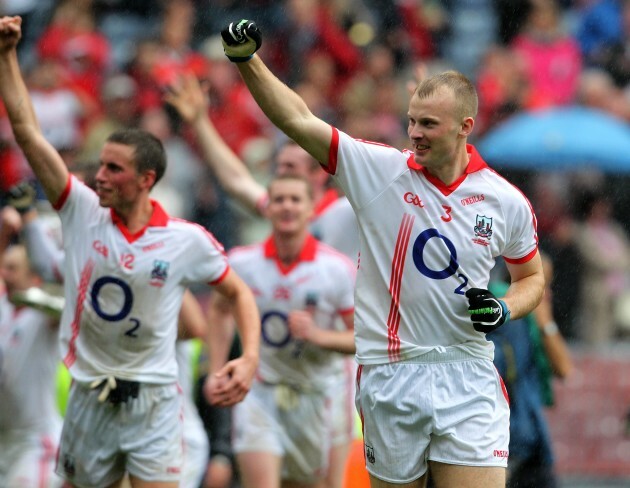 Lorraine O'Sullivan / INPHO Shields was full-back for the 2010 final win over Down. Lorraine O'Sullivan / INPHO / INPHO
His departure cuts another link with the team that ended Cork's 20-year wait for All-Ireland glory and concludes a senior career that has lasted for 13 seasons.
A full-back in the All-Ireland victory, Shields has been a regular in the side since making his championship debut in the 2006 drawn Munster senior final against Kerry.
He was first brought onto the Cork senior panel in 2005 by Billy Morgan when he was just out of minor ranks but the 31-year-old feels 'this is the right time to step away'.
The St Finbarr's man made his last appearance for Cork in the narrow All-Ireland qualifier defeat to Mayo last July and he informed new Cork boss Ronan McCarthy in recent days that he wouldn't be staying on for the 2018 campaign.
"This wasn't an immediate decision, it was something I thought about for a while," Shields told The42.
"I'm really going to miss it but I think this is the right time to step away."
"I've had a lot going on in the background with work commitments and family commitments. It's made it very hard to juggle all three.
"The frustrating thing for me over the last few years is I've had a lot of injuries. I've been getting a lot of knocks throughout the season which set me back and I found I was chasing my fitness.
"I've had problems with my groin, I had Gilmore's groin on both sides. I had operations on that and then the two winters there when I was getting operations, I was coming back late.
Tommy Dickson / INPHO Michael Shields celebrating the late goal in Cork's Munster semi-final win over Tipperary last year. Tommy Dickson / INPHO / INPHO
"It's always hard when you're trying to train and come back into the National League late. Your fitness probably isn't where it should be and unfortunately for me, I picked up a few knocks and setbacks along the way.
"I missed out on 2016 so I lost that year and last year was a year when I was probably coming towards the end. When you lose one year and come back another year, it's hard to pick it up again.
"When you're younger there's no doubt about it that it's easier. You're in college and have the freedom of time to recover. I've found the last couple of years that I haven't been able to fully recover. It was always a battle to get right.
"I'd a nice chat with Ronan. A couple of months back I told him where I was at and I said I'd meet him soon. I met him the other day and just told him my thoughts. I'm delighted he got the job, he's a really decent man."
Shields concludes his Cork football days with two All-Ireland medals from the senior success in 2010 and the U21 triumph in 2007.
He claimed three Munster senior medals and was full-back on the All-Star teams of 2009 and 2010.
Lorraine O'Sullivan / INPHO Michael Shields was one of five Cork All-Star winners in 2010. Lorraine O'Sullivan / INPHO / INPHO
Shields was also part of four National League triumphs, captaining Cork to glory in 2010 and 2011.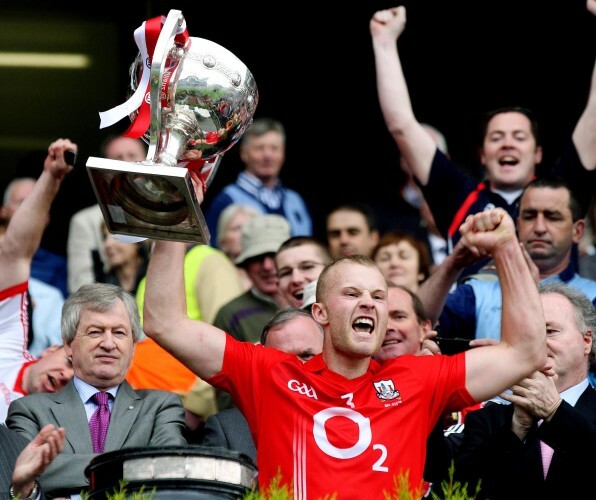 Lorraine O'Sullivan / INPHO Shields lifts the trophy after the 2011 National League final win. Lorraine O'Sullivan / INPHO / INPHO
His career highlight came in September 2010 with that victory over Down, a game where he captained Cork at the outset with regular skipper Graham Canty beginning the game on the bench after a season battling injuries.
"Getting over the line in 2010 was great. We'd been knocking on the door for a few years. We came up short in 2009 and in 2007 we were well beaten.
"But we stuck it out as a group and were lucky enough we got the reward. It was a real sign of perseverance.
"Being on the Croke Park pitch that day was a definite highlight. Personally leading the team around in the parade before that game was a real honour and one I'll always remember.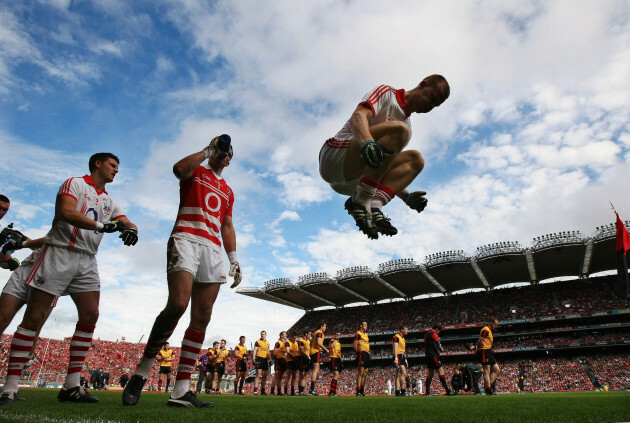 Cathal Noonan / INPHO Michael Shields leading the Cork team before the 2010 All-Ireland senior final. Cathal Noonan / INPHO / INPHO
"I always think we should have won more. That's the way I would have thought but it wasn't to be. I've had some disappointing days in more recent times. But the way I look at it is there were plenty good days so there's no regrets in that sense.
"I'm lucky in that I got an All-Ireland medal at U21 and senior level so I'm coming out with quite a lot."
He savours the memories of working under celebrated Cork managers and getting to learn off established players at the start as he joined the squad when he was a Leaving Cert student in Coláiste an Spioraid Naoimh.
"A big plus for me was working with the likes of Billy Morgan at the start, the man's a legend really. Conor Counihan was a really cool operator the way he went about his business. I was humbled and honoured to play with Cork but also to play with those management teams.
Exclusive Six
Nations Analysis
Get Murray Kinsella's exclusive analysis of Ireland's Six Nations campaign this spring
Become a Member
"I've always said it the best I ever played with was Anthony Lynch. He was the most thorough defender you could have, especially when it came to corner-back play. He had all the attributes you wished you could have.
"You'd Graham (Canty) who was a great leader and you'd look up to fellas like Nicholas Murphy as well. There were real leaders in the dressing-room driving that on and the U21s added to that so we had the right mix."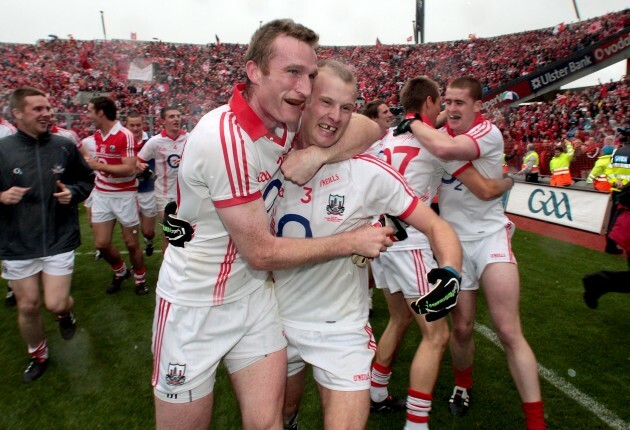 Morgan Treacy / INPHO Shields celebrates with Nicholas Murphy after the 2010 victory over Down. Morgan Treacy / INPHO / INPHO
In 2007 Shields got his hands on the All-Ireland U21 trophy with victory over Laois avenging the defeat to Mayo a year previously. The core of that side graduated to the senior stage with Shields joined by Ken O'Halloran, Ray Carey, Eoin Cadogan, Fintan Goold, Paul Kerrigan, Colm O'Neill and Daniel Goulding for the senior success three years later.
"They were great years for us as we were a very close-knit group. A few of us started with Seandun (Cork City division), then Cork minor, U21 and the whole way up.
"We've been good friends since. We'd huge days and we were lucky we got the reward with the All-Ireland medals."
In November 2007 Shields made the move to Melbourne when he was snapped up by AFL club Carlton Blues but by August 2008 he was back anchoring the Cork defence in Croke Park against Kerry.
Opting against a professional sporting career has never weighed on his mind.
"I said it over the years, I didn't really enjoy the game over there. I was only there for nine or ten months.
"It was the right decision to come back. My highlight was winning the All-Ireland and if I didn't come back, I'd never have been on the pitch that day so it was definitely the right call at the time."
After his return from Australia, he firmly established himself in the Cork defence and relished the tasks handed to him of policing some of the leading attackers in the game.
"Croke Park always stands out when I look back, especially the bigger games like 2009 against Tyrone and 2010 against Dublin. They were huge occasions, a big atmosphere up there.
"Playing against the likes of Tyrone's Stephen O'Neill, Colm Cooper of Kerry and Bernard Brogan from Dublin, you'd always have a big battle on your hands against those fellas.
"I've marked some of the best forwards in the game and it was always a real challenge that I looked forward to."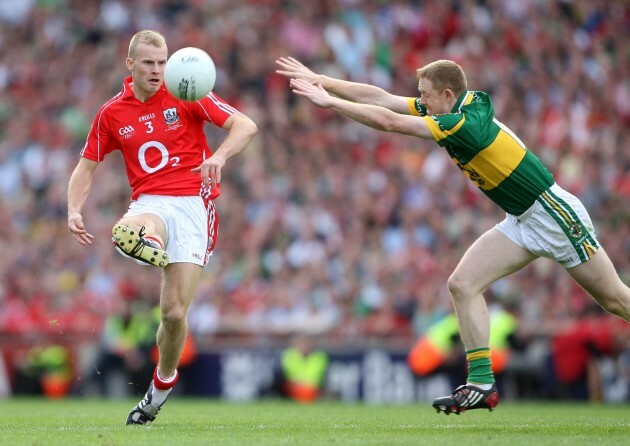 Donall Farmer / INPHO Michael Shields in action against Colm Cooper in the 2009 All-Ireland final. Donall Farmer / INPHO / INPHO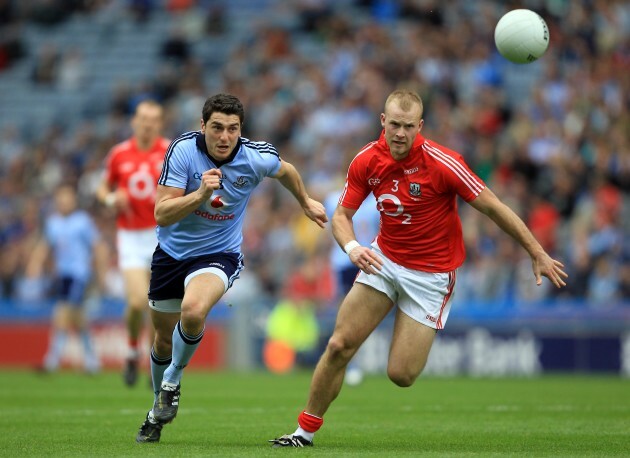 Donall Farmer / INPHO Bernard Brogan and Michael Shields in action in the 2011 Division 1 league final. Donall Farmer / INPHO / INPHO
He's grateful for the support network he had to stay going with Cork.
"I'd have to thank my own current family for all the support and help. Down through the years my family have been great to me and my parents in particular in good days and bad always had my back. I'd be very thankful to them.
"I'd like to thank a lot of people involved in Cork GAA as well, the county board too were good to me."
One chapter of his GAA career has closed but he is looking forward to exploring other opportunities. There'll be more time now to invest in the football fortunes of St Finbarr's who he competed with in last October's Cork senior final and he also has an eye on immersing himself in coaching.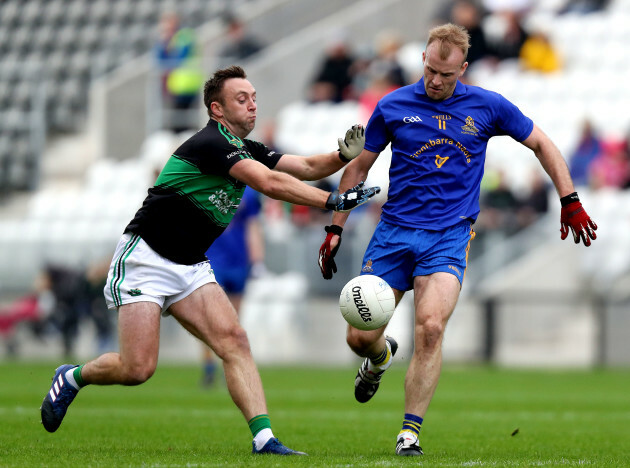 Bryan Keane / INPHO St Finbarr's lost out after a replay to Nemo Rangers in last year's Cork senior football final. Bryan Keane / INPHO / INPHO
"I really enjoyed playing with the club last year. We went on a good run. I'd hope to keep fit and stay strong for the next couple of years. I do feel there's more in us.
"Obviously we didn't win it last year but we went close and there's a good group there. We're looking forward to going at it again."
"I'm interested in coaching teams down the line as well. I'm a qualified fitness instructor and I've also nearly completed my degree in strength and conditioning in Setanta. So hopefully there's more good days ahead.
"I'm very interested in that side of the game and I've seen the professional side of it too. I've a lot of seasons done at inter-county level so I would have a good few ideas about the game that hopefully down the line I'll be able to use for my own benefit."
And he'll be taking a seat to cheer on the Cork footballers as well in 2018.
"I think it's important to have a bit of patience with this team and get behind them. I do feel there's a young and upcoming team there. Despite what people might say, there are good players in that team capable of good things. I'm looking forward to watching them this year."
The42 has just published its first book, Behind The Lines, a collection of some of the year's best sports stories. Pick up your copy in Eason's, or order it here today (€10):