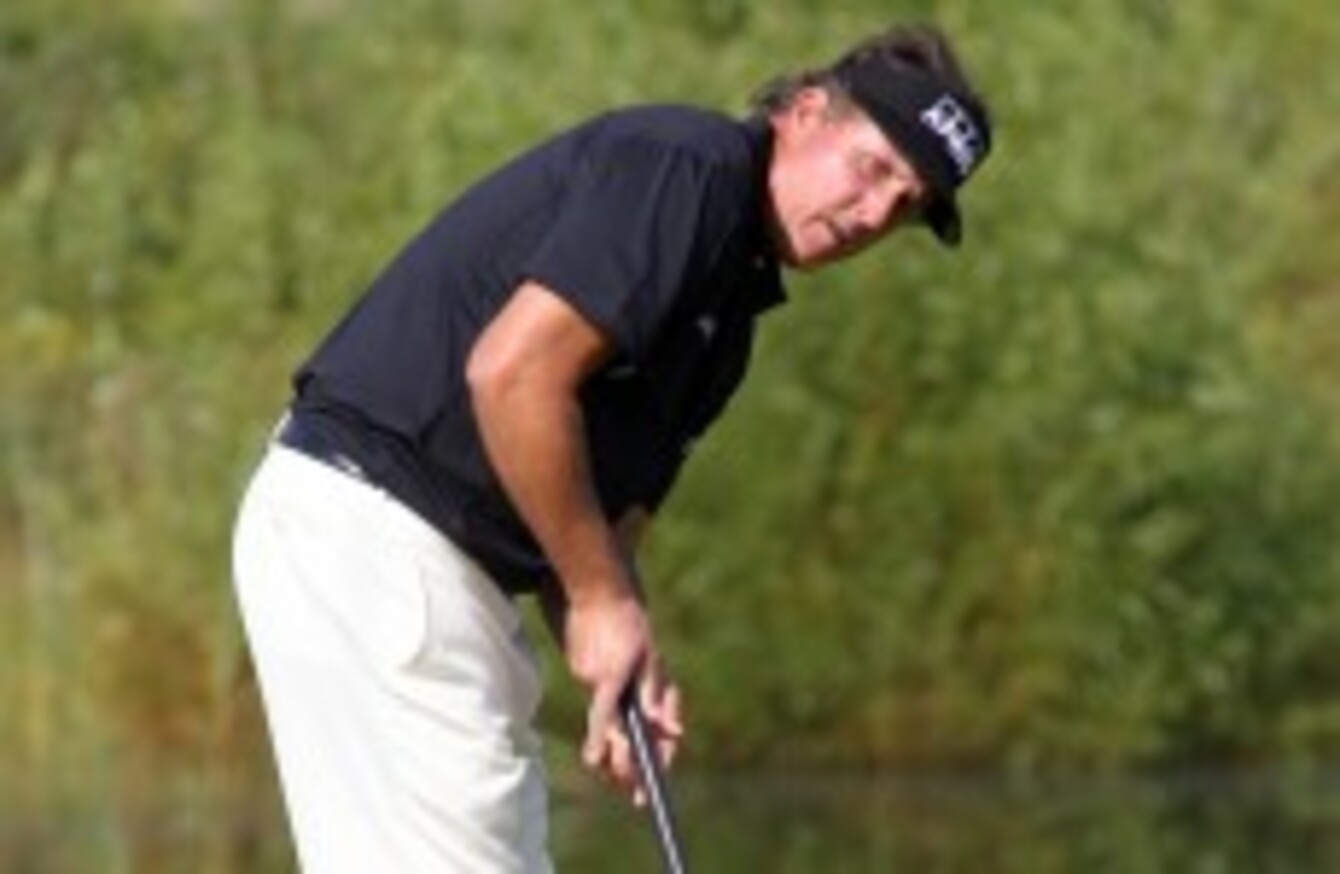 Image: Stew Milne/AP/Press Association Images
Image: Stew Milne/AP/Press Association Images
TWO DRIVERS AT the Masters. No drivers at the U.S. Open.
Phil Mickelson threw in yet another surprise Thursday at the Deutsche Bank Championship with a belly putter in his golf bag, saying he was likely to become the next in a growing list of players to see if it will help make more putts.
"It's awkward to me," Mickelson said after his pro-am round at the TPC Boston. "But so many guys have had success with it that I thought I'd give it a try."
The longer putters have been getting more attention this year, especially after Keegan Bradley became the first player to win a major with one at the PGA Championship.
Mickelson, once renowned for a silky putting stroke, has been struggling the past several years on shorter distances.
Not only has he been a mentor to Bradley this year, Mickelson played with the 25-year-old rookie last week at The Barclays and began grilling him about a putter in which the end of the grip anchors into the stomach.
Mickelson had one built to similar specifications as Bradley and received his new toy Monday. Then, he called Bradley over the last few days to ask questions how to use it.
So it's a rookie teaching a four-time major champion?
"Yeah, it is funny," Mickelson said. "You can always learn, and he putts it extremely well, and it rolls so nicely off the face."
It didn't work out for him during the pro-am when Mickelson took 34 putts, including 18 on his opening nine.
"I was a little shady with it on the front nine, but a little bit better with it on the back," he said. "Look, I don't mind trying new things. I've hit two drivers and no drivers, and I don't mind trying something different. We'll see."
Only the top 100 players advanced to the second playoff event at Boston, although the field is only 99 players because J.B. Holmes had successful brain surgery Thursday that will keep him out the rest of the year.
The top 70 after this week move on to the BMW Championship at Cog Hill in two weeks.
Among those on the bubble are Ian Poulter (No. 78) and Padraig Harrington (No. 80), both of whom had to play well last week at the rain-shortened Barclays simply to advance.
At the top is Dustin Johnson, who won The Barclays with a 65 before the rain from Hurricane Irene arrived. He would have to see Lefty holding a belly putter to believe it.
"Is he using a belly right now? I doubt he'll putt with it," Johnson said. "But as good as the guys that are using bellies are putting right now, I've thought about it. So it certainly doesn't surprise me."
– AP