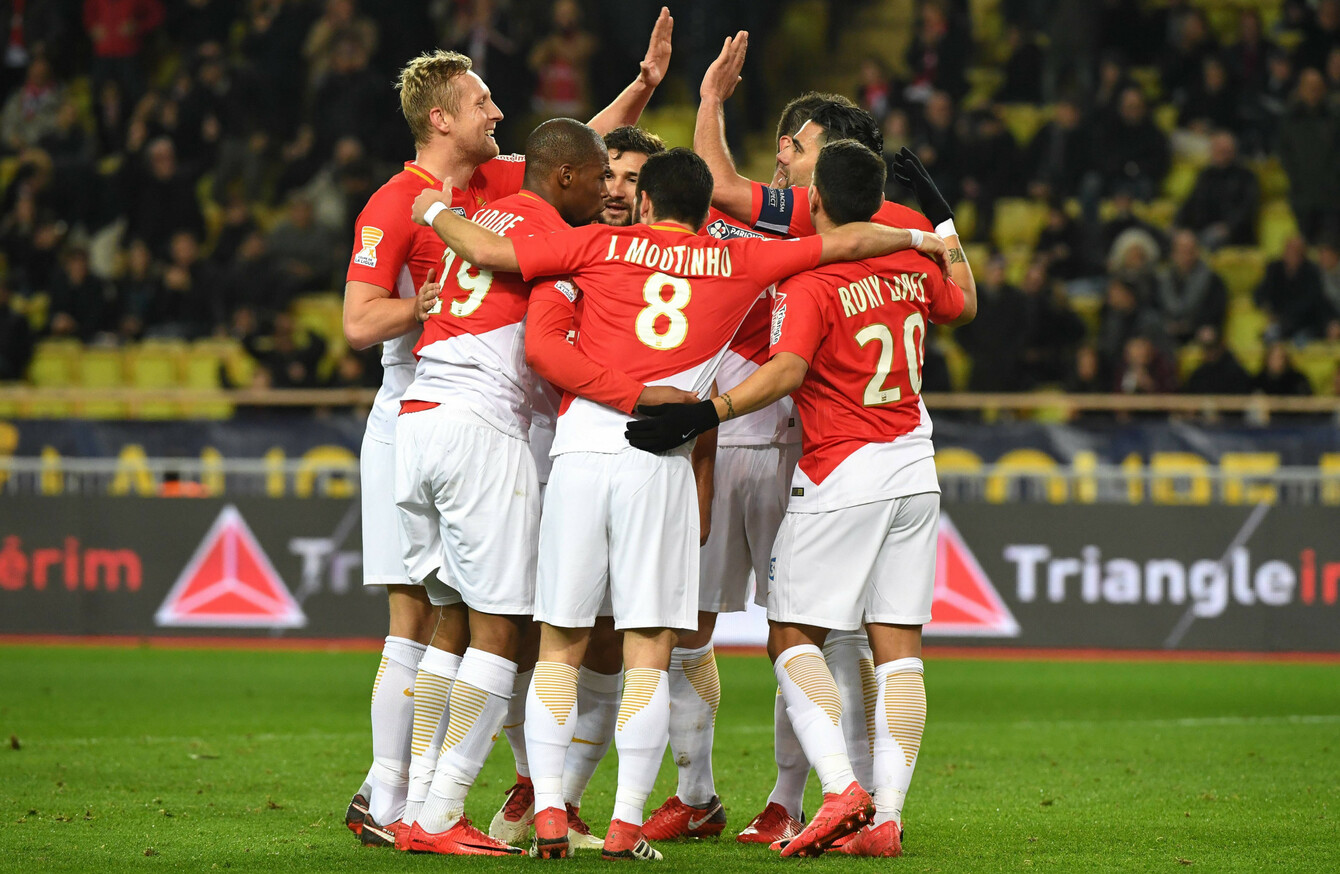 The Monaco players.
The Monaco players.
IT WAS NOT so long ago that Monaco were causing a stir in the transfer market by lavishing terrific sums of money on James Rodriguez and Radamel Falcao, yet January proved to be rather quiet at Stade Louis II.
While a sprinkle of players left on loan, only striker Guido Carrillo was sold by the defending Ligue 1 champions (to Southampton), while he was replaced like for like by young Italian forward Pietro Pellegri, who made the short hop over the border from Genoa, barely 200 kilometres away.
Summer was far more intense. Indeed, including Paris Saint-Germain's loan for Kylian Mbappe, which will become permanent in the summer for an astonishing €160 million before bonuses, no club has ever recouped more money during one transfer period. Monaco, a club once so criticised for their spending, made upwards of €360m.
The arrival of Pellegri, a 16-year-old attacker from Genoa, for €25m typifies how they have approached their business in recent years. It has been a case of buy low and sell high, but their strategy has mostly been about discovering young players with potential, unlocking it, then moving the players on at profit.
🖋 AS Monaco are pleased to announce the signing of Pietro Pellegri ! #WelcomeToMonaco pic.twitter.com/vRrKj9Q2s2

— AS Monaco EN (@AS_Monaco_EN) January 27, 2018
Benjamin Mendy, Bernardo Silva and Tiemoue Bakayoko, sold in the summer to Manchester City and Chelsea, are prime examples of the success they have had in grooming players for financially powerful clubs.
More, such as Jemerson, Djibril Sidibe, Fabinho and perhaps most notably Thomas Lemar have been stockpiled to the summer, when Monaco can cash in and another turnover of players can take place. Lemar was signed for only €4 million from Caen – it is expected he could leave for a figure around 20 times more than that.
But Monaco are already looking past the title-winning class of 2016-17, which generated such an incredible buzz as their irrepressible attacking style took them all the way to the Champions League semi-finals. A new group is being developed and moulded, and while not yet as effective as their counterparts from 12 months ago, they remain locked in a battle for a top-three finish.
Back in the summer, Monaco moved for a number of promising, developing players. Foremost among these was Anderlecht's Youri Tielemans, whose development has been stunted somewhat by persistent injury problems.
Meanwhile, highly rated Senegal striker Keita Balde joined up from Lazio and has provided six Ligue 1 goals and a couple of assists. Signed for €30 million last summer, he was a relatively lavish addition but, at just 22, he is approaching the period of his career when his value could rocket.
It is the less heralded players, like Mendy last season, who often provide the avenue to the greatest profits.
To this end, big things are expected of Adama Diakhaby, who arrived from the Rennes academy that produced Ousmane Dembele. The 21-year-old is in the same ballpark when it comes to his attributes, in that he enjoys playing wide and offers good speed and goal production, though his game is not nearly as refined.
Monaco see it as their job to polish off his defects, then sell to a club higher up the food chain. No doubt, he is a player improving, having netted a couple times since arriving at the club.
And, of course, it is not simply in first team that Monaco are seeking to manufacture players. Mbappe, the hottest teenage talent anywhere in world football currently, made his way through the academy system, where a raft of exciting talent lurks.
It is in Monaco's finishing school that former Barcelona winger Jordi Mboula is lurking, having made a high-profile move from the Camp Nou club last summer. His belief was that the principality club offer a better route to the top than even the runaway La Liga leaders. He has yet to feature in Ligue 1, but has shown his promise in the UEFA Youth League.
New boy Pellegri is unlikely to have to be quite as patient as the Spaniard, though the Italian faces some not inconsiderable competition – and not simply from Balde and Radamel Falcao.
The principality club have a clutch of talented teenagers, including Moussa Sylla, Nabil Alioui and Pellegri's countryman Andrea Bongiovanni. Not all may make it to the top, but only a small percentage need to survive to allow Monaco to turn a profit and for their project to continue to thrive.
And their planning stretches far into the future. Rennes youngster Wilson Isidor, an U17 France international, is already being courted as a summer arrival, while no doubt they have their eyes on others.
Monaco's spending may no longer be spectacular, but it is sustainable and has already yielded much success – even if it is only on a cyclical basis.
The42 is on Instagram! Tap the button below on your phone to follow us!