NEED TO CATCH up? TheScore.ie brings you a round-up of today's sports news…
Home
All-Ireland senior camogie champions Cork paid the traditional visit to Our Lady's Children's Hospital in Crumlin.
Ireland's Euro 2016 qualifier against Gibraltar could be moved to London. [Irish Times]
James Horan hit out at the Mayo county board for their lack of support over the decision to move the All-Ireland semi-final to Limerick.
Leinster hooker Richardt Strauss will return to contact training this week and could make his return against Munster next month.
Away
NFL side the Minnesota Vikings reinstated Adrian Peterson to their squad following his grand jury indictment for child negligence.
Rio Ferdinand says David Moyes should never have banned chips during his short-lived stint as Manchester United boss.
Greg Norman is expected to make a "full, speedy recovery" following the chainsaw accident in which he nearly lost a hand.
On The Record
I am not ducking or dodging no opponent. If a Pacquiao fight presents itself then let's make it happen.
– Floyd Mayweather says he'll face Manny Pacqiuao. A statement like that probably comes with a lot of fine print.
Where we were today
Sean Farrell was out in UCD as Leinster were put through their paces ahead of Friday's inter-pro against Connacht. That's not Sean in the photo.
The best thing we shared
IRFU nutritionist Nora Ní Fhlannagáin hits us with the hard stats about breakfast. This is well worth three minutes of your day.
Source: IrishRugbyTVOfficial/YouTube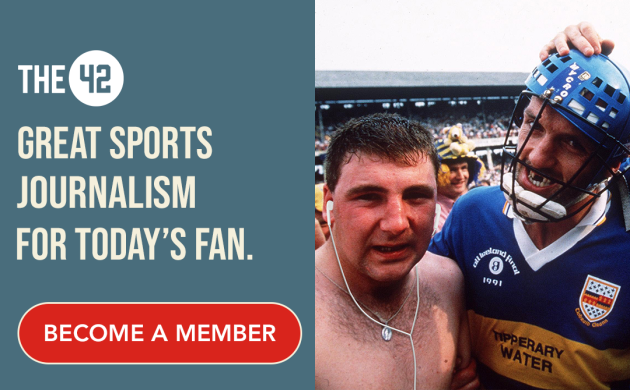 The Fixture List
Champions League football returns to Merseyside as Liverpool host Ludogorets, while Borussia Dortmund welcome Arsenal to Signal Iduna Park.
At home, Derry City host Drogheda United in an FAI Cup quarter-final replay.
Showbiz, baby
There's showboating, and then there's a Gael Monfils aerial tweener. How about it?
Source: OfficialDavisCup/YouTube
"It's only my second time – is it ok if I just make something up?"