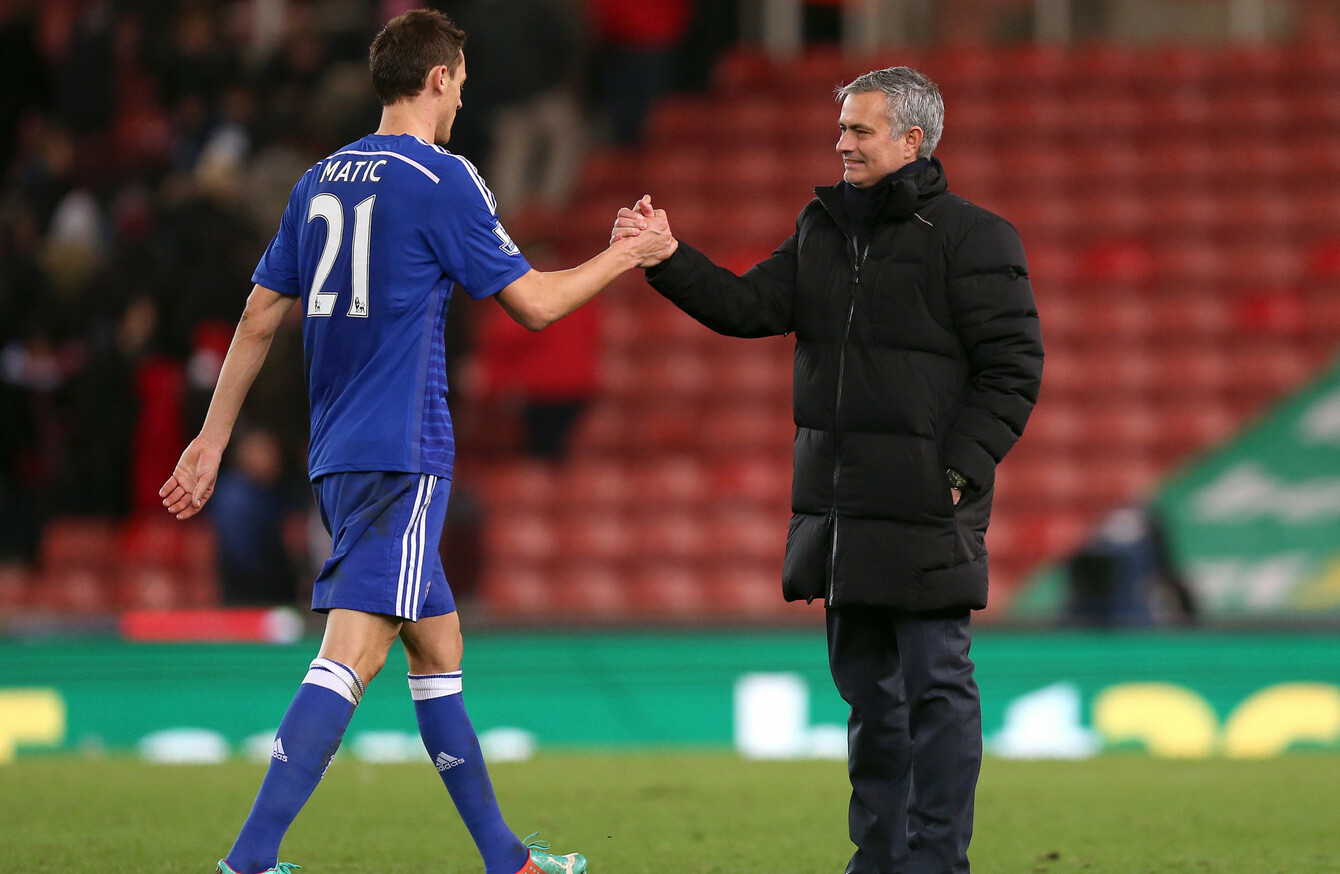 Image: Mike Egerton
Image: Mike Egerton
JUST SIX YEARS ago, it seemed that Nemanja Matic had missed his chance.
The Serbian had been with Slovakian side MFK Kosice and his performances were catching the eye of a handful of English clubs.
In January 2009, he went on trial to Middlesbrough but nothing came of the trip. Then, in August, Chelsea handed over one single payment of £1.5m and the 21-year-old was on his way to Stamford Bridge.
He signed a four-year deal but, inevitably, with the likes of Frank Lampard, Michael Ballack, Michael Essien et al ahead of him, minutes were hard to come by. There were three substitute appearances in his debut season but little did he know that a 20-minute cameo in the 8-0 final-day demolition of Wigan in May 2010 would be the last time he'd pull on a blue shirt for quite a while.
In true Chelsea fashion, he was sent on loan to Dutch side Vitesse before he was used as makeweight in the deal to bring David Luiz from Benfica during the mid-season transfer window in 2011.
Overnight, Matic had been chewed up and spat out.
But, he didn't wallow or sulk. Instead, he quietly vowed to prove his worth all over again. And that's precisely what he did in Portugal as Benfica reached the Europa League final in his second season against, deliciously, his former employers.
Ahead of that game, his compatriot Branislav Ivanovic acknowledged how much Matic had developed in a short space of time.
"When he was at Chelsea you saw he has the qualities to be a top player but he needed practice," he said.
"In Portugal he has improved his defensive ways a lot and his aggressiveness. And he has great vision [going] forward."
Ivanovic wasn't the only one to see that.
Midway through Benfica's victorious 2013/2014 season, Jose Mourinho brought Matic back to Chelsea for a fee of £22m, saying his new signing had 'grown' in Portugal.
For Matic, he had always wanted to play for Mourinho.
"I had other offers, but Mourinho is Mourinho," he said at the time.
It's exciting to work with him, he is the best coach in the world and I want to work with him for a long time. I am ready."
For Mourinho, it was what he wanted to hear. Unquestionable loyalty is something he wants in every player.
For someone who obsesses over the attritional nature of football, trench-like mentality is intrinsic to what he looks for. Guys that will run through brick walls for him. Guys that will trust his every word. Guys that will carry out his instructions to the absolute finest detail. It's what led to immense success at Chelsea and Inter and immense chaos at Real Madrid, with Mourinho obsessing over leaks within the dressing-room and players treating him with suspicion rather than respect.
It's why he has a pattern of bringing certain players with him wherever he goes. Mourinho acknowledges that only a very small minority will give themselves to him completely. In his first spell at Chelsea, it was Paolo Ferreira and Maniche who immediately followed him from Porto. At Real, it was Ricardo Carvalho and Essien. He's worked with Didier Drogba, Samuel Eto' and Zlatan Ibrahimovic at more than one club.
Matic is another Mourinho soldier who has never questioned the decisions or wisdom of his leader, even when perfectly within his rights to do so.
Even when Mourinho humiliated Matic in October 2015, the loyalty has remained.
As Chelsea's season began a pretty rapid dip, they faced Southampton at Stamford Bridge. Matic started from the bench but came on at half-time with the score tied at 1-1. But immediately after the Saints grabbed their third goal on 72 minutes, Mourinho hauled Matic off. He suffered the ignominy of being a replacement who was subsequently replaced. He trudged off, despairingly. A very public embarrassment. Mourinho maintained the decision was tactical one but Matic was still stung.
"I felt terrible to be subbed, to be honest," he said a year afterwards.
I am a man first of all and of course I felt bad at that moment. But as you know, I didn't react, I stayed professional. Normally some of the players react to that and cause some problems but as you can see I didn't react and showed respect for the coach and for the club and my team. It was very hard. You have to play and see how it feels.
"I knew I did the right thing when I sat on the bench. I knew I did the right thing and I am proud that I didn't react."
That's what being 'a Jose Mourinho player' is all about. Complete devotion. An unwavering faith and belief in the work and the project.
Mourinho brought Matic back. He made him a champion. And the midfielder is only too aware.
The42 is on Instagram! Tap the button below on your phone to follow us!