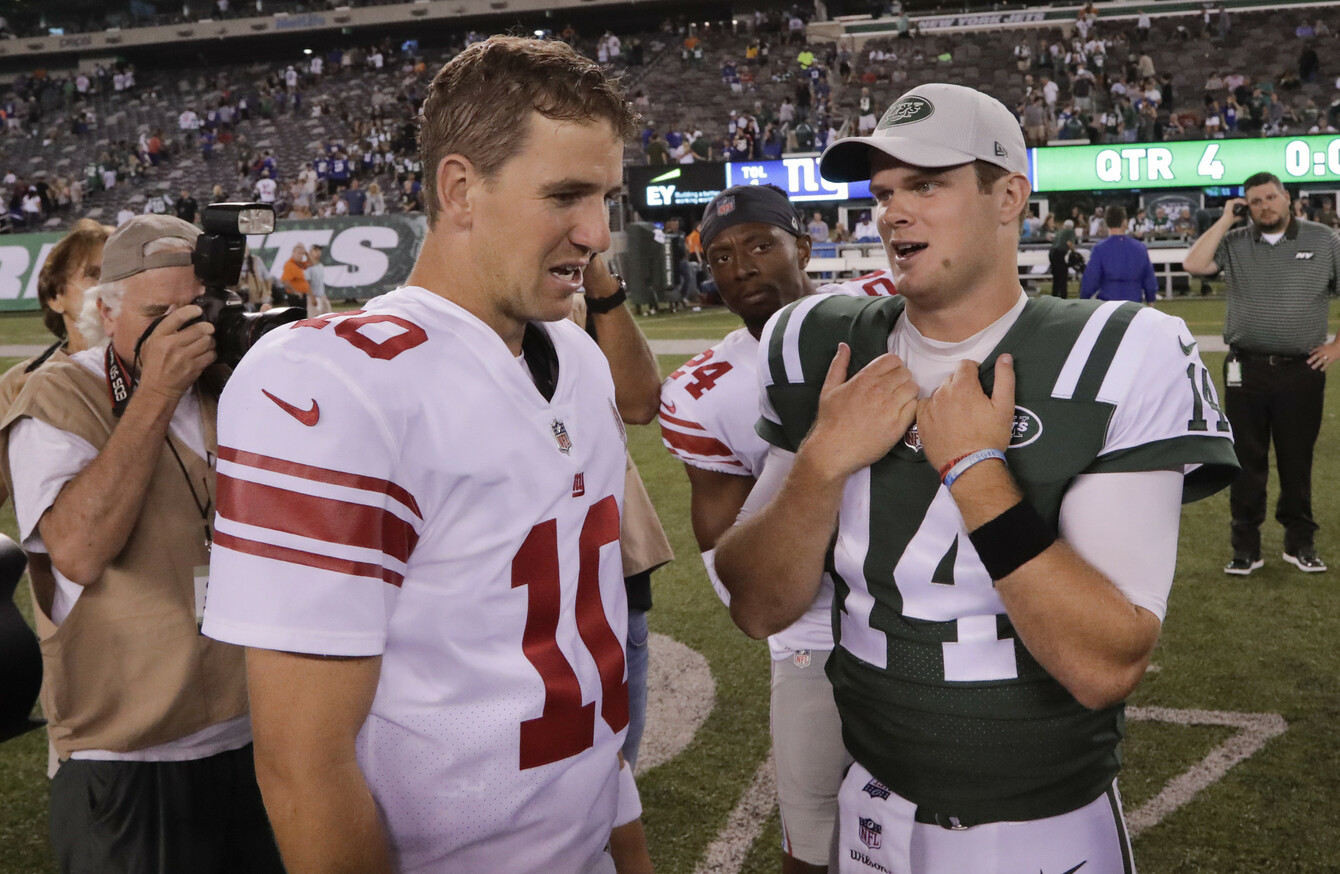 Eli Manning (10) speaks with Jets rookie Sam Darnold (14)
Image: Julio Cortez
Eli Manning (10) speaks with Jets rookie Sam Darnold (14)
Image: Julio Cortez
THERE'S AN INTERESTING comparison to be made between the best quarterback rookie class in NFL history and the best season had by a group of rookie quarterbacks.
The former, 1983, saw John Elway, Jim Kelly and Dan Marino all selected. Only one would win a Super Bowl, but the trio are considered among the top 10 QBs ever to play the game.
In addition to the famous triumvirate, that quarterback class also featured Ken O'Brien and Tony Eason. O'Brien was the Jets' most prolific passer since Joe Namath, while Eason served as the Patriots' first-choice quarterback during a three-year run that saw them reach Super Bowl XX.
Fast forward to 2012 when Andrew Luck and Robert Griffin III lived up to their high price tag at number one and two overall with both guiding their teams to the playoffs, while third-round pick Russell Wilson brought Seattle within two points of an NFC Championship appearance.
Wilson went on to win a Super Bowl but RGIII is now a career back-up and Andrew Luck's shoulder is one of the biggest question marks hanging over the 2018 NFL season.
It just goes to show the lottery that is drafting a quarterback, particularly in the first round.
This season places the rookie QBs under a particularly large spotlight as no fewer than five were drafted in the first round.
But which of the quintet is best placed to have the best rookie year and which is more likely to have the best NFL career?
Baker Mayfield – Cleveland Browns

When the Browns selected Mayfield with the number one overall pick earlier this year, my first reaction was 'Cleveland gonna Cleveland'. Sure, he's a two-time Heisman Trophy nominee and the 2017 winner, but he was by no means NFL-ready.
For a start, his mechanics — a drop-down release that makes his throws particularly susceptible to being batted down — needed work and he had most of his success in a spread offence he won't have in the NFL.
But he is accurate: Mayfield completed more than 70% of his passes in his final season with 43 touchdowns versus just eight picks and will have one of the league's better receiving corps if he does take the field this year.
That's a big 'if', because the Browns also sent the number 65 pick to Buffalo for Tyrod Taylor, a player good enough to get Cleveland to eight wins this season.
2018 outlook: Taylor will be the first choice for a Browns team with just one win in two seasons so it's likely Mayfield will have to wait his turn.
Career outlook: Given the offensive talent in Cleveland, if they ever get a real head coach, Mayfield has every chance of being an above-average quarterback throughout his career.
Sam Darnold – New York Jets
When the Jets traded the house to get all the way up to number three in this year's draft, they'd no idea which quarterback would be available to them. For once, things went right for New York and they landed USC prospect Sam Darnold — a player once widely tipped to go first overall.
Last season, Darnold never quite lived up to the hype in big games, but it should be pointed out he was surrounded by a sub-NFL level receiving corps. And while there's no doubt Darnold has the measurables to be an NFL quarterback, the 13 interceptions and 11 fumbles he recorded during his sophomore season would make you wonder about his ball security.
Darnold has looked good in preseason, and, facing mostly starters, completed 16 of 27 passes for 148 yards, one touchdown and one pick in the opening two games.
The fact he started New York's third game is surely evidence the job is his over an equally impressive Teddy Bridgewater. It's just a matter of time before Todd Bowles makes it official.
2018 outlook: Darnold may well be the only one of the five to take the field in week one, whether he ends the season or not is a different matter.
Career outlook: Darnold has NFL size, arm strength, accuracy, and pocket mobility, so as long as he can stay healthy and avoids being a turnover machine, he should have a decent NFL career.
Josh Allen – Buffalo Bills
Be part
of the team
Access exclusive podcasts, interviews and analysis with a monthly or annual membership.
Become a Member
With AJ McCarron falling out of the Bills' quarterback competition because of his shoulder injury — not to mention an AJ McCarron-esque performance in his only preseason game — you would think that the starting gig in Buffalo would be Josh Allen's to lose.
However, Nate Peterman has easily been the best quarterback in upstate New York this preseason having completed 33 of 41 passes for 431 yards, three touchdowns and one interception. Yes, the same Peterman who had five interceptions to just a pair of touchdowns in 49 passing attempts last season.
To be honest, if you're the Bills, it makes sense to keep Allen on the bench for his own protection. In his one start this offseason, he was sacked no fewer than five times and managed minus-five yards on his eight plays.
2018 outlook: Given how problematic the Buffalo offensive line is, there's no doubt we'll see Allen at some stage this year. It's hard to see him revelling in it, however.
Career outlook: Allen was the biggest risk in the first round and, so far, he's done little to prove the doubters wrong.
Josh Rosen – Arizona Cardinals
A hand injury ahead of Arizona's game with the Cowboys all but put paid to Rosen's slim chance of ripping the Cardinals starting berth from Sam Bradford. However, head coach Steve Wilks probably saw enough in their second preseason game — when the rookie completed 10 of 16 passes for 107 yards and a touchdown — to arrive at the conclusion that a season spent redshirting would do no harm at all.
Rosen came into this season with a massive chip on his shoulder following his fall in the draft, and many were worried his supposed ego would get the better of him. Instead, every piece of information coming from camp suggests that Rosen has been the perfect understudy to Bradford and accepting of his role as back-up.
Having seemingly addressed the issues surrounding his coachability, the year off will also give Rosen a chance to grow in other areas. With sub-optimal arm strength, he has always relied on footwork and great mechanics to get him through. By redshirting, he has a chance to work on that against an NFL defence week-in, week-out, without the pressure of real games.
2018 outlook: With Sam Bradford made of glass and behind one of the league's worst offensive lines, Rosen could well see the field at some point this season.
Career outlook: Rosen was my favourite quarterback entering this year's draft and nothing has happened in the preseason to change that.
Lamar Jackson – Baltimore Ravens
In week three of the preseason Jackson provided a glimpse of how dangerous he could be in the NFL. He managed 137 yards of total offence in five drives against the Dolphins, throwing a 21-yard touchdown and running 19 yards for a score.
Having been the least accurate passer in the league in the first two weeks of the preseason, the former Heisman Trophy winner was much better against the Dolphins, completing 7 of 10 passes for 98 yards.
Given his ability on the ground in college — 50 touchdowns on 655 attempts — it's easy to forget how good Jackson can be in the air, something the Ravens will hope to take advantage of when he does eventually become their starter.
2018 outlook: Unless Joe Flacco gets injured or the Ravens get off to an 0-8 start, there's no way Jackson sees the field this year other than on trick plays.
Career outlook: Jackson remains the most exciting of all the quarterbacks taken in the first round, but he'll have to wait his turn in Baltimore.
Stay tuned to The42 for more previews ahead of the new season.
The42 is on Instagram! Tap the button below on your phone to follow us!