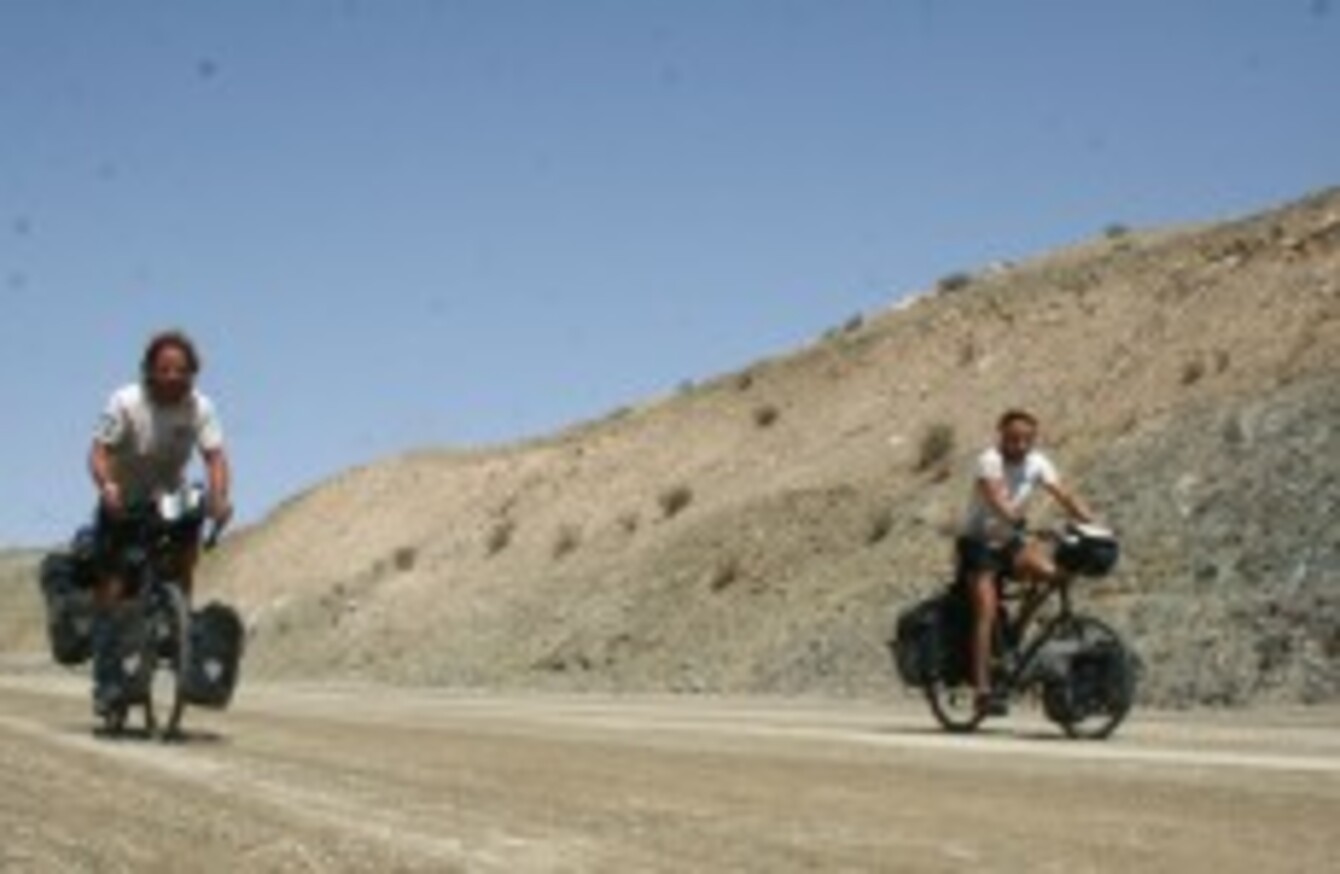 David Burns (left) and Maghnus Collins have raised €16,000 for Self Help Africa to date.
Image: www.sand2snowadventures.com
David Burns (left) and Maghnus Collins have raised €16,000 for Self Help Africa to date.
Image: www.sand2snowadventures.com
WHAT BEGAN AS a once-off adventure has become a life's passion for two Irishmen who are currently 53 days into a cycling, running and rafting trek that will take them from Istanbul to Shanghai.
Maghnus Collins from Limerick and David Burns from Derry embarked on a 16,000km journey, in aid of Self Help Africa, on 29 March and have reached the third of the five countries, India, that they must negotiate.
The duo have, thus far, raised €16,000 for the Irish-based development agency, which aims to eradicate hunger and poverty in sub-Saharan Africa.
Visa issues have forced them to change plans to cycle through Pakistan, with the lads opting to extend their time in India by cycling north from its southern-most tip and into the mountainous ranges of Nepal.
The plan involves an 8,500km cycle, finishing up in Tibet. The next 1,100km will be covered on foot, with rafts and kayaks taking Collins and Burns the final 6,300km along the Yangtze River to Shanghai.
From emails to road rash
The lads explain that the idea for their latest endeavour was borne out of an email sent three years ago.
Collins, a law graduate, and Burns, a marketing graduate, agreed to set off on a once-in-a-lifetime cycle from South Africa to Ireland to raise money for Self Help Africa.
They then swapped bikes for runners as they returned to Africa to take part in a five-day race across the Sahara. Both men finished in the top 30.
No sooner were they back in Ireland than the notion took hold to tackle a fresh challenge.
The 'Silk Road to Shanghai' was chosen and fundraising efforts were initiated, as well as much pencil-chewing and planning.
Rugby stars Donncha O'Callaghan, Andrew Trimble and Tommy Bowe lend a hand. (Credit: facebook.com/Sand2SnowAdventures)
Collins and Burns have so far negotiated freezing temperatures, rough nights' sleep, punctures, sweet tea and arduous climbs as they passed through Turkey and Iran.
Cycling through foreign lands has not been the real highlight of the trip, according to Collins.
He commented, "Perhaps, it was in the chance and brief meetings that the magic is best expressed. The countless pieces of fruit handed through car windows or offers of homes in which to stay, too many to feasibly accept.
Maybe you would understand if you saw the faces. The indescribable but unwavering openness and welcome. When you couldn't see the faces you still heard the shouts; 'welcome to Tabriz', 'welcome Yazd', 'welcome in Iran'.
"It never felt forced or feigned. The welcome has substance and it's consistency has been overwhelming."


Vimeo credit: Sand2Snow Adventures
The next obstacle that awaits will be cycling north to Nepal, and then Tibet, in monsoon season. On the Sand2Snow blog, Collins said:
Cycling during the monsoon is unknown territory for us and what this will entail is anyones guess. But as someone once said, 'Real adventure only begins when carefully laid plans are rendered obsolete'.
You can follow the lads' travels and tales through their Facebook page or by checking out www.sand2snowadventures.com.
Donations are, of course, welcomed.