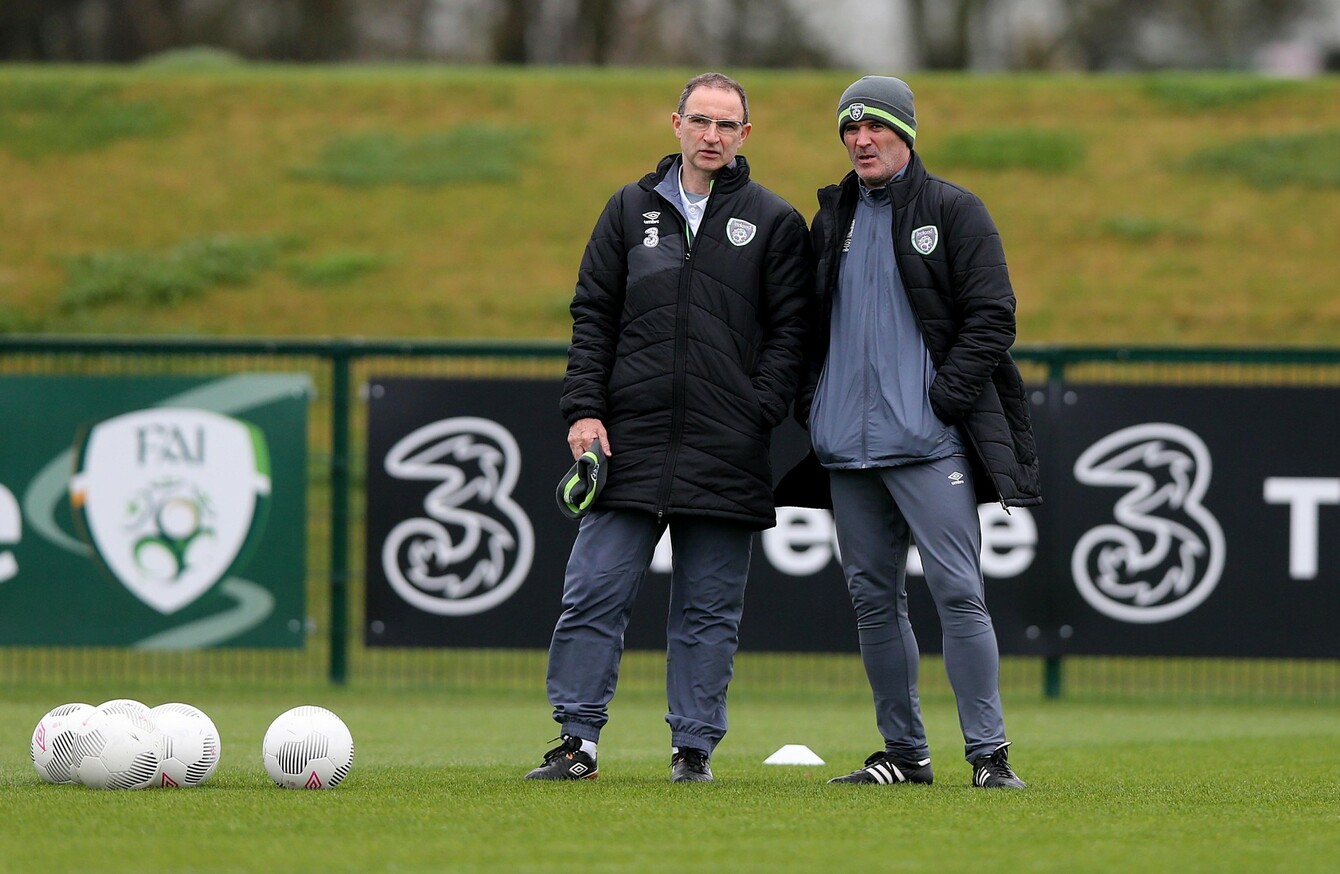 O'Neill and Keane (file pic).
Image: Donall Farmer/INPHO
O'Neill and Keane (file pic).
Image: Donall Farmer/INPHO
IRELAND BOSS MARTIN O'Neill says his words earlier this month, where he appeared to back Roy Keane for the Celtic job, were misinterpreted.
Many people took O'Neill's recent comments as the manager giving his blessing for the Ireland assistant boss to become Celtic manager, however the Derry native claims the quotes attributed to him didn't accurately reflect what he meant to say.
You asked me a question — did I think he was a good fit for Celtic — and I didn't realise the implication of what I was saying, not for the first time," he told a group of reporters. "Suddenly it's roaring up 'O'Neill says he's for Celtic'. Can you imagine John Delaney not being too happy? 'What's he talking about?'
"The question you were asking was 'is he a good fit for Celtic'. Yeah, because he's a really good player. That didn't mean that a) I wanted him to go, which I didn't — certainly not before the Euros, which he wouldn't have anyway.
The decision for Roy to manage Celtic had nothing to do with me. Do I think that Roy will manage eventually in his own right? Yes. I've always said that. About the speculation — I can't do anything about it. You asked me a question — I obviously didn't answer it all that brilliantly."
O'Neill also gave his backing to new boss Brendan Rodgers, whose appointment as Celtic manager was confirmed last Friday.
"As I said in there jokingly, perfect fit. I think Brendan will do really fine. He'll be up for it and raring to go and as I said to you before, it's a brilliant club."
In addition, the Northern Irish team being given a motivational speech by Rory McIlroy was brought up, and O'Neill was asked whether he would consider bringing in someone of a similar stature to give a talk to the Irish side.
A few years ago, I used to get a load of letters from psychologists or psychiatrists saying we would like to come in and speak to the players, because they believed they could help players along. And I used to think, that's my job. Then, what I find with these psychologists, they always say how well they'd done with a club.
"A year later, that team gets relegated and they're not there anymore and they move on to another club, which appears on their CV. Then the manager gets the sack — the psychologist didn't.
"It doesn't mean that I couldn't get somebody in to entertain the people, but that's not really my job.
I haven't thought about bringing someone in. I genuinely think that that's my job. If it meant that someone came in to actually entertain the people, I've already something in mind, but not to be giving a team talk, because that's my job, and if I can't do it and Keane can't do it… That's what I get paid for."
In a rather unusual turn of events, the topic of entertainment also prompted O'Neill to bring up the fact that he was a big Meryl Streep fan and enjoyed the legendary US actress' latest film in particular.
"Have any of you seen the movie Florence Foster Jenkins starring Meryl Streep?
"Go and see it. I saw it the other night because I had nothing else to do. I took my wife and the tickets were 18 quid a pop — I thought this has to be really good for 18 quid a pop.
It's really good. It's about this woman — true story — by the time she's 70, she wants to make a musical comeback. She hasn't a note in her head, but she wants to play at the Carnegie Hall. Meryl Streep is obviously a brilliant actress.
"20 minutes into the film and no one has the heart to tell her she hasn't got a note in her head. The boy is taking her money because she's employing him. 20 minutes into the film she starts to sing — it's shocking. I have never laughed as much — everybody in the (cinema) was just bent over. It's excellent."
And will he be taking the Irish lads to see it on one of their semi-regular cinema trips?
"No, I'll get them to watch Action Man or something."
The42 is on Snapchat! Tap the button below on your phone to add!