CONOR McGREGOR WILL look better than ever when he bids to become the first man to hold two UFC belts at the same time next month.
That's according to Owen Roddy, McGregor's striking coach at Straight Blast Gym in Dublin, ahead of the meeting of the reigning UFC featherweight champion and lightweight champion Eddie Alvarez at UFC 205 in New York on 12 November.
The fight will see McGregor venture into a third weight class since he moved to the UFC in 2013. Having reached the top of the featherweight division last December by defeating former champion Jose Aldo with a 13-second knockout, the 28-year-old fought Nate Diaz twice at welterweight this year.
McGregor will now return to the lightweight division for the first time since his stunning knockout of Ivan Buchinger at Cage Warriors 51 on New Year's Eve in 2012 — a victory which ultimately earned him a contract with the UFC.
As a featherweight, McGregor endures an arduous weight-cut to make the 145lbs limit which takes its toll, while he's not quite big enough to carry 170lbs and justify an extended stint as a welterweight. However, according to Roddy, the 155lbs division is just right for the Irish star.
"For me, this is it," Roddy told Submission Radio. "This is where you're going to see the best Conor McGregor. I was talking to somebody else about this the other day; that fighting at welterweight, it's hard for Conor to maintain his high output for 25 minutes.
He's not a welterweight. And he did it against one of the toughest fighters in the game, against Diaz, but it's just that it's not his weight category.
"And then when he moved to 145, he does a lot to get the weight off. He makes the weight perfect, but I don't know how much he's recovering in that 24 hours. I can't imagine him getting back to 100% in that 24 hours when he fights at 145 — and you see what he does at 145.
"But at 155, if you look at some of the fights in Cage Warriors, he just looks so good at that weight. That's the weight he was supposed to be fighting at. I think you'll see the fastest, the fittest and the sharpest in regards to his mind, the sharpest McGregor that you will ever see now at lightweight."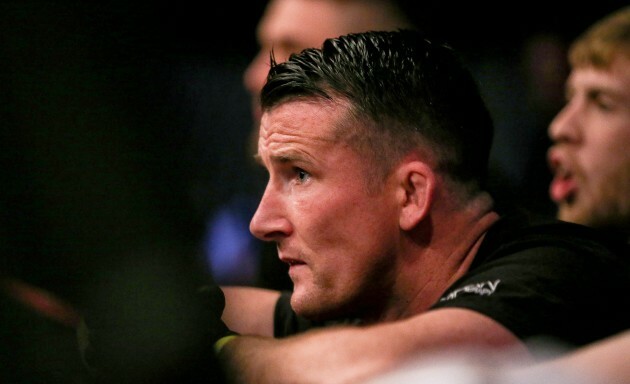 Gary Carr / INPHO Owen Roddy Gary Carr / INPHO / INPHO
Roddy is unsure if McGregor will ever return to the featherweight division, as he comes under increasing pressure to vacate the title ahead of his third fight outside the division since winning the belt.
McGregor's rivals have subsequently expressed their frustration, none more so than Aldo. The Brazilian, who defeated Frankie Edgar in July to win the interim featherweight title, last week asked to be released by the UFC after his hopes of a rematch received a further setback when it was announced that McGregor's next assignment will be a clash with Alvarez instead.
"I'm up in the air. I don't actually know, to be totally honest. You'd never know. Like I said, Conor controls who he wants to fight and what not. The 145 weight category, I mean, I really don't know," Roddy explained.
Maybe if [Frankie] Edgar had beaten [Jose] Aldo, then it would have been a more tempting fight.
"But the fact that he beat Aldo, obviously in 13 seconds, it's not as tempting to go back down there. But who knows? Conor could just turn around and say, 'Look, I want to go back and do this. I'm going to go back and sort Aldo out' – and he will and he could do it.
"He could definitely make that weight. It is hard, it's difficult, but he could do it. The last weight-cut against Aldo was the best cut he's ever had to 145. It was the best that I've ever seen him."
Roddy added: "Who knows what's around the corner? I never know. That's what's so exciting about being part of Conor's team; you never know what's next. You really don't. After the Diaz fight I was like, we'll go back down and do Aldo or we might do Diaz again, and then the Alvarez thing popped up and now that's what we're doing.
"Now it's New York and it's crazy, it's exciting and it's unbelievable. But that's the road we're all on with Conor. Who knows where we're going next? It's great."