IN A QUIET corner of the bar as the celebrations grow wild and raucous, the beer flowing sweet with the taste of victory accompanied by voices raised in jubilant sing-song between the dusty smoke of cigarettes, Pat Byrne raises his elbow and nudges his father who is sitting beside him staring into the distance.
"Are you alright?" he asks.
"Yeah," is the reply, before he pauses for a moment. "Just taking it all in."
Unfolding before their eyes is a buoyant party to celebrate Shelbourne winning the 1991/92 League of Ireland Premier Division title. Byrne had taken over as manager four years previous in 1988 and following a rebuilding project on and off the field had led the club to the title with a brand of dynamic football compared to the famous Shels teams of the 1960s — the one he had watched as a child.
At moments like these Pat recalls his earliest memories in football. Being introduced to the game by his father on trips to Tolka Park, holding onto the metal railings at the front of the crowd behind the goal in a bygone era when thousands flocked to domestic football games in the capital.
Managing the club, Byrne had brought Shelbourne their first league title in three decades. Not since 1962 had the club won the league, 30 long and arduous years, but now a man who had gone to Tolka Park as an adolescent and grown up knowing the affliction of mediocrity had now reinstated Shels as a force in Irish football.
Not just a one and done, but a building process which had now laid the foundations for all of the success the club would come to achieve in the years that followed. Now forging a legacy as one of the big players in the League of Ireland was Shelbourne Football Club back from the brink.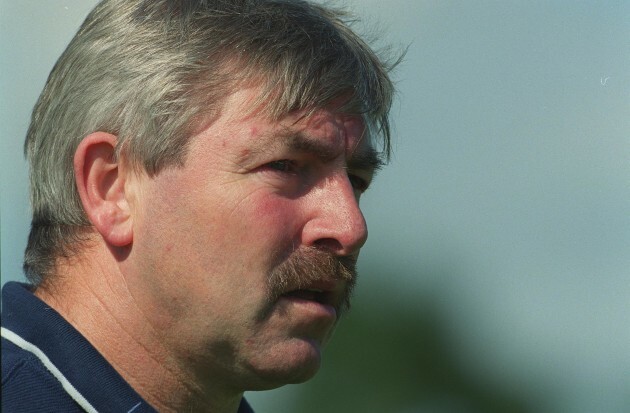 Billy Stickland / INPHO Billy Stickland / INPHO / INPHO
Four weeks after the party to toast the club's success Byrne's father – a lifelong Shelbourne supporter who had brought his son to his first ever football game – was diagnosed with cancer. Four weeks later – two months after the league title success in 1992 – he had passed away.
"He waited for me," says Byrne, now 61.
"My dad was just a real football man. Shelbourne was everything to him.
I was lucky for it to have happened. I think of this golfer last year where his father only died just before he won an Olympic medal. His father didn't get the chance to see his son win his Olympic medal. I was just so pleased. It had come full circle."
He repeats that phrase. "Come full circle." It is apt when taking into consideration the life Byrne had lived up to this point and the career he oversaw, which included six League of Ireland titles, four FAI Cups, an English First Division title with Leicester, a PFAI Player of the Year award, nine caps for Ireland and a stint playing in the United States when he nutmegged Franz Beckenbauer.
"I didn't do it twice," he laughs recalling the German's unimpressed reaction to the Irishman's trickery playing for the Philadelphia Fury.
Byrne began his League of Ireland career at Bohemians where he secured two league winners' medals, in 1975 and 1978, becoming a mainstay in the side from a very early stage where he also won the FAI Cup in 1976. However his love affair with the game began long before with his dad bringing him to games with their cross-city rivals.
I grew up going to matches with my dad," he says. "I was a Shelbourne supporter. Back in those days there wasn't the big rivalry with Bohemians that emerged in later years. But it was great going to games growing up.
"The atmosphere was great and the crowds were huge. The pitch always seemed to be muddy. They never got the attention they do now and back then you had to play with a big heavy ball as well.
"Those are the memories you have. It was great back in those days because there was so much passion for the games. We would be behind the goal in Tolka and you were so close to the action."
He admits he was fortunate to play a part in those league-winning sides at Bohemians alongside stalwarts such as Turlough O'Connor, Gary Dunne and Eamonn Gregg.
"Some great players," he recalls.
But it is another name which catches the eye when Bohemians teams of the mid-1970s come up in conversation.
A man who has gone down in folklore as the only person to have won All-Irelands with Dublin while also walking out onto Wembley in an FA Cup final for Manchester United, Pat Byrne and Kevin Moran grew up together as friends in Dublin during the 1960s and played football as well as Gaelic alongside each other.
We went to the same school and played together. We would be playing with Good Counsel on a Saturday afternoon while at Bohemians.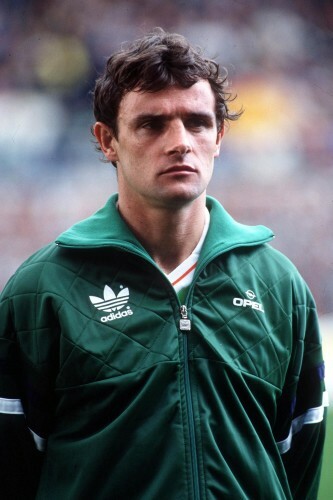 Billy Stickland / INPHO Kevin Moran won two All-Ireland titles with Dublin before later moving to Manchester United. Billy Stickland / INPHO / INPHO
"The manager at the time Billy Young found out that we had been playing GAA at the same time and wasn't too happy about it. We were training in the morning with Bohemians and would finish about 12.30pm. Then we would go straight away and play for Good Counsel.
"The next day we might be playing a football match down in Cork but that's just the way it was. You'd play or train all day every day of the week no matter what sport it was, Gaelic or football. We would have played anything, we were just sports mad.
If I was to write a book tomorrow I would base it on Kevin Moran.
"I don't know why he hasn't written a book himself because what happened in his life is so unique. Kevin was an all-rounder in everything. At the time he was playing for Rangers AFC, which was a really talented side in south Dublin.
"Kevin found it very difficult to get a place in the team even back then. But when I look back you could see that he was very determined. That's why you look at Kevin as an example of somebody with that sense of late development.
"There are players where for whatever reason it might not happen when they are young but it might happen when they are 21 or 22. It's a matter of never saying never.
You could see the talent in Kevin from a young age, even from small touches or pieces of skill. But above anything else his determination was unbelievable. He had that desire to win and desire to keep developing."
Departing Bohemians in 1978 Byrne signed a contract playing in the North American Soccer League for the Philadelphia Fury, joining fellow Irish footballers John Dempsey, Fran O'Brien, Eddie Byrne and a 38-year-old Johnny Giles in the States. The period in his life reads like that of a celebrity rockstar.
The Fury were owned by singer-songwriters Paul Simon and Peter Frampton and wild parties would frequently take place after games in a life of glitzy celebrity excess a world away from the humble grounding of the League of Ireland, where players would simply go for a few quiet drinks after games.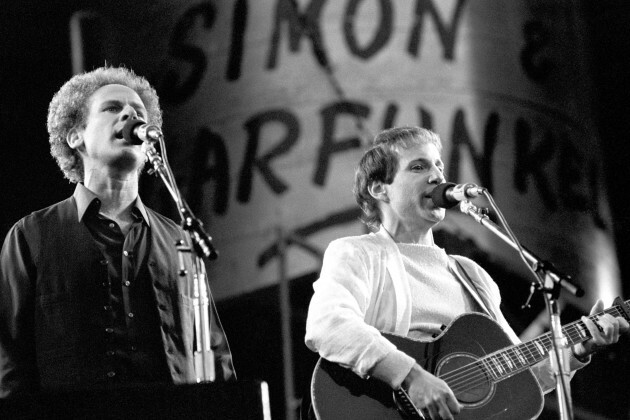 PA Archive / PA Images Paul Simon (right) was an investor in the Philadelphia Fury alongside Peter Frampton and Mick Jagger. PA Archive / PA Images / PA Images
"It was totally different," Byrne says. "With the lads in the League of Ireland you'd just go and have a few pints after the match. Depending on whether you won or not you were going to drink to celebrate and enjoy your night, or you were going to drown your sorrows."
Byrne says the Irish diaspora did not take part in the wild parties after games, with the gatherings featuring endless celebrities, including, on occasion, members of the Rolling Stones.
"Sure we didn't know who half of them were," he laughs. "You knew they were important people but we would just have a few beers and trot on off back home.
"You had these guys coming up in their big SUVs with pillowed seats in the back, which was the first time we ever saw anything like that. They were massive players, six foot six and probably just as wide as well.
There were parties after every home match. There'd be all sorts at them, you went from the dressing room three stories up in a lift and you would go into a private room where you'd have these Rolling Stones sorts of people and Peter Frampton and Paul Simon and all sorts of people there… I didn't know half of them.
"We kept away from all of that. We had a very nice place down the country," he says.
Rather, he was more captivated by the enormous arenas which they would be playing in each week and the calibre of player they would come up against. Players including Carlos Alberto, Pele, Bobby Moore, Franz Beckenbauer and Johan Cruyff, who all played in the NASL in the early 1980s as the league tried to get a holding as a professional entity.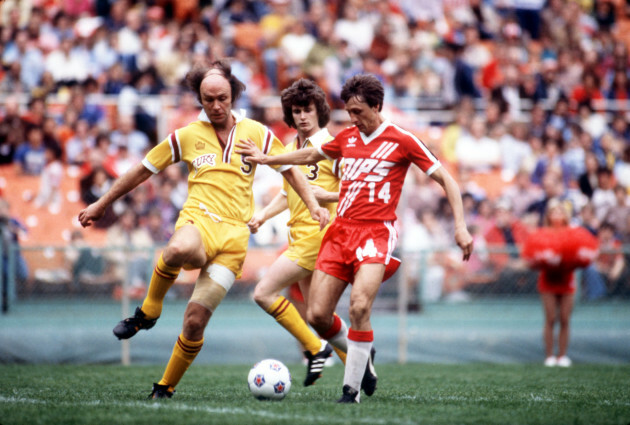 EMPICS Sport Washington Diplomats' Johan Cruyff holds off former Ireland international John Dempsey. EMPICS Sport
"You were against Pele and Beckenbauer. It was like going to play in Hollywood," he says.
The stadiums were just fantastic, we played in some unbelievable places. But unfortunately at the time you were playing in these big stadiums but we might only have 15,000 people at our home games and the place was only a quarter full.
"It sort of took the madness and the atmosphere out of it because they were built like highrise bowls. It was totally different because you went from playing League of Ireland to the States where it was all glamour and everything was exceptional. We trained at the stadium and it held about 80,000 people.
"We actually shared it with the American football team the Philadelphia Eagles and it was an astroturf pitch which we trained on. Because of that we had to train early in the morning before the sun came up because it was too hot during the day. You would finish around midday and that was your day done because you couldn't train in the afternoon as it was too warm."
Byrne, Giles and the remainder of the Irish players featuring for the Fury lived in a complex away from the city where the Veteran's Stadium was based.
"It was a very nice place down the country where the Irish lads were living," says Byrne who recalls fond memories of team-mate Giles. A man he says, who made him a better player through his professionalism and generosity.
"He was fantastic. He taught me an awful lot of things about how to look after yourself as a player in terms of recovery. Like once I was out for two or three weeks because I had injured myself on account of the astroturf.
When I came back after the few weeks we would be training in the morning and Johnny would be asking to do extra training and exercises to get me fit. He didn't need to do that because he had himself to look after.
"He was fabulous, he had no airs or graces about him and was so down to earth. He would come home at lunchtime, have something to eat and go to bed for two or three hours because he was coming towards the end of his career.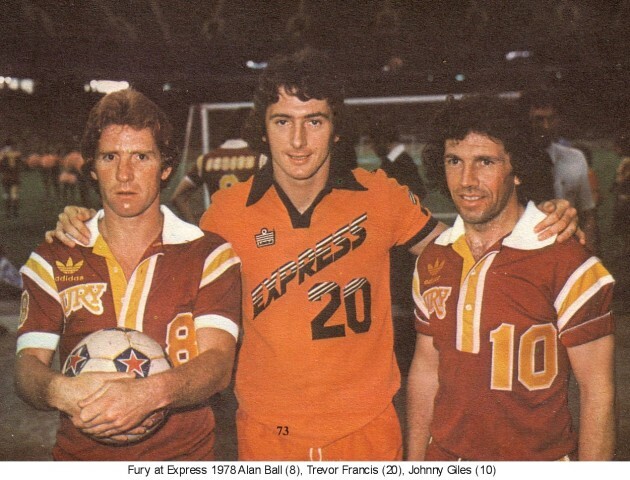 nasljerseys.com Alan Ball and John Giles alongside Trevor Francis (centre) when the Philadelphia Fury played the Detroit Express in 1978. nasljerseys.com
"Johnny still had a fantastic touch and great awareness. He was so natural, everything he did was natural. That's the way it was growing up, you played football on the road. That street football was so important to anybody starting off wanting to be a footballer. There weren't many cars on the road in those days and you'd play games of gates until it got dark."
Byrne's American dream came to an end later in 1978, spending just one summer Stateside, making 19 appearances. He returned to Shelbourne for a season before being signed by promotion hopefuls Leicester City.
Byrne scored once as the Foxes won the Second Division to secure promotion to the top flight for 1980-81 – a season that saw Leicester go straight back down. It is a period in Byrne's career which, he admits, is bittersweet.
Individual moments of incredible achievement in stadiums like Old Trafford, Anfield and Villa Park were littered between a year which he looks back on with many regrets.
They were unbelievable places to play. You'd be watching them on the TV on Match of the Day and here you are in the middle of it. It was great, but you were sort of overawed and you're thinking 'could I have done better?'"
A player that would be defined by continued, sustained and relentless success at Shamrock Rovers years later showcases his complete winners' mentality with this admission of self-doubt during his Leicester days.
"That's just the way it was… especially at Leicester," he says.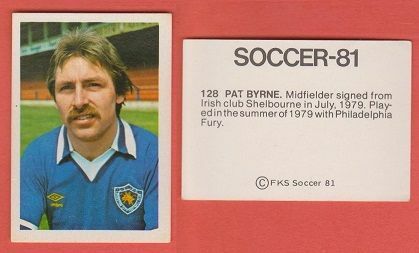 He explains that a lack of personal assertiveness in the team and a lack of belief in his own abilities meant he did not fully fulfill his aspirations while playing at the pinnacle of football in the English First Division – a period which saw the European Cup won by English clubs six times in a row between 1977 and 1982.
There were many highs, however. Byrne scored when Leicester City ended Liverpool's infamous three-year, 85 game unbeaten streak at Anfield on 31 January 1981 in a 2-1 win in Merseyside and also scored when the Foxes beat Tottenham at White Hart Lane a month later.
He tells the story of his goal against Liverpool, the soon-to-be European champions of 1981 a few months later, when he faced up against a midfield comprised of Steve Heighway, Ray Kennedy, Sammy Lee, Terry McDermott and Graeme Souness. He admits the rough and tumble of 80s English football made him grow in toughness.
"It was great… but it was hard work," he says on ending Liverpool's unbeaten run.
"They were flying up and down the pitch and you're looking at them hoping not to get a bashing. We got back into the game and kept at it and at it. I got the equaliser and Jim Elwood scored the winner.
When I scored against them we came back to the half-way line. The ball was played off and I was going across to where it had been played and got an elbow in the jaw from Ray Kennedy… I was knocked out for six.
"I was stunned, I can't remember what time it was at but a lot of our team were stunned that it happened. That's how good that Liverpool team were – they were clever with these sorts of things that went on."
He says such experiences are formative to a footballer and teach a player to grow a sense of grit and resolve and inner confidence not to be beaten down in physical and psychological encounters.
"When you came up against these sorts of players you had to believe in yourself and look after yourself. I remember in one of my first away games for Bohemians we were playing against Cork Celtic and I knocked the ball by the fullback and crossed it and we scored.
I tried to do the same 15 minutes later and was sent flying through the air. The Cork fella grabbed me by the collar, smiled at me and said 'if you try that again I'm going to kick you into the fucking stand.'
"That was the way it was. You had to grow up very quickly."
Byrne also shared a dressing room with an emerging 20-year-old striker called Gary Lineker at Leicester, a player he says did not possess incredible levels of talent, but a remarkable speed which meant he was always going to go on to be a highly successful forward.
He was sound as a pound and a really talented player. His speed was key though and you can still see that in the Premier League now. A lot of players don't have a huge amount of skill but they have plenty of pace.
"At that time he was just a young lad coming through. Gary was so quick, that was the thing. He would go to head a ball and miss it, but it would hit his shoulder and go in anyway."
PA Archive / PA Images Gary Lineker was a team-mate of Byrne's at Leicester City. PA Archive / PA Images / PA Images
After Leicester, Byrne would spend two years playing in Scotland for Hearts, all the while commuting between Dublin and Edinburgh. An agreement with the club meant he trained with Shamrock Rovers in Milltown during the week before flying over for games at the weekend.
An immensely enjoyable period in his career in Scotland ended in 1983 when he signed proper for Rovers under the management of Jim McLaughlin, a revered figure in Irish football who had won three Premier Division titles and three FAI Cups at Dundalk.
Byrne would go on to secure four league titles in a row playing for what is regarded to be the greatest League of Ireland side of all time at Rovers, putting the success down to the management of McLaughlin who he would share success with at Shelbourne too. A larger than life figure in Irish football, he says.
It was down to Jim, definitely. He recruited unbelievably well. A lot of the players who won the leagues were there originally, he just brought in four or five new players. People who were winners. Noel King was a real winner. He brought in Jodie Byrne to replace Alan O'Neill and Alan had been a smashing goalkeeper.
"He brings in Jodie out of no-where and he plays really, really well and you're thinking 'janey mac' – Jim's knowledge of the game was unbelievable and he just had an eye for a player and had a great belief in the players he brought in to do a job for him."
Rovers won the League of Ireland in 1984, 1985, 1986 and 1987 on top of three FAI Cups in 1985, 1986 and 1987.
Byrne says that the mentality of ruthlessness within Rovers is why the club achieved the level of sustained success it did year after year, not allowing mistakes or cliques to fester. "You couldn't afford it", he says.
"If you didn't do your job he was ruthless", he says of McLaughlin.
You'd be out of the side if you didn't perform. That's the way it was. If he brought you in or you had come through the ranks it didn't make any difference to him. If you did what he asked you to do and you performed the way he wanted you to perform, well then that was it.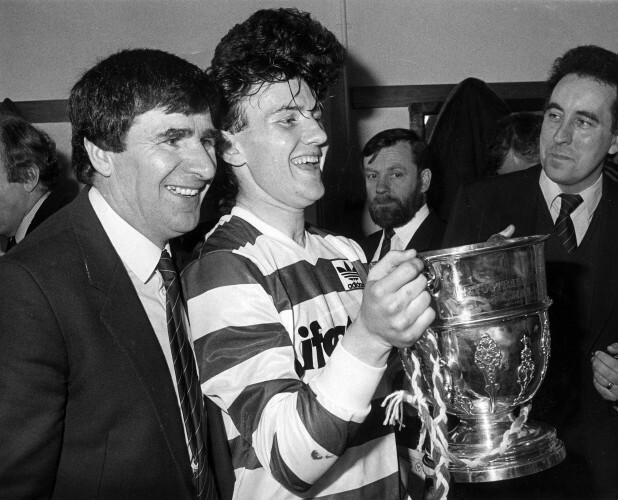 Billy Stickland / INPHO Jim McLaughlin alongside Paul Doolin at Shamrock Rovers. Billy Stickland / INPHO / INPHO
"The one thing I remember is that if you got injured and the guy that replaced you in the team was doing well, he would keep his place. It didn't matter who you were. That was his style. We were winning and performing and it stayed like that."
Byrne would spend a lifetime with McLaughlin and explains that there were two sides to the man: a ruthless winner but also a compassionate friend who looked out for his players' well-being on and off the pitch.
However it was creating a dressing room mentality of winners where he truly shone, showing his genius as a serial winner hell bent on an insatiable thirst for success.
Jim was a very relaxed person. By the time he had come to Rovers he had seen it all before. He was an extremely clever man, he just knew the game inside out. But he also knew how to get the best out of people and was brilliant at man-management – and not just in terms of football.
"He would speak to you and get in your head, he'd have a chat with you if you were struggling or having a bad time. There were so many senior guys and he knew that if we saw something that was out of order that we could sort it out ourselves."
Byrne explains how the dressing room was allowed to self-govern when required, meaning no divisions occurred so that it was a squad with one goal in mind, a club all pulling in the same direction.
There were never any cliques," he says. "You couldn't afford it. We noticed one day in training in the third year of the four-in-a-row that there were three players that were only looking out for each other and no one else.
"We were training up in Milltown on the Saturday morning with a game the next day and I said to Jim if he didn't mind I was going to have a chat with everybody about this. Jim stayed in the dressing room.
"I started off and then Dermot Keely had a few words, it was nearly a digging match. But it was what was needed to sort it out because we couldn't let something like that fester because the team would have fallen apart. We always wanted honesty where you could say anything to anyone. It might sound harsh but it wasn't meant to hurt anyone. It was to help the team.
It wasn't just me as the captain, there were other people at Rovers who were brilliant at being those leaders too. You knew you would always be backed up by your team-mates. But you would never let things pass.
© Billy Stickland / INPHO © Billy Stickland / INPHO / INPHO
"I remember when I started off at Rovers the team were playing a particular way. I would make runs into the hole between the centre backs and remember during a game after 10 minutes Alan Campbell got in the way.
Exclusive Six
Nations Analysis
Get Murray Kinsella's exclusive analysis of Ireland's Six Nations campaign this spring
Become a Member
"I gave him such a rollicking that he didn't do it again. I said to him on the pitch during the match: 'Don't you ever go into that fucking hole again!'
"We have had a good laugh about it since but at half-time I had to say to him, 'Alan I go in there, you don't go there – you'd be having a go at me if I wasn't there.'
That's the way we went on because you had to be open and honest with each other. That's why it didn't work at Leicester, I should have been more assertive and harder on myself."
Byrne left Rovers in 1988 a year after the club's sale of their stadium Milltown, a moment which he says spelled the end for Rovers as one of Irish football's greatest ever club sides. With Rovers without a stadium to call their own, the club's heart had been torn out, he says.
"I was so disappointed at the time. I always got on well with Louis Kilcoyne but the way they sold the ground was dreadful. They could have held out and sold it to the fans, which they asked him to do. By not doing that… it was terrible. They sold people's memories.
"I spoke to Louis when we were playing a game up in Sligo and I asked him if this business of selling the ground was true and he said 'ah no, no, we'll be sorting it out. It'll be alright.'
"I know business is business, but that's not business. That's more than business."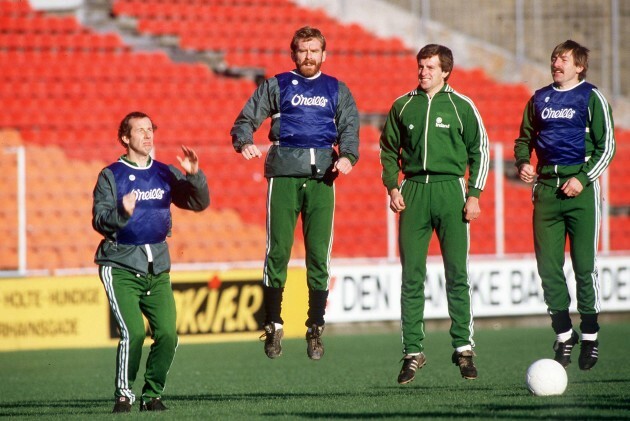 INPHO Liam Brady, Tony Grealish, Kevin Sheedy and Pat Byrne warm up for Ireland in 1984. INPHO
Rovers spent the 1988 season playing in Tolka Park, with a significantly reduced support at home games as the Keep Rovers at Milltown (KRAM) campaign boycotted games in Drumcondra.
Byrne says the season was a nothing affair, the players unmotivated by the events of the past year at the sale of Milltown. He had decided at the beginning of the year that it would be his last as a Rovers player.
"To be honest it was a non-event. The supporters stayed away, which they were right to do. I think we as players had lost heart as well. Here we were playing in a foreign ground to us, having played every other week in Milltown.
It was like renting somewhere instead of being in your own house. It wasn't the same. We tried our best on the pitch but you couldn't get momentum going. It was as if someone had died. You couldn't get yourself going.
"The fans came together and said they weren't going. They were trying to force a solution somewhere along the way to try and retrieve the ground in some sort of way. People did come to the games. But it just wasn't the same at all.
I had made my mind up early on that that was going to be my last season at Rovers. My contract ran for another year but I just wanted to get out. I said I'd see my contract out and that would be the end of it. There were so many things wrong."
Byrne joined Shelbourne in 1988 as player-manager and was later assisted by McLaughlin. Following their first season playing in Harold's Cross greyhound stadium, Shelbourne agreed to buy Home Farm's lease on Tolka Park and moved in the following year in 1989. A place to call their own, says Byrne.
EMPICS Sport Byrne led Shelbourne to the 1992 Premier Division. EMPICS Sport
"I remember going in and doing up Tolka – it was like the start of a new adventure. We were going to get rid of the old seats in the stands, put in carpets and get the pitch done up. We were so excited and on such a high because it was going to be our own place. Our own pitch, our own ground.
"It was the opposite to the way it was in Rovers. We were going into a new ground and it was going to be a new era for Shelbourne, having control over the pitch and the team. We were building for the future, which was the opposite of what happened at Milltown.
We were really hoping we could build something. The buzz that was there was incredible, because if you love football everyone wants to play on a good pitch, everyone wants to play in nice surroundings, you want to be there on those good nights underneath the lights, competing for leagues and cups, the lot."
1992 saw Shelbourne crowned league champions for the first time in three decades, with Byrne a lifelong supporter the man who had led the charge. It was the happiest moment in his footballing career, Brian Flood's 25-yard strike in Oriel Park to clinch the league 3-1 against Dundalk a personal favorite in his collection of memories.
Youtube.com / Maurice Frazer Brian Flood scores as Shelbourne beat Dundalk to win the title in Oriel Park. Youtube.com / Maurice Frazer / Maurice Frazer
However following an FAI Cup success the following year, the club's first in 30 years, Byrne and McLaughlin were relieved of their duties by director Ollie Byrne.
The breakdown in relations began when Byrne would not tell Ollie the team for an upcoming game, but admits that the renowned director had ambitions far beyond the realms of possibility for his beloved Shelbourne.
He wanted to win the European Cup!," Byrne laughs.
"Ollie was great because he hadn't a clue. He didn't really know how things actually worked. In fairness to him he was so infectious about the club. Everything was Shelbourne and only Shelbourne.
"I would try and explain to him that there were other good teams in the league but he would never give credit to other sides. I remember a team scored against us – I was in the dugout with the lads. It was a cracking goal and I started clapping. There was nothing we could do about it, it was fantastic play.
"The lads were looking at me saying 'does he not realise they scored against us?'. But I always appreciated good play and you have to respect the fact that you are beaten by better sides sometimes – so be it, that's life.
"But Ollie could never see that unfortunately. He was just red and white.
I liked Ollie but unfortunately he wanted to win at all costs. He just spent so much money… When we were at the club we adhered to the budget, but when Jim and myself left the budget just went out the window."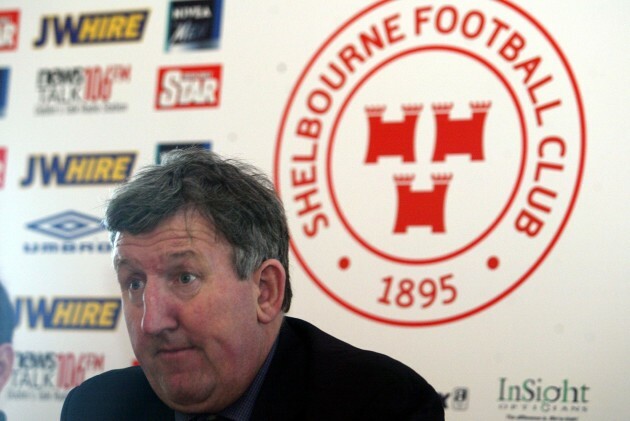 INPHO Ollie Byrne. "Everything was Shelbourne and only Shelbourne." INPHO
Shelbourne would face recurring issues with debt in the years that followed and ultimately lost their Premier Division licence in 2007.
Despite the club's current predicament and persistent struggles to reach the heights of former glories, Pat Byrne still retains the same burning love for the club he went to Tolka Park with alongside his father.
Yet despite all the success – the glitz and glam of Hollywood, the four-in-a-row with Rovers, Leicester City and his appearances for Ireland (the last LOI player to play in a competitive game) – you can't get away from that image of Byrne nudging his father as the party rolled on following their 1992 league success.
Youtube.com / Maurice Frazer Byrne and Jim McLaughlin celebrate Shelbourne's title win in 1992. Youtube.com / Maurice Frazer / Maurice Frazer
"He had waited for me," he said.
Shelbourne had not won a league title in 30 years. During a moment of quiet reflection on what his son had achieved for their club, amid the smoke and giddy dancing, his father had taken a moment for himself and was simply taking it all in.
After Shelbourne Byrne would manage St James' Gate, Shamrock Rovers and gain promotion with Kilkenny City in 2000 in his last managerial role seventeeen years ago.
But in his own words, what kind of a player was he?
"I liked to play football, spread the ball around", he says.
"I liked being a passer of the ball, doing one-twos and playing the ball behind defences. That's the way I liked to play and I was lucky enough to be allowed to play that way.
Xavi before he his time?
"No, no," he laughs.
"There were other aspects as well. You had to be able to look after yourself and dish it out as well – it wasn't all nice football.
"I met a man that I did a bit of work with recently and he said to me: 'Pat you were mad on the pitch'. I said I wasn't that bad, was I? He said I was.
"And I know myself that I was that way, but that's just the player I was. The desire to win just overtook you."
The42 is on Instagram! Tap the button below on your phone to follow us!