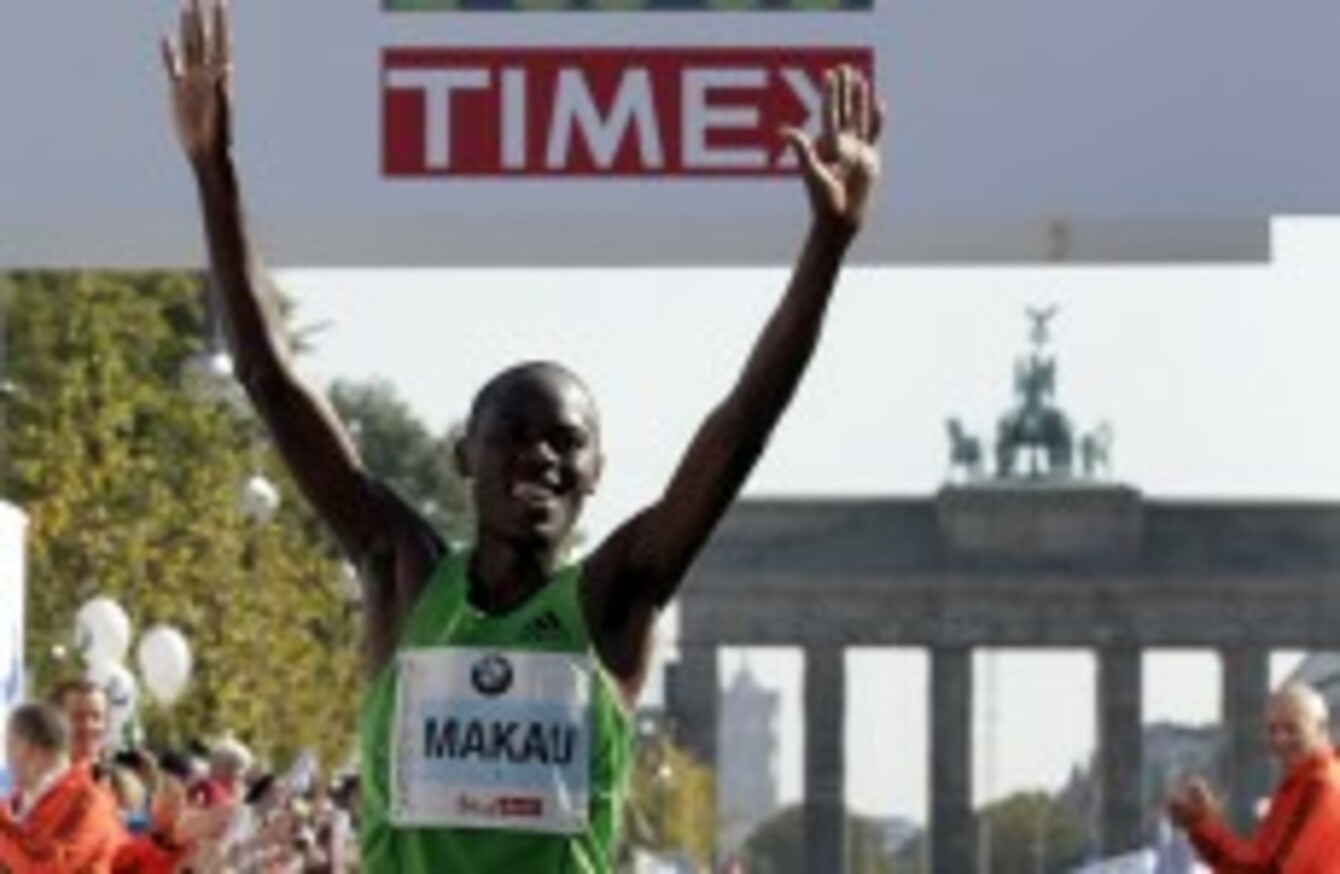 Patrick Makau provided Caesar with the inspiration to write the book.
Image:
AP
/Press Association Images
Patrick Makau provided Caesar with the inspiration to write the book.
Image:
AP
/Press Association Images
A NEW BOOK about the world's greatest long-distance runners and their quest to break the two-hour mark for the marathon has been released with the author concluding that mythical time could be set (or reset) as soon as tomorrow.
Award-winning writer Ed Caesar spent over three years compiling his debut book, 'Two hours; The quest to run the impossible marathon' living and sometimes training with some of the fittest men and women on the planet.
He deduced that if the stars aligned, it's possible to run the 26.2 miles in that seemingly impossible time.
"The guys think it will be broken, for sure," says Caesar in relation to the natives of the tiny Kenyan village where he based himself for much of his work.
"If everything goes right we can do it tomorrow," he clarified.
Of course, everything refers to a lot of external factors — and there are many of those.
"They've pretty optimistic mindsets, the Kenyans," he continues, "and I believe it can be done, it just depends on what happens on the day.
"At the moment, there's only one marathon where anyone thinks it can be broken and that's Berlin, so that doesn't give you many chances.
"All the stars have to align on one day so running fast is only one part of the jigsaw."
It's a tremendous read and an impressive debut by Caesar, whose previous work was as a political commentator and reporter based in east Africa.
He confessed to knowing "almost nothing" about professional marathon running when he decided to write the book, but recalls being fascinated by the obsession with the sport when he was sent to cover the suspicious balcony-fall death of Sammy Wanjiru in 2007.
When he first arrived, Caesar recalls the desire to succeed in running in Kenya as something of a "gold rush".
"There were hundreds of people doing long-distance running in a tiny bit of the world and it was extremely interesting to me that there was this gold rush going on; the more I looked at it the more interested I became."
"I wanted a story where the African runners were the heroes instead of the victims so I started watching marathons and thinking 'why don't we know anything about these people who are winning these races in these extraordinary times'?
They've been the dominant force in the marathons since the early 80s, but their identities were hardly known.
The catalyst for Caesar to commence work was provided in 2011 by Patrick Makau who broke Haile Gebrselassie's three-year old record.
Caesar was sitting in a bar in Croatia when he saw the news flash on the TV.
"I thought, 'gosh they're really not far away' so I wondered what it would take to get them there and wondered why no one was talking about it, so that was really the genesis of the book for me."
For the following four years until now, Caesar became infatuated with one particular tribe, the Kalenjin.
It's here he co-habits with the elite in the highlands on the western edge of Rift Valley. He discovers though they're evidently blessed by genetics, high altitude and a thriving running culture, the desire to become wealthy is something they make no secret of.
"When you see the circumstances where these guys grow up, money is a big part of their motivation and none of them will tell you any different.
"From that respect, the economics of it were fascinating.
"Berlin, where people tend to break the world record, is not the place you get paid the most; If you go to Berlin, you're missing out on a pay day in Chicago so the people who appear there are doing so for a reason."
Of course, the book's release comes at the same time the Sunday Times and German broadcasters ARD release their damning report in widespread doping in athletics — and the Kenyans, who Caesar speaks so reverentially of, weren't spared.
But he believes the book isn't discredited because of those findings.
"I wasn't surprised by the piece," said Caesar, "but I didn't think the results were quite what the Sunday Times said they were.
"When you look at the list of countries with the most suspicious readings, Kenya was quite far down but figured prominently in the coverage.
What are they
really like?
Rare insights on sport's biggest names from the writers who know them best. Listen to Behind the Lines podcast.
Become a Member
"I think it's because the German guy working for ARD has more and better stories.
"I came to the conclusion that there was quite a bit of doping in Kenya and Ethiopia but I also thought it wasn't everywhere and we shouldn't suspect every fast time.
"I want to be sceptical but not cynical.
"I stayed for long periods of time with these guys," he continued, "I tried to understand their lives and why people who did dope.
"I didn't really see a nationwide system like you'd see in the Tour de France, like a highly sophisticated system.
"I saw some people who were trying to cheat and they were doing it quite inexpertly and often with terrible medical advice.
"What I saw was dispiriting but it didn't tell me the sport or Kenya was ruined. I don't believe the majority are doping and I don't think you should suspect every fast time.
"I don't think the Sunday Times and ARD were spot on but I welcome the exposure with more heat and light."
The book isn't about the Hollywood ending, or an encyclopaedia on running. It's about people pushing themselves to their absolute limits and why people do extraordinary things.
Who wins and loses is only one part of Caesar' story and Two Hours; The quest to run the impossible marathon, is about glorious failure on one level, but a sports book with a bit more heart and soul about it on another.
Originally published Saturday at 9.50am
For more info on Two Hours: The Quest to Run the Impossible Marathon by Ed Caesar, click here.