THERE IS NEW ground to tread, little point in looking back.
Although there are obvious parallels to be drawn with Leinster's previous European Cup wins and the difficult task of pitching up against a fierce rival a week later, from Peter O'Mahony's point of view there is little to be gained by seeking confidence from the 2011 Magners League final in Thomond Park.
"That was seven years ago," says the captain leading the welcome wagon / ambush for the new European champions this week, "it's a different game."
O'Mahony began offering up the new experience afoot even as he took his seat in Munster's UL base yesterday. Leinster's home matches with Munster have, since 2010, been housed in the roomy Aviva Stadium rather than the RDS. So this Saturday's Pro14 semi-final will be Peter O'Mahony's first time to play at Leinster's home ground.
The 'different game' he refers to is a nod to some advances in sports science and recovery in the second decade of the century, advances he has no doubt has felt through his career, but there has also been near wholesale change in personnel since Munster last claimed silverware.
By the start of next season, only five of the 30 starters from the 2011 decider will still be playing rugby. O'Mahony then was within three months of captaining his province for the first time, but he played no part in the final as the blindside berth instead went to Donnacha Ryan.
The old guard who led the way for Munster that day are long gone and Leinster almost hold a monopoly on active European champions on this island.
"You've got to see it as a challenge. Leinster are the team you want to be measuring yourself off," says O'Mahony.
It's gonna be hard, probably the hardest game we played all year, but it has to be our best performance. Surely that's what you want to do as a professional rugby player, any professional athlete, you want to challenge yourself against the best."
The 28-year-old doesn't look like a man who spent the weekend stewing because of Leinster's return to the winners' circle. The sun has hit his skin and flecked his hair, he is not among those obsessing how great or fine the gap between provinces east and south currently is and the Corkman is not ready to accept a close-run defeat or some moral victory no matter how many stars adorn Leinster's crest.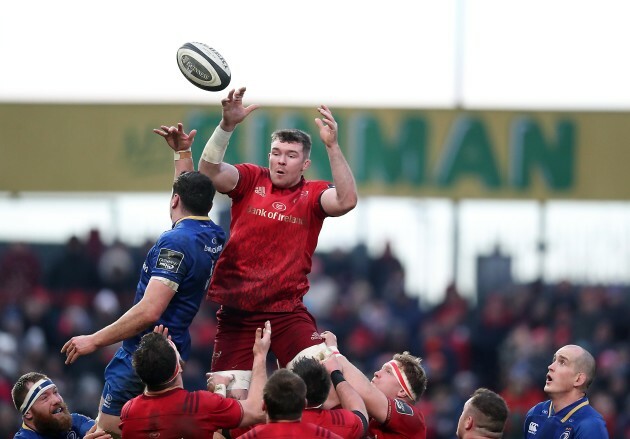 Billy Stickland / INPHO Billy Stickland / INPHO / INPHO
"That's not what we're going to be talking about," says the blindside, "we've a gameplan, we've a structure, we'll go out and play it.
"We'll be talking about our performance and what we have to do to go out and win. I don't want people saying after the weekend: 'ah, Munster to be fair aren't far off Leinster'. That's not what I want.
"If we play well, I want people saying Munster played well, that's what I want to hear. I don't want to hear: 'they're close enough'.
"Leinster, what they've done for the last 12-18 months, we're not going to change that in a game. That's the standard they have. We've all got to strive to try and get there."
Clubs all over Europe will have an in interest in emulating aspects of Leinster's approach. For O'Mahony, having faced the ferocious physicality Racing bring, the most impressive part of the Champions Cup win was the eastern province's ability to remain calm.
"The fact that they were behind, but they never ever looked to me like they were going to lose the game.
"They just seemed very controlled, very processed, never panicked, knew that their fitness was going to stay for 80 minutes and they would have video (analysed that) Racing aren't very disciplined at times. They stuck to their game plan and I thought it was a very controlled, professional performance.
"I thought they dealt with that incredibly well, they never panicked."
Bryan Keane / INPHO Bryan Keane / INPHO / INPHO
Still, come matchday in the RDS, there's no harm in testing that mettle again. Though Racing came up short in Bilbao, they underlined an important lesson that anyone can be dragged into a tense contest if you can disrupt their line-out and breakdown.
"If we want to talk about competing with these guys at the weekend we have to stop it.
"(Racing) have the luxury of falling back on five, six, seven of probably the best poachers in Europe. And they catch teams, even when you video it and you video it, they catch teams and steal very important balls.
"Leinster would have done their homework, but it's just very hard to stop at times and they certainly stopped some of the very impressive, open, expansive tries Leinster had scored, but that was going to be the case with a team of Racing's quality."
"You're going to get the best of Leinster at the weekend and they'll show that's their standard. It's a semi-final for them at the end of the day, they'll be ready to go, whatever it takes."
O'Mahony will ensure Munster are there waiting.