Image: Bryan Keane/INPHO
Image: Bryan Keane/INPHO
PRESSURE IS A double-edged sword. It can spur teams on to great things, or the weight of it can crush their spirit and freedom to perform.
On Wednesday night, Ireland took the field as the unrivalled main attraction of the Women's Rugby World Cup.
What had earlier taken on off-field feel of a weekend blitz, was transformed into a bear-pit as green-clad supporters flooded in after work and drowned out the American and English fans who had earlier presided over the small stands. The UCD Bowl became a pressure cooker. For both teams.
"You're looking at turnovers," said head coach Tom Tierney when offered a hypothetical magical solution to one key area of the 80 minutes that had just passed.
"A few of those, yes they were in big hits, there were a couple of unforced turnovers as well and you're inviting a team onto you. And because of that, the expectation of the whole occasion, that becomes a negative.
"That's something we tried to control. We didn't do it at times, we did do it other times; when we came from behind to go 14 – 10 up."
That's the balance Ireland had to strike in yesterday's review of their win over the Wallaroos. They showed tremendous mental fortitude to dig deep against powerful opponents and come out on top. Yet they'll be annoyed that they had to, having been unable to create any breathing space.
We have to take into account the expectation and pressure the players were under; which was massive, which is something we're trying to embrace and not shy away from. But we have to be realistic that at times it caught us tonight.
"Hopefully we can learn from that. But we're trying to play a game where no matter what kind of weather, what kind of opponent is thrown at us, we're trying to play on the front foot and impose ourselves on them.
"What we're trying to do is play a game where whatever's needed we can do, especially in attack. There were a lot of areas there where we almost got the ball away, we almost got that next phase, almost created that overlap. That is improvement, but the execution is the key area for us."
Tierney freely admits that the planned route to victory bore little resemblance to the road actually taken. Australia dominated territory, the scrum and the gainline for long periods. But that adaptability, the nous to do what's necessary rather than be tied rigidly to a single methodology, helped Ireland overcome.
"They're a very tight group of players. The team cohesion is second to none and they fight for each other. They'll know themselves, they didn't play well at times, but they never panicked and credit to them on that last play of the game. Just over two minutes of holding onto the ball, going nowhere, but going nowhere on our terms which is very pleasing.
They're a great bunch of girls. Really strong characters and I'm pleased they got themselves out of a really sticky spot.
"We focused on (fitness and physicality) post Six Nations: 'if we are to compete one of the key areas would be strength and conditioning'. And the girls really showed that.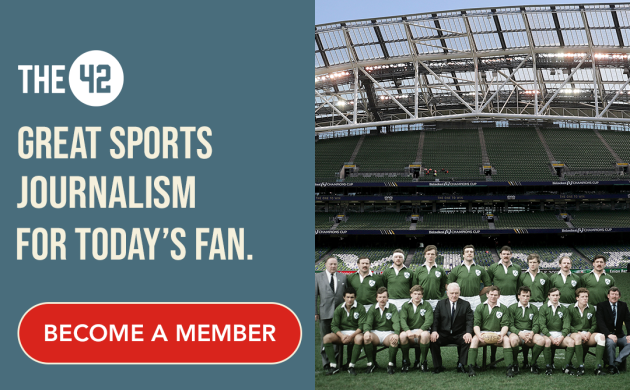 "They were on the back foot a lot, they defended a lot against much bigger women, but they kept going, kept going and they tidied the game out nicely in the end which was very pleasing."
On Sunday, Japan will present a challenge of a very different kind in terms of both physicality and pedigree.
However, the pressure on Ireland to deliver will only be cranked up higher, from within the walls of the team room as much as anywhere.
The 42 is on Instagram! Tap the button below on your phone to follow us!